Experiencing the local way of living is one of the best part of travelling to a new place. Traditional homestays to luxurious resorts – they do play a big part in making a perfect vacation! This is exactly why we are rounding up some exotic Airbnb experiences from around the world.
What is Airbnb?
Airbnb is a market place where locals rent out their houses to the tourists who visit their place. As Airbnb stays are from the locals these can be out of the box experiences too. Airbnb are safe to stay as the owners can get banned from the platform if the travellers rate them low. Here are some of the listings in Airbnb which can be booked.
---
Get $43 off on your first stay, if you signup Airbnb through our affiliate link: Signup Now!
---
Top exotic Airbnb experiences around the globe
by Our Backpack Tales
Tucked away in a beautiful coffee estate in Madikeri, Coorg, is this lovely place. Rustic wooden cottages set in the middle of greenery. Coffee Cadu Estate Homestay is a perfect place to escape from the hustle and bustle of city life. The best thing about the place is that it is extremely calm and quiet, except for the sound of the crickets or birds.
We spent the chilly evening by our porch, sipping hot cups of locally produced coffee. The place did not have a kitchen at the time we made our visit. So, we made a trip to the town to have dinner. The homestay also allows a campfire and music on prior request.
Breakfast should also be requested beforehand. We had an amazing breakfast in the small open dining area. The closest attraction is Abbey Falls, which is about 14 km from the homestay. We spent the weekend at this wonderful homestay, just to relax and unwind. This is one of our best Airbnb experiences to date.
---
It was situated above the wild volcanic tundra. It came with a huge decked area for general running around and BBQing. The real show stopper was the fact that it had its own wooden boardwalk to a private hot tub. It is surrounded by nothing but open country and birdsong.
The evenings were spent sitting outside, in front of the enormous wood burner, watching the midnight sun whilst being warmed by a crackling fire.
The location was perfect for sightseeing. It is within a 30-minute drive of the spectacular Geysir, with its regular-as-clockwork water plumes and otherworldly coloured pools. Ten minutes further on is Gulfoss falls, where the mist surrounds you like rain falling up.
Another day trip took us to a beach called Vik, which is reputedly one of the top 10 most beautiful beaches in the world. We saw kamikaze baby puffins teach themselves to fly by leaping off cliffs above the black volcanic sand into the icy seas.
We got to swim in steamy milky waters at the Blue Lagoon. Ladies sporting 1950's style swimming hats invited us to spoon white silica on to our faces for a voodoo mask effect (and eerie but cool photos).
The absolute highlight was heading out over a glacier in a semi-aquatic monster truck before walking inside it, through blue back-lit tunnels of ice. Quite magical.
---
Kamiyama on Shikoku island is not a place on the radar of most overseas tourists to the country. If you want to experience a slice of real Japan then this would be a good place to start. Shikoku is Japan's fourth-largest island but lacks bullet train connections. So it is not really visited at all by tourists outside of Japan. Most of them tend to stick to the cities of Tokyo, Osaka, and Kyoto.
Kamiyama is a small mountain town that can be accessed by bus from Tokushima city. Although it's much easier to get around if you hire a car. This Airbnb experience is unique because it used to be a sake brewery before the current owner completely renovated it and converted it into a beautiful café and guesthouse. The host Ikuko spent years travelling down from Tokyo on her weekends off to work on renovations. Later she was able to quit her job and relocate to Kamiyama full time to run her café and Airbnb business.
The Airbnb has three rooms but even if there are only two of you the other rooms will not be rented out to other people so there is plenty of space. You'll also find lots of nice traditional Japanese touches in line with the building's heritage, from sliding paper doors to tatami flooring. In the town of Kamiyama itself, there are Buddhist Temples to visit that are part of the 88 Temples pilgrimage, waterfalls, hot springs, restaurants, and cafes.
---
On our summer trip to Switzerland, we spent some time visiting in the alps. We found the most beautiful Airbnb experience smack in the middle of nature. Located near the town of Stechelberg, it's in a great location to visit the Schilthorn and Jungrau. What really makes it special is being located in an amazing valley, a hike away from the city itself.
From the Airbnb everywhere you turn you are surrounded by stunning mountains, rushing streams and beautiful vistas. In front of the house is a small group of alpacas. If you wander down any of the trails you are likely to bump into some cows, roaming and grazing through the mountains. The house itself is basic but cosy with several rooms that they rent out. It has a very well equipped kitchen and a lovely living room and dining room to relax and hang out with the other people staying in the Airbnb.
You can hike through the area to explore the dramatic landscape, neighbouring towns, lone houses and much more, as it's all at your front doorstep. When we visited, everything was green and in bloom with wildflowers scattered around the meadow around the house.
If you want to stock up on supplies or eat out it's just a short hike back down the mountain to Stechelberg or up the mountain to some of the small neighbouring villages that usually have at least one restaurant.
---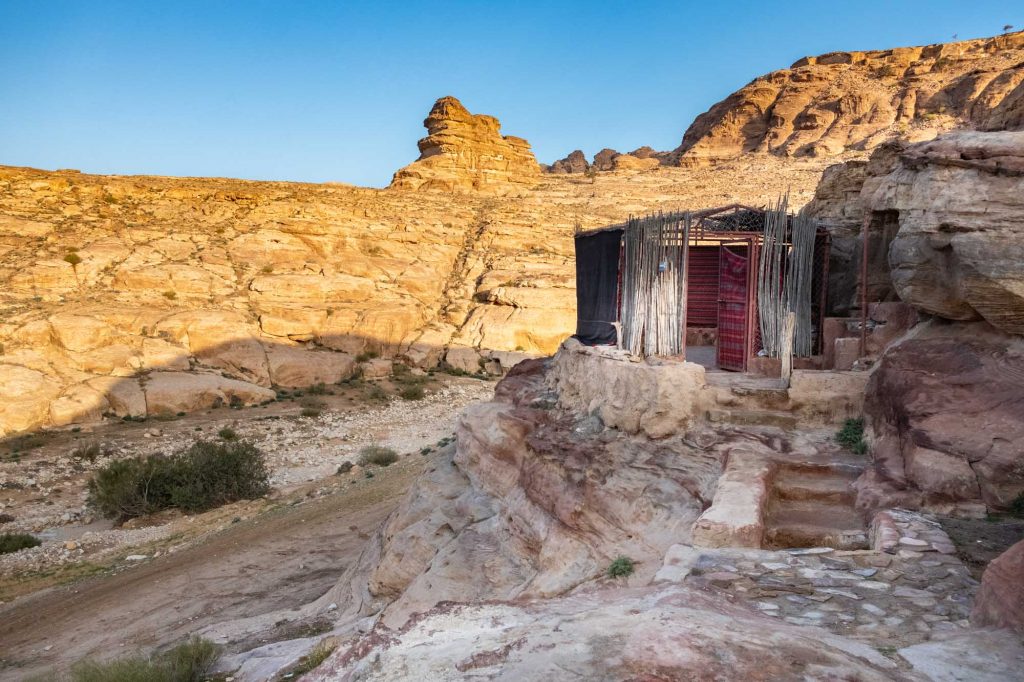 Our most memorable and positive experience from Jordan was staying in a Bedouin cave inside Little Petra! Forget your 5* luxury but if you're looking for something a little bit out of the ordinary, at one with the nature of mountainous desert then this is for you.
Wonderfully and courtesy of Airbnb, I came across this listing that featured a cave inside Little Petra; a truly magical area of Jordan where you can watch the sunset, the stars glow and the sunrise as there's virtually no light pollution.
Owned by a local, holistic health provider, yoga and hiking enthusiast Bedouin, the cave is beautifully appointed with brightly, hand-made Jordanian rugs, soft cushions and once inside and tucked into your heavy-duty blankets, you'll sleep cosily. But before that, you'll be fed over a campfire with cups of Bedouin tea brimming until you can drink no more.
So long as there's no cloud, the stars will be bright and glistening and you can watch them as the earth rotates. Make sure you're up in time for the sun rising though as the rocks around turn a vibrant shade of orange. You'll need to find a place high up on the rocks to get that perfect shot before a breakfast of local delicacies awaits you.
There's no toilet here, so you'll need to be comfortable being at one with nature but for those that love the solitude and mesmery it can bring, this is the perfect spot.
---
If you want to have a truly memorable Airbnb experience, you can't go wrong with staying in a managed villa in Bali, Indonesia. Where you can truly live in the lap of luxury for about the same cost (or often even less) than a single night in a hotel in most major US cities. With far more amenities to boot!
So, what can you expect at a property like this? Your own private pool with lush greenery and shrubbery. Indoor / outdoor living areas where you can feel especially in tune with your tropical surroundings. All modern conveniences with touches of Balinese culture reflected in the décor. Ensuite bedrooms/bathrooms with AC to ensure you sleep well at night.
But most importantly, your onsite villa staff are there to assist in your every need or desire. They can assist with buying groceries, preparing meals, arranging tours or activities, even dropping off your laundry so it's ready when you return. You name it, and they will find a way to make it happen.
All of this made my personal experience in Bali a truly memorable one. Our staff were the loveliest people ever, whom we got to know personally. They took care of anything we needed so our minds were free to truly disconnect and enjoy our vacation.
And given the low cost compared to prices in the US, you really can't beat it.
---
7. Houseboat in Amsterdam
by Derek Hartman from Robe Trotting
One of the most unique Airbnb experiences I've ever had was renting a houseboat on the Amstel River for a weekend in Amsterdam. My partner and I love visiting the city and a friend was joining us there for a long weekend. He asked us to look into accommodation since it wasn't our first time there. In Amsterdam, lodging prices are high, so we began our search for a weekend rental on Airbnb. We compared apartments in the city but stopped looking when we saw that an affordable houseboat was available to rent. We couldn't think of anything more Amsterdam or more local than to stay on a houseboat for the weekend.
Upon arrival, we were excited to walk across a platform from the city street onto the top of the boat. We actually had to cross another houseboat that was moored next to ours. The owner greeted us and climbed down into the boat.
We were shown how to use the appliances and electronics and where towels are – all the normal check-in details. The owner explained that the water and plumbing are a little different on a houseboat and that we should take quick showers. The toilets also flushed a little differently than a hotel or city apartment. That's because the water is pumped into the boat instead of being hooked up to municipal water. Of course, the houseboat was less spacious than some other lodgings, but we were excited to experience this unique living space.
We loved looking out the port-hole windows onto the city of Amsterdam. The deck of the houseboat also had a sitting area where we could enjoy the river views and relax. This was our daily spot for drinking morning coffee and planning our day. The weekend was truly unique due to the special housing we enjoyed. It made the visit to one of our favourite European cities even more memorable. If you're visiting Amsterdam, I highly recommend looking for a more exotic place to stay and finding a houseboat on Airbnb.
---
by Bron Leeks from Smiths Holiday Road
The train from Beijing, China to Ulaanbaatar Mongolia was an amazing 40-hour journey known as the Trans Mongolian. We had arranged to stay in a traditional Mongolian Ger around an hours drive out from the city.
A Ger is used by nomadic families in Mongolia as it can be easily packed away, transported and set up as they move across the country depending on the season. Approaching the Ger which was situated in the Terelj National park we saw the white outside in strong contrast to the green hills and flat plains.
Our Ger host Mogi greeted us warmly and showed us into the Ger. Inside the Ger were 6 beds with warm blankets for us to sleep. The stove fire in the centre would serve two purposes of keeping us warm and cooking our food.
Our 3 kids loved collecting horse dung to fuel the fire and helping prepare the vegetables for the dinner. They also learnt to get water from the river for cooking, use an outdoor toilet and make their own fun outside playing with sticks and rocks.
One of our favourite and most challenging experiences while staying in the Ger was a horseback ride across the land to see the statue of Genghis Khan. We crossed rivers and rode for around 5 hours. The kids were in their element racing across the flat landscape as the sunset.
Staying in the Ger is the perfect way to connect with nature and unplug from the world. A true bucketlist adventure.
---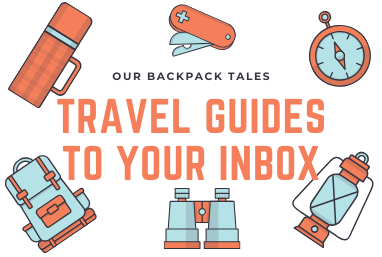 ---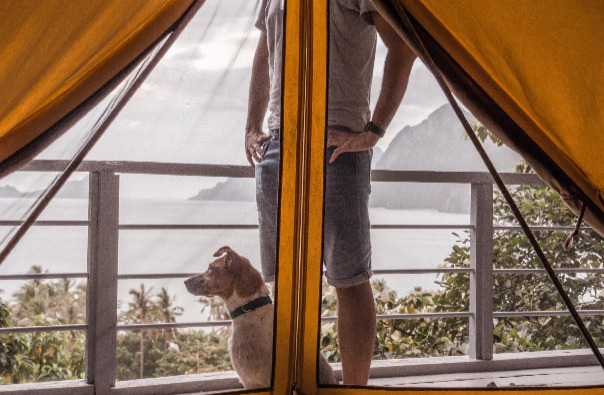 I've often flicked across social media to enviously discover instagrammers flirting with glamorous nomadic lifestyles. Let's face it, most of us have.
I particularly remember a picture that caught my eye: it was a tent, set in this incredibly dense jungle; Yet, this tent was no such ordinary tent. It was, what today is coined as, 'glamping'. For those who are not familiar with the concept, glamping is a form of luxurious or 'glamorous camping'.
Glamping sites, as well as unconventional holiday lodgings, have boomed of late, since more and more travellers are eager to show how architecture can imbue a sense of adventure.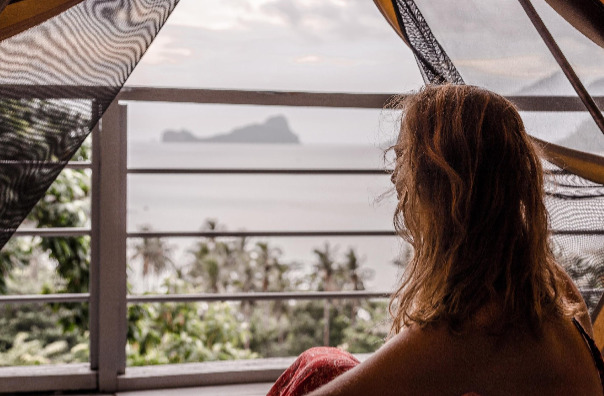 I was aching to try out glamping for myself so we booked The Birdhouse, which is nestled in the rugged cliffs of El Nido. When we were told to meet the Birdhouse staff at a coconut stall, I already knew it was going to be good. We reached after climbing a lot of steps but when we were greeted by the jagged and expansive views of Bacuit Bay and its neighbouring islands, we had immediately forgotten our woes.
The 'Nest' (or tent) was exactly what we were looking for. It was cosy yet spacious, with a thoughtful, bohemian decor that promoted artisanal products. The tents were also well separated from each other, as they were staggered across the cliff-face, providing adequate privacy, perfect for a romantic getaway.
Conveniently, The Birdhouse organises island hopping and kayaking tour and yoga classes. It also has a popular restaurant with stunning views, where we were served breakfast. You can grab dinner or simply star-gaze whilst hearing the tidal waves wash upon the shore. Don't be surprised if you find yourself making excuses to cosy up in your nest for the rest of the day!
---
By Our Backpack Tales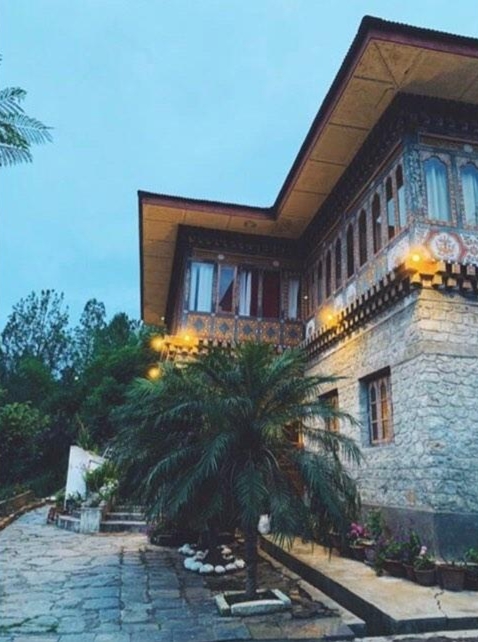 Situated on a hill like the name says, the WonderHill Homestay at Punakha will definitely be our most favourite! Hosted by Jamphel, this traditional Bhutanese house was home for the two days we spent in Punakha. A steep road uphill passes through a gate and towards the house. Two tiny fluff balls greeted us first – Lucky and Milo! The cosy porch came in view first and the rest of the house was just as charming with wooden floors and staircases. The windows in our room gave a beautiful view of the lake and the paddy fields. It was breathtakingly beautiful in the morning shrouded by fog.
We spent our nights eating delicious home-cooked meals and sitting at the porch chatting with Jamphel late into the night, having no track of time! This made our stay one of the most wonderful Airbnb experiences. The Homestay was very close to the Punakha Dzong, which is one of the most popular tourist spots and one of the most oldest Dzongs in Bhutan.
We went on early morning walks downhill, escorted by Lucky and Milo and the view just got better! Mushroom studded roadsides, cows roaming the roads and school children crossed a rickety bridge to school as we walked.
A special mention to the huge bookshelves with an endless number of books!
Loved this list? Pin this to your Pinterest Board!