The Hogenakkal waterfalls, originating from the Kaveri river, is one of the most popular spots for a weekend trip from Bangalore. The iconic cascades are seen in many Indian movie songs and is definitely worth all the fame. Hogenakkal has been on our bucket list for a long time, but we never really got a chance to plan this trip until now. So we planned a road trip to Hogenakkal Falls from Bangalore towards the end of August.
Where is Hogenakkal falls?
Hogenakkal falls distance from Bangalore is around 125 km. It is located in Dharmapuri district, Tamil Nadu. Some people refer it as "Niagara falls of India".
The name Hogenakkal came from two kannada words "Hoge" means Smoke and "Kal" means Rock which means the "Smoking Rock". This waterfalls is famous for the Coracle rides, fresh fish & bathing spots.
How to reach Hogenakkal waterfalls from Bangalore?
We took the Bangalore – Hosur(take turn before Hosur) – Denkanikottai – Anchetty – Hogenakkal route which was quite a scenic route to travel. We started our journey at around 6:30 am in the morning. Our car was rented through Revv which is a car rental service.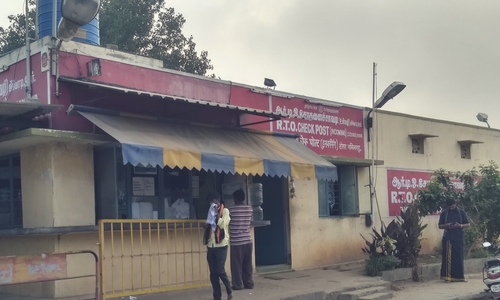 Our first stop was at the Tamil Nadu RTO office right before Hosur to get our permits (which differ based on the vehicle we choose). Google maps may show a turn from Attibele and you would end up missing the permit office. So remember to keep the RTO office as the first stop before Bangalore to Hogenakkal falls.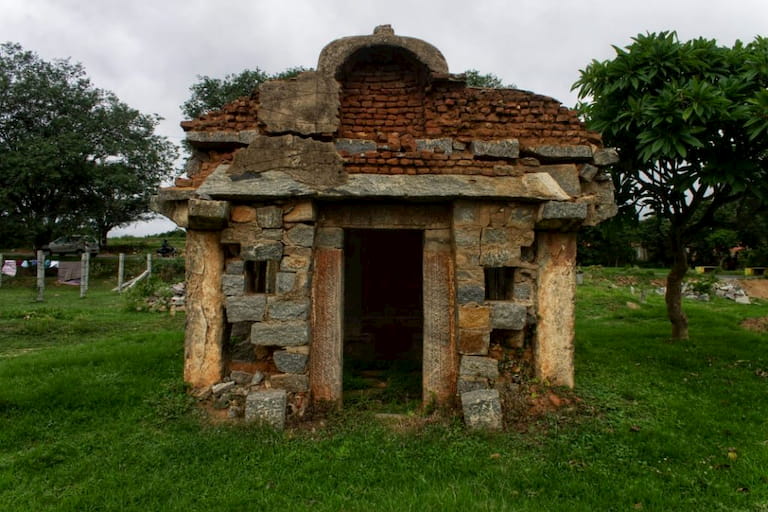 We took a turn after the Tamil Nadu RTO check post towards Denkanikottai before stopping for breakfast. It is advisable to have breakfast from Bangalore since roadside cafes lack hygiene.
The drive through Denkanikottai was beautiful as it held the beauty of the village with vast meadows and the backdrop of green mountains. We stopped here for a while and even made friends with a baby buffalo!
The roads towards Hogenakkal were narrow after Anchetty. The Kaveri river comes to view on our right as we neared Hogenakkal town.
Hogenakkal Town
One of the first things you see when you enter Hogenakkal is the crowd of locals who take us on coracle rides and cook some fresh fish! One guy showed us the way to the parking lot. We paid around Rs.30 for Parking and the parking lot is big. During holidays the parking lot can get filled easily so make sure to reach early.
We were told that the only thing to do in Hogenakkal was take the coracle ride, which we were not aware of. He did his best to persuade us to take his offer and we somehow felt very uncomfortable. The guy kept following us even after repeatedly telling we aren't interested. After walking through an alley way with eateries on both sides, we finally reached the ticket counter.
Hogenakkal Coracle Ride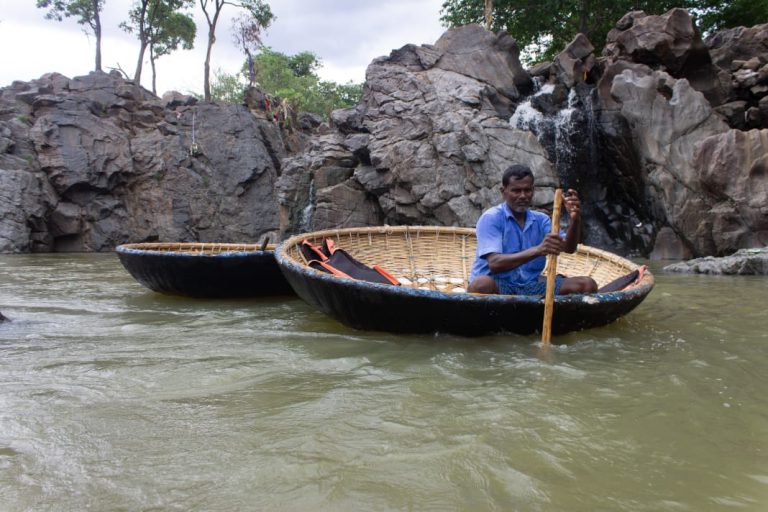 Coracle ride at Hogenakkal is Rs. 750 per coracle and one coracle will carry only 5 people at a time. Please do remember to enquire about the charges for visiting the Tamil Nadu and Karnataka waterfalls before you make any payments.
We were forced to pay an extra Rs. 500 to visit the karnataka falls after visiting the Tamil Nadu falls, as the driver says about this only when we are in the middle of water. This is one of the biggest scams to expect in Hogenakkal.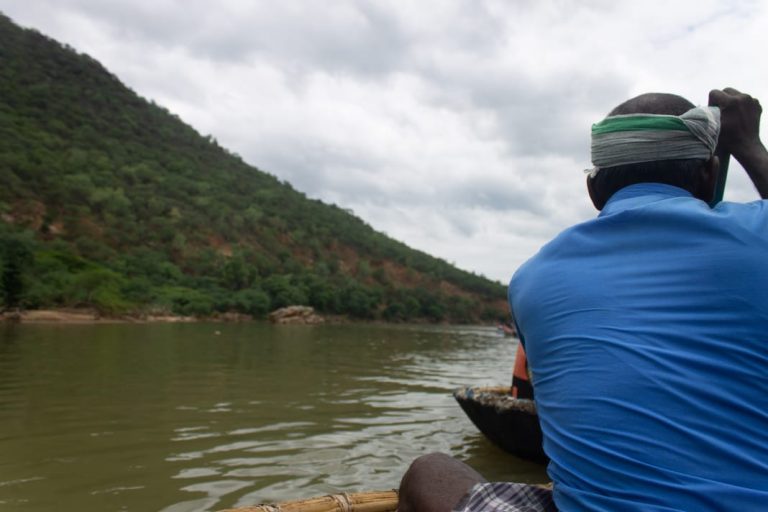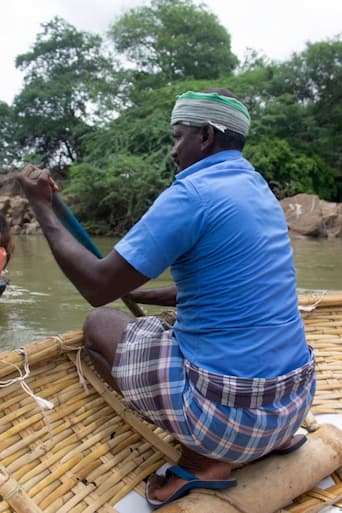 The Hogenakkal weather is just so hot and humid, it would be better not to wait till noon to start your coracle ride. It would be good to carry your sunscreen lotions and hats too! The best time to visit Hogenakkal falls would be between October to February.
After getting the tickets, we waited around 10 minutes for the coracle. Coracles are small round boats of bamboo and wood. At first we went to the falls on Tamil Nadu side. It is smaller than the Karnataka falls. We stopped at a tiny stream falling from the rocks to take some pictures. Climbing the rocks was a bit hard as they were slippery and covered in Moss.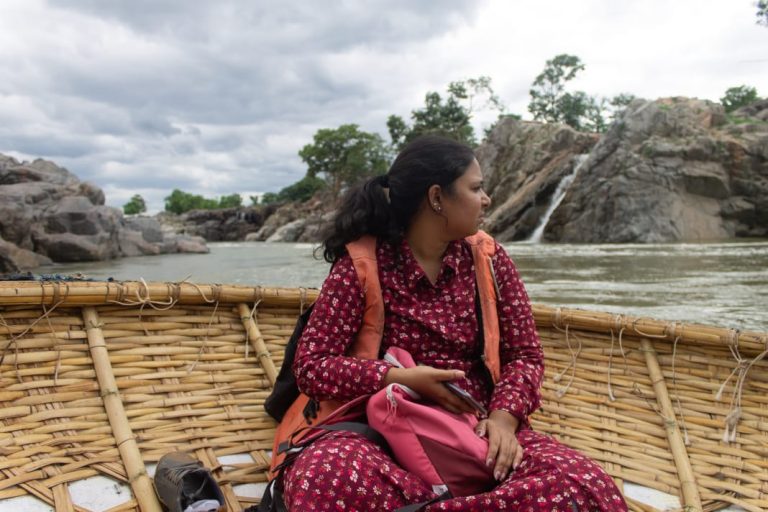 ---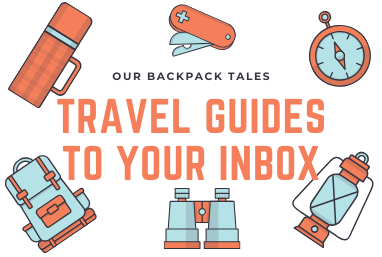 ---
Carbonatite Rocks & Karnataka falls
The carbonatite rock formations of Hogenakkal is the other main attraction. The smooth rocks glisten in the sunlight and look like they're carved to perfection. They are also some of the oldest carbonatite rock formations in the world!
The water current from Karnataka falls made it difficult for the driver to go against it. After parking the coracle, we went up some stairs to the Hogenakkal waterfall view point. The spray of water from the raging falls were all over the area which might be a reason why it's called the Niagara falls of India.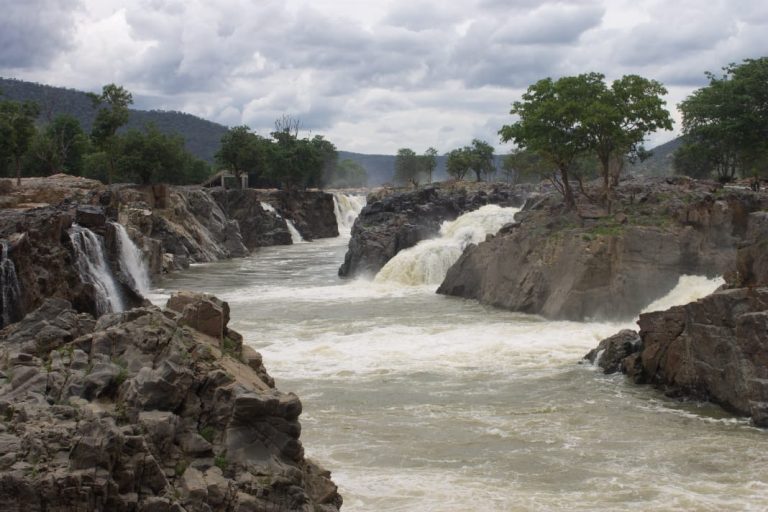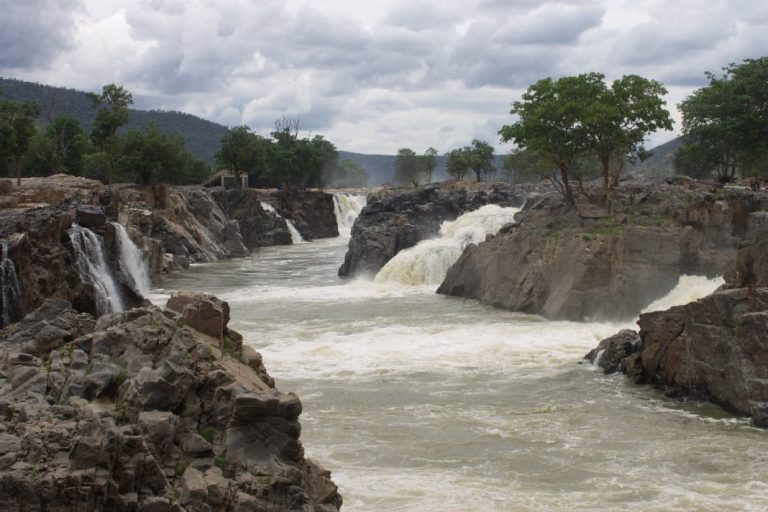 A wild spin in the coracle (that had us screaming) and the journey back to the starting point had us extremely dehydrated and famished. The coracle drivers wanted tips for taking us on the ride even after they charged almost Rs. 1000 extra! We refused to pay them, but they followed us all the way back.
Lunch at Hogenakkal falls
So the next thing in our list was lunch. For all you fish lovers out there, Hogenekkal is popular for the fresh fish from the Kaveri river. There are many ladies selling fish throughout the place.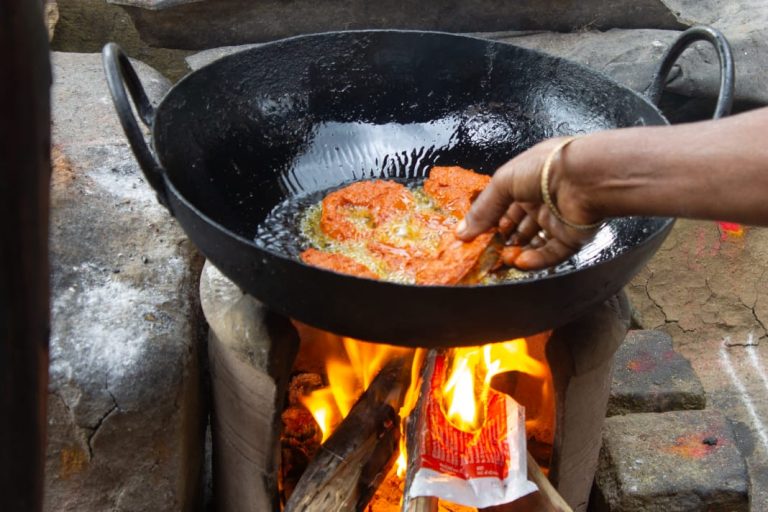 We can choose our own fish and the local ladies clean and prepare them right in front of our eyes. The flavors are simple, yet so delicious! We were quite ravenous and we gobbled them down in no time! The lady who prepared our lunch told us that we were scammed when we told her what had happened.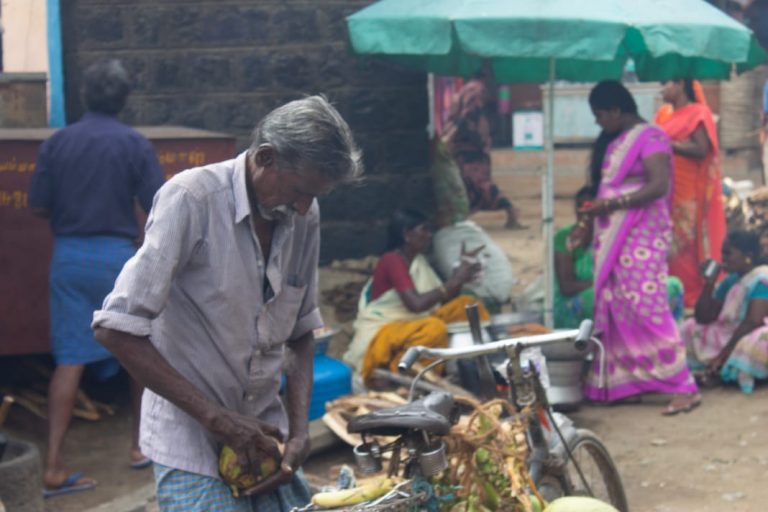 Hogenakkal falls to Bangalore
We started our journey from Hogenakkal falls to Bangalore after lunch. Other places to visit near Hogenakkal falls include the Crocodile park and the Krishnagiri Dam. Crocodile park is on the way, but we were too tired visit.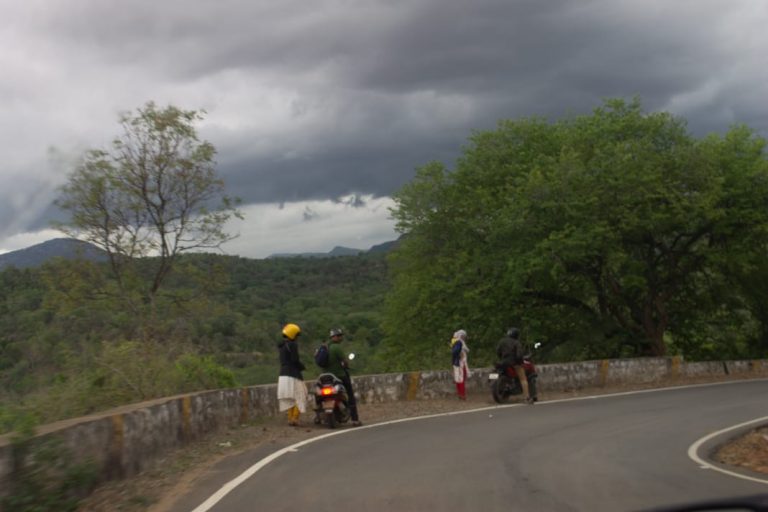 Overall, we feel this a very overrated place and its very easy to get scammed if you're not familiar with the area.
Hogenakkal Travel Tips
Hogenakkal falls entry time starts from 7 am.
Car parking fee is Rs. 30.
Hogennakal coracle ride ticket costs Rs. 750/coracle. (This should include both Tamil Nadu and Karnataka falls, but the drivers will demand more to show the Karnataka falls. We aren't sure about this! If you do then please leave a comment!)
Best time to visit Hogenakkal falls are from October to February.
How to reach Hogenakkal falls?
Cheapest way to reach Hogenakkal
Board a train to Dharmapuri, and get a direct bus to Hogenakkal from Dharmapuri busstand. Get a small idea on buses and timings here.
Bangalore to Hogenakkal
Distance – 125 kms.
Route map – Bangalore – Denkanikottai – Anchetty – Hogenakkal
Time – Around 3 hours
Chennai to Hogenakkal falls
Distance – 343 kms.
Route map – Chennai – Vellore – Krishnagiri – Dharmapuri – Hogenakkal
Time – Around 7 hours
Mysore to Hogenakkal falls
Distance – 181 kms.
Route map – Mysore – Mallavalli – Kanakapura – Anchetty – Hogenakkal
Time – Around 5 hours
Coimbatore to Hogenakkal falls
Distance – 221 kms.
Route map – Coimbatore – Erode – Bhavani – Mettur – Hogenakkal
Time – Around 5 hours
Places to visit near Hogenakkal Falls
Krishnagiri dam – It is located at a distance 90 kms in Hogenakkal to Chennai route. There is boating and other activities here.
Yercaud – Yercaud to Hogenakkal falls is at a distance of 118 kms, is a popular hill station.
Yellagiri – Another hill station at a distance of 158 kms from Hogenakkal.
Nearby public transport
Airport – Bangalore International Airport at 160 kms.
Railway Station – Dharmapuri Railway Station at 50 kms.
Major Town – Dharmapuri at 50 kms.
Places to stay at Hogenakkal
There are very few options to stay at Hogenakkal falls. You can check the hotel prices here
---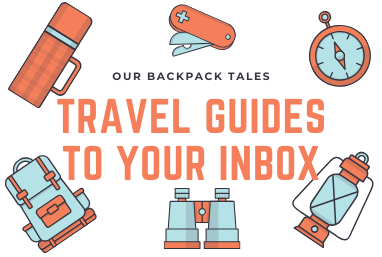 ---
Click on the picture to pin this to your Pinterest Travel Board!