Lepakshi is a small village in the Anantapur district of Andhra Pradesh, and it's popular for its cultural diversity. So, what is Lepakshi famous for? It's home to the popular Veerabhadra Swamy Temple, better known as the Lepakshi temple. Lepakshi temple from Bangalore is a great spot for one day trip since the distance is just around 123 km! It's always better to make your own trip to Lepakshi, but you can also find frequent KSRTC buses from Bangalore to Lepakshi. This makes Lepakshi one of the best places to visit from Bangalore.
Suggested Read: List of top places to visit from Bangalore.
---
Route to Lepakshi Temple from Bangalore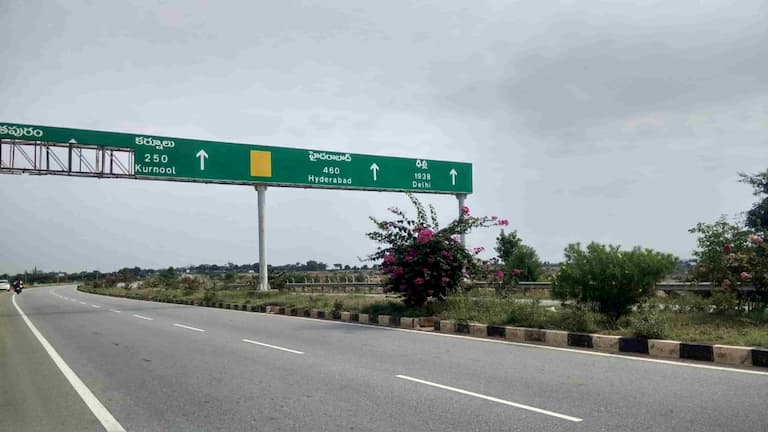 So we made our trip early in the morning to Lepakshi in Andhra Pradesh, on our Royal Enfield, and we took the Yelehanka – Devanahalli – Chikballapura – Bagepalli – Kodikonda check post – Lepakshi route. It was still early, so the ride was quite relaxing. Check out our Top Tips for Biker Couple for more information on how we ride!
---
Lepakshi History
I wondered how Lepakshi got its name and did a bit of research before we made our trip. Legend says that when Sita was being abducted by Ravana, the mythological bird Jataayu fought him, resulting in his wings being cut off by Ravan. This is the spot where he fell. When Rama found him, he said, 'Le pakshi' meaning 'Rise bird' in Telugu, ultimately giving the place the name 'Lepakshi'.
---
Places to visit near Lepakshi
Lepakshi Nandi Statue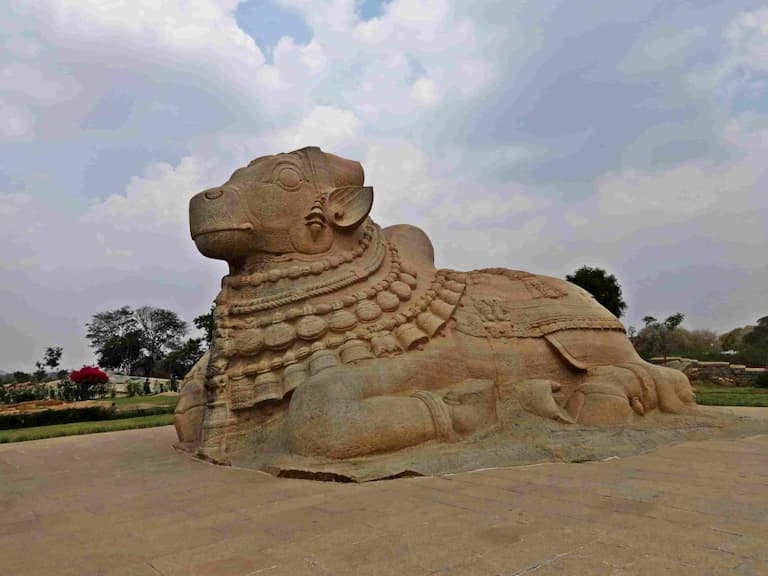 One of the first sights, as we approach the temple, is the giant monolithic statue of the Lepakshi Nandi (called Basavanna) which is made of one block of granite. It is around 27 feet in length and 15 feet in height. It is one of the few places to visit here.
---
Suggested Read: A weekend trip to Hogenakkal from Bangalore
---
Jataayu Park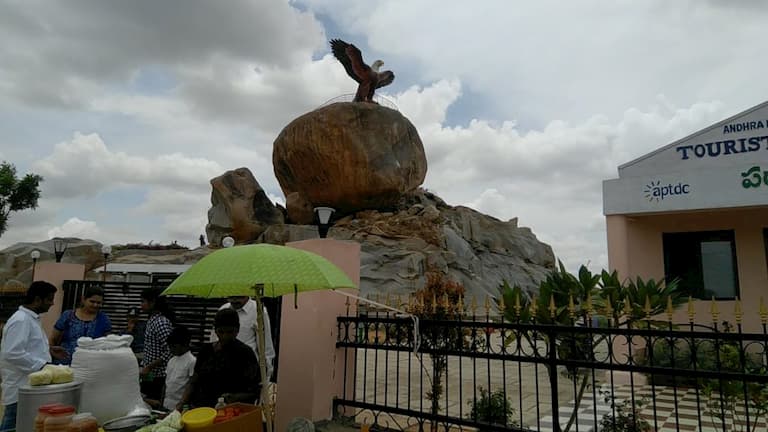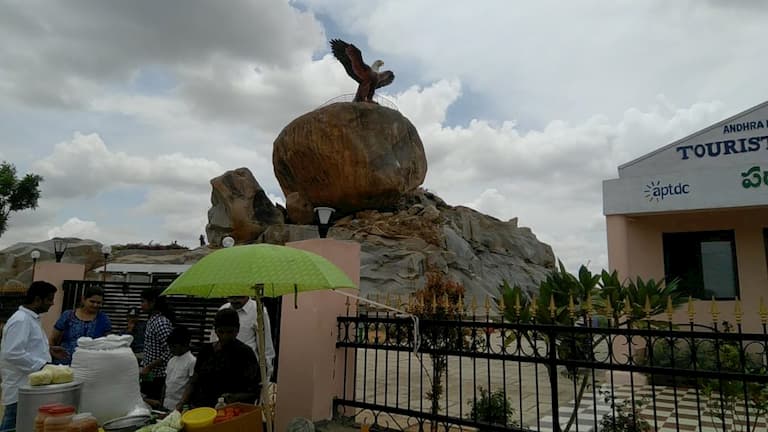 Here you can find a huge sculpture of the mythical bird, Jataayu with a viewpoint. There is also an Andhra Pradesh tourism counter at the entrance from where you should purchase a ticket for Rs. 10.
---
Suggested Read – Day trip to Nandi Hills from Bangalore
---
Lepakshi Veerabhadra Swamy Temple
Just 1km away from the Nandi is the famed Veerabhadra Swamy Temple. Another question would be who built the Lepakshi temple? Well, the temple dates back to 1583 and was built by brothers Viranna and Virupanna during the Vijayanagara period. Thus this magnificent temple is a perfect example of the Vijayanagara style of architecture. The temple is primarily dedicated to Lord Veerabhadra (Siva), but also has idols of Lord Ganesha, Nandi, and Lakshmi.
At the entrance to the temple, we have to keep our shoes away and wash our feet. You can tip the guy who takes care of your shoes. There are a lot of monkeys at the entrance, so take care of your belongings!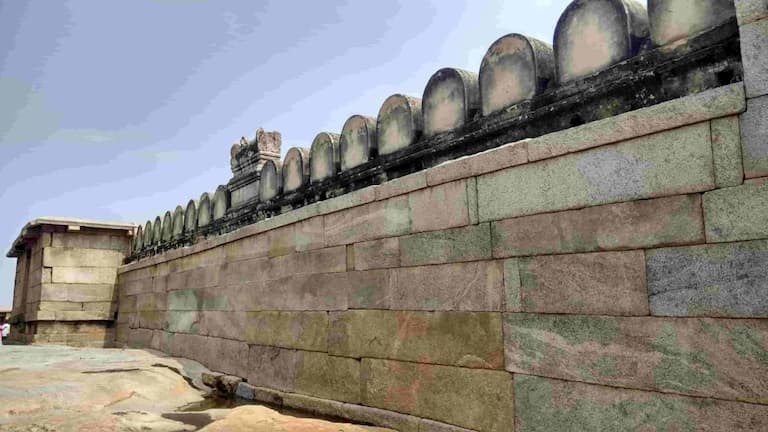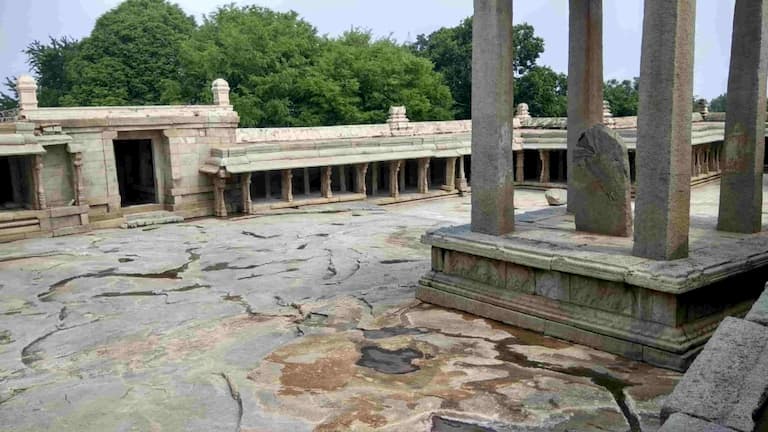 The temple is a galore of wall and pillar carvings of various Gods and Goddesses, and the beautiful roof paintings similar to Hampi. In fact, the Lepakshi temple is renowned for having the most beautiful paintings of the Vijayanagara Kings!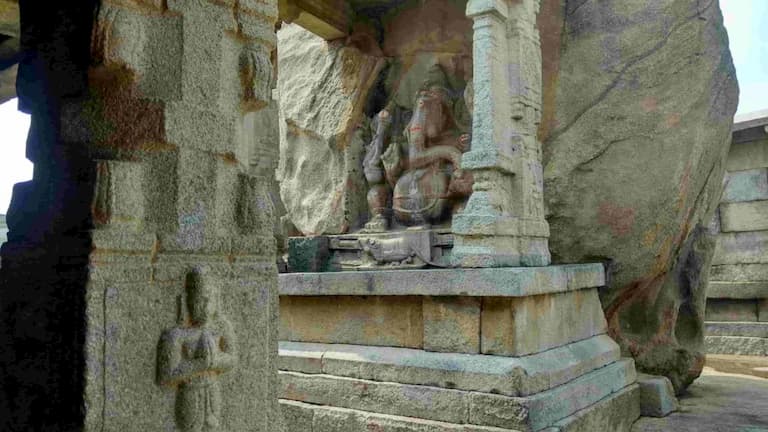 Some of the most interesting sights inside the temple would be the Nagalinga, the hanging pillar and the Durga padam.
---
Suggested Read: Top places to visit in Wayanad
---
Nagalinga statue
The Nagalinga statue is said to be the largest monolithic Nagalinga in India. The tale behind it also says that it was carved with such speed that it was completed even before the cook finished preparing lunch for the workers!
---
Lepakshi Hanging Pillar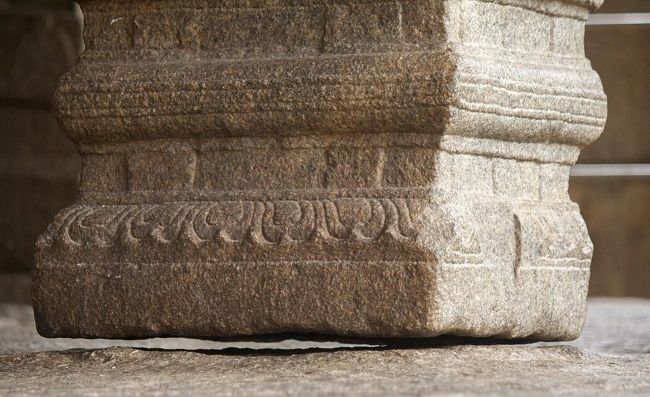 The Lepakshi hanging pillar is another mystery in itself. Passing a piece of paper through the space underneath the pillar will prove that it is indeed not rooted to the ground! A British engineer is said to have tried to move the pillar, to learn how it is being supported, but ended up dislodging it from its original position.
---
Suggested Read – Hampi Trip from Bangalore
---
Durga Padam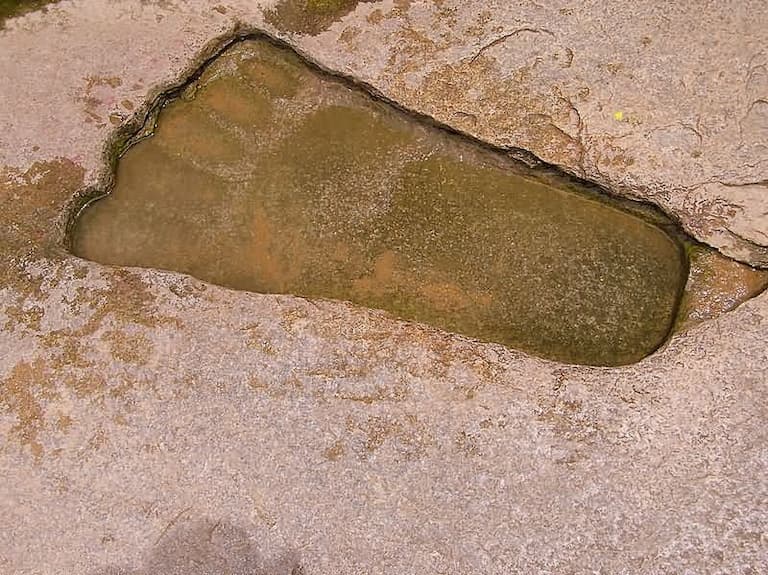 The Durga Padam or the footprint of Sita is another attraction. This huge footprint is said to have appeared after Ravanan decided to rest here while taking Sita to Lanka.
There are many Souvenir shops outside the temple selling simple handicrafts, and also temple offerings. The tender coconuts taste heavenly after being parched in the hot weather, so remember to get some!
Lepakshi Temple to Bangalore
The trip takes around 2 hours, and starting early in the morning can help to avoid the rush and harsh climates. The Lepakshi temperature could be high during the summer and relatively mild during the winter. It is advisable to have breakfast on the way while travelling to lepakshi temple from Bangalore since there weren't many food outlets around when we visited.
The trip back to Bangalore from Lepakshi took a bit more time due to the traffic, but all around, this is a perfect day trip. If you have one more day you can plan for the Skandagiri hills night trek or Nandi hills.
---
Suggested Read – Guide for Skandagiri Hills Night Trek from Bangalore
---
Travel Tips for Lepakshi
1. Start early to avoid the rush and harsh climates.
2. Best time to visit Lepakshi would be October – February for milder climates.
3. wear respectable clothing since it is a fully functional temple with regular pujas.
4. There is no entry fee, but there will be parking fees of around Rs. 20.
5. It's good to carry water bottles.
6. Lepakshi temple timings are from 6 am to 6 pm.
---
How to reach Lepakshi
The nearest Airport is Kempegowda International Airport (Bangalore International Airport) which is at 100 km. You can take a cab and reach the temple. Hindupur railway station is the nearest railway station to Lepakshi at 13 km.
---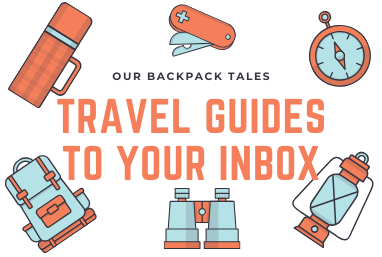 ---
FAQ's
What is lepakshi famous for?
Lepakshi is famous for Veerabadhra temple. This temple has a magical hanging pillar, Nagalinga statue, Jatayu statue, durga padam etc. which makes it famous among tourists.
How far is lepakshi temple from Bangalore?
Lepakshi is 123kms away from Bangalore. It takes around 2 hours to reach Lepakshi temple from Bangalore.
Who built lepakshi Temple?
This was built in the 16th century by Virupanna and Veeranna during Vijaya nagara empire.
How can I go to lepakshi Temple?
Reach Hindupur railway station which is around 13 kms from the temple. Hire a cab or auto to reach the temple.
---
Click and Pin this to your Pinterest Board!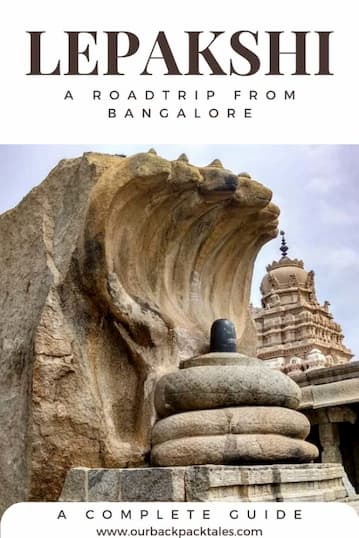 ---
Posts you may be interested