Athirapally waterfalls is one of the biggest waterfalls in India standing at a height of 82 feet. This waterfall is a popular tourist destination in Kerala. There are various tourist places near Athirapally Falls which can be covered on your Athirapally Trip. It is located in Pariyaram, Kerala. The nearest town is Chalakudy which is at a distance of 31km from Athirapally falls. The falls is located in the entrance of sholayar ranges of western ghats. The falls is in rainforest area which receives heavy rainfall in monsoon seasons.
The weather in Athirapally is hot and humid during most of the year. It is relatively pleasant during winters. You can visit Athirapally falls around the year. If you wish to see the waterfalls in full glory you have to visit during monsoons. There are various resorts in and around Athirapally. The Athirapally rainforest resort is one of the most popular resort.

The spectacular falls is a treat on its own, but there are a few other nearby attractions you can visit while at Athirapally waterfalls. This waterfall is one of the spots where the popular Indian movie Bahubali was shot. This post lists the top tourist places near Athirapally falls under 100 kms which you should not miss while visiting.
Suggested read : A Guide to Visit Athirapally Falls
---
Tourist places near Athirapally falls
1. Vazhachal Waterfalls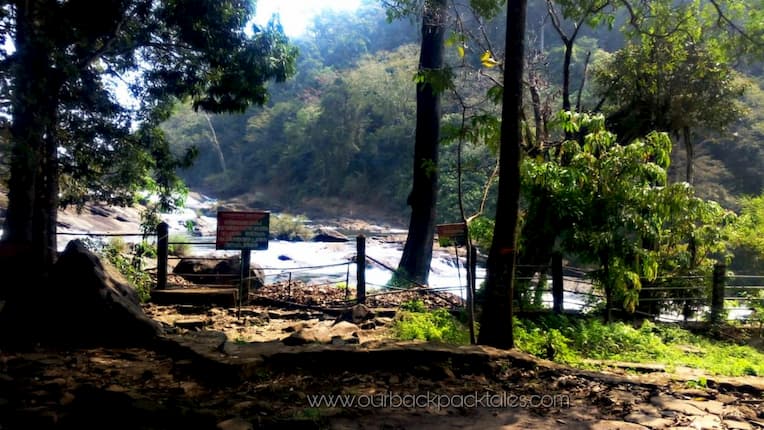 The Vazhachal waterfalls originate from the Chalakudy river and is just 5 km from Athirapally falls. The milky white falls are a beautiful sight at an elevation of 390 feet. The drive from Athirapally to Vazhachal falls is mostly through forest area making it even more memorable. To travel from Athirapally to Valparai you must take a permit from the Kerala forest check post near this falls. The Vazhachal forest checkpost opens at 6.00 A.M. This is one of the popular places near Athirapally falls.
You can use the same ticket purchased from Athirapally falls to enter the Vazhachal Falls.
---
2. Thumboormuzhi Dam and Hanging bridge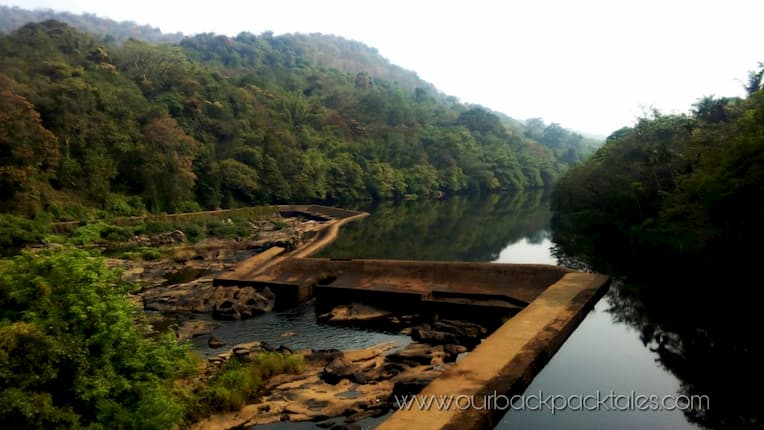 The Tumboormuzhi dam & Hanging bridge is situated on the way towards Athirapally falls from Chalakudy . It is located at a distance of 16 km from Chalakudy and 14 km from Athirapally Falls. It is maintained as a beautiful garden with a check dam and a butterfly garden.
The check dam is mainly used for irrigation purpose in Chalakudy area. You can visit the hanging bridge which is the main attraction at Thumboormuzhi. If you cross this hanging bridge you will reach Ernakulam district.
---
3. Sholayar Penstock Pipe View Point (Poringalkuthu Hydroelectric power station)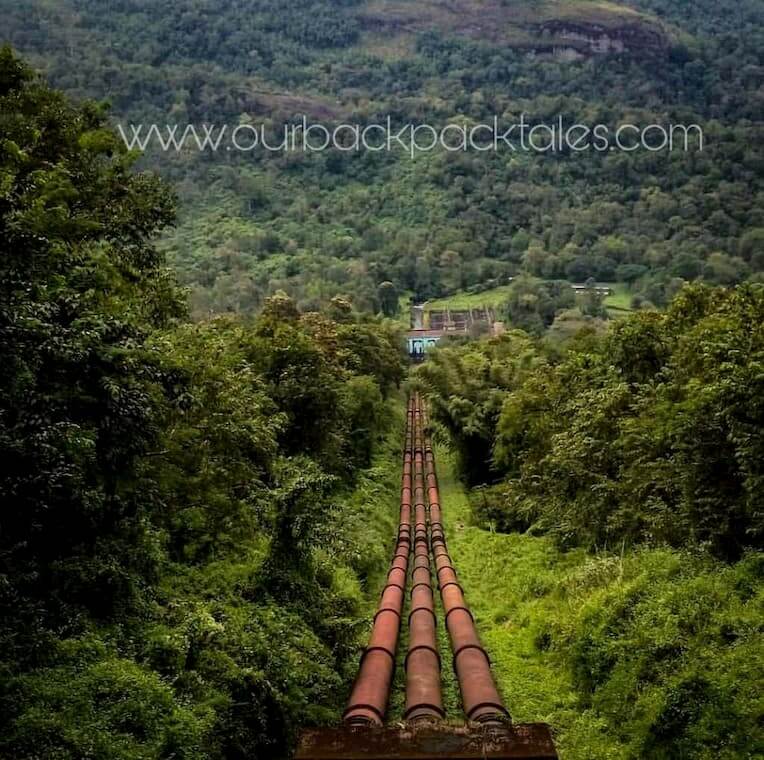 The Penstock Pipes are the part of the Sholayar Hydroelectric project situated at Poringalkuthu power station. This viewpoint is located 25 km away from Athirapally falls, on Athirapally – Valparai forest road. This spot requires a drive through the forest area and hence a permit from the Forest check post at Vazhachal falls is needed. Even though it is not promoted as a tourist destination, you can still catch an awesome view! This makes this penstock view point a top places near Athirapally falls.
The road to Valparai from Athirapally is very narrow and is through thick forest. You may see various wild animals on the route.
---
Suggested Read – Roadtrip guide from Cochin to Munnar
---
4. Charpa Waterfalls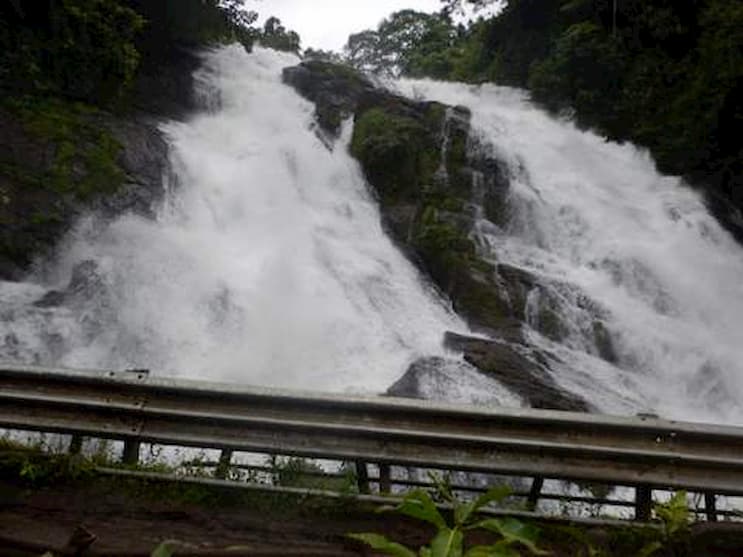 The Charpa falls is located 3.4 kms from the Athirapally waterfalls and is located in between Athirapally and Vazhachal Waterfalls. During monsoon season, the falls are seen at its best and often pouring on to the roads. You don't need any ticket to visit this waterfall. As the waterfall is near to the road people tend to get near the falls, which can be very dangerous.
---
5. Sholayar Dam
Sholayar dam is located on the Athirapally to Valparai route. This is one of the major dams in Tamil Nadu. Sholayar dam is a part of Hydro electric project by Tamil Nadu state. The dam is located at a distance of 55 km from Athirapally falls on Athirapally – Valparai Route. You can see the large reservoir of dam and streams which is originated from this creates the Chalakudy river and reaching the Athirapally falls.
---
Suggested Read – Top places to visit in Wayanad
---
6. Chimmini Dam & Wildlife Sanctuary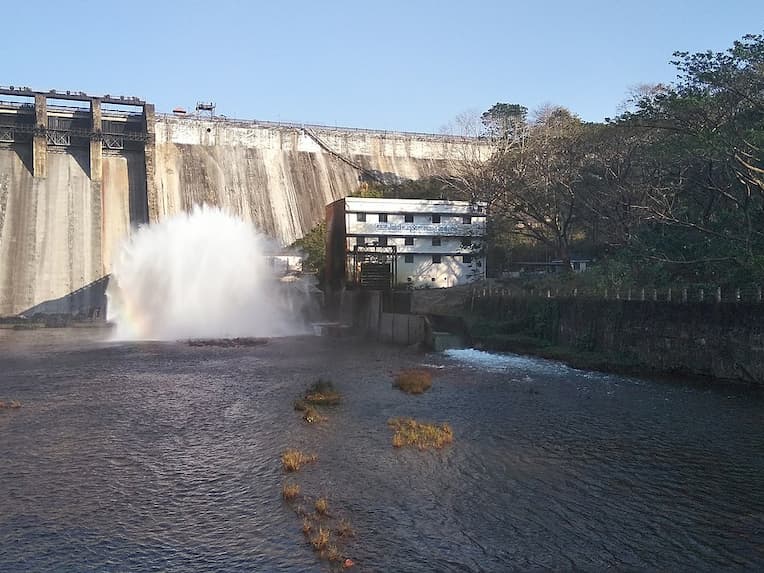 Chimmini Dam (Image Source)
The Chimmini wildlife sanctuary & dam is located at a distance of 47 kms from Athirapally falls, in Echippara, Chalakudy Taluk. It was built in the year 1996 on the Chimmini river. Surrounded by beautiful hills the dam and the wild life sanctuary are popular tourist spots near Athirapally falls. Boating in the reservoir and trekking through the sanctuary are the top things to do in Chimmini. The area is also home to a variety of flora and fauna, and many of them are considered to be endemic species.
You can look for Chimmini wildlife sanctuary stays which are mostly around the Athirapally area.
---
Suggested Read – Top 15 places to visit in Thekkady
---
7. Peechi Dam
Peechi Dam is located at a distance of 74 kms from Athirapally, the Peechi dam was built across the Manali river as an irrigation project. It is a popular tourist spot near the Athirapally waterfalls along with the Peechi – Vazhani wildlife sanctuary. Established in 1958 the sanctuary is home to some exotic flora and fauna.
There are boating services available at the Peechi dam along with the entry to the Peechi wildlife sanctuary. The entry fee to the dam is Rs. 10 and boating fee is Rs. 150 per head.
---
8. Ezhattumugham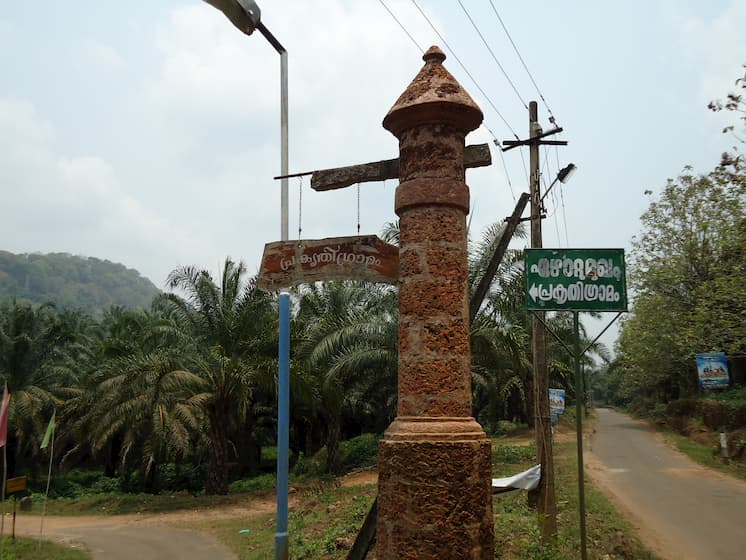 Ezhattumugham is located at 14.7 kms from Athirapally waterfalls in the Ernakulam District. It is known as Ezhattumugham Prakriti Gramam, for its serene picturesque landscapes. This beautiful village can be easily accessed from the Thumboormuzhi – Ezhattumugham Hanging bridge located inside Thumboormuzhi gardens. You can also drive to Ezhattumugham through road. The best time to visit Ezhattumugham is during the summer as the Chalakudy river water level remains low and tourists can bathe in its waters.
---
9. Illithode Eco Tourist Spot
Located at a distance of 41.7 kms from the Athirapally falls, Illithode is a quaint village in the Ernakulam district. Surrounded by beautiful mountains and the Periyar river flowing by the side, Illithode Eco tourist Spot is a tourist destination slowly gaining popularity. The Periyar river admits the thick forest is the main attraction in Illithodu. Visitors often take a walk of 15 – 20 minutes to the forest to visit the river and it is also a popular filming location.
---
10. Malakkapara Tea Estates
At an elevation of 3112 feet above sea level Malakkappara is a beautiful hill station located in the Thrissur district on Athirapally Valparai route. Malakkappara is famous for its tea estates and magnificent views. It located at a distance of 50 kms from Athirapally waterfalls. The tea gardens along with the Sholayar Lake are the most popular tourist attrations here. Having a cup of tea from a local tea shop amidsts the fog is a refreshing experience.
Suggested Read – Trip to Kolukkumalai Sunrise
---
11. Silver Storm Water Theme Park
Silver storm water theme park is located at a distance of 11 kms from Athirapally waterfalls at Vettilappara. The park has various adventurous rides that make it a popular place to visit near Athirapally falls. This theme park is surrounded by beautiful mountains making it all the more an exotic experience. The Silver Storm Water Theme Park entry fee for adults is Rs. 1050. The timings are from 10.00 AM to 7.00 PM.
---
12. Kodanad Elephant Training Center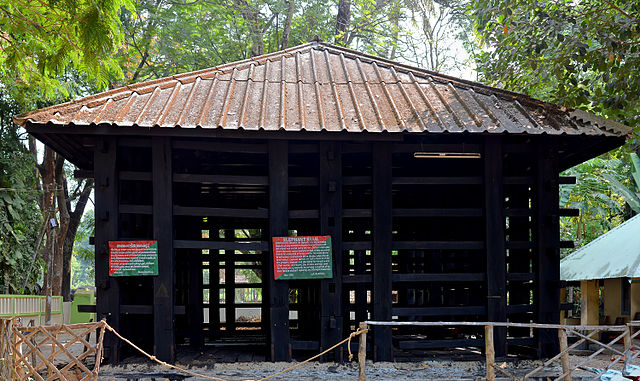 Kodanad is an elephant training center situated in the banks of Periyar river. It is located at a distance of 41.6 kms from Athirapally waterfalls. This was once the training center for the elephants captured from the surrounding forest regions. Currently it acts as the shelter for the adult and baby elephants. A mini forest zoo named Abhayaranyam is established around 200 acres of the forest.
---
13. Muziris Lakeshore Park & Boating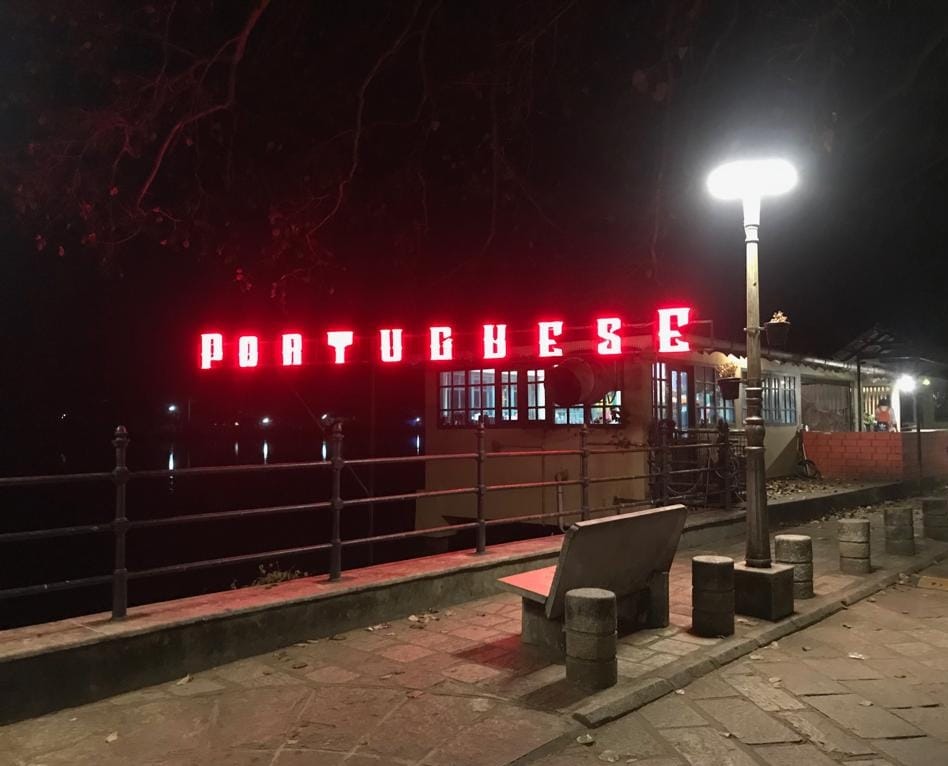 Muziris Lakeshore Park is situated in the banks of Periyar in Kodungallur. This park has floating restaurants, and amazing view of the Periyar river. It is a popular hangout spot among teenagers and adults alike. You can also book boat rides which vary in price according to the boat you choose. These boat rides will take you to all the historic places around significant to the Muziris history.
---
14. Munakkal Beach
Munakkal Beach also known as Azhikode beach is situated at a distance of 61 kms from Athirapally waterfalls. This pristine beach is located in Kodungallur. You can see many chinese fishing nets and can take part in the fishing with locals. Here you can see the Periyar river merging with Arabian Sea. This one of the popular tourist place near Athirapally falls which can be planned for a sunset.
---
Suggested Read – Top 15 places to visit in Kodungallur
---
15. Muniyattukunnu Hillock
Muniyattukunnu is an offbeat location situated at a distance of 28 km from Athirapally waterfalls in Mupliyam village. This is too remote that only the local people know about this location. You can climb this hill to see the magnificent view of the western ghats. There is a Ganapathi temple at the top of the hill. The climbers should be careful while climbing the hill as there is no proper way paved for climbing. This is a less known place near Athirapally falls which you should never miss.
---
Distances to places near Athirapally falls
This is the list of places near Athirapally and distances.
Charpa Waterfalls – 3.4 kms
Vazhachal Waterfalls – 5.3 kms
Thumboormuzhi Gardens – 9 kms
Poringalkuthu Dam – 13 kms
Silver Storm Water Theme Park – 11 kms
Ezhattumugham – 14.7 kms
Poringalkuthu power station penstock pipe viewpoint – 25 kms
Kodanad Elephant Training Center – 41.6 kms
Illithodu – 41.7 kms
Chimmini Wildlife Sanctuary & Dam – 47 kms
Malakkapara Tea Estates – 50 kms
Muziris Lakeshore Park & Boating – 54 kms
Sholayar Dam – 55 kms
Munakkal Beach – 61.3 kms
Peechi Wildlife Sanctuary & Dam – 74 kms
How to reach Athirapally waterfalls
You can reach Athirapally falls from Kochi (Cochin) by taking a public bus towards Chalakudy and take the next bus to Athirapally. Chalakudy to Athirapally
Nearest Railway Station: Chalakudy, 32kms
Nearest Airport: Cochin International Airport, 46kms
Tips on visiting Athirapally falls
Most of these places near Athirapally falls are under the Kerala Forest Department, so you can expect an encounter with wildlife. So drive carefully and respect the nature.
The checkpost at Vazhachal opens at 6 am and closes at 6 pm. Make sure to plan your trip accordingly.
Bikes with modified silencers are not allowed entry in the forest area.
Try not to feed the animals.
You can use the same ticket purchased at Athirapally waterfalls to enter the Vazhachal falls as well.
Be sure to buy your tickets (Rs.15/person) at Thumboormuzhi dam.
To book the best resorts near Athirapally Waterfalls at best prices : Click here
---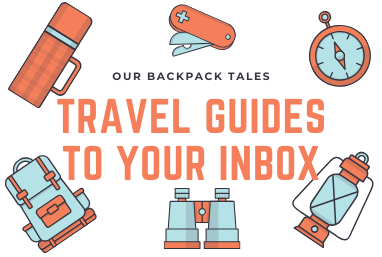 ---