At an elevation of 5200 feet above sea level, Munnar is one of Kerala's most beloved hill stations. Home to endless tea plantations and foggy mountains, this beautiful hill station in the Idukki district of Kerala is a wonderful place to spend a great vacation. Beautiful views of the Western Ghats, amazing tea plantations and spice gardens are among some of the treasures that await you at this gem of a place. This is a curated 3 days Munnar Travel Guide. This Munnar Itinerary covers most important places to visit & things to do in shortest route & time.
How to reach Munnar
By Road -The best way to enjoy your journey to Munnar is to take a bus ride. There are frequent buses to Munnar from most major South Indian cities, and the journey through the winding terrains and the tea plantations is really a memorable experience!
By Air – The Cochin International Airport is is nearest airport at around 110 km from Munnar. It is easy to get a bus to Munnar once you arrive at Cochin.
By Rail – The nearest railway station is located at Aluva at around 110 km from Munnar. One can take a bus to Munnar after arriving at Aluva.
Best time to visit
Munnar climate is known to be very pleasant throughout the year, making it an year-round tourist destination in Kerala. Summers (March to May) are pleasant with crisp blue skies and it is the perfect time to indulge in sight-seeings and trekking. The temperature usually do not go beyond 25 degrees and evenings are always cool.
Monsoons (June to September) are the wettest time at Munnar. Landslides are common which causes delays in travel plans due to safety issues. Winters (October to February) are considered the best time to visit Munnar. The temperature tends to drop to minus degrees and slight snowfalls are also seen in some high points.
What to pack?
It is good to pack some jackets and woolens while visiting Munnar as the climate remains cool throughout the year. Pack comfortable shoes and good breathable socks if you plan to hike or trek.
Make sure to carry sunscreen lotions as winter sun tends to damage your skin and even in the cold, your skin needs protection! It is always a good idea to carry your own first aid kit while traveling.
Where to stay and transportation
Munnar has a variety of choices for accommodation starting from home stays to luxury resorts. It is advisable to pre-book your accommodation as last minute bookings can prove to be expensive and difficult. There are various tree houses in Munnar which will make your stay memorable.
Check the price of Munnar Hotels – Check Now
Hiring jeeps from Munnar town is a good option to explore & complete your Munnar Itinerary perfectly, if you do not have a vehicle of your own. You can bargain with the drivers to get best rates.
---
Munnar Itinerary for 3 Days
---
Day 1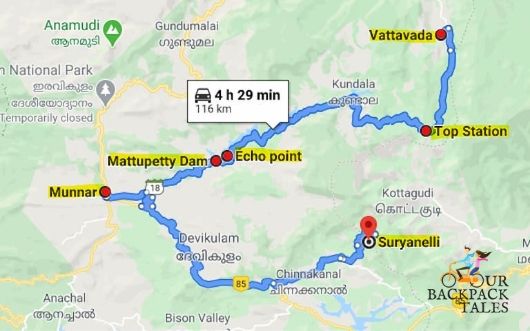 Top Station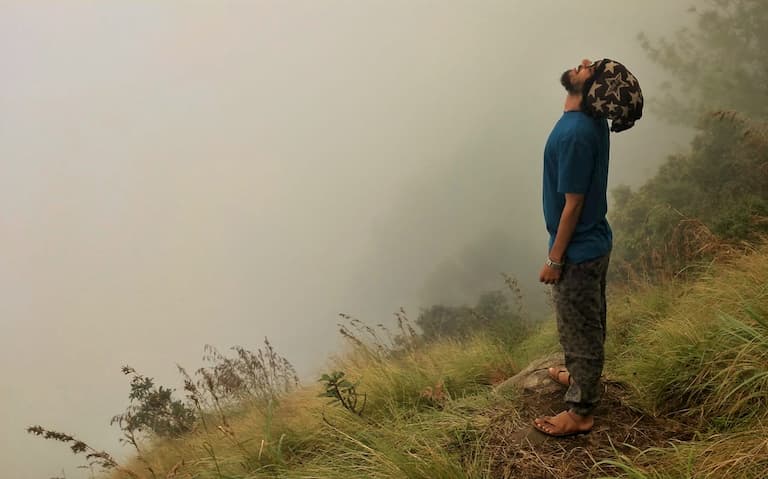 Its better to start your day early as the morning fog is something you shouldn't miss while at Munnar! Start your journey towards Top station early in the morning.
The Top Station is located around 17.3 km from Munnar town. At an elevation of 5577 feet above sea level, Top Station is the highest point in Munnar.
It offers a panoramic view of the Munnar town and the Western Ghats from its view point and is an important place to add to your Munnar Itinerary. You can also taste some of the best roasted sweetcorn on cob.
The visiting time is from 6 am to 6 pm and there is no entry fee. It takes around 30 minutes to 1 hour to visit Top Station. After visiting Top station start your journey towards Vattavada.
Vattavada – Kerala's first self-sufficient village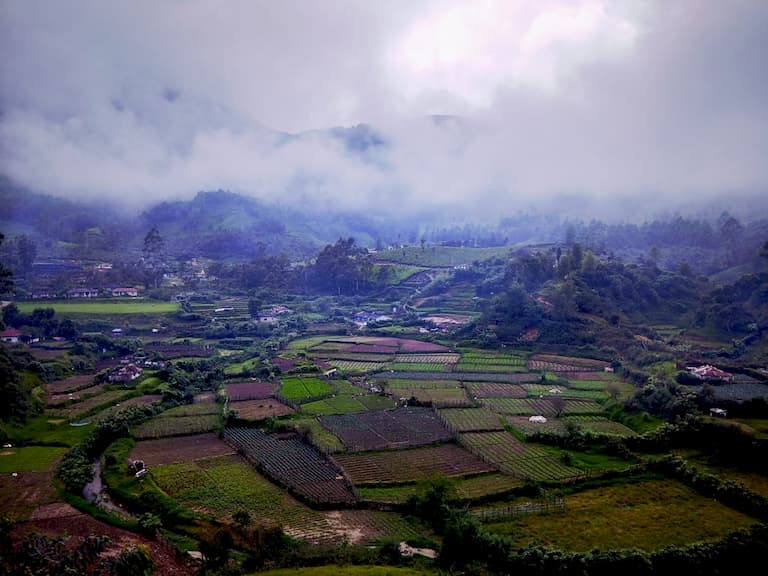 Vattavada is located around 8 km from Top Station which will take around 30 minutes to reach. It is famed to be Kerala's only self-sufficient village.
They produce a variety of vegetables and crops that are rarely seen in other parts of Kerala like apple, orange, plum and strawberry.
The Kurinjimala Sanctuary and the Pampadum Shola Sanctuary are some of the best places to visit near Vattavada. Due to time constraint we are not adding those to this Munnar itinerary.
After finishing Vattavada village, start your journey back to Munnar Echo point.
Echo Point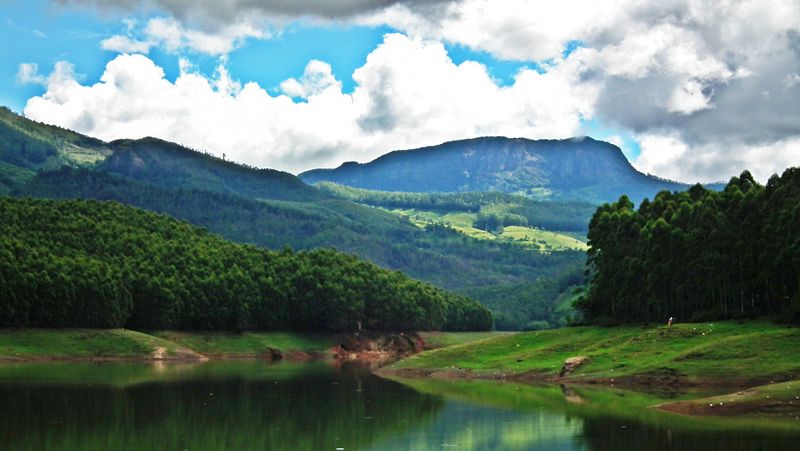 Located 31.5 kms from Vattavada, the Echo Point, as the name suggests, showcases the echo phenomenon. Visitors are often seen to yell out to the cliff and hear their echos in return. Other than this, boating facilities are also available here.
The Echo point is also a view point for the famous 'Neelakurinji' flowers that bloom only once in 12 years! The visiting time is from 7 am to 6 pm, with an try fee of Rs.30 for adults and Rs. 15 for children. Finish Echo point and move to Madupetty Dam.
Madupetty Dam
The Madupetty Dam is located at 1.3 km from Echopoint. This picturesque lake with crystal clear water and a backdrop of beautiful emerald mountains is a must visit spot in your Munnar itinerary.
The dam visiting hours are from 9:30 am – 5 pm, with an entry fee of Rs.10. Boating prices vary according to type of boat being hired from Rs.200 to Rs.700.
Leave for Suriyanalle
After boating start your journey to Suriyanelli by around 4 pm as it takes 3 hours to reach Suriyanelli from Munnar town. Stay overnight at Suriyanelli.
Check hotel prices at Suryanelli – Click Here
---
Day 2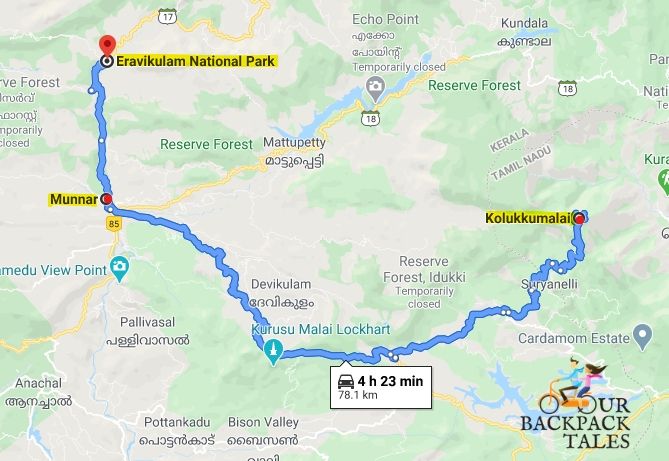 Sunrise at Kolukkumalai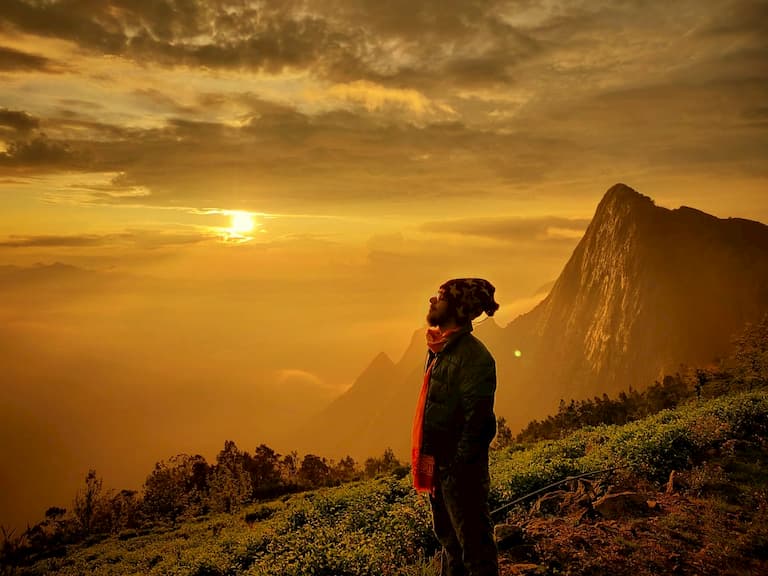 Witnessing the sunrise at Kolkkumalai Sunrise Point is one of the most popular things to do while at Munnar. Located in the Theni District of Tamil Nadu, the foothills of Kolukkumalai lies at a distance of 8.7 km from Suriyanalle town. It is famed to be the highest tea plantation in the world.
The Kolukkumalai Jeep Safari is the only way to reach the top and it is available at a fixed rate of Rs. 2000 per Jeep. Most of the time the Jeep is arranged by travel agencies or you can always find one at the Jeep Safari counter at the Kolukkumalai estate entrance.
We recommend you to read our Munnar travel guide on Kolukkumalai – Trip to World's Highest Tea Plantation
It is necessary to take this safari early in the morning to be able to catch the Sunrise. Once back at Suriyanelle town, you can opt for breakfast at Hotel Siva, which is the only restaurant in Suriyanalle.
Return to Munnar Town
Return to Munnar town and opt for lunch at Hotel Maharani or Saravana Bhavan. By around 2 pm, leave for Eravikulam National Park.
Eravikulam National Park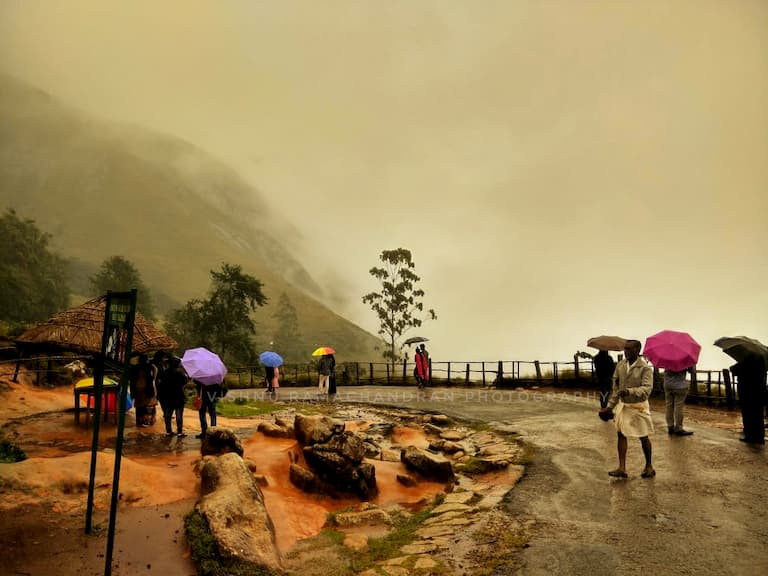 The Eravikulam National Park is located at a distance of 7.6 km from the Munnar Town. A treasure trove of a variety of flora and fauna, the Eravikulam National Park is also the first national park to be established in Kerala.
The Anamudi peak which is also one of the highest peak in Kerala at an elevation of 8841 feet above sea level is situated within the park. Private vehicles are not allowed in the park. It is one of the most recommended place in this Munnar travel guide.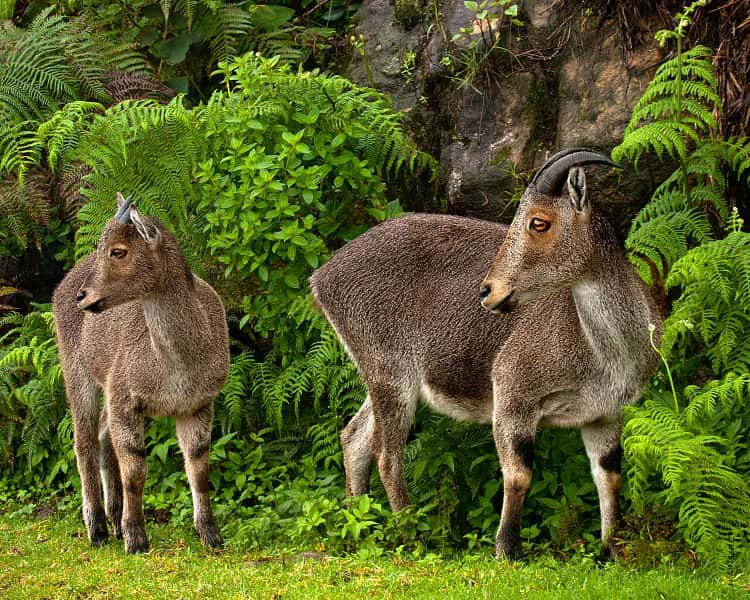 The park provides safaris and also it is accessible by feet. The park is known be the perfect spot for sightings of the Nilgiri Tahr, which is classified as an endangered species.
The visiting hours is from 8:30 am to 4:30 pm, with an entry fee of Rs.15 for Indians and Rs.200 for foreigners. Extra charges maybe be applicable for cameras.
Drive back to Munnar town from national park and stay overnight. Pre-book your stay at Munnar town for the night to avoid last minute rush.
---
Day 3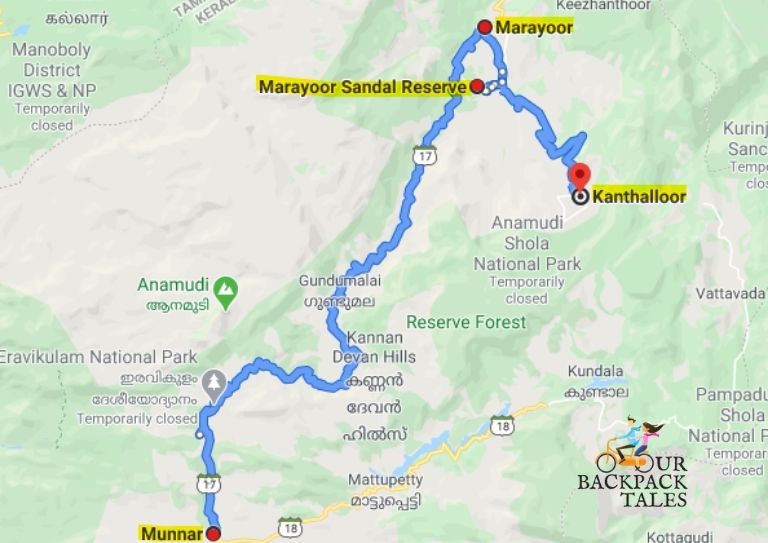 Leave for Marayoor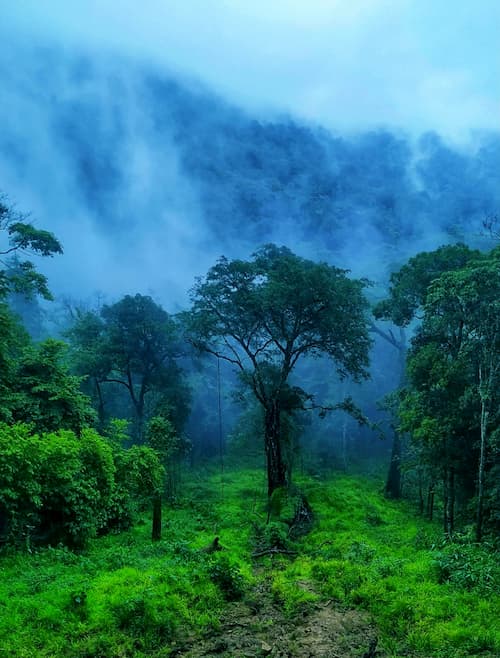 Marayoor is located at a distance of 32 km from the Eravikulam National Park. Famous for its sandalwood forest and rock paintings, Marayoor is a great place to add to your Munnar itinerary. It is also said to be a part of the ancient stone age civilization, and you can also find rock paintings dating back to the 10000 B.C.
Marayoor cultivates sugarcane in huge numbers. It is also the producer of some of most purest jaggery in Kerala.
Marayoor Sandalwood Forest
This natural Sandalwood forest is protected by the Forest Department of Kerala. The visitors often walk through the forest trail enjoying the unique aroma of the sandalwood. The visiting hours are from 6 am to 6 pm and there is no entry fee.
Plan to leave the Sandalwood forest by around 1-2 pm. Have lunch at the Marayoor town. After the lunch leave to Kanthalloor. The road towards Kanthalloor is so beautiful. You will be able to see beautiful mountains and greenery.
Kanthalloor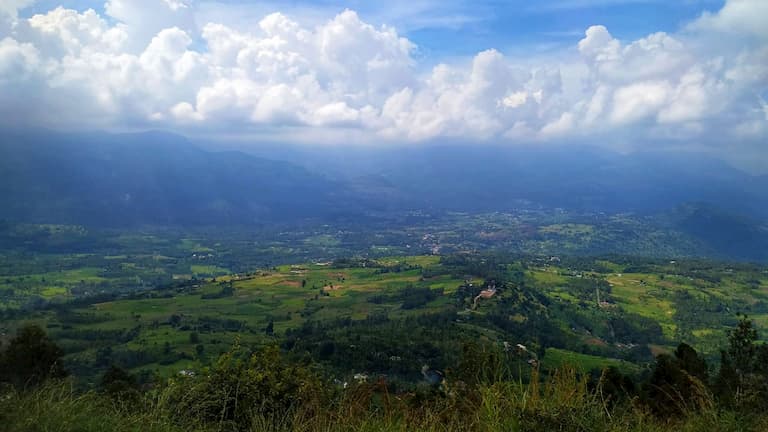 Kanthalloor is located at a distance of around 14 km from Marayoor. The Kanthalloor Waterfalls is one of the most popluar places to visit in Munnar. Visitors can enjoy a cool bath because of the chilling mountain waters in this waterfall. Kanthalloor also cultivates a variety of fruits and vegetables not commonly seen in other parts of Kerala.
Stay at Kanthalloor or Marayoor for that night.
Check Hotel Prices at Kanthalloor – Click Here
---
Day 4
Return back to Munnar town and say good bye to Munnar.
Hope this Munnar travel guide helps you to plan your Next Munnar Trip. If you need any help to know more about Munnar you can contact us with your query.
---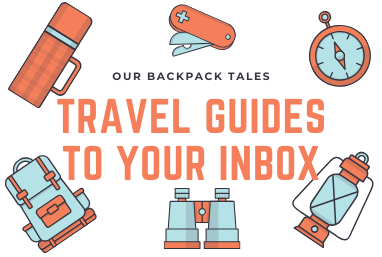 ---
Save this itinerary for your Munnar Trip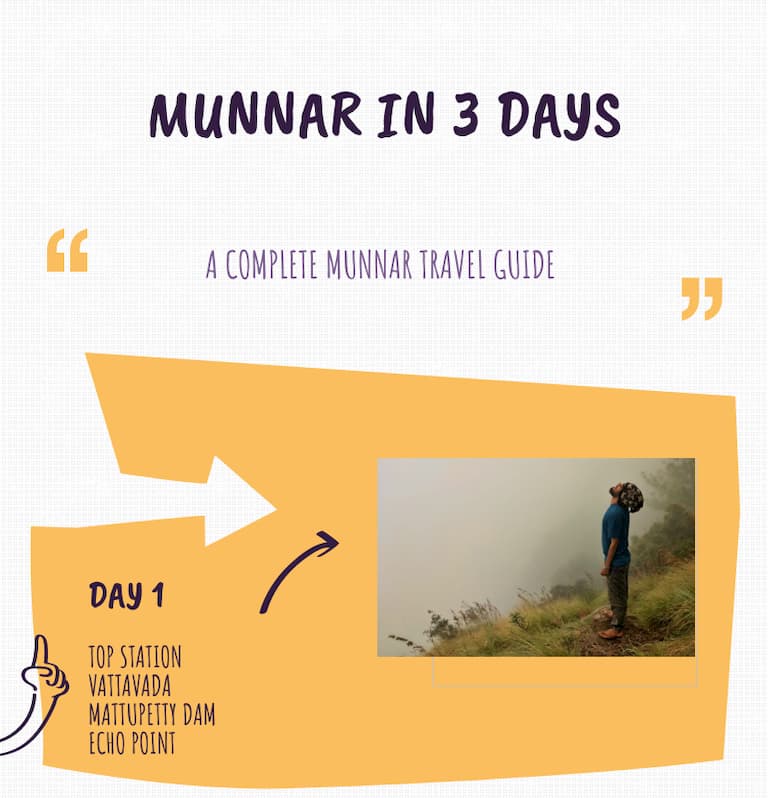 ---
Munnar FAQs
How to reach Munnar from Coimbatore?
Distance to Munnar from Coimbatore is around 157kms. Take NH83 to reach Udumalpet. Take Munnar-Udumalpet road to reach Munnar. There are several private and public buses running between Coimbatore and Munnar
How to reach Munnar from Bangalore?
Munnar is located around 439kms away from Bangalore. If coming through road take NH44 towards Coimbatore. Take turn towards Udumalpet from Avinashi. Take Munnar-Udumalpet road to reach Munnar. Private buses runs between Munnar and Bangalore.
How to reach Munnar from Chennai?
Total distance from Chennai to Munnar is around 590kms. By road take NH32 to reach Tiruchirapalli. Take NH83 towards Theni. Take turn towards Bodimettu and reach Munnar.
---