Lying in the foothills of the Himalayas is this mystical landlocked country called Nepal. It is home to the highest mountain peak in the world – Mount Everest. Backpacking to Nepal will be the best way to explore this beautiful country.
One Sunday morning I woke up with a deep feeling to escape from this urban life and happened to choose Nepal as my next travel destination as a solo budget backpacker.
How to reach Nepal from India?
I checked the flight tickets to Kathmandu which was then 25k return from Mumbai and really out of my budget. I thoroughly researched for other travel modes. That's how I realized that it's possible to reach within 100 km of the Indo-Nepal border by train. Rather than spending 25K on flights, I completed my entire journey, transport and adventure activities like Bungee Jumping in Nepal in just 20k!
I was literally half asleep when I randomly booked return train tickets from Mumbai to Gorakhpur, Uttar Pradesh. It is approximately 29 hours of the journey each side which crosses various states of India. I believe the train is the best way to explore and traverse amidst nature. I also carried enough healthy food to survive in the initial days of backpacking to Nepal.
Gorakhpur to Nepal Border
The morning I reached Gorakhpur, I caught a bus to the Sanauli border of Nepal. Gorakhpur to Nepal distance is about 100km (117 INR – 3hrs). I crossed the Nepal border by a tuk-tuk and hired a cab to drop me at Lumbini, the birthplace of Lord Buddha.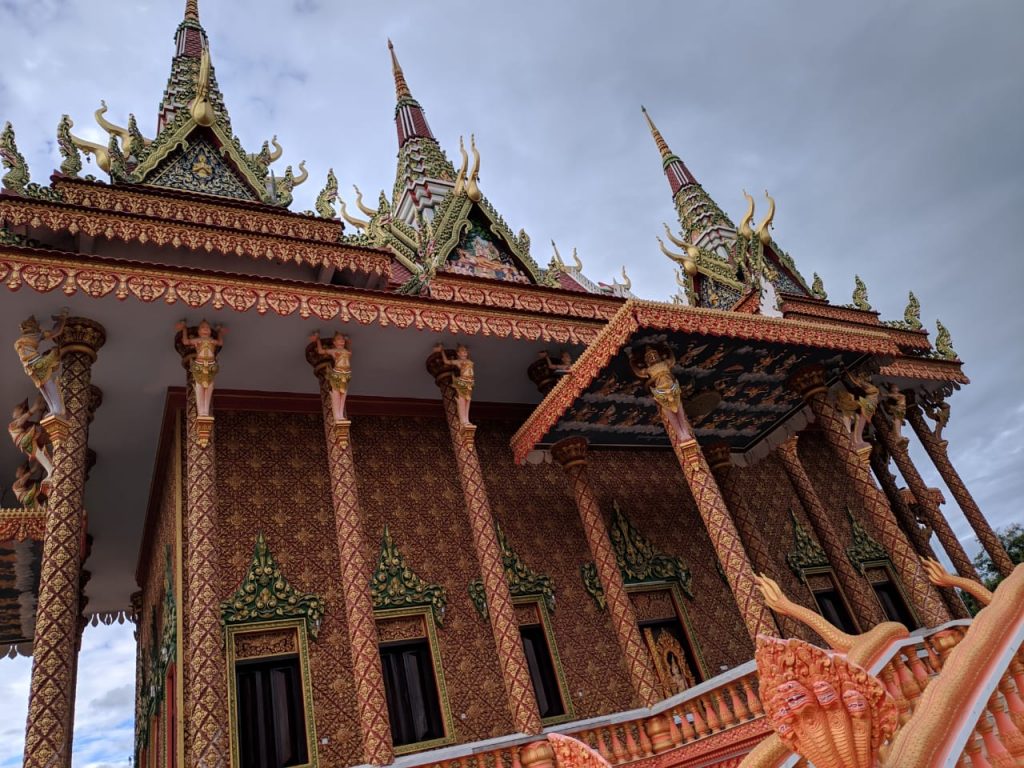 Lumbini to Pokhara
After exploring such a peaceful place, I took a night bus to Pokhara city in Nepal (500 INR). I checked into Zostel where I met and made so many friends out of which 3 were Mumbaikars and thereby ending my solo journey!! That morning we went to hire bikes (INR 500 per day) and explored Pokhara, the city of Lakes.
Sunrise at Sarangkot
The third day we woke up early morning and left for Sarangkot viewpoint to see the beautiful sunrise and landscapes of Annapurna ranges. Post a delicious breakfast of momos at Sarangkot, we headed to Dhampus via Phedi for a short trek to the Australian Base Camp. Some other amazing trekking options in Nepal include Everest base camp trek & Ghorepani Poon Hill Trek.
Afterwards, we preferred living in cosy tents over the comfy hotels because the feeling of camping, bonfire, barbeque and music is just beyond magical!! Specially spotting the snow-covered Annapurna Himalayas during the sunrise and sunset was mesmerizing!
Sarangkot Paragliding
The next morning we went back to Sarangkot for paragliding (INR 3500). What a thrilling experience it was to fly down from the mountains to the Phewa Lake in Pokhara! That evening I enjoyed boating in the Phewa lake and caught a night bus (INR750 – super deluxe bus) from Sarangkot to Kathmandu, the capital city of Nepal. This was the worst experience in the entire backpacking trip to Nepal. Rather prefer a normal tourist bus over this super deluxe as it doesn't give a privilege experience of what it quotes to!!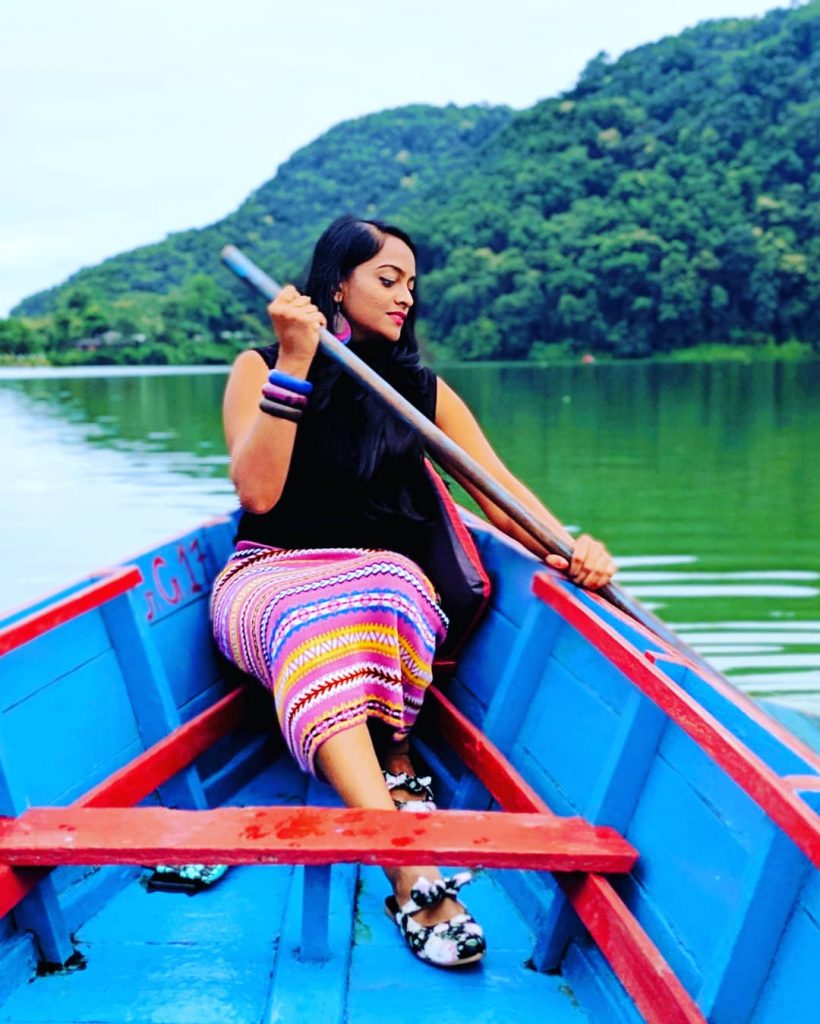 Kathmandu
The first half of the fifth day in Kathmandu was spent on booking bus tickets to Chitwan, and bungee jumping. Afterwards, we hired bikes to explore the UNESCO heritage sites around Kathmandu such as Kathmandu and Patan Durbar square, etc. We were too tired to explore the Kathmandu nightlife such as Casinos, clubs or shopping that night.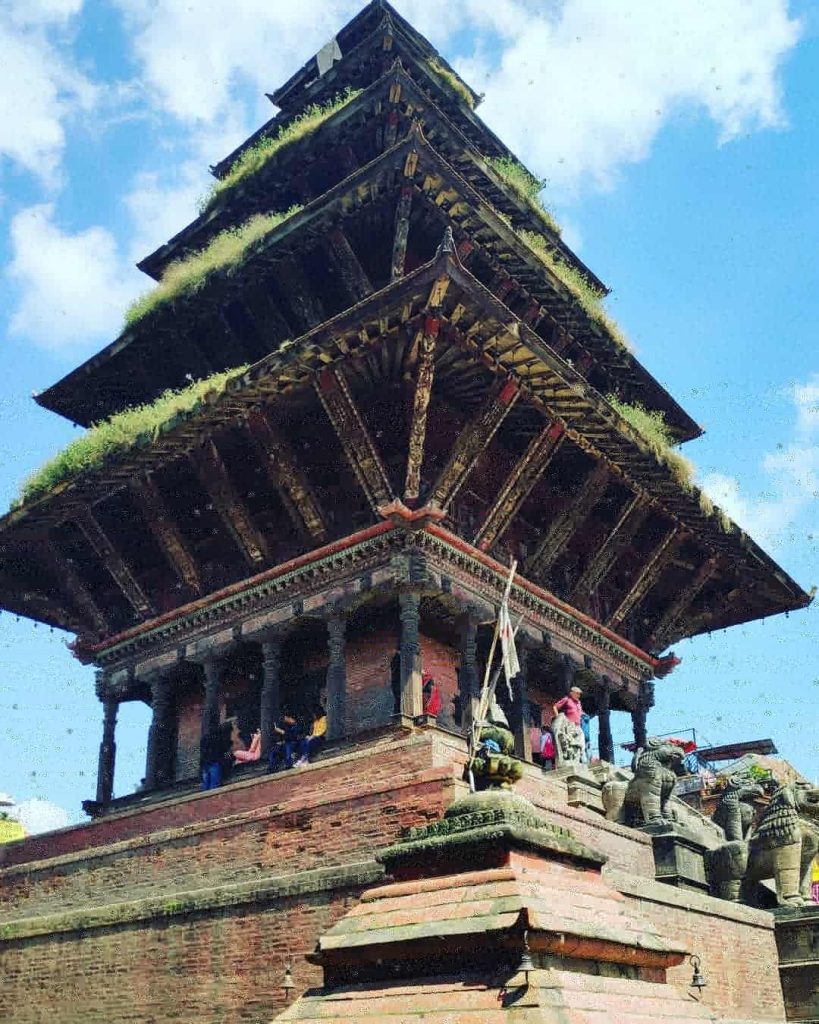 Bhotekashi
The sixth morning we left for some adventure activities to the Last Resort at Bhotekashi. The Bungee jumping (INR 7500) is a 525 feet high free fall. Bungee jumping in Nepal is among the top ten bungee heights across the globe. On the way to Bhotekashi as I was asleep, I woke up all of a sudden to see a huge idol on the mountain. Later, I realised that this was the Kailashnath Mahadev Statue, the world's tallest Shiva idol (143 feet).
I feel I was fortunate enough to wake up at this moment as I am a great Shiva Bhakt. Then I started chitchatting with the local Nepalis on the bus who taught me the Nepali language. They shared experiences and stories of the 2015 earthquake among many other things.
Bungee Jump in Nepal
Later I reached to the most awaited moment of the trip! It was time to jump off the bridge. The team at the Last Resort was so amazing that they played superb music for me to dance and release my stress just before my jump. This adventure literally took my breath away! Trust me, the bungee jump was not so scary than the night ride to Nagarkot from Bhaktapur to reach the Hotel "At the End of Universe" which truly lived up to its name.
Nagarkot
Nagarkot is a perfect honeymoon destination and the sunrise here is stunning. I always had a fantasy to wear chiffon saree in snow mountains and enjoy the typical Bollywood scene just like Anushka did in Ae Dil he Mushkil.
And that's what I did! I wore a lovely pink saree and became a muse to the photographers around. After the shoot, we went to Bhaktapur Durbar Square and tasted "jhu jhu dhau" which is a sweet yoghurt. I loved it so much that we searched for the local distributor and bought another serving.
Nagarkot to Kathmandu
Then I headed back to Kathmandu to visit the sacred place, Pashupatinath Temple in Kathmandu, which is one of the most important places to visit in Kathmandu. This temple is one of the four important temples for Shiva devotees in Asia. I preferred waiting for the Ganga Aarti and the Shiva Tandav on the banks of Bagmati river as that had such great energy compared to the Casinos in Kathmandu.
After that, I bid adieu to my Mumbaikar friends that I made in Nepal and explored the rest by myself. Though I was tired, you know Kathmandu is famous for its nightlife and I just couldn't stop myself from exploring it.
Kathmandu Nightlife
I went alone to the club which was one of the "things to do in life" bucket list. Though I was nervous I somehow managed to go and enjoyed the music concert by "Mr No Money Band" from Italy followed by commercial and Bollywood night. Being a professional dancer, I got a lot of attention and appreciation there.
Chitwan National Park
I came back to Zostel late night from club to pack my bags and leave for Chitwan National Park, the last spot in my journey. I enjoyed cycling and watching huge elephants eating, relaxing, sleeping in their stable. The sunset from the Jungle near the Rapti river was so relaxing. Beyond nature, adventure and religious places, Nepal also has an amazing culture to explore.
In the evening I went to this Tharu Cultural show where I enjoyed various dance performances. Later I joined them as I never skip a chance to dance.
Chitwan National Park Safari
On my last morning in Nepal, I went for a jeep safari in Chitwan National park. I spotted so many deer, rhinos, crocs and gators here. I enjoyed watching the elephant bath at river Rapti. This is where I say a heartfelt goodbye to Nepal and my journey back to Gorakhpur started.
In my Backpacking trip to Nepal, I covered the majority of sightseeing places, Nepal has yet a lot more to offer and yes I'll go again in future to conquer the amazing Mt. Everest and the Annapurna Base Camp. Chadai vetaula, Nepal!!
Nepal Backpacking Tips
Carry enough cash. Indian 100rs notes are acceptable in Nepal. Please note that every withdrawal from local ATMs in Nepal would charge you approx. 500 NPR. Though SBI ATM just charged me INR 56.
Bargain and bargain. You can bargain at the lowest possible rates anywhere except for some standardised rates such as Bungee jumping at the Last Resort.
Carry ready to eat packet foods by Gits, etc. Don't expect you will get Indian food everywhere. Or else you will have to survive on Momos.
Simply do hotel/Zostel/guesthouse reservations on Booking.com. No prepayment required.
No matter howsoever you party hard at night, wake up early morning to enjoy sunrises while backpacking to Nepal. They are indeed beautiful and not worth missing.
Don't forget to enjoy the nightlife such as Casinos and clubs in Kathmandu. You also can't miss enjoying some shopping on the streets of Thamel.
Hire well-conditioned bikes to travel in and around Pokhara and Kathmandu respectively.
Try avoiding scooty to travel to outskirts because the performance is not up to the expectation and the roads aren't maintained well.
Chitwan national park Jeep ride is 1 pm to 5 pm. So plan your travel to Chitwan (Sauraha) accordingly.
---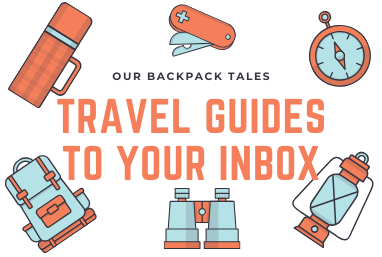 ---
Click to pin this to your Pinterest travel board!
---
Author Details
Neelam Sarda hails from Mumbai, India. She is a Company Secretary by profession but a freelance travel planner, dancer and a fashion and fitness blogger by passion.