Nestled in the mountains is this beautiful Himalayan Kingdom called Bhutan. Popularly known as the Land of the Thunder Dragon and the Land of Happiness, Bhutan has is indeed a gem hidden by mystical mountains and fog. Bhutan is surrounded by Tibet on the north and India on the south west. It consists of 20 districts called the Dzongkhags. Bhutan has been on our bucket list for a long time and we finally decided that it's time to book those tickets and go explore this wonderful country. This is a complete Bhutan Travel Blog for all those planning a trip to this beautiful country. So, how to travel to Bhutan from India?
India to Bhutan Travel Blog
Being our first international trip, we got into planning around 5 months in advance. First thing on our list was to decide how we would reach Bhutan from Bangalore. There are a few routes to do so, but the easiest is flying to Bagdogra Airport, Siliguri, West Bengal and then leave for Bhutan by road. We had first decided on doing a road trip by renting a bike from Siliguri since Bhutan is often a popular destination for riders.
But the rules for tourists keep changing that we knew just a few days before our trip that there was a new rule for bikers travelling to Bhutan by road. It is now mandatory for bikers to have an escort vehicle with you on your entire trip through Bhutan. This can cost you around Rs. 3000 per day, which according to us was out of our budget. Imagine spending Rs. 3000 per day for 7 days!
It is now mandatory for bikers to have an escort vehicle with you on your entire travel through Bhutan!
We dropped our plan to ride through Bhutan and was stuck wondering what to do next. Luckily one of our friends who had already been to Bhutan a few years back advised us to hire a cab for the entire duration of our trip, which is much more cheaper. He shared the details of the cab he had taken, and after having a conversation with our cab driver, it was fixed!
We booked our flight tickets to Siliguri in July (3 months in advance) through Ease my Trip. It cost us around Rs.18000 per head, round-trip. Once all our transportation was settled, the next thing was accommodation. We booked our stay at Jaigaon (India-Bhutan border) through Goibibo after a lot of ruckus with Oyo.
All our stays in Bhutan (Thimphu, Punakha, and Paro) were booked through Airbnb. The prices were reasonable and each of the accommodations was amazing. So once we had that in order, we had three whole of months of research. Where to go, what to do, what to eat – we spent a lot of time reading about Bhutan.
Route Map
Bangalore > Bagdogra > Jaigon > Phuentsoling > Thimphu > Punakha > Paro > Jaigaon > Bagdogra > Bangalore
Bangalore to Siliguri
On the day of our flight on October 1st 2019, we booked a Bounce to the Airport, which according to us, is the cheapest way to reach the Bangalore airport! We just had two backpacks, so our scooter ride to the airport was not much hectic. We had booked our flight to Siliguri (Bagdogra) with Spicejet. Since the cheaper option was to take a connection flight, that's what we booked. It took us around 3 hours to Delhi, then halt for around an hour, and another one hour to Siliguri from Delhi.
Siliguri to Jaigaon
Once we landed at Siliguri, our cab was waiting for us and we met our driver, Dabu. Our first stop was at Jaigaon which is 161kms from Bagdogra Airport. We withdrew some money from an ATM in Siliguri, which was a good choice. Most hotels and shops in Bhutan don't accept card payments and it is also difficult to find a functional ATM in Jaigaon. We had a simple dinner of rice and dal makhani from a small hotel (Hotel Lama) on the way to Jaigaon. Siliguri to Jaigaon route is good but some places were under construction and suitable to drive at night if you are planning a bike trip. We reached Jaigon at 8 pm and checked into Hotel Satyam close to the Bhutan Gate (Rs. 860). Enjoying a cup of tea with a view of the Bhutan gate in the morning sent excitement soaring through us.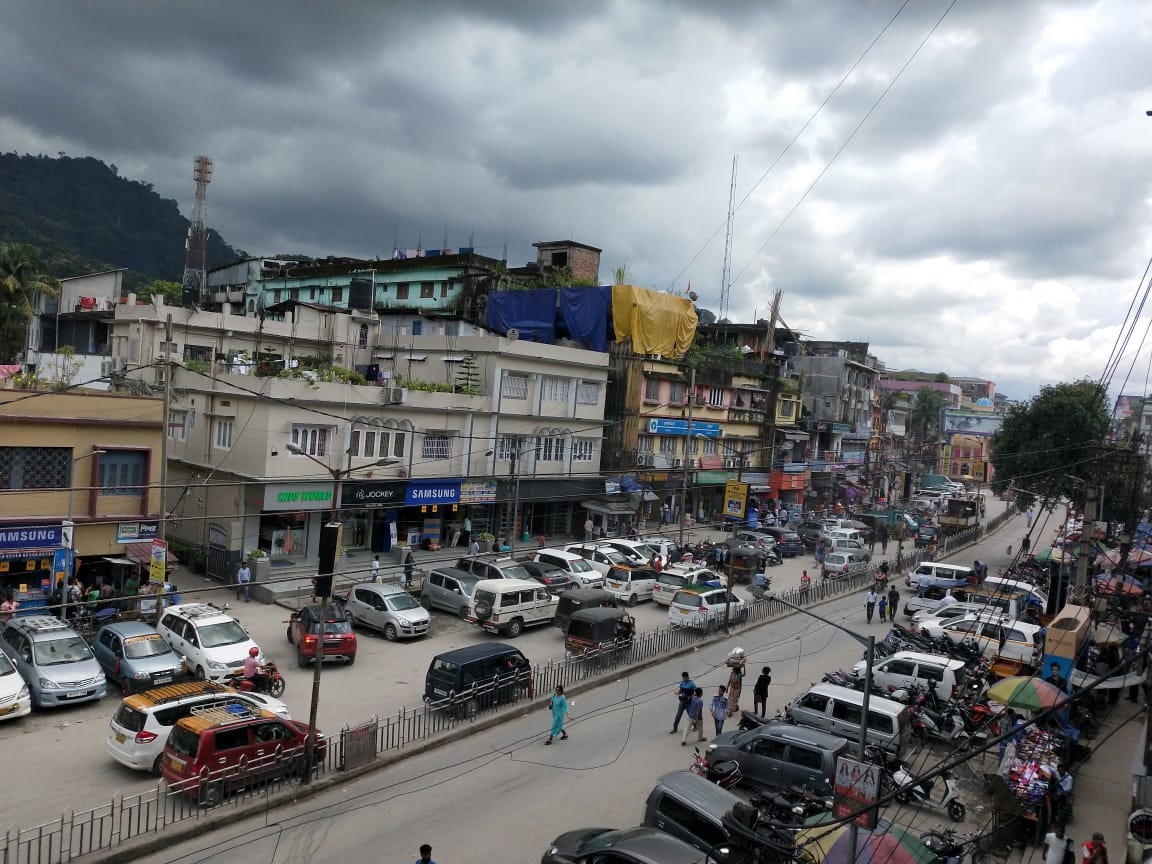 Bhutan entry permit
After a breakfast of puri masala at the restaurant attached to our hotel, we set out to get our permits. Indian nationals need only a valid voters ID and two passport size colour photographs to get permits to Bhutan. This applies to tourists from Bangladesh and Maldives too. Recently Bhutan government has announced a change in tourist policies. This will require local tourists to pay a minimum fee of 65 Dollars per day and a visa charge of 40 Dollars. While writing this article its not implemented.
Adhaar cards, Driving licence etc are not accepted at permit office, please make sure you carry voters Id.
Tourists from any other country will need a proper visa and passport. Foreign tourists need to pre-arrange their trip with a travel agency and must be accompanied by a guide at all times while at Bhutan. They must also pay a daily fee of $200 (and $250 during peak season) which cover everything from travel agency cost, accommodation and transportation within Bhutan. Do note that tourist rules keep changing, so keep yourself updated if you're planning to travel to Bhutan!
Pheuntsholing
Pheuntsholing shares borders with Jaigaon and is a very simple and calm city. The weather here is very similar to that of India. The Pheuntsholing Immigration Office is located close to the Bhutan Gate. It opens at 9 am (Bhutanese time, which is 30 minutes ahead of Indian Standard Time). If you are not going through a packaged tour, it is advisable to reach the Immigration office by at 8:30 am, so as to avoid the rush during the peak season. You can go to the nearby shops to get the application forms for the permit. Our driver did all of our paperwork, and we just had to get our biometrics done. He got us our tourist SIM card (B-mobile) after that. Since we were taking a vehicle in, we have to get the vehicle permit from the RTO office nearby.
---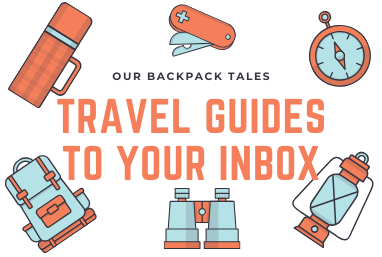 Join other 1000+ readers of OBT!
---
Zangto Perli Lhakhang
We had some time to explore Pheuntsholing until our driver got back. So we just took a walk around and came across a small park. A stroll through the park led to the Zangto Perli Lhakhang. The Bhutanese style of architecture is just so beautiful and intriguing, we spent sometime around the temple just admiring the beauty of it. We then stopped at a small cafe close to the Immigration office called the Kizom Cafe for some coffee. Such a cute little set up with a display of mouth-watering treats, we loved the whole ambience of it.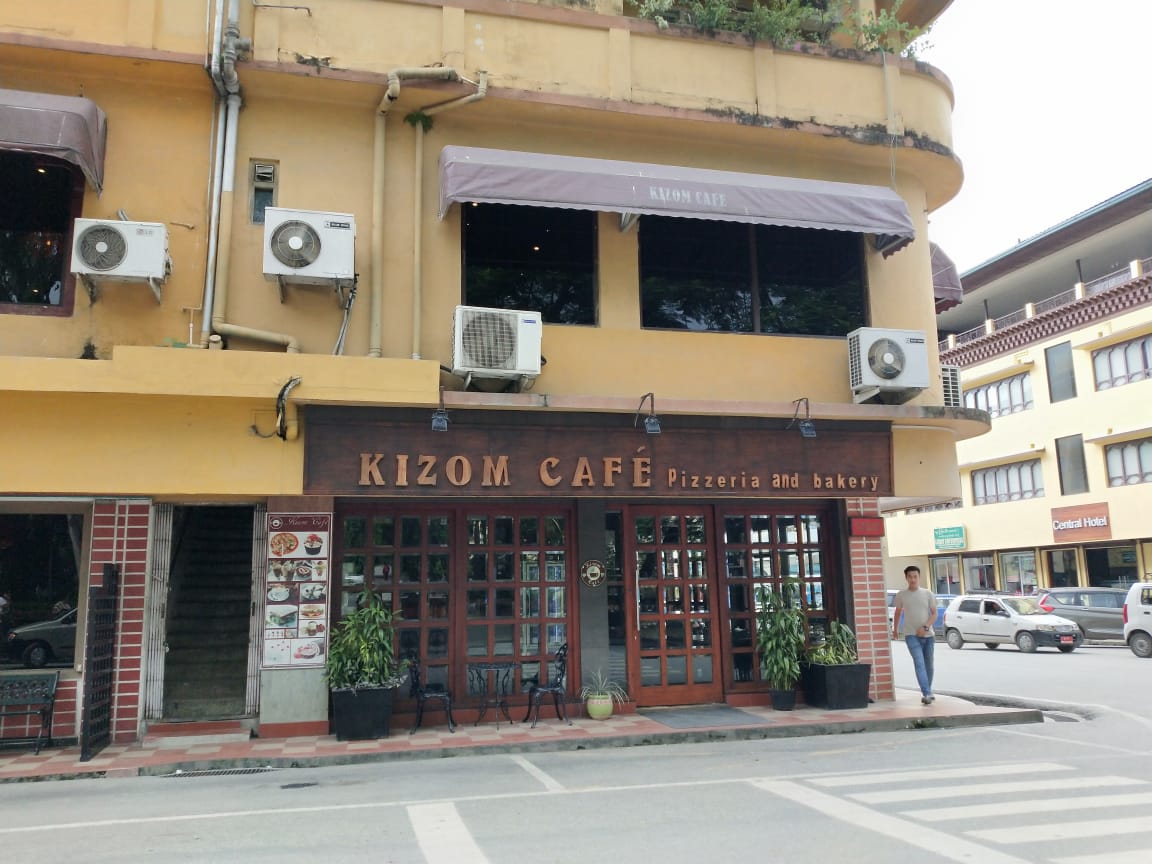 Entering Bhutan
Once all our permits were in order, we set off to this dream journey into the Land of the Thunder Dragon. The driver filled the car with full tank petrol from Pheuntsoling as the petrol price in Bhutan was cheap compared to India. The first check post was right after we left Pheuntsholing and by it was raining heavily.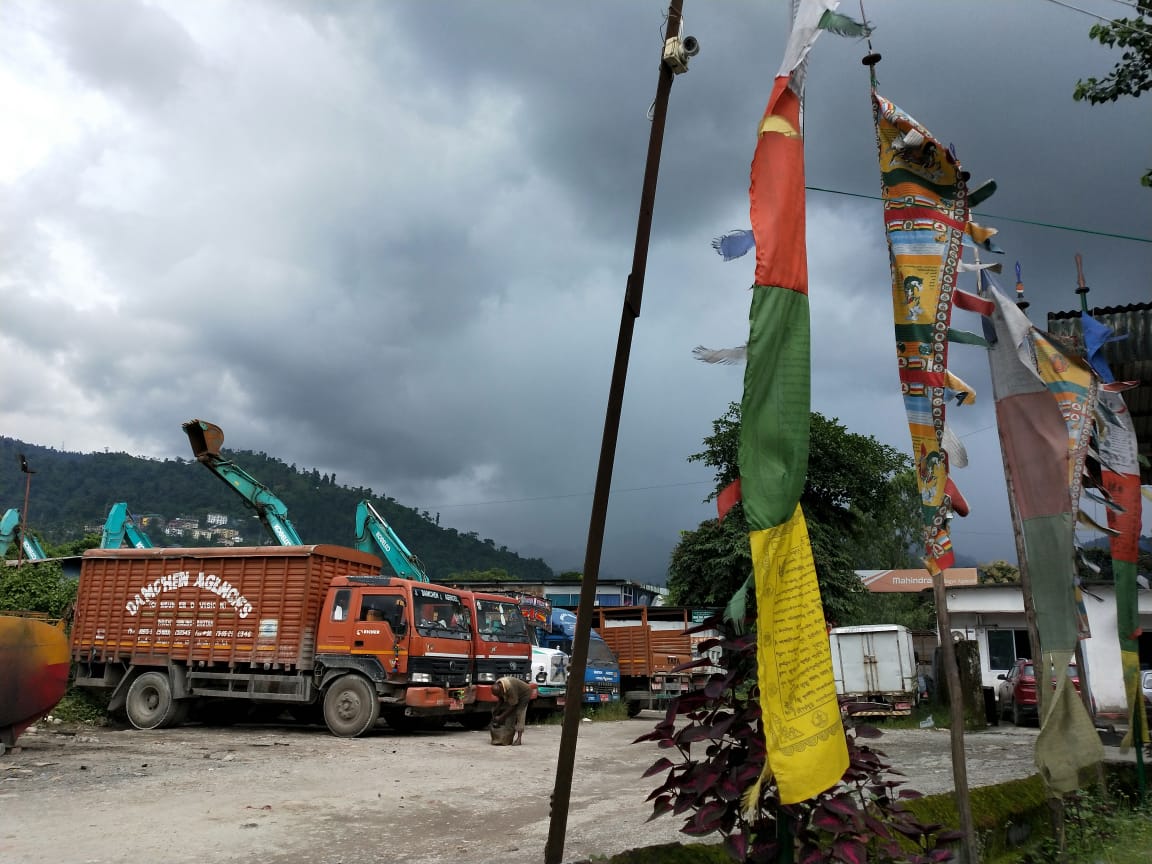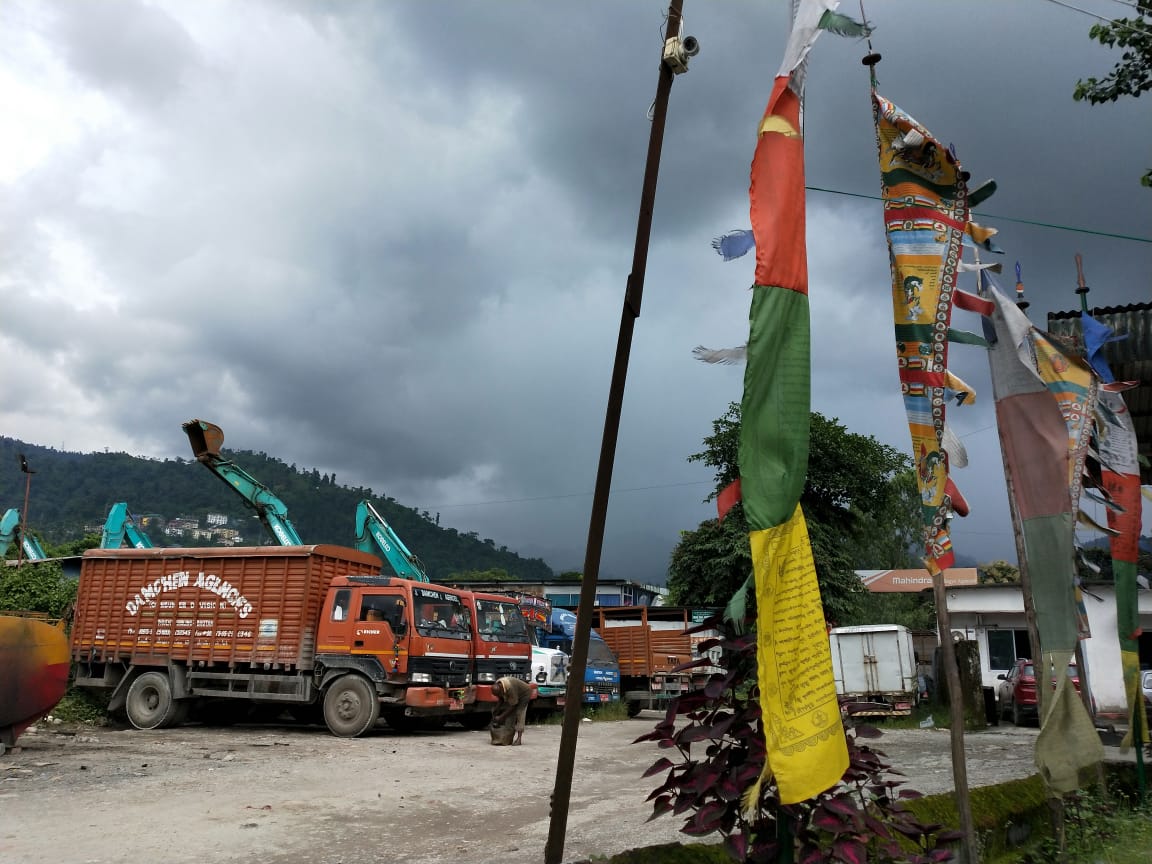 Phuentsholing to Thimphu
A few minutes into the drive through Pheuntsholing, we were driving through a beautiful backdrop of mountains. The roads twisted and turned, giving beautiful views. Such a beautiful drive it was! I was hit by altitude sickness, but yet I wasn't going to allow it to spot me from enjoying it to the fullest. The next check post is at Chukka, where we also stopped for Lunch at Doejung Paksam Hotel. The entire area was covered in fog, and it was such a beautiful sight! It was around 3 pm and our stomachs were rumbling in hunger.
Never miss any checkposts to submit your permits on the way to Thimphu. First one is at Pheuntsoling next at Chukka before entering Thimphu.
Food in Bhutan
The menu was simple, and there weren't a lot of options. We went on to order some white rice and chicken curry. We also ordered a cup of the Bhutanese Butter Tea called 'Suja'. The Suja is made by boiling tea leaves with water and adding a helping of yak butter and salt. But it's heard that most of the hotels don't serve tea with yak butter these days. But it's something different and one should definitely try it if they visit Bhutan! It's the favourite drink of the Bhutanese after all! The food was good, but another thing about Bhutan is their love for chilli. This explains why their national dish 'Ema Datshi' is made of chillies and cheese. The single meal costed us around Rs.500, and we realized food in Bhutan is costly.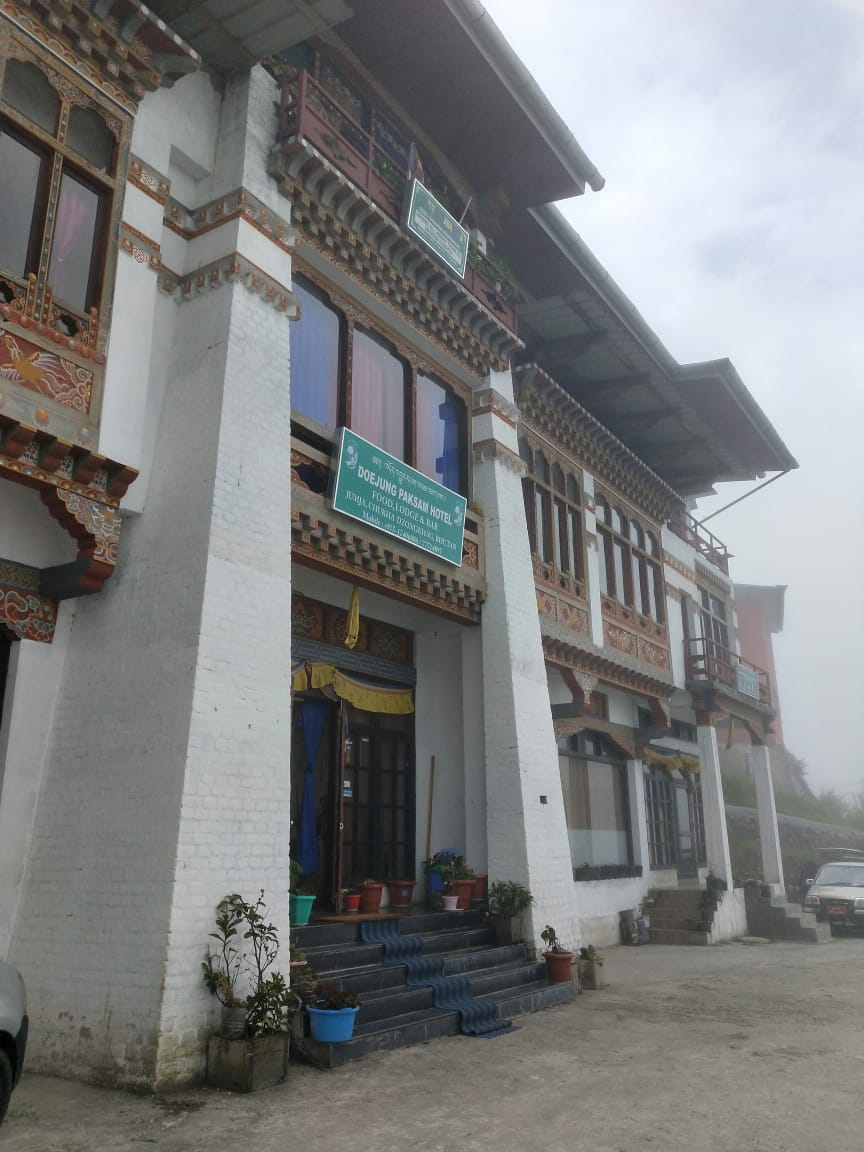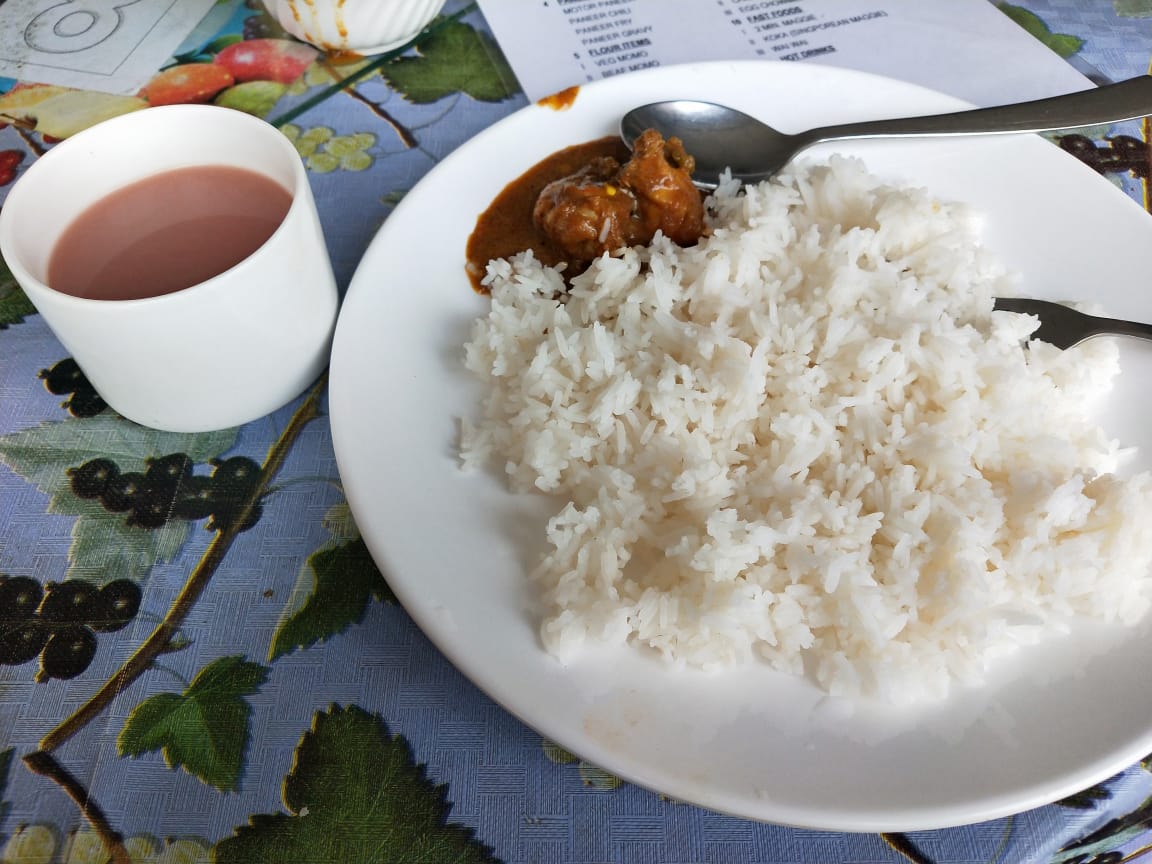 We set off right after lunch. We were engulfed by the fog at one point of time, and we could literally see nothing at all! The next stop was just to take a break since I was feeling really nauseated. Advice – please do carry Diamox tablets for altitude sickness if you're prone to it or at least to be on the safer side. There was a small shed-like area, where we met some really cute doggos. It must be a way to cope with the climate, but dogs in Bhutan are the cutest! They are just so fluffy!
Thimphu
Thimphu is the capital of Bhutan and is one of the highest capital cities in the world at an elevation of 7656 feet above sea level. We reached Thimphu by around 7 pm and went straight to the Pamtsho Hotel where we had booked our stay for the night (Rs. 1944 per night). It was a bit confusing to find our way since the hotel was a bit away from the city. Luckily we had downloaded Offline Google Maps, which comes in handy when you don't have access to an internet connection! We were greeted by our host Tshewang and his lovely wife.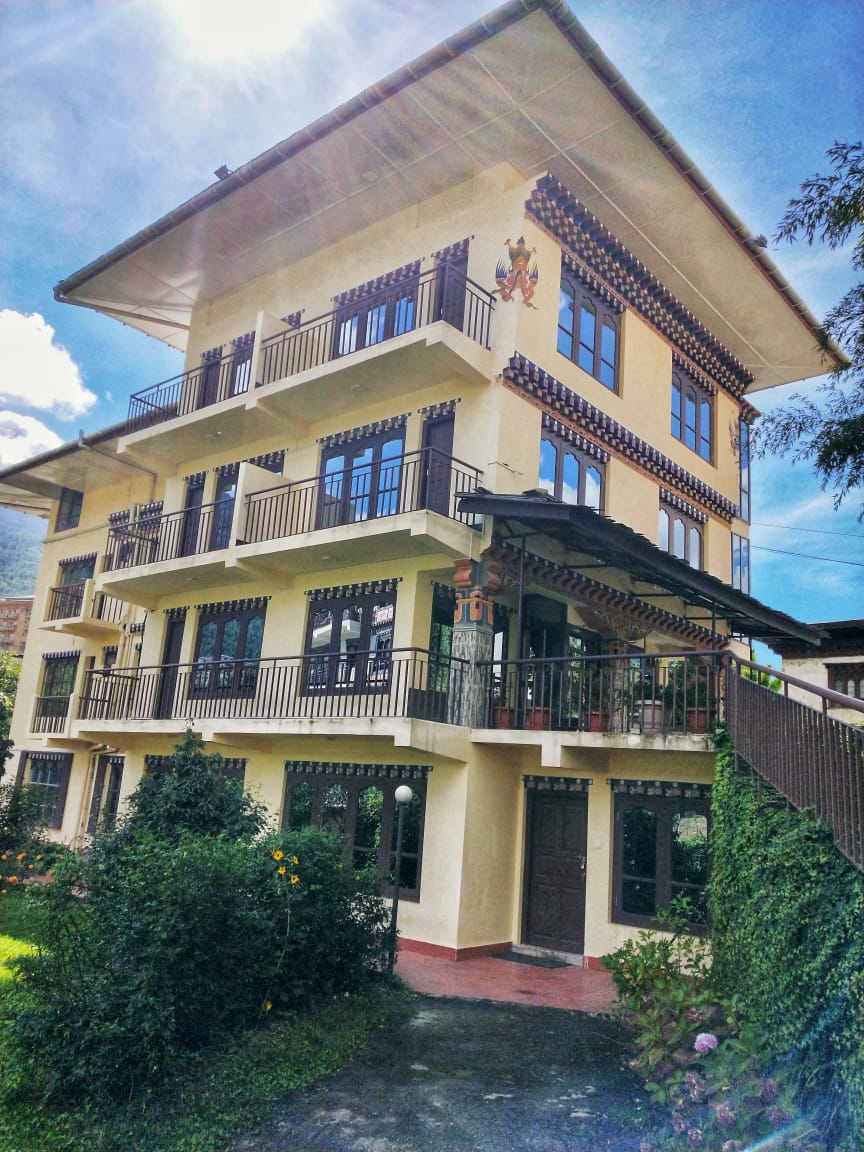 Always download and keep offline google maps!
They showed us to our room which had a small living area with a couch and a TV, a beautiful bedroom and an attached bathroom. It was wonderful to see this cosy space after a whole day of travelling. After freshening up, our dinner of two steaming bowls of Maggie was served in our room. We enjoyed our food, watching Black Panther till it got too difficult to keep our eyes open. The Thimphu temperature is freezing cold at night (I can barely take the cold) and I shivered till I fell asleep.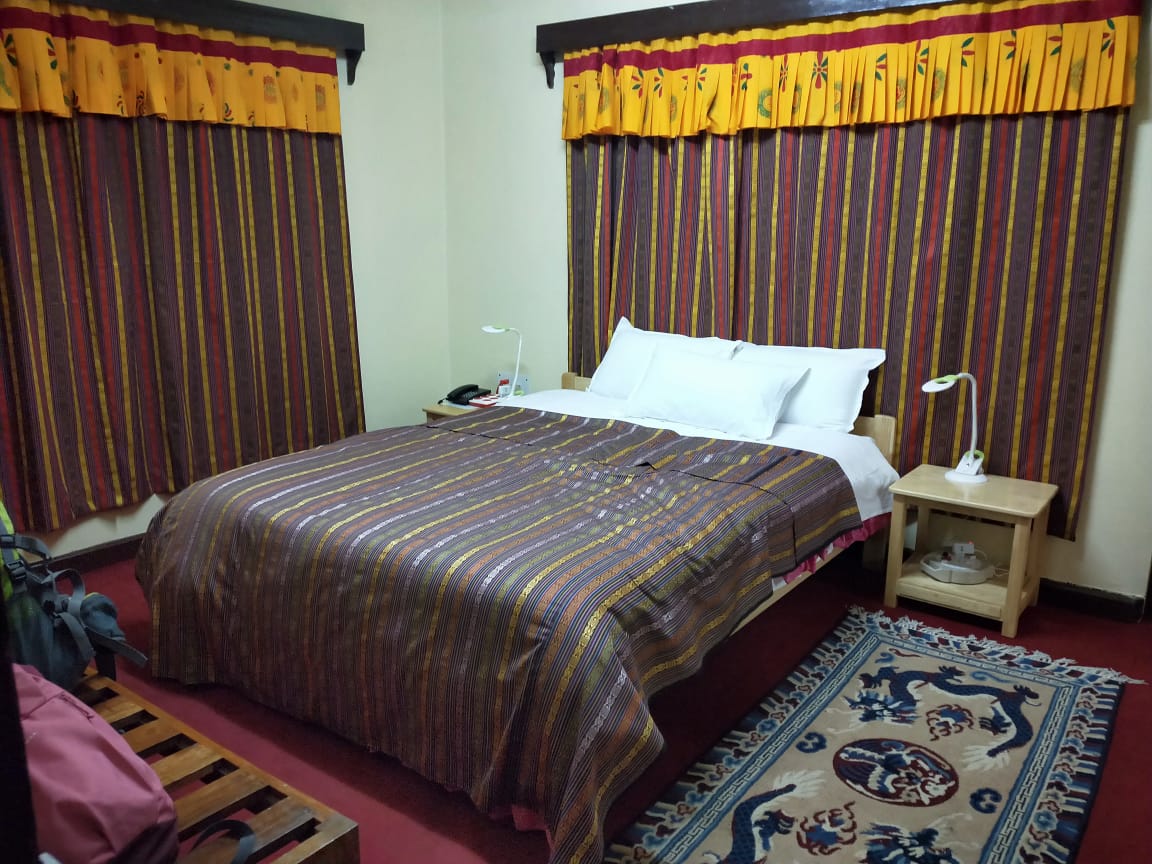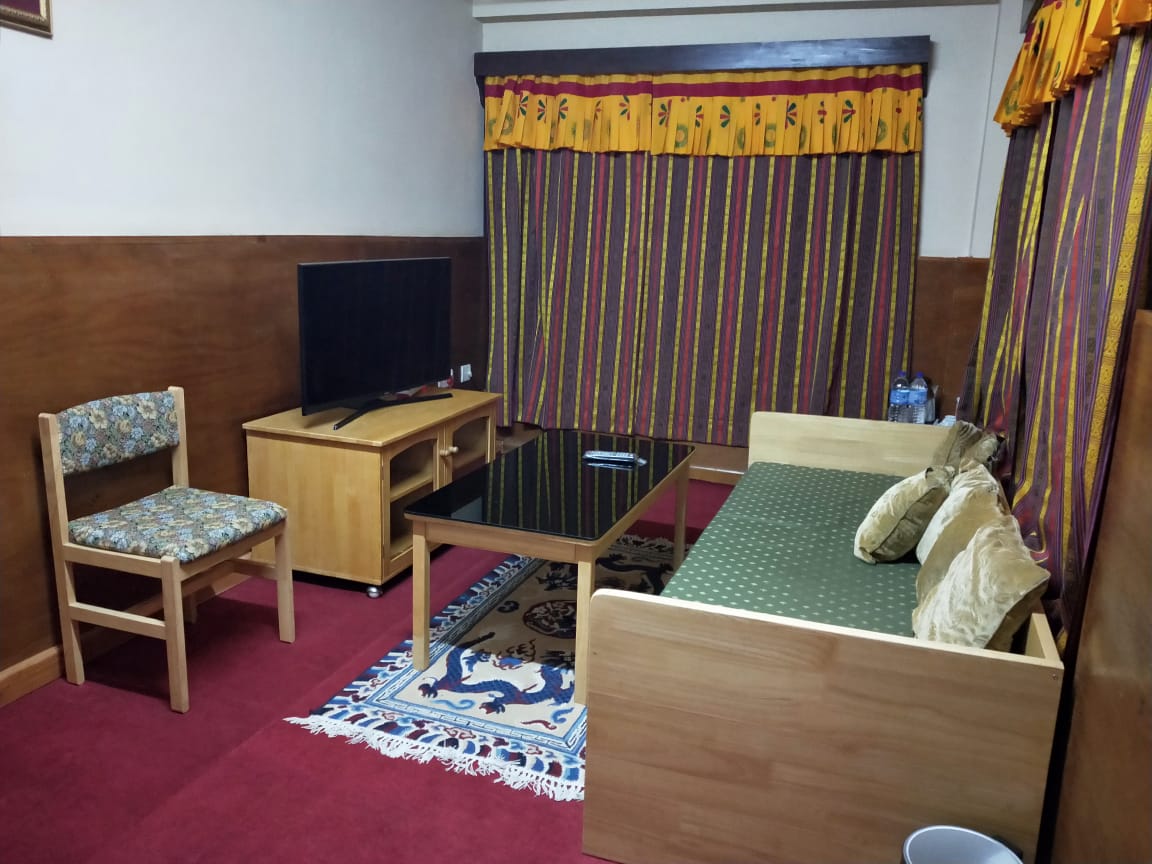 We woke up fresh after a peaceful sleep and we're taken for breakfast down to the dining area. We had a delicious breakfast of toast, butter, orange marmalade, wild honey, scrambled eggs and coffee as Tshewang told us a lot about Bhutan and his visits to India. After a nice and filling breakfast, we went on to sit in their little garden for a while before moving on to get ready. We had only one day in Thimphu. Our driver got a permit to visit Punakha from the Immigration office in Thimphu, which is compulsory to visit any place other than Thimphu and Paro.
To visit Punakha you need to get Permit from immigration office in Thimphu.
Things to do in Thimphu
Buddha Dordenma
Our first spot of the day was the Buddha Dordenma. On the way we saw the Memorial Chorten but did not enter since we were short of time. Standing at a height of 54 m, the Buddha Dordenma is one of the largest Buddha statues in the world. It is made of bronze and gilded in gold to celebrate the 60th birth anniversary of the fourth king Jigme Singye Wangchuk. Sitting on top of a mountain, it gives a beautiful view of the Thimphu valley.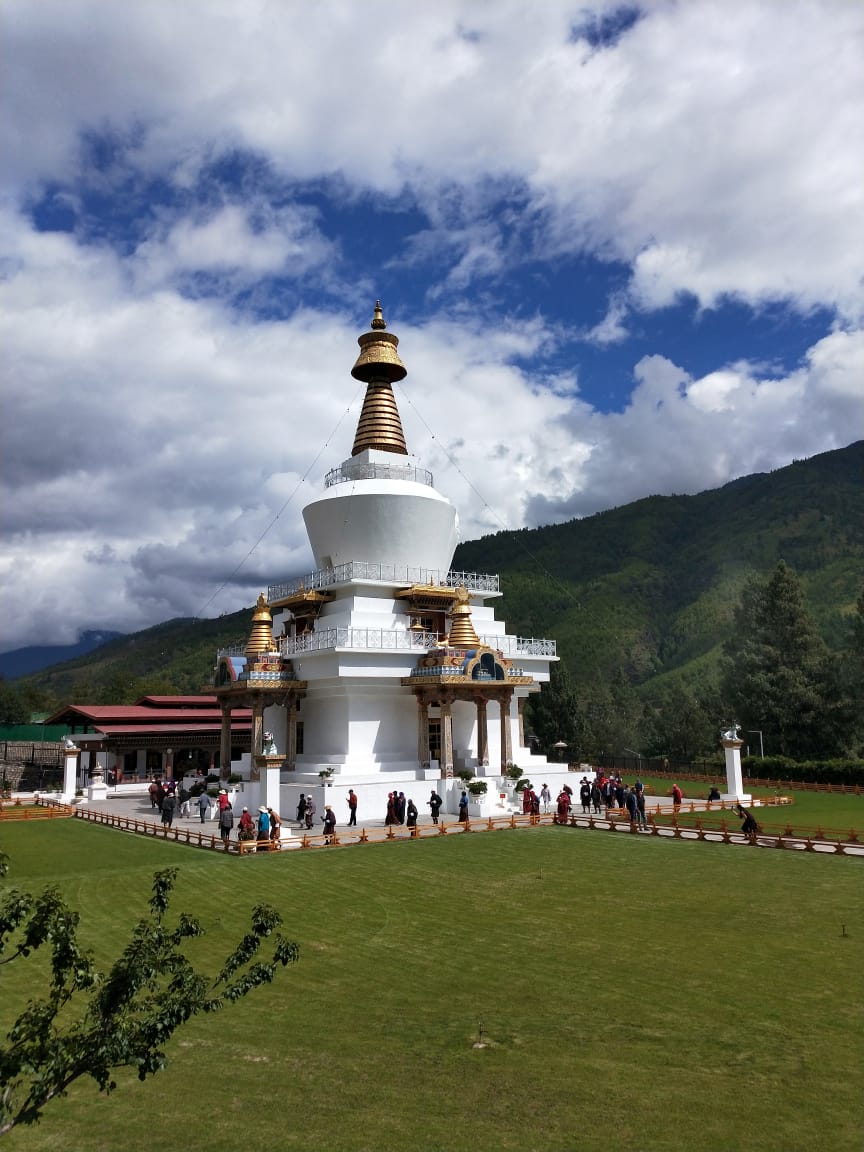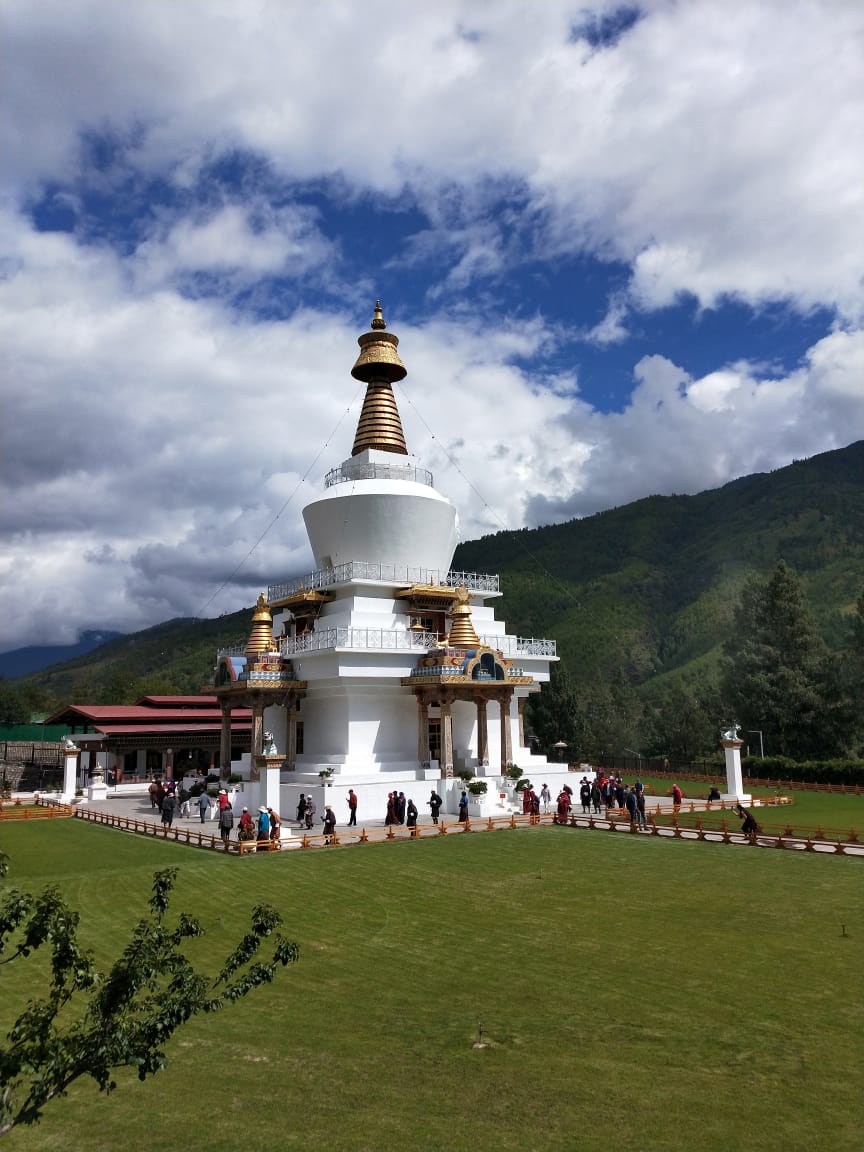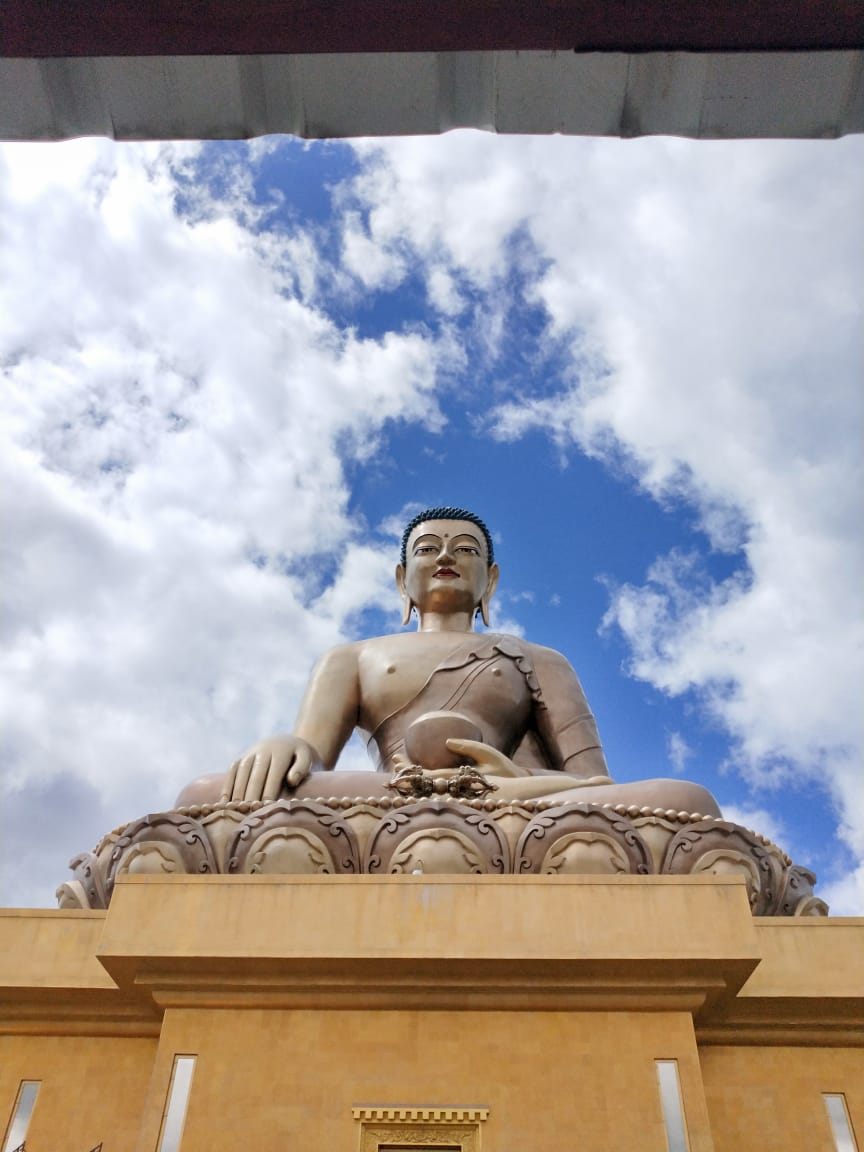 Changangkha Lhakhang
Our next stop was the Changangkha Lhakhang which is a traditional Bhutanese temple built in the 12th century by Lama Phajo Drukgom Shigpo. It is believed that the Deity Tamdrin bless and protect the children. Many parents bring in their newborns to be named by the priests at the temple. It was a very peaceful location with beautiful views and very less crowd. Note that while it was free for us to enter, there may be a fee of Rs. 300 per head to visit this temple now.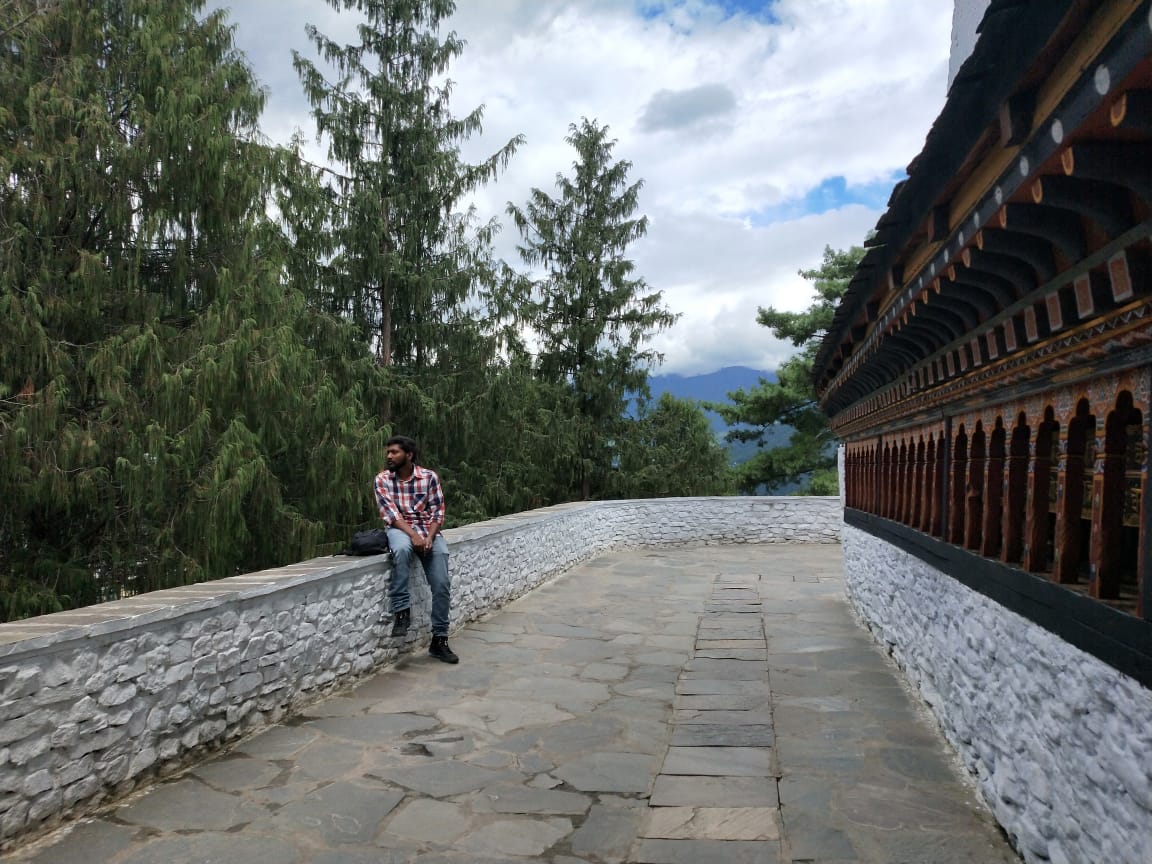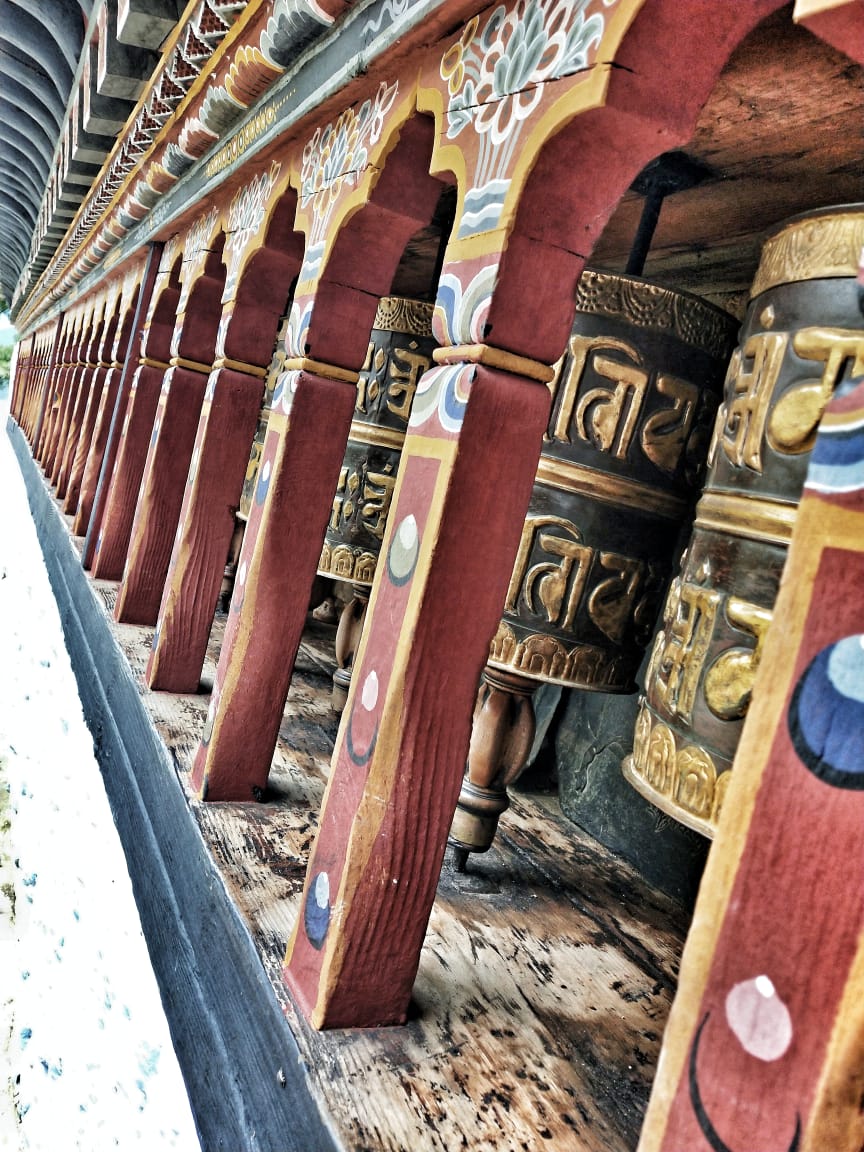 Royal Takin Preserve
The Takin is the national animal of Bhutan, and it is an ungulate native to the Eastern Himalayas. The Royal Takin Preserve also called the Motithang Takin Preserve is located in Motithang, Thimphu. This unique animal looks like a cross between a cow and a goat and is quite adorable, to be honest! They have a nice trail laid out around the preserve, which gave us a feeling of a tiny hike through a forest. We could hear the sounds of a stream gurgling nearby, and that if crickets too. I was overjoyed to have found so many beautiful wildflowers and mushrooms along the path. It took us just 30 min to walk around and we think it's a great way to start your series of hikes in Bhutan.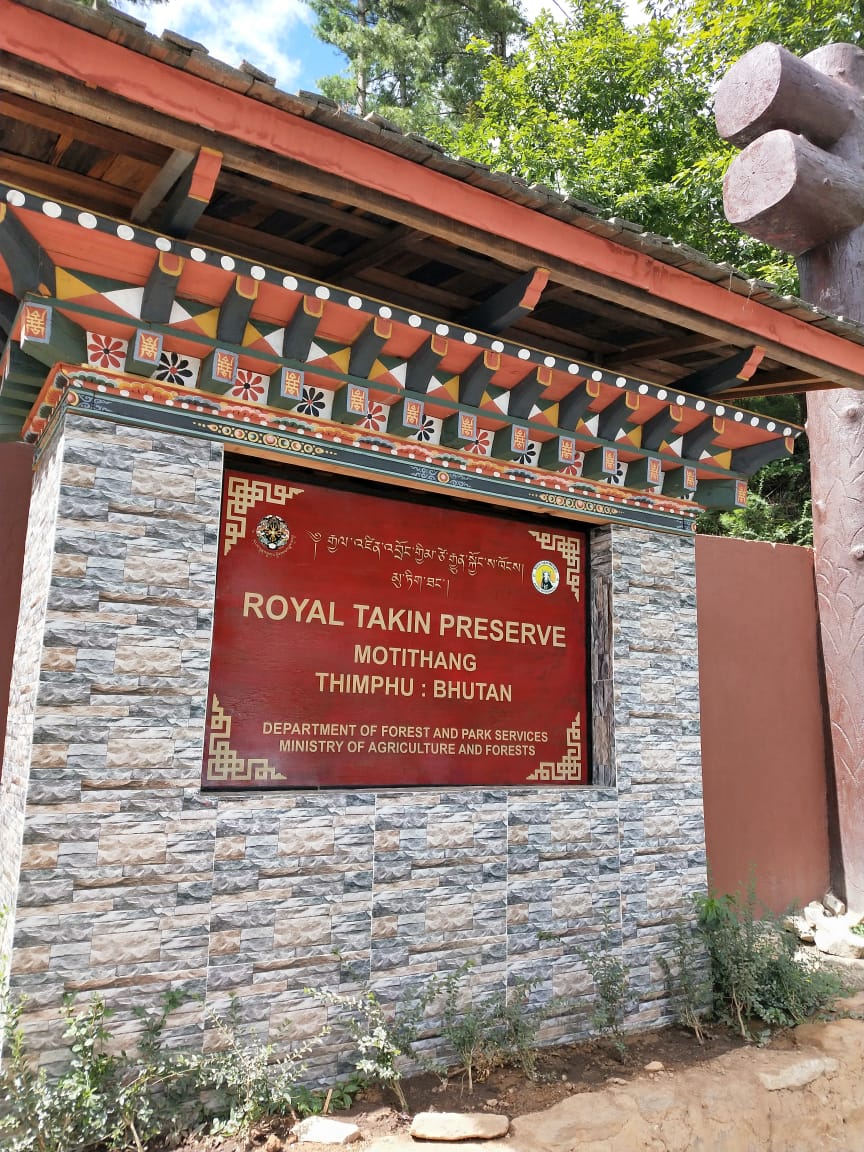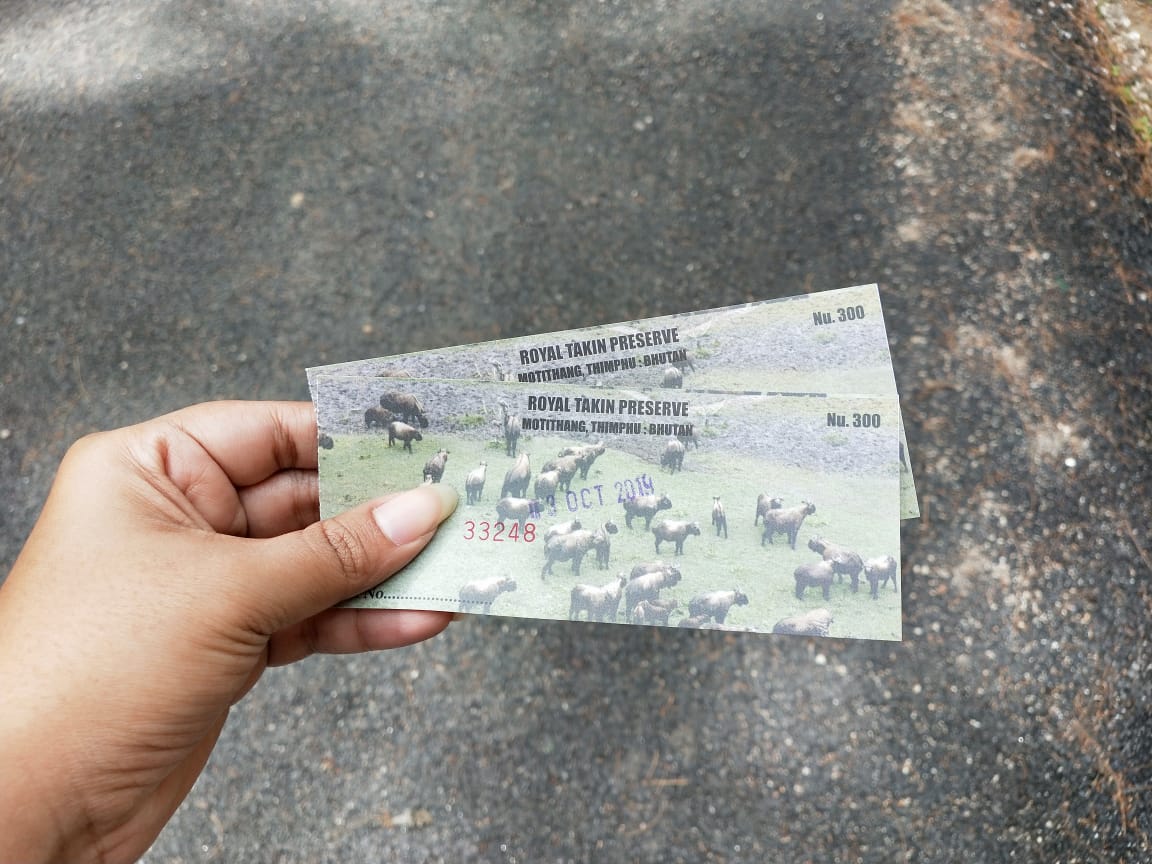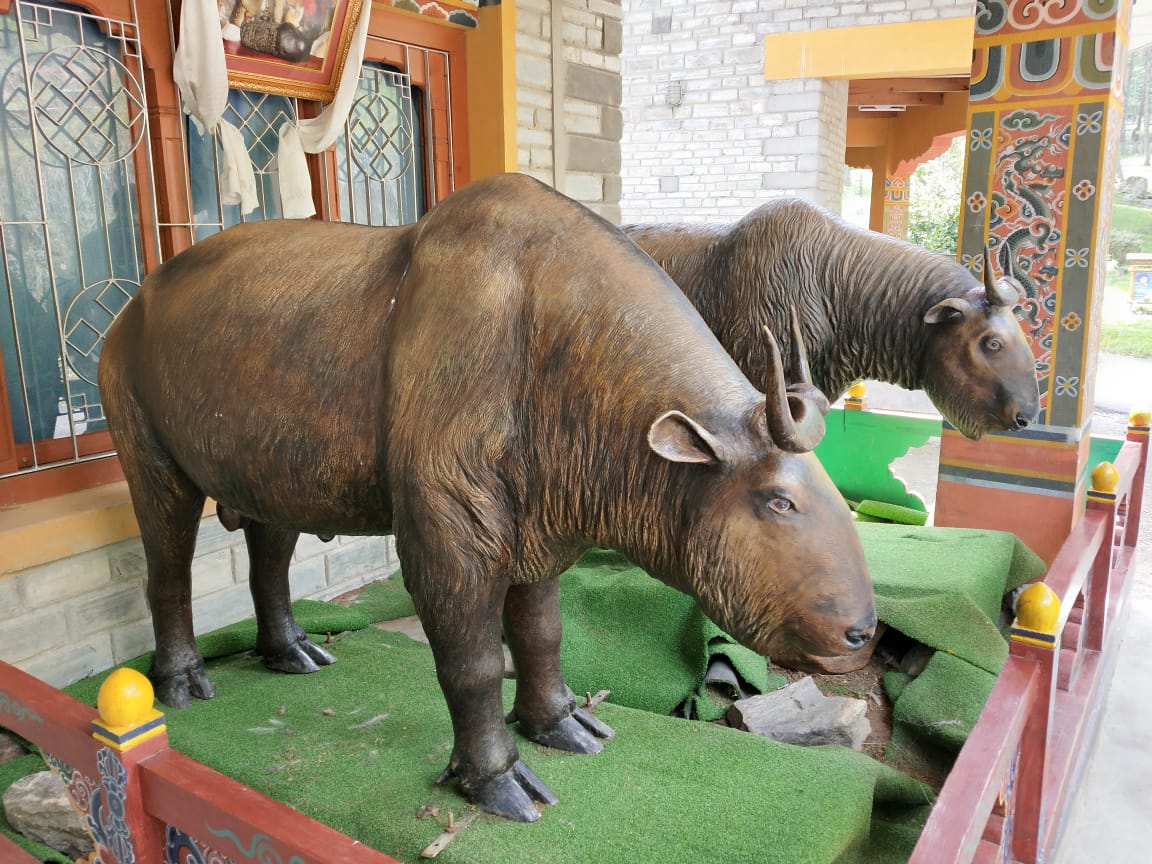 Folk Heritage Museum
We had one more spot to cover before we went for lunch. The Folk Heritage Museum, Thimphu, is housed in a 3-story 19th-century Bhutanese house. Set up under the initiative of the Queen Mother Ashi Dorji Wangmo Wangchuk in 2001, it showcases everything about the lifestyle of the Bhutanese people 150 years ago! The ground floor usually houses the cattle in harsh weathers whereas the upper floors are for accommodation and storage of grains. There are wooden ladders connecting each floor, and it's great how such an old house is maintained so well even now. They have an entry fee of Rs 30 for SARRC Nationals and Rs. 150 for visitors from any other country. We will recommend this as a must-visit spot on tour visit since it's a great way to learn about the traditional ways of this wonderful country.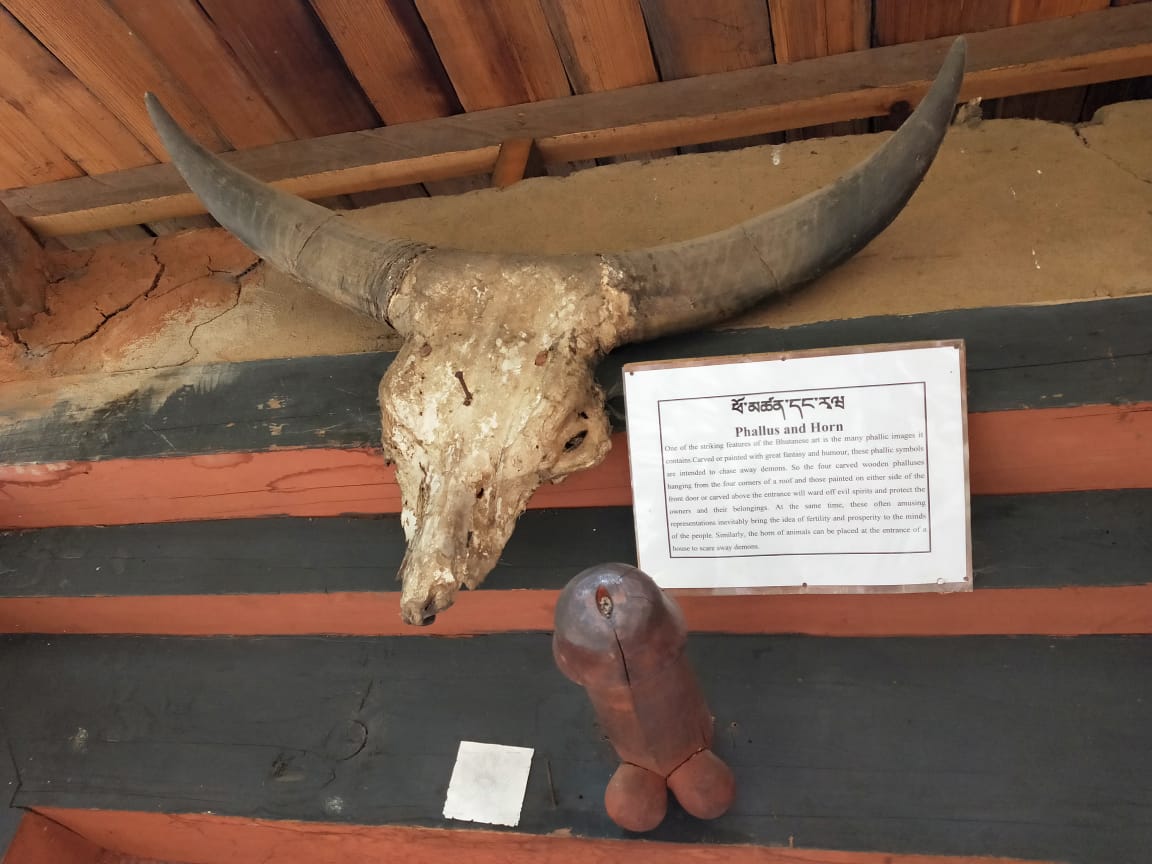 We had lunch at Hotel Majestic, Norzin lam street, Thimphu opposite to the Nehru-Wangchuk Cultural Center. This was a small and relatively new hotel with very few employees. We had two plates of chicken chowmein, and the quantity was so less we were confused if it was indeed two portions or just one! Being an avid tea-drinkers, we also ordered two cups of tea. Well, let's just say that we didn't really find that perfect cup of tea there.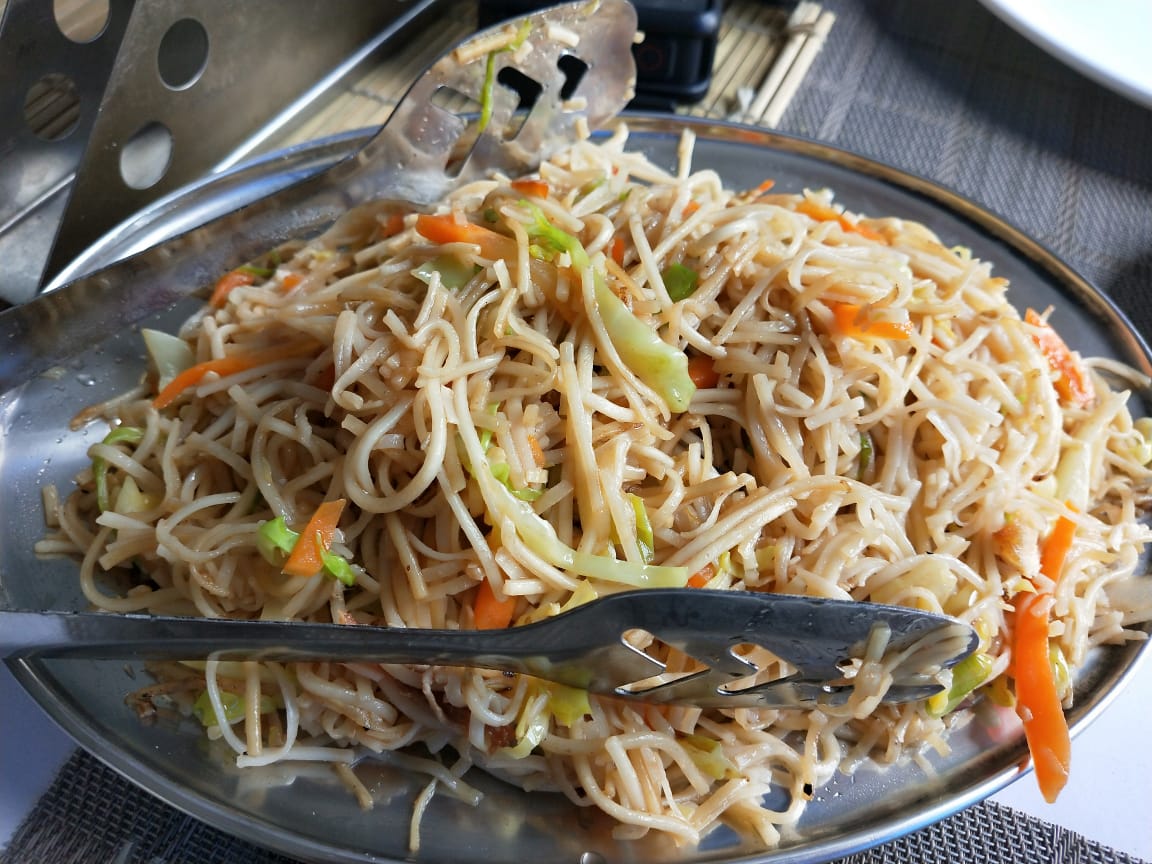 Thimphu to Punakha
Dochula Pass
Our next destination was Punakha. We wanted to reach before it got dark, so we left for Punakha right after lunch. It is such a good thing that our driver, Dabu, spoke the Bhutanese language! It was easier to find our way around. We made a small stop at the Dochula Pass on the way to Punakha. Standing in fog are 108 memorial chortens or stupas, built to honour the Bhutanese soldiers killed in the battle against Assamese insurgents from India in 2003. The Chortens are built in 3 layers, with the bottom-most one consisting of 45 chortens, the middle layer with 36 and the uppermost layer with 27 chortens. The Dochula Druk Wangyel Tsechu takes place annually at the ground at the Dochula pass.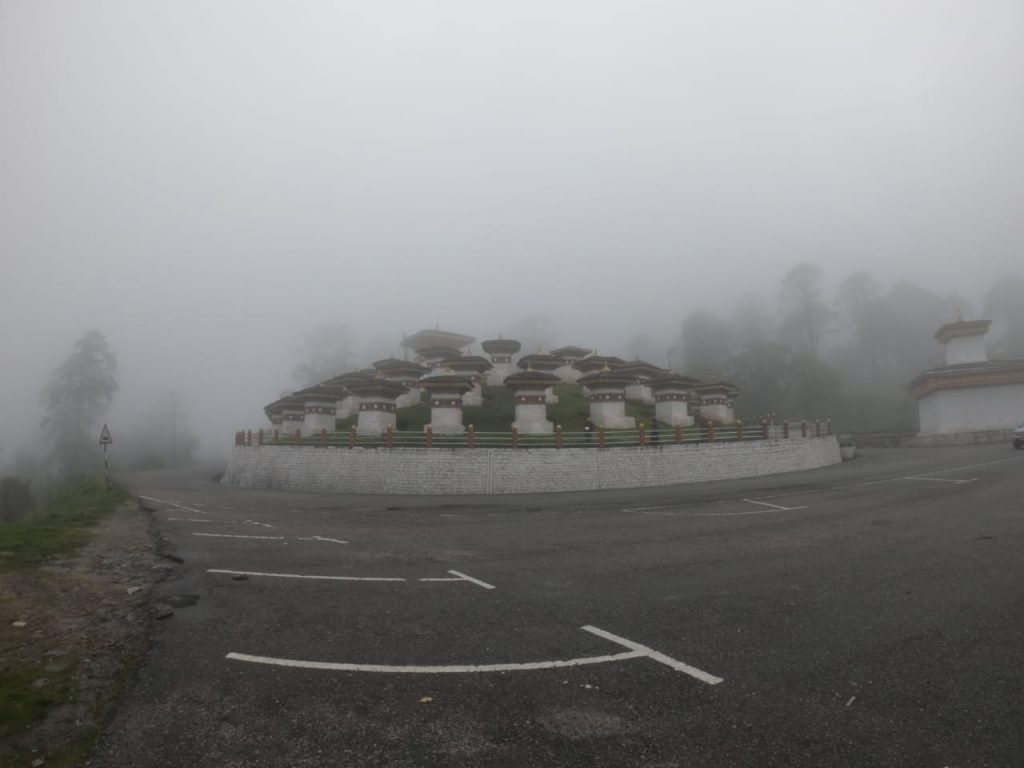 Punakha
The Thimphu to Punakha distance is about 85 km. I fell asleep as soon as we began our journey to Punakha again. We reached Punakha by around 4:30 pm, and the changing scenery was mind-blowing. The entire landscape of Punakha was covered in paddy fields. The layers of different shades of green were just so pleasing to my eyes, my nausea was long forgotten. Slightly out of the city, our home for the next two days was the Wonderhill Homestay, hosted by the wonderful Jamphel.
We booked this stay through Airbnb at Rs. 2292 per night. As our car passed a small gate and went up a slope, I was really eager to see how this was going to be. We saw some really good reviews about this Homestay which was why we booked it. It was also very close to the Punakha Dzong which is one of the most popular tourist spots in Punakha.
The first thing we noticed as the house came in view were two tiny balls of fluff running towards us. I was so excited that I nearly jumped out of the car to pet them. We met Jamphel and her helper, Sangay, who showed us to our room. It was the most beautiful places I've ever stayed at! The wooden floors and heavy curtains gave the room such a royal look, there are no words to express how excited I was. Another thing that got me excited was this gigantic bookshelf next to the dining room! Being a bookworm, I just stood there looking at the titles, and having a breakdown seeing a big collection of Agatha Christie books. Athul had to drag me out of the house to plan our evening.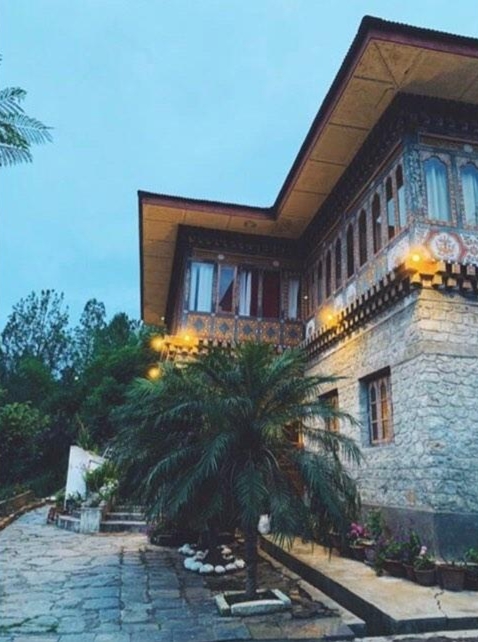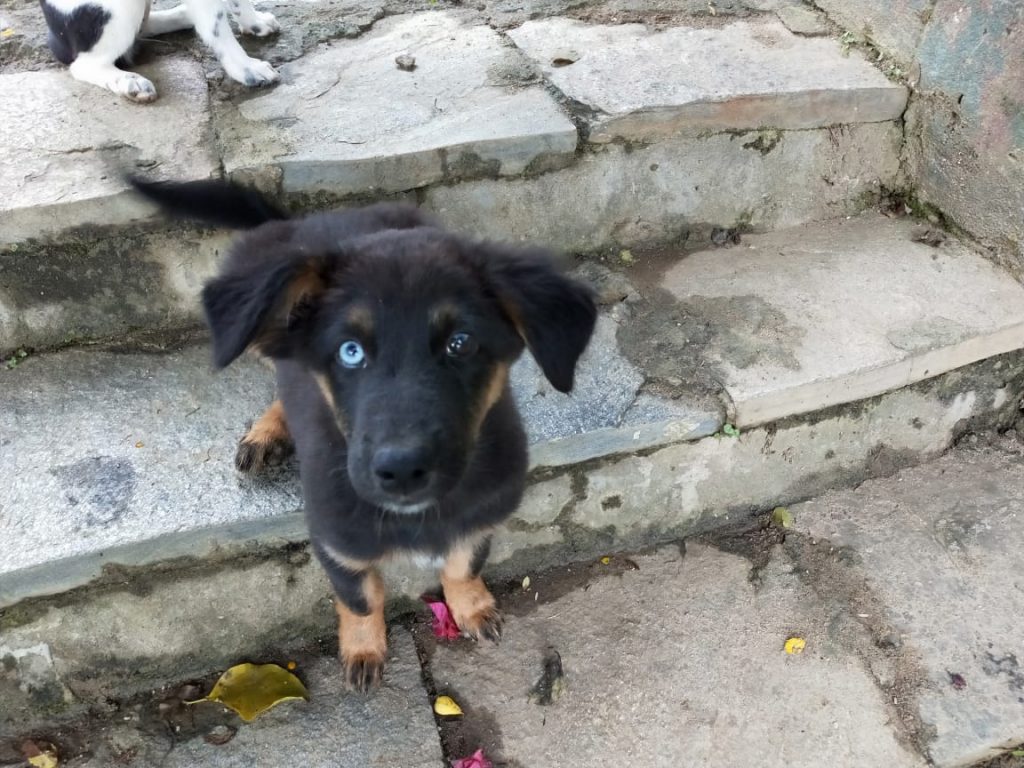 Things to do in Punakha
Punakha Suspension Bridge
Since the Punakha Dzong would already be closed, we decided to go see the Suspension bridge. The Punakha suspension bridge is the longest suspension bridge in Bhutan at a length of 524 feet and one of the oldest in the world. It is perched over the Pho Chuu and adorned with colourful prayer flags that flutter in the wind. Our driver dropped us off near a small bridge and gave us instructions on how to reach the bridge and to meet him back at the Punakha Dzong parking lot.
The stroll along the riverside was so relaxing. We reached the bridge in around 15 minutes. I held on to Athul, who had a fun time on the bridge. After spending some time there, we decided to walk back. It was completely dark by then. Athul being good with directions, led the way, and I was kind of bothered by the fact that we were the only ones there in the dark.
But soon we could see the yellow lights from the Dzong. We found our way to the parking lot thankfully, and our driver took us back to the Homestay by 6 pm. Sangay brought us some coffee as we sat at the porch, playing with puppies, Lucky and Milo. What so unique about these puppies were that they had heterochromia. I had only heard about them, so seeing it was cool. After coffee, we went upstairs to our room and freshened up.
Our dinner was brought to our room by 8 pm. Jamphel had prepared rice, dal, vegetable stir fry and fried chicken for dinner, and it was delicious. After a truly hearty meal, we went straight to bed, exhausted.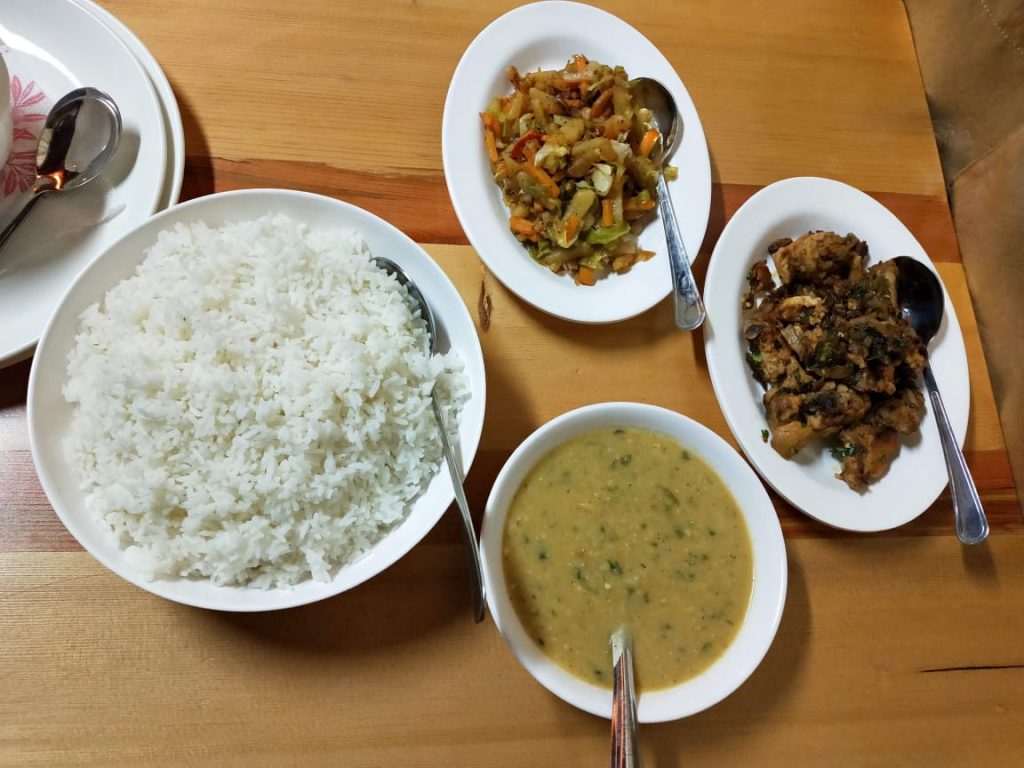 Punakha mornings are to die for. Pulling those curtains aside, we saw the beautiful foggy morning and decided to go for a walk. Dressing up quickly and pulling on those shoes, we walked out of the house to be greeted by Lucky and Milo. They escorted us all the way down to the gate, before racing back to the house. Everyone was going on with their daily routine, kids going to school, a herd of cows walking down the road, some wildflowers blooming proudly – this was the best start to our day.
We didn't go that far since we had another hike planned for that day. On reaching home, our breakfast was severed in the dining room on the ground floor. Toasts, eggs, jam, butter and coffee were all set. Soon after breakfast, we got ready and our driver picked us up by 9 am.
Khamsum Yulley Namgyal Chorten
Our first destination for the day was the Khamsum Yulley Namgyal Chorten, which was situated on top of a mountain. It is said to be built to ward away negativity and to bring peace and harmony to all living beings. We first parked our car at the banks of the river. This is where the famed river rafting happens, and we were approached by the guys hosting it. River rafting in Punakha costs Rs. 10000, but since it was just the two of us, they offered a price of Rs. 6000. It was not really in our plan, so we didn't go ahead with it.
Bargain heavily for reducing river rafting costs at Punakha
Hike to Khamsum Yulley
Read – An ultimate guide to hike Khamsum Yulley Namgyal Chorten
We crossed the suspension bridge and on the other side is a narrow trail through the paddy fields. Tiny streams of water cut through the path, so we were jumping over them all along. The path ends at the foothills of the mountain, where the actual trail starts. Nothing too risky, just a well walked trail surrounded by tall pine trees. But the best thing was that this place didn't have a lot of tourists. Just some lovers of hiking I guess. It takes around 45 minutes to reach the Chorten from the riverside. The stone laid path begins as soon as you see a red sign with an arrow pointing towards the Chorten. In another 10 min, you've at the courtyard of the Khamsum Yulley Namgyal Chorten.
Inside the Chorten
Photography is strictly prohibited inside the Chorten, so one can only imprint this beautiful temple in their minds as they leave. We removed our shoes and kept them outside the Chorten before stepping in. The walls of the temple depicted various mythological murals, and it was just so colourful and mesmerizing! An elaborate statue of the deity is enclosed in a huge glass case in the first room. The details are so intricate, we can only wonder how long it might have taken to be made! We climbed around 3 floors up, before reaching the roof of the temple.
Under the Golden Stupa
A golden Buddha sits at the base of the golden stupa with his ever pleasant smile. The view from the roof of the temple is just so breathtaking, it's like something out of a fairytale. Endless mountains and paddy fields, and the river meandering through them. Words can hardly describe the beauty of this place. We highly recommend visiting the Khamsum Yulley Namgyal Chorten to anyone planning their trip to Punakha!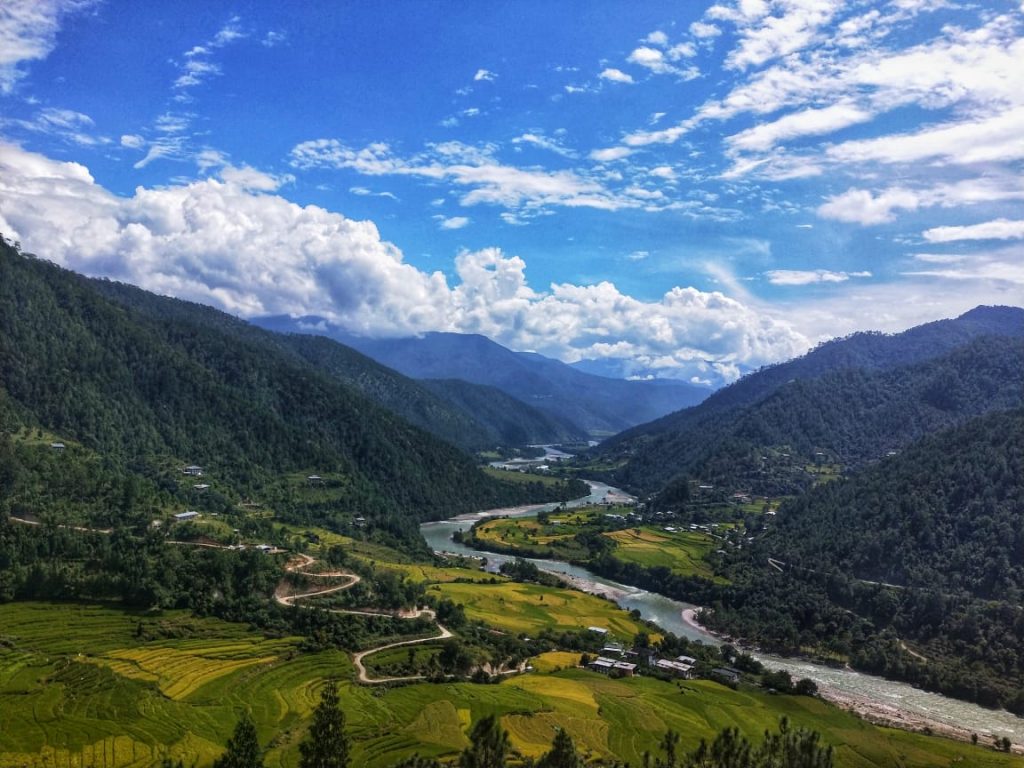 Going back the same way, we were exhausted. Though the views were out of the world, the day was sunny and hot. We were sweaty and thirsty, to say the least. Since my stamina was not very commendable, I was panting and my feet were killing me. As we got closer to the river, I had this desire to dip my feet in the water. So we went down to the riverbank and took off our shoes. The riverbank was full of beautiful round stones and pebbles. Dipping my feet in the ice-cold water felt just magical. I literally felt steam flying off my them! I couldn't help but pick up some pretty stones as souvenirs!
Punakha Dzong
Our driver took us to the Punakha Dzong next. Also known as the Pungthang Dechen Phodrang Dzong, it is one of the oldest structures in Bhutan. It was built between 1637-1638 by Ngawang Namgyal without the use of even a single nail! We saw this kind of mysterious engineering marvels only in the temples in Hampi and even in Lepakshi Temple! The marriage of the King of Bhutan His Majesty King Jigme Khesar Namgyel Wangchuck and Queen Jetsun Pema took place at the Punakha Dzong.
Punakha Dzong is one of the most iconic spots in Bhutan!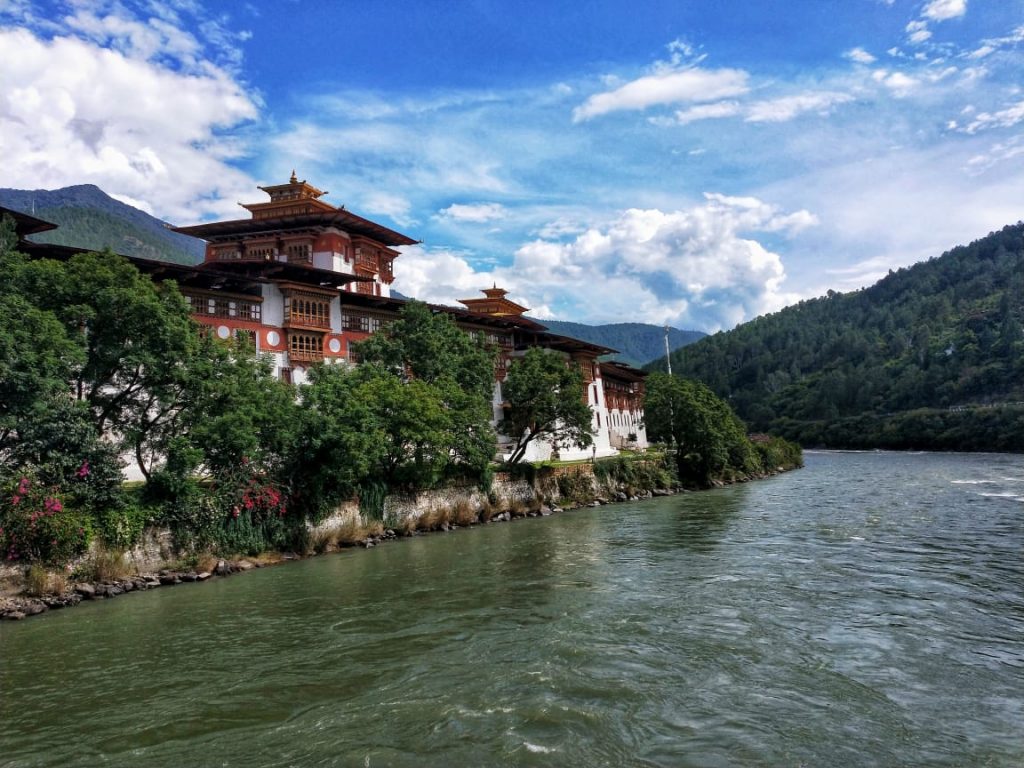 It is located between the two rivers Mo Chhu and Pho Chhu. A small bridge from the parking lot runs over the rivers connect it to the Dzong. The fees to the Dzong is Rs. 300 per head. After buying the tickets at the starting point of the bridge. We came a set of stone stairs, followed by a steep wooden staircase on the other side. It is said that these can be pulled up while locking up at night!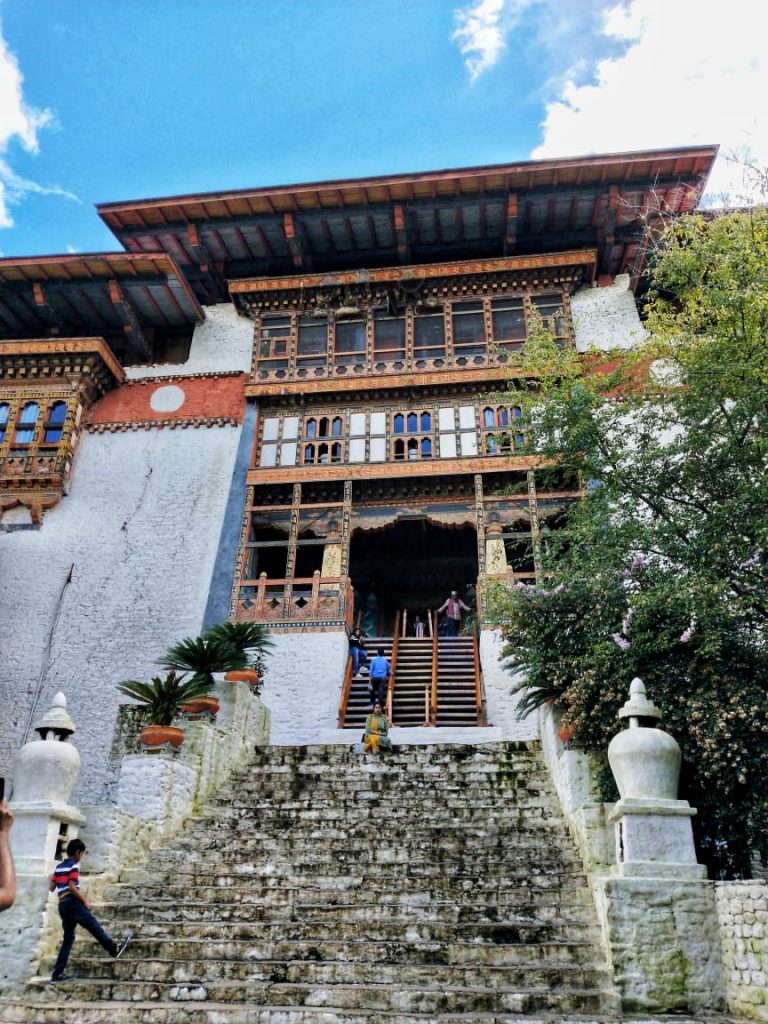 Inside the Punakha Dzong
At the top of the entry to the Dzong, some guards will check our tickets and bags. We were allowed to take our DSLR inside but had to keep our GoPro outside. We saw a huge courtyard first, with a single Bodhi tree in the centre. The temple architecture was admirable. A corridor leads to another courtyard. We spent some time in the temple, as monks prayed in utter silence. Huge golden sculptures of deities and wall murals were present in the temple hall.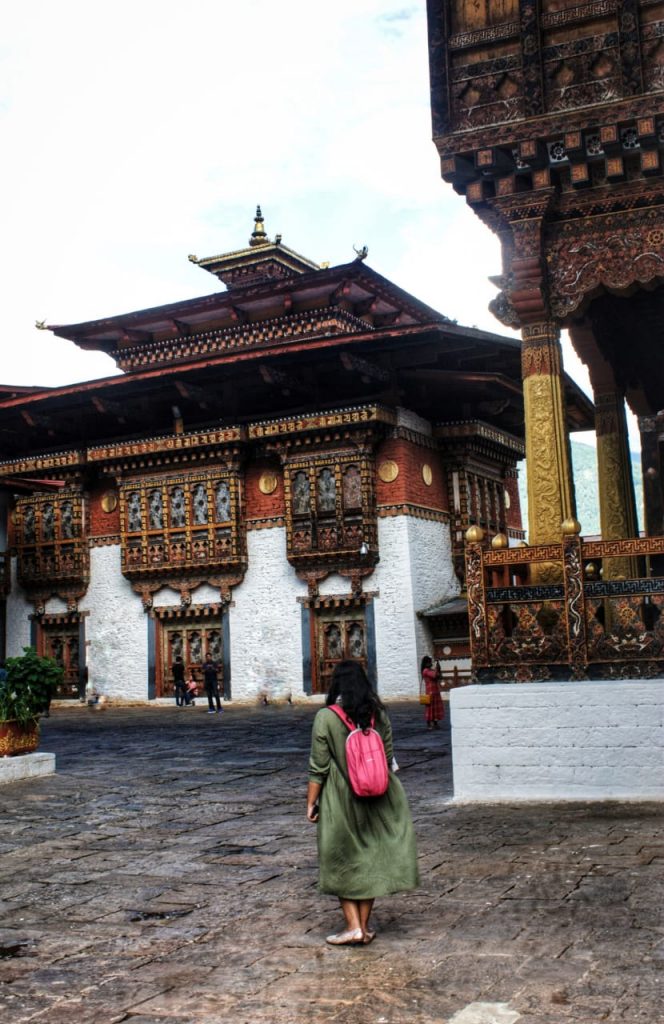 After spending some time walking around the temple, we left for lunch. We had lunch at a small restaurant away from the city. The food was not really great here, but Athul did try some of the local beer called Druk 11000. It was quite strong with a crisp rice flavour.
We didn't have any more activities planned for the day, so we went straight home. The last thing I remember was cuddling into the fluffy blankets!
A night to remember!
It was already dark when we woke up. So we went downstairs and sat out at the porch, chatting with Jamphel. Lucky and Milo joined us too. After a simple dinner of roti and vegetable curry, we were planning to settle down and watch a movie, but then we were suddenly surrounded by darkness. There was a power cut! Figuring it could be because of the rains, we went downstairs to find Jamphel. She was already at the porch with candles, and a friend of her's, Tandin.
We sat down at her porch, having a fun conversation with the two. We learnt something much about the Bhutanese, especially about their love for Bollywood movies! This went on till around 3 am when we realized that it's was that late!
The next morning, we had breakfast at around 8 am, before packing all our things. We were saying goodbye to the Wonderhill Homestay and it was harder than we thought it would be. Lucky and Milo had stolen my heart, and I was literally having a breakdown saying bye to them! After promising to keep in touch, we set off for Chimi Lhakhang which was the last spot on our Punakha itenary.
Chimi Lhakhang
Dedicated to Lama Drukpa Kunley, also popularly known as the Divine Madman, the Chimi Lhakhang is a fertility temple. There are two ways to reach the temple. One way takes you till the parking lot at the start of the trail which comes from the Punakha city. Another way is through the Teoprongchu village which starts at the Punakha – Thimphu Highway at this point which we took. The walk to the temple takes around 20-30 minutes through the village and paddy fields. It is quite a nice experience to see the villagers go about their daily life.
We recommend trail through Teoprongchu village to Chimi Lakhang
Trail through village
It's interesting to see that almost all the houses here had phallus paintings on their walls, honouring Lama Drukpa Kunley. It seems that this an old traditional and most of the new generation residents do not follow this. But it quite exquisite to see cultures that are so different from ours! Many souvenir shops line both the sides of the road till the actual trail. A small signboard says at the beginning of the trail says bikes and vehicles cannot be taken beyond this point. Locals have set up tiny stalls along the trail, selling many creative and colourful phallus souvenirs, shawls made of pure silk and baby yak hair and also stones blessed at the Chimi Lhakhang itself.
As we walked up the trail, the first thing we came across was a giant prayer wheel. My affinity for prayer wheels are quite high, so I was excited to go get my hands on it! Just a few more steps and we reached the temple. The stone laid floor of the courtyard is really beautiful, and the interior of the temple was calm and chilly. A unique custom followed in this temple is that women seeking blessings for children are tapped on the head with a 10-inch long phallus made of ivory, bone and wood!
Suggested Read – Complete guide on visiting Chimi Lakhang
On our way back, I got myself a good luck stone, something to remember this beautiful place by!
Punakha to Paro
We left for Paro for which we need to cross Thimphu again. On the way, we stopped at a tiny roadside vendor to buy some organic apples. It's another thing about Bhutan – all their produce are organic! This means lower shelf life, but purer, healthier and tastier produce. These tiny stalls are just so pretty, they look like those pictures from a storybook!
We stopped at the Dochula pass to explore this time. It was covered in fog and was really cold, but it gave the place an air of mystery. Walking among the Chortens and seeing nothing but fog wherever you turn – this was such a different feeling altogether.
After halting at Thimphu to withdraw some money from the ATM, our next stop was at Paro. Do know that only International credit and debit cards work here. We found that withdrawals using our SBI international card cost around Rs. 200 per withdrawal (we took around Rs. 4000 twice). These cards worked only at ATMs accepting Visa cards (Bank of Bhutan, Druk Punjab National Bank).
Paro
As we entered Paro, there were more mountains coming in view. Paro valley stands at an elevation of 7200 feet above the sea level and houses the only international airport of Bhutan. The Paro International airport is one of the most dangerous airports in the world and only around 8 pilots from around the world are certified to land here!
Paro Chhu
The Paro Chhu is a tributary of the Wong Chhu which runs along the valley. Our driver dropped here so that we can go see the river. The water here is so clear, we can see the river bed and the colourful pebbles underneath! I did pick up a few stones from here as well! They are more precious than any souvenirs you can buy with money!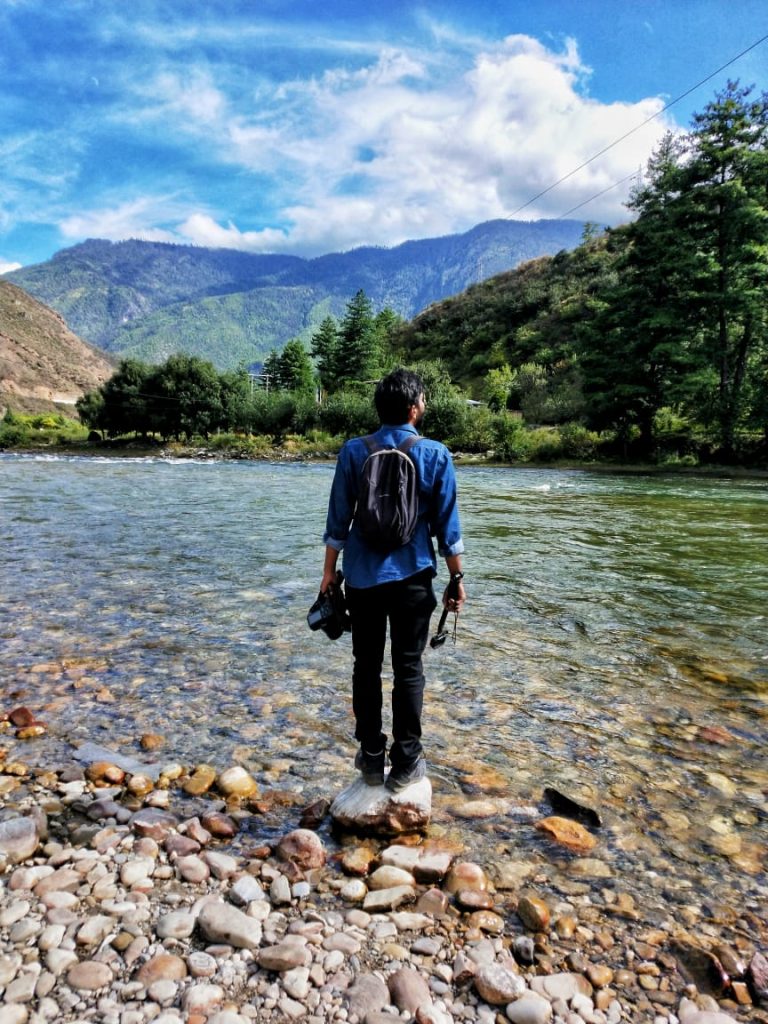 Paro City
As we entered the Paro city, we saw that it was a bit more modernized, considering the other cities we visited. After grabbing a quick lunch of Vegetarian Thali, we wanted to explore the city. Our driver left us off at a street with lots of souvenir shops. It had begun to drizzle, so I walked around with our umbrella (be prepared guys!). We also witnessed some event that was happening in an open stage, where some Bhutanese girls in Kira were dancing. It was quite nice to be part of a huge audience – and they were mostly all tourists from different parts of the world!
Go for a shopping spree at Paro City!
Our driver then took us to a shop called 'Pem Choden Gift Items' where you get souvenirs at a very cheap rate compared to the other shops. They also let us try on the Gho and Kira for Rs. 200 per head. You just can't leave Bhutan without trying on their beautiful national attire! I loved the Kira so much, I wanted to take one home. But to be practical, the Gho and Kira are quite expensive to buy starting at Rs. 4500 and go higher according to the material we choose.
Try to collect snacks and energy bars from Paro City for Tigers Nest Trek
After a small round of shopping, we set off to our accommodation – Deki's Taktsang Bungalow. This homestay is located just 1 km away from the Tiger's Nest Monastery base camp, which was our first activity the next morning. So this was booked through Airbnb and it's an entire house. Two bedrooms, a kitchen, a bathroom and a living area – all for just Rs 1647 per night! Since this is a house, they do not provide food here. But just opposite to Bungalow is a restaurant. A very small set up – a house turned restaurant – where you get really good food. But we had visited a supermarket in Paro to buy some bread, jam and cup noodles for dinner and breakfast because the food was quite expensive here. Each day we spend around Rs. 1000 for our meals alone!
Just like Thimphu, Paro is really cold at night. Do bring in your sweaters since the temperature drops at night and it can get difficult if you don't do well in the cold! We were up early the next morning. By 7 am, we were trekking up to the base camp from our Bungalow. Don't be deceived when we say it's only 1 km – it's the mountains! A kilometer feels like two or three because the roads are twisting and turning!
Things to do in Paro
Tiger's Nest Monastery
The Tiger's Nest Monastery (also known as the Paro Taktsang) is one of the most iconic spots in Bhutan. Perched on a cliff at an elevation of 3000 feet above the Paro valley (making it around 10000 feet above the sea level). This structure was built in 1642 around the Taktsang Senge Samdup cave where Guru Padmasambhava meditated for three years, three months, three weeks, three days and three hours. Legend has it that Guru Padmasambhava flew to the cave on a flying tigress, who was his wife, ultimately giving the place its name (Takt meaning tiger, and sang meaning nest – Tiger's Nest).
Tiger's Nest Trek
The entry fees to the Taktsang is Rs. 500 per head, which should be purchased at the entrance of the base camp. We recommend buying hiking poles – your knees are gonna thank you later! These are just Rs. 50 and you can buy them at the entrance. As you move in through the gates, you can see many souvenir shops set up on both sides. Make sure to take a look. You get some of the cheapest souvenirs here.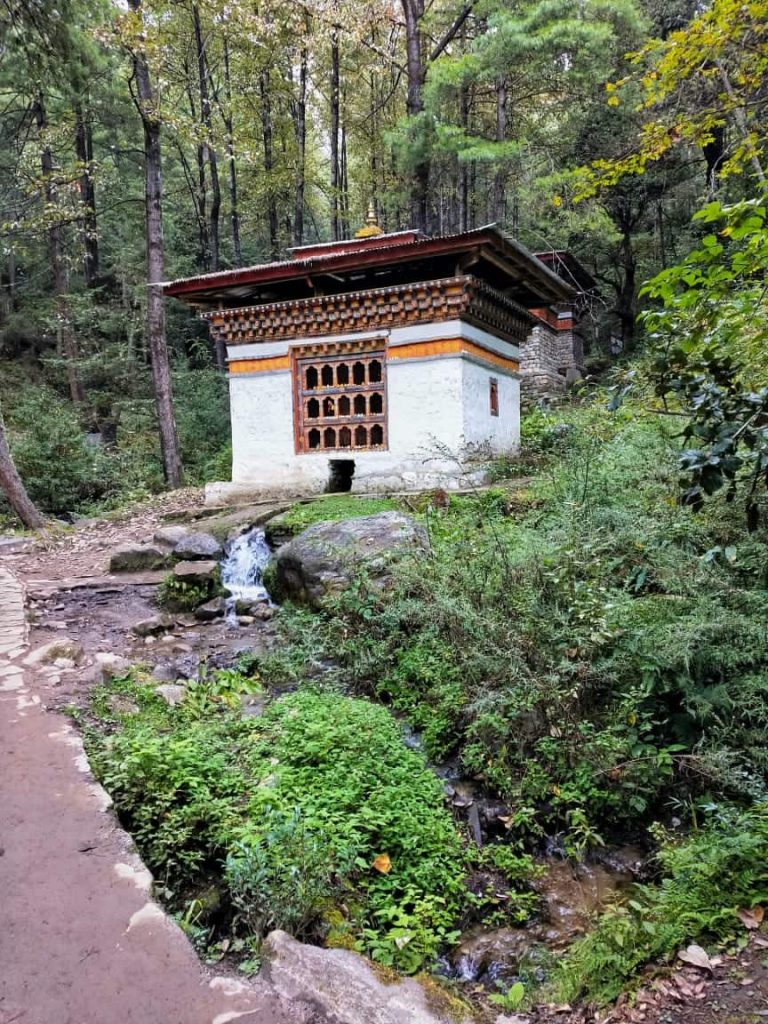 You've officially started your trek once you pass these! Doing this on your own is a great achievement on its own, but those who find that too difficult to try can also hire mules to take you up to the Cafeteria. If you wish to continue, you need to do that on your own though.
Reach early for Paro Tatksang Trek (Tigers Nest) so that you can avoid the crowd!
Thirty minutes into the trek, I was already huffing and puffing. I wouldn't say the same about Athul though. He's a ball of energy just too excited to let anything affect his spirits! We walked through the dirt trail surrounded by pine trees on both sides, giving great views of the Paro valley on every other true. The Taktsang gave glimpses of itself from far, and some it felt doubtful if I can really do this! There were two paths to the top – a longer less steep one and a short steep one. We decided to stick to the longer route which was much more scenic.
Halfway to the trek
Around 9:30 am (2 hours into the trek), we reached the halfway point . We passed a lot of prayer flags on the way. At this point, many people choose to stop their trek and start the descent. We pushed ourselves to move up again. In another 10 minutes, we came across an arrow with 'Taktsang' written on it, pointing to the right. Excitement soared through our veins as we reached another viewpoint. This is where all those iconic photos are taken!
Towards the Taktsang
From here, it's a short walk down some stone stairs. The Taktsang is in clear view from here on and it encourages you to push on! We came across a small bridge where the stairs end. This is a beautiful sight with a waterfall on one side and a view of the Paro Valley on the other. A flight of stairs to climb before you're finally there! It took us around 3 hours to reach the Taktsang.
All bags and belongings should be placed in a locker before entering the Taktsang. It's bit of a problem here since the number of tourists is way more than the lockers! We had to wait for a while for someone to empty their locker before locking away our things. The rules have also changed along the years, so Indians who didn't need a guide to visit the monastery before now need a guide to visit. We waited for a group while sipping on a cup of tea and munching on some crispies provided at the entrance of the monastery (this is free). We even made a few acquaintances along the entire trek, so sharing some travel plans and tips with each other was nice.
Suggested Read – A complete beginner's guide on trekking Tiger's Nest
Inside the Taktsang
The first thing the guide did was lead us to a room and had us all sitting down as she explained the course of the tour. She told us why guides are made mandatory for all tourists. An Indian guy had stolen some money from the Taktsang on his visit the previous year. We as tourists represent our country. So please, one person's actions will affect a huge number of people negatively. We seek respect, not to be put down by others! As shameful as it was, we can still make a good impression!
The Taktsang is a collection of four temples. The guide explained each one to us and took us around the temple as groups.
We started the descent at about 12:30 pm. It was relatively faster because we had taken a shorter path. This is where the hiking pole really came to help. My knees were literally shivering with the strain. It took us another two hours to reach the starting point. After returning the pole, we walked back. We went straight to the restaurant first. After having a nice vegetarian thali, we went back to the Bungalow.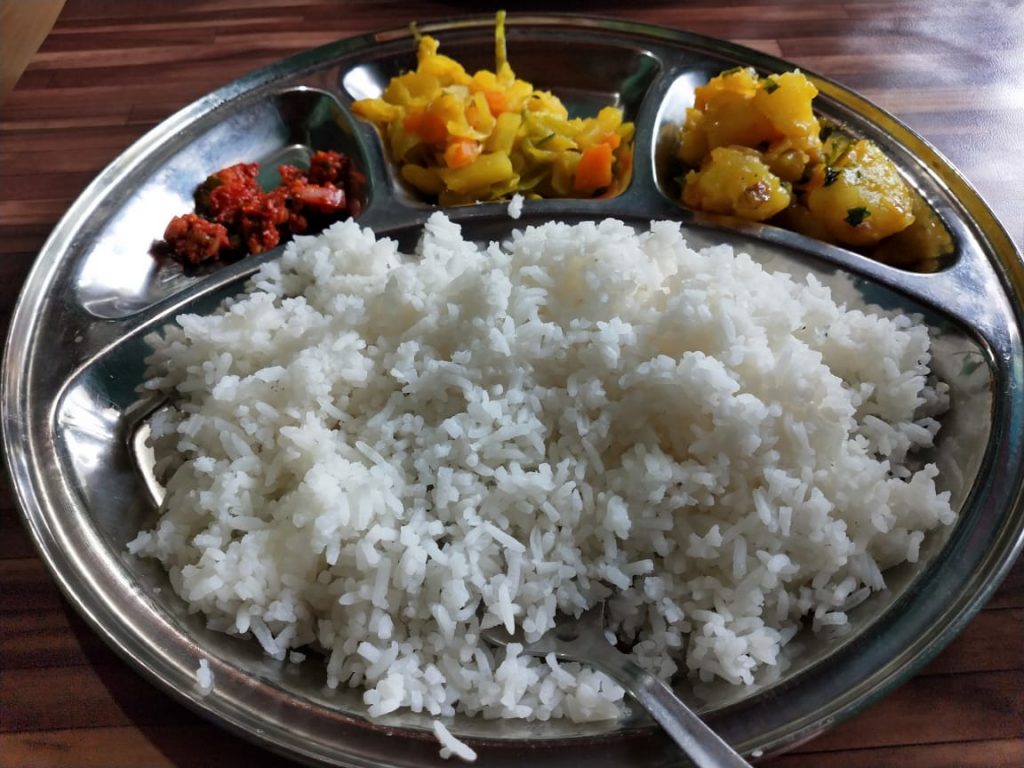 We were so tired, we fell asleep right away. It was around 7 pm when we woke up and it was really dark outside. Deciding to have an early dinner, we walked over to the restaurant again. We sat in one of the family rooms inside the house and had steaming bowls of egg Maggie. And we had the pleasure to be in the company of a sweet little girl (daughter of the lady running the restaurant), who spoke to us endlessly in Bhutanese. Even though we didn't understand a word of it, she was the cutest!
Still too tired to do anything, we took a hot shower before calling it a night.
Our last day in Bhutan was pretty emotional for me. I had grown to love this country and the way of life here that thinking about going back was so difficult. We hit the road by 9 am, after a quick breakfast of Maggie and black coffee. We had two more places in our list before saying goodbye to Bhutan.
Chelela Pass
At an elevation of about 13000 feet above sea level, the Chelela pass is the highest motorable point in Bhutan. It is located around 50 km from Paro city. It roads to Chelela pass are narrow with a lot of twists and turns.
A must stop point in this way is the Paro Airport viewpoint. We were lucky to be able to see a flight take off at this scenic airport at the banks of the Paro Chhu.
There is one flight take off at 9:50AM from Paro Airport, so make sure you don't miss it from the viewpoint!
It took us another hour to reach the Chelela pass. The temperature was fine as we started our day, but as we approached the Chelela pass, there was a sudden drop in temperature. Pulling on our sweaters and jackets, we watched the beautiful scenery in awe.
A blue board announced our arrival at the Chelela pass. Hundreds of prayer flags fluttered in the strong winds, and Chelela actually showed off some warm autumn colours. It got colder and colder as we walked up, to a point where we could no longer feel our fingers, noses or ears! Tip: Wear gloves and scarves along with sweaters!! The view was to die for. But I was in a winter heaven amidst the fluttering prayer flags. But it was too cold for us to stay any longer, so we made our way back to the Paro city.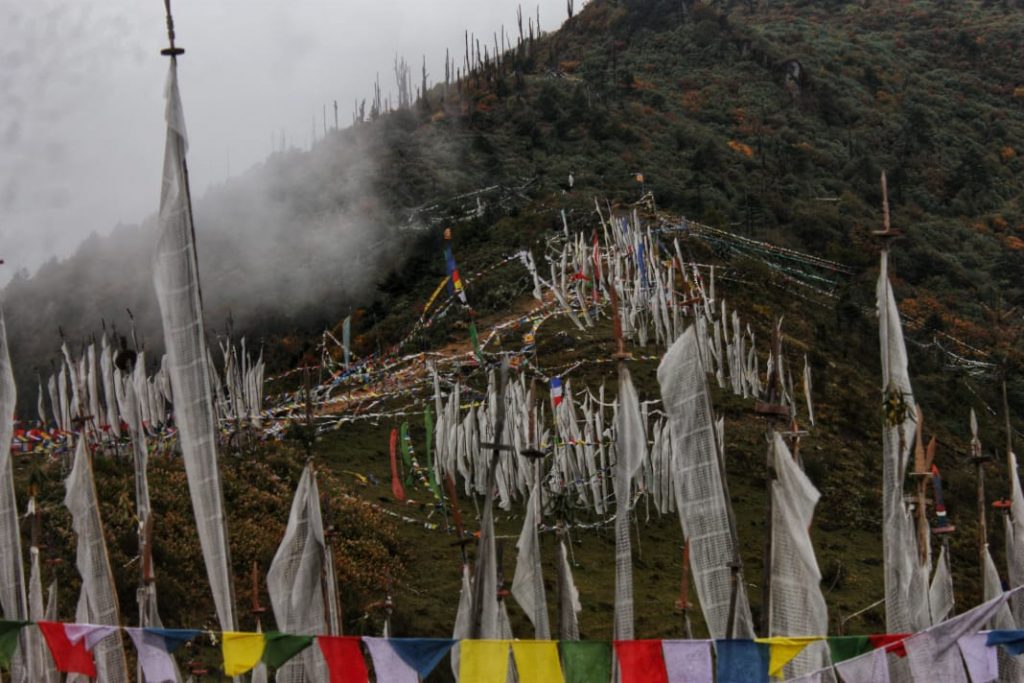 Local Cuisine
We had lunch at the same hotel from our first day in Paro. But this time, we tried some local cuisine. We ordered a Chicken Thukpa, which is a Tibetan noodle soup popular in Bhutan, North-East India and Nepal, and also some plain rice and Jasha Maroo. Jasha Maroo is a famous Bhutanese food. It is basically a chicken stew cooked with garlic, ginger, chiles, and tomato sauce. We were in love with the simple but delicious flavours of the Jasha Maroo.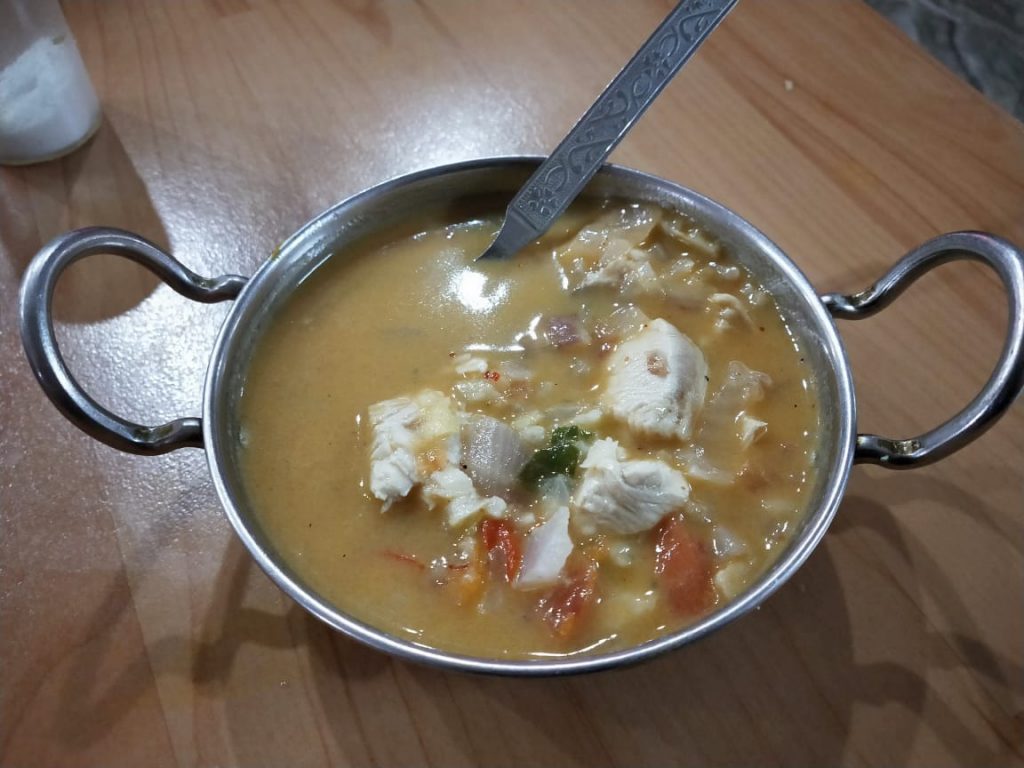 National Museum of Bhutan
The last point in our Bhutan trip was the National Museum of Bhutan. Built in 1968, the museum houses some Bhutanese art, and a lot of information on the Bhutanese festivals and the flora and fauna native to Bhutan. The entry fee is Rs. 50 and all belongs must be placed in a locker before entering the museum. It has a wonderful model of the Paro Taktsang, and it's so great to see the tiny corridors through which we actually walked!
Paro to Jaigaon
The drive back to Jaigaon felt really long and tiresome. Maybe because we were emotional about leaving, but yes, my altitude sickness played a part! We reached Jaigaon at 9 pm and then started a serious of the most horrible experiences. We booked a room at Hotel Palika, and realized that it was a bad decision. It was Durga Puja that day (October 8th) and one of the most auspicious days for the people of West Bengal. We couldn't get a room anywhere else and it had me in tears. The roads were full of people. Even in India, there was no network coverage for our Indian SIM. There were close to 10 ATMs in the area, and none of them had cash. We walked all around Jaigaon and found not even one ATM with cash.
Tired and hungry, we ended up eating veggie momos from a roadside vendor. We managed to pay our driver through Google Pay, but honestly, this was a horrible experience.
Jaigaon to Siliguri
The next morning, our car was there to pick us up by 5:30 am. It was raining heavily, but we were so glad to leave this hotel. A note to anyone planning to book rooms in Jaigaon through OYO, please don't. First of all none of the hotels in Oyo agree that they're affiliated to Oyo. But yet Oyo continues to advertise them with the most deceptive pictures! So if you are booking through Oyo, make sure to call the hotel directly and confirm. The Hotel we stayed was one of the dirtiest and unhygienic hotels I've ever had the misfortune to stay in but if you check Oyo, that's a different story.
Siliguri to Bangalore
We had our breakfast of Puri masala from a small restaurant in Siliguri at just Rs. 60 (for 3 people! I think it's Aditi Sweets, not very sure). We reached the airport by 8:30 am. Our flight was to Hyderabad from where we took another flight to Bangalore. We again booked a Bounce to make our trip home from the Bangalore Airport.
The total Bhutan travel cost was around Rs. 35000 per head which was quite reasonable considering the fact that it was the peak season. After spending eight amazing days in Bhutan, it was very difficult to be back and return to our old routines the very next day. We suffered from that emptiness for a few of the following days. But each time we look through the pictures, it feels like reliving those wonderful days all over again. We have so much more to explore! Bhutan, we'll be back again!
Some Facts about Bhutan
Bhutan King and Queen – His Highness Jigme Khesar Namgyel Wangchuk and Jetsun Pema
Bhutan Currency – Ngultrum
Capital – Thimphu
Dish – Ema Datschi
Animal – Takin
Bird – Raven
Sport – Archery
Flower – Blue Poppy
Bhutan Travel Tips
Tourist laws in Bhutan tend to change often, so keep yourself updated regularly from government websites or Bhutan Travel blogs.
If you are planning a trip to Bhutan you can contact Dabu – +91-8370844982, he will take you around Bhutan at reasonable price.
One Indian rupee = one Bhutanese Ngultrum (subject to market change).
Indian currency is widely accepted in Bhutan, so no need to exchange Indian currency before entering Bhutan.
It is good to carry cash in hand since most hotels and shops don't accept card payments.
Carry bottled water with you and do not drink from any open vessels or taps.
Food can be quite expensive so carry snacks and plan your meals.
It is compulsory to wear clothes covering shoulders and legs for both men and women while entering temples and Dzongs.
The temperature can drop in the evenings, so carry sweaters or jackets.
Try ATMs accepting Visa (International) cards like Bank of Bhutan and Druk Punjab National Bank.
Keep your travel plastic-free and do not litter!
Most places have entry fees, which are covered by the daily fee.
Pin to your travel board in Pinterest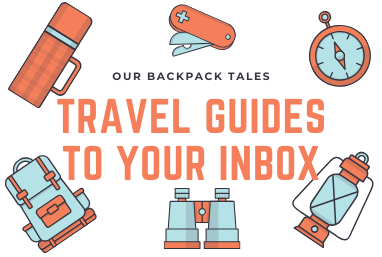 Join other 1000+ readers of OBT!
Author Details
Pet lover, foodie and wanderlust by passion.
She is an avid traveller with a full-time job.