This is a Bali Travel Blog written by Bedhya Surana for Our Backpack Tales
Home to the iconic Gates of Heaven, Bali is a tropical paradise destination most of us want to visit at-least once in our life. Bali has been one of the most sought after destination in South East Asia for all the right reasons. Every place in Bali has its very own USP. From pristine beaches to architecturally marveling temples, to adventure sports to satisfy the adrenaline junkie in you, Bali has everything for everyone.
So when my husband propped the question if I would love to travel to Bali for a vacation, the instant answer was YES!!!!!!!.
After doing a great deal of online research for almost a month about what to do, where to stay, and how to navigate around Bali, we finally booked our tickets to Bali from Kuala Lumpur for the dates Nov-20 to Nov-25-2019 through the official website of Air Asia. (The flights from Kuala Lumpur to Bali are comparatively cheaper than from India. The to and fro tickets from KL-to-Bali for 2 people cost us 890 Malaysian ringgit -15500 INR).
Once what to do was sorted, we moved on to where to stay. We had settled on 3 base locations: Semniyak (the commercial capital of Bali), Ubud (the home to the famous rice terraces) and Uluwatu (the southernmost tip of Bali). We did our hotel bookings through Agoda.com.
After 3 hours of Flight journey from KL, we reached Ngurah Rai International Airport, Denpasar, Bali, on 20th nov 1.00am MST (Bali is 2.30hrs ahead of India). Indian passport holders do not need visa to enter Bali and can stay for up-to 30 days without the need for visa. To extend your stay beyond 30 days, you can contact the immigration office. They will extend your visa for a nominal feed. (You will have to fill in a form that requires you to enter the details whether or not you are carrying any contraband or foreign currency exceeding 10000 USD 1 billion IDR). The immigration process hardly took us 5 min (yes it was that seamless. Perks of late night flight!).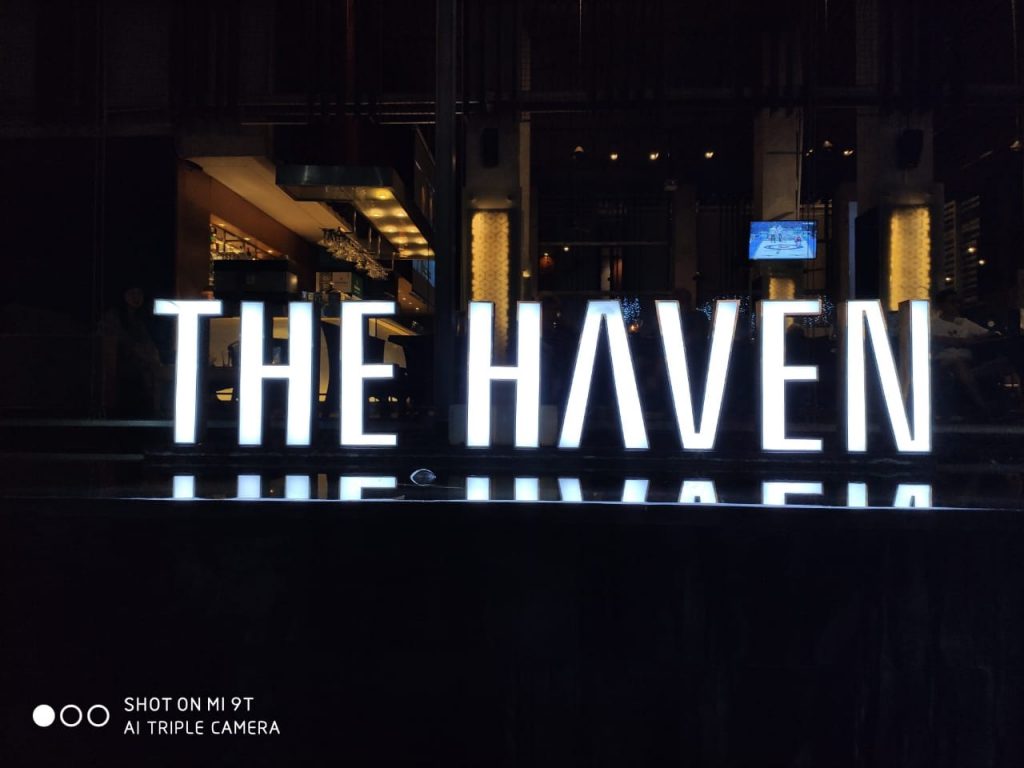 We had pre-booked our cab to the hotel via Booking.com which cost us just 600rs compared to 1200rs or 4lakh IDR being charged by our hotel. We reached our hotel 'The Haven' at around 2.30 am (MST). The Haven is situated right in the heart of Seminyak Market and is also very close to the airport (10kms).
DAY 1
SEMINYAK
Seminyak is the party hub of Bali. It is the home to famous Potato Head Beach club, Motel Mexicola and La Favella. Semniyak is the place where you can party till you drop, gorge on some amazing cuisines from around the world and sip on those cool cocktails. It is also houses crowd less beaches when compared to its neighbor city Kuta. I am sure most of us seen pictures of floating breakfasts in swimming pools, well those dreams can be realized in the neighboring city of Canggu.
After a very scrumptious breakfast at the hotel we decided to explore the Seminyak market on foot The first thing you will notice once you venture out towards the market is some sort of an offering in front of every shop in Seminyak. are very religious people. They pray 3 times a day accompanied by religious offerings at 6am, 12am and 6pm. Every shop and hotel has its very own worshiping sanctum and is very sacred to them.
The market is a heaven to all the shopaholics out there as it caters to every minute necessity one might have. From tiny boutique shops to upscale brands, Seminyak market has everything. There are loads and loads of cafes and smaller restaurants in and around the Semniyak market which offer variety of delicious local food. After quite a bit of exploring we decide it's time to satiate our rumbling stomach. We had lunch at 'Queens of India' restaurant. The food was amazing. There is no dearth of Indian restaurants in Bali. You will find more than one restaurant in every Balinese city that would satiate and satisfy the Indian in you.
One other thing you might notice and find strange is Hindi songs blasting from restaurants and stores, your car driver listening and humming to those old Bolly wood songs, a local stopping you midway and asking if you know SHAH RUKH KHAN (yes they love DDLJ). The Balinese are die hard Bollywood fans. You will feel as if you never left India.
The best way to navigate around Bali is on a two wheeler as it is the cheapest mode of transportation and gives you access to enjoy the quaint atmosphere of BALI. You will find the narrowest and steepest lanes here that take lot of skills and expertise to maneuver a car. Thus we settled on renting a two wheeler for all 5 days of our stay.
If you have a valid driver's license from your home country, then you are good to drive around in Bali. Ideally one should be paying around 50-60k IDR per day (250-300 INR; 1INR= 180-195 IDR) for a rented bike in Bali. If you are quoted higher price then BARGAIN. Petrol is sold both in bottles at shops (Blue or yellow in color) and in Petrol pumps. A liter of petrol might cost around 9800 IDR to 10500 IDR.
After getting our bike, we set out to explore our 2nd destination of the day PURA PETITINGET and PETITINGET BEACH. Pura Petitinget is a temple situated near the Petitinget Beach. As is the case with all the famous Balinese temple, there is an entrance fees of 50000 IDR + 10000 IDR/ person for the sarong (a wrap around for waist)+ 5000 IDR for parking. The temple is only open from 8am to 3pm every day. Since we had reached after 4pm we just saw the temple from outside and clicked few pictures and then headed towards the Petitinget beach.
The first thing that blew me away was the ocean and its mightiness. The next thing was the giant swing on the beach. After spending an hour admiring the ocean swaying on the swing and watching the waves crash at the shore, we decided to leave for our 3rd destination of the day TANAH-LOT.
TANAH LOT is located approximately 18kms away from Semniyak. It is a sea temple dedicated to the sea GODS, situated on a rock that was designed and re-designed by the sea over the years and decades. Balinese people believe that the Sea temples protect them from any harm that might come their way. The entrance fee to this place is 60000 IDR/ person + 3000 IDR for parking. It's a place worth visiting during the sun set as the views are just gorgeous.
The sun set here was one that I won't be forgetting for a very long time. Bali definitely has few of the best sunsets to witness. The place is buzzing with people trying to capture the setting sun. As the evening sets in, the temple premises get flooded with ocean water that recedes back in the morning. If one is interested they can also watch the famous Balinese Barong dance and Kecak dance at Tanah lot. The fee to watch the dance is 1 Lakh IDR/person.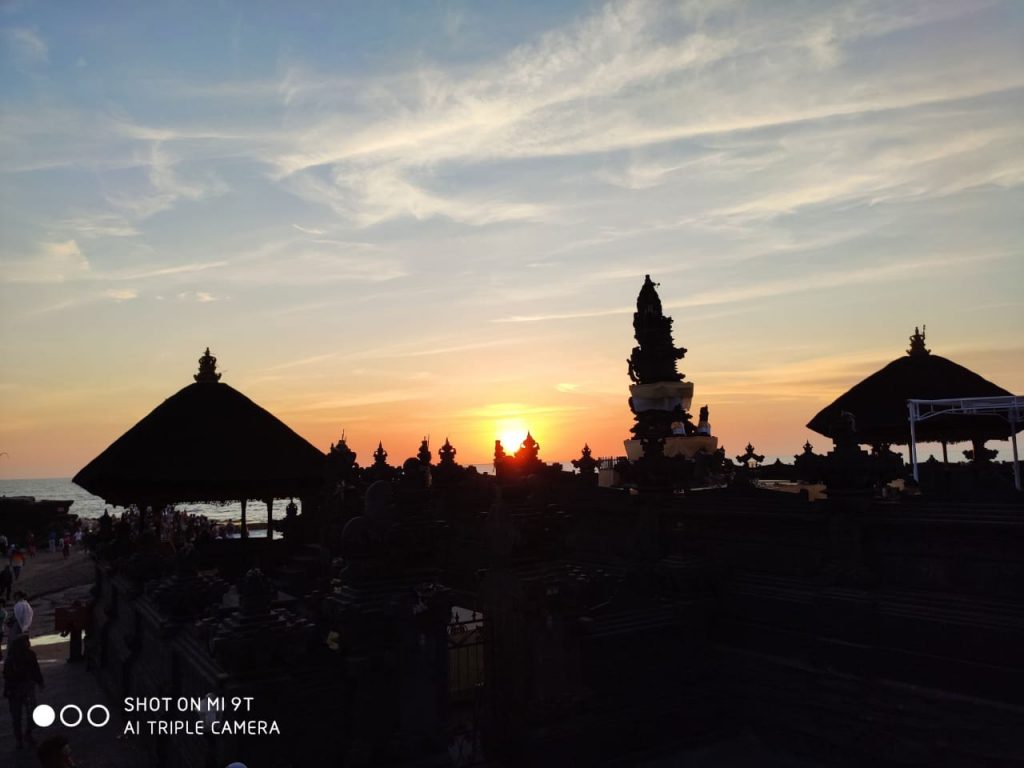 Bali is not just known for its beaches and temples but also for its cafés and restaurants that attract people from around the world. It is the best place to satiate the Party animal in you. We decided to have dinner at MOTEL MEXICOLA. Located very close to the Petitinget beach, this Mexican restaurant is a paradise for all the party lovers. It is advisable to pre-book your table here as it is very difficult to find a table here without reservation and the waiting time might exceed more than 30 min. The tacos here are just amazing, so is the nachos with their homemade hummus. They have great vegetarian options as well. The beverages and cocktail menu is quiet extensive.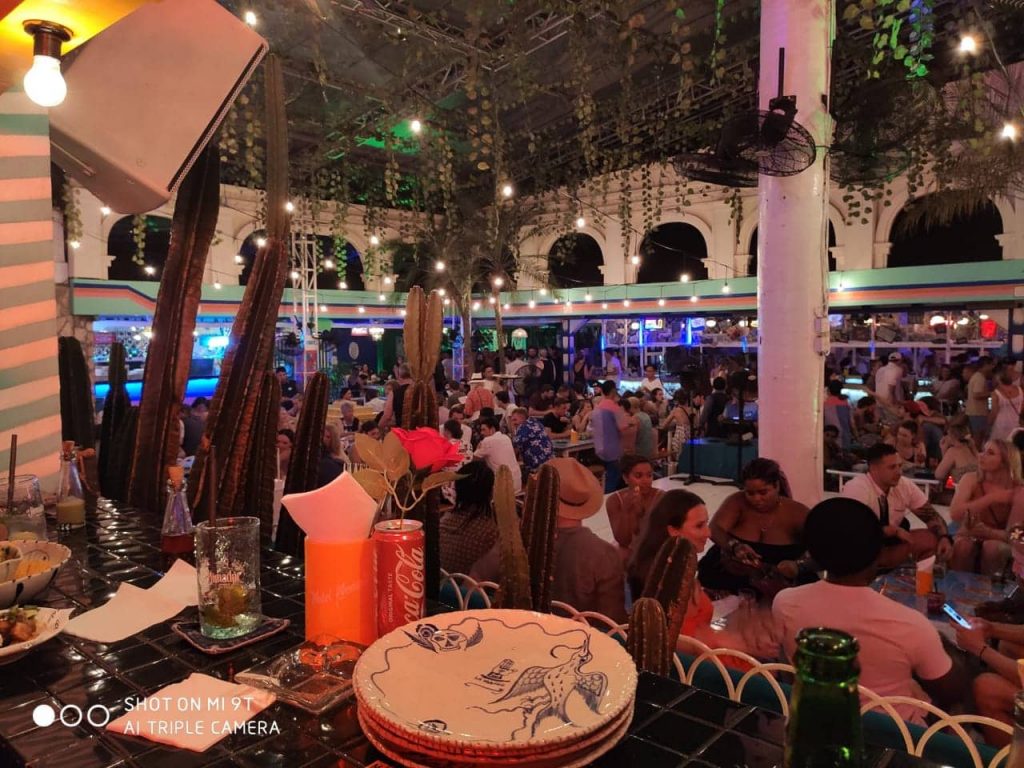 DAY 2
After a hearty breakfast, we decided to explore the surfer's paradise- DOUBLE SIX BEACH which was hardly a kilometer away from our hotel. This is one of the best places in Bali to treat yourself to the adrenaline rush one experiences while surfing. If you aren't a professional surfer, don't be disheartened! There are many instructors on the beach who will help you in learn the basics of surfing. Double six is great destination to just lounge in chair and sip on coconut water while watching people trying to balance on their surf boards.
Other things to do in Seminyak/Kuta/Canggu:
• Batu bolong beach
• Kuta Market
• La favella
• Taman Ayun Temple
At around 12 we checked out of our hotel and headed towards our next destination, UBUD. We had booked 3 days of our stay in Ubud as it's easier to explore North and east Bali from Ubud than from Seminyak.
---
UBUD
Ubud is located 35km north of Semniyak, in the heart of Bali. It's the home to the famous Tegalalang rice terraces, the Luwak coffee and the Bali swings. I fell in love with Ubud the moment we entered its territory. This place provides you relief from the merciless Bali heat. Lush greenery all around you, the cool breeze caressing your face… sigh! Sigh! My heart definitely belongs to Ubud (not that I didn't love the Balinese beach).
We checked into our villa- Lili house at around 1pm. After resting for a while we headed out to explore the Ubud. We had our lunch at 'GANESHA- EK SANSKRITI'. The food was amazing and reasonably priced. after a great lunch, we headed towards our next destination for the day- UBUD PALACE.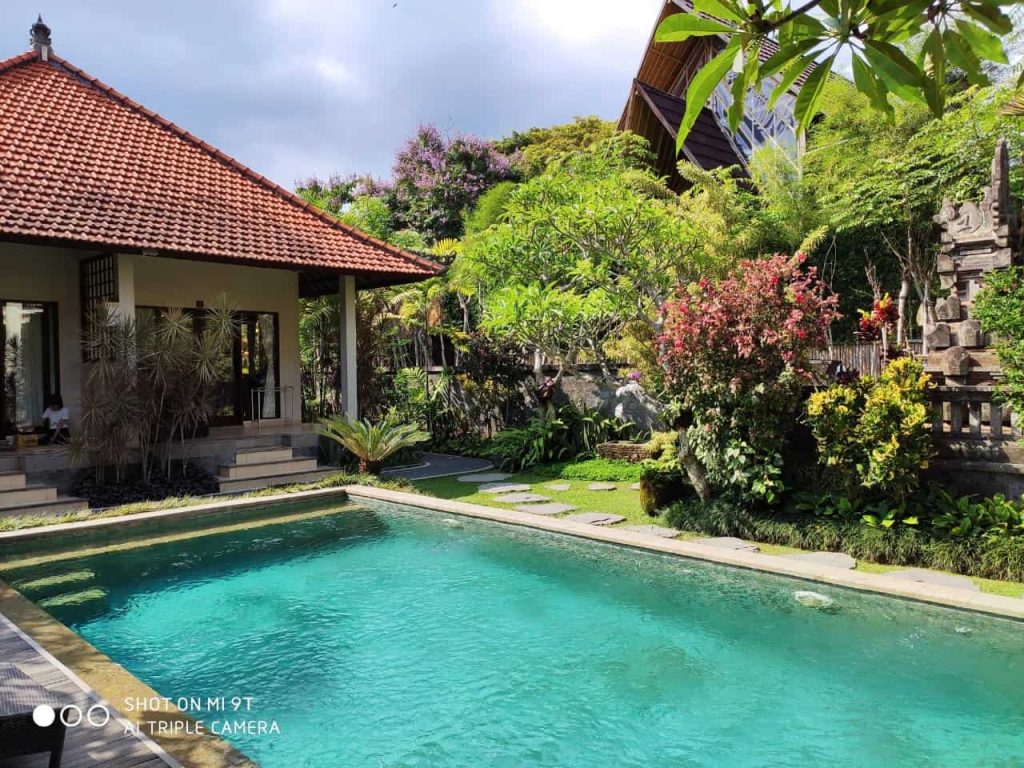 Located in the heart of Ubud city, UBUD PALACE is still home to the royal family, hence majority of the palace isn't accessible to the tourist. There is no entrance fee but every evening from 6 to 8pm one can again treat they self to the famous Barong dance priced at 1lakh IDR / person.
Most of the restaurants and the Ubud market is located around this area. Its always filled with people and is a great place to start your exploration of Ubud.
Close to the Ubud palace, we headed out to explore SARASWATI TEMPLE. The temple as the name suggests is dedicated to Goddess Saraswati and thus surrounded by lotus ponds where you can witness the blooming lotus flowers. The whole temple will just transport you to another world and make you want to imagine how it would be to witness it in all its grandeur. Do marvel at the temple's architecture, the various statues, the temple guardians. Each pair of statue is different from other and that is something extra ordinary. There is no entrance fee here but as usual, no entrance into the temple unless you are dressed in the traditional attire and have an offering to make.
Very close to the Ubud Palace is the UBUD TRADITIONAL ART MARKET. After seeing the reviews about this place, we wanted to explore the area and understand if it was really worth the hype. Well it did live up to our expectation. The dream of you owning a wicker bag or a giant dream catcher or amazing and airy jumpsuits will be realized here. It's a very long stretch of market bustling with vendors, onlookers and buyers. It's the ultimate place in Bali to indulge yourself in Bohemian shopping.
Since it was already late evening, we decided to go back to our hotel and rest for a while before heading out for dinner. Ubud comes to life in night and when in Ubud, I would definitely recommend talking a walk around the Ubud palace area and explore the tiny hill station (yes you read it right. Ubud transforms itself to a chilly hill station during night).
Everywhere you would find people walking around, there is live music going around in almost all the restaurants, people are sipping on their BINTANG'S (the local beer, which is surprisingly very light and crisp).
We had dinner in 'ROTI DAAL' a small and cozy restaurant (located next to the Saraswati temple) that literally serves you home like food. It's a vegan restaurant. And the food is served in thaali with option of 1,2 or 3 gravy, rice and chapatti. The menu is same throughout the day, but does change every day. The food is prices are reasonable and is also delicious.
After a hearty meal, we walked around the Ubud market. You can literally feast your eyes and soul in the boutique shops Ubud has to offer. The collection is just awesome that has very brilliantly merged both western and Balinese culture.
---
DAY 3
The breakfast option in villa's are not as extravagant as that one would find in the hotels. They have very limited options, but they do cater to all your necessities. After a simple breakfast of mi goreng (veg noodles), nasi goreng (fried rice) orange and water melon juice, tea and coffee we left to explore the temples around Ubud.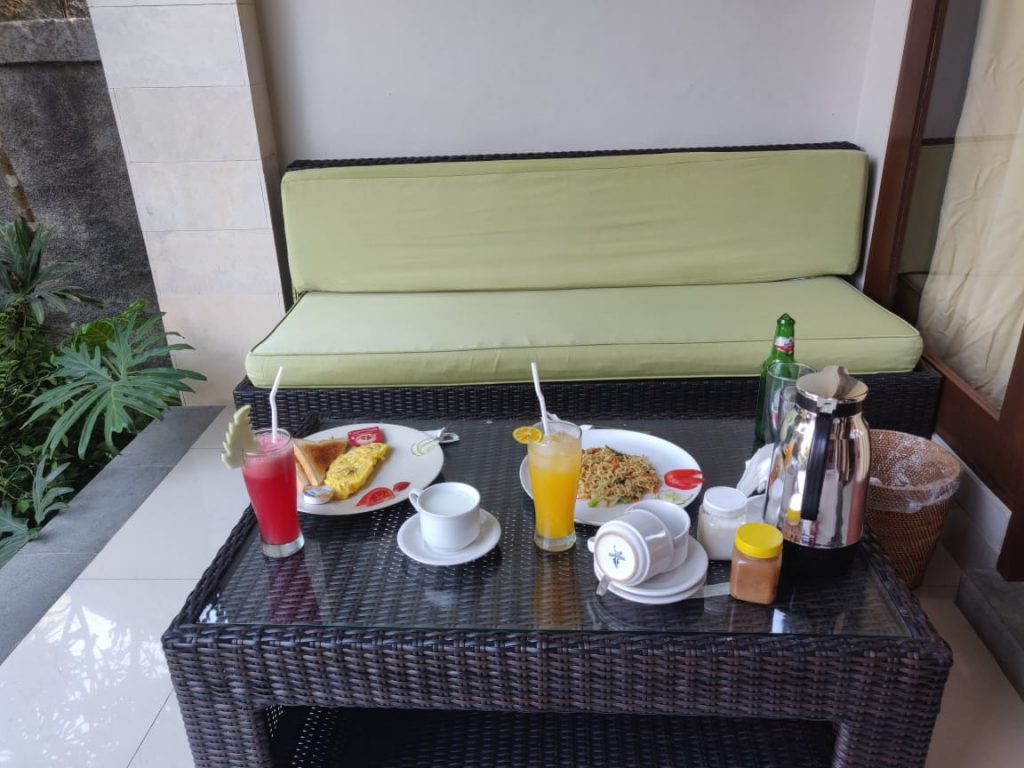 Our first destination of the day was 'PURA TIRTA EMPUL'. The literal translation of the name of this temple is 'holy spring water temple' which dates back to 9th century AD. The temple is located 24km away from Ubud, where the locals and the visitors go for spiritual purification. There is a spring in the temple pond known to be the reservoir of fresh water that supplies fresh water for ritual purification. The Balinese people believe this to be 'Amrit'. The thatches roofs and picturesque pond added an unique charm to this temple. The temple is dedicated to the supreme consciousness Vishnu.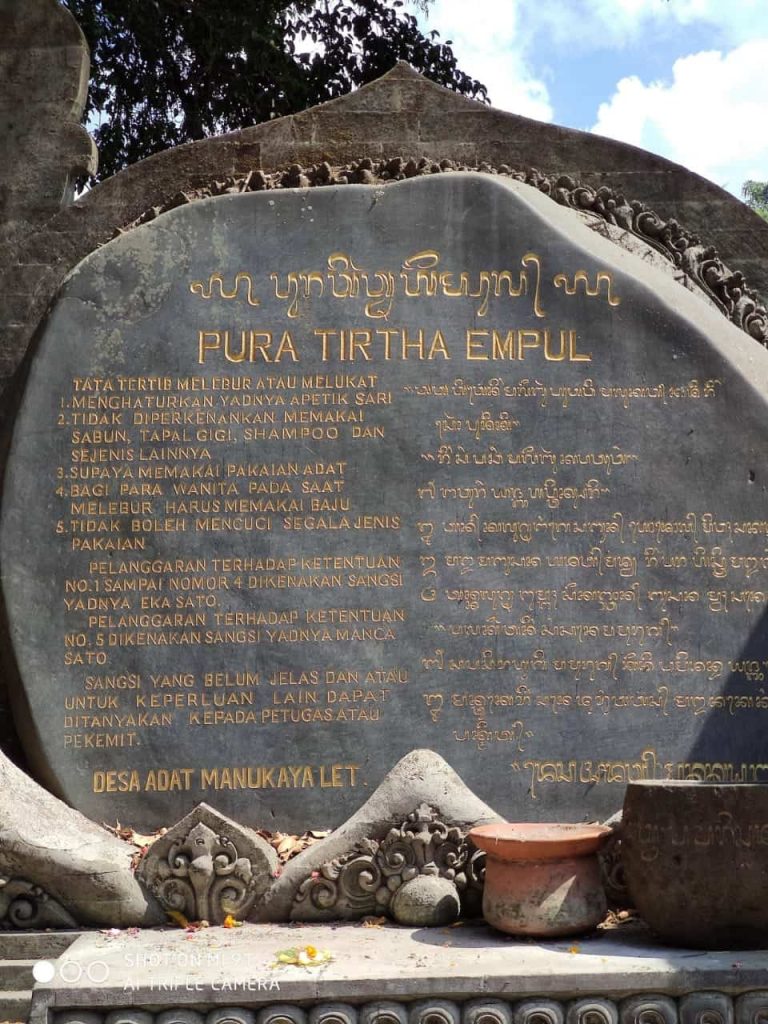 The temple entrance fee is 60000 IDR/person which includes a sarong. One can just visit around the temple or drink the water from the holy spring or take part in the religious offering in the pool along with locals for a minimal fee of 10000 IDR/ person.
My husband took part in the ritual along with various visitors and locals. By sheer luck we did get a chance to take part in the religious ceremony that takes place in the temple premise every day. The whole process of watching the high priest making the offerings to the god was beyond mesmerizing. There is also another pond where one can feed the fishes. This is one temple in Bali where you can witness the Balinese prayer rituals as majority of the Balinese prayer courtyards are inaccessible to general public.
After spending close to 2 hours here, we moved on to our next destination 'HOLY WATER SEBATU / GUNUNKAWI SEBATU', located just 4km away from Tirta Empul. If you have do visit Pura tirta empul, then you can over look this place as its almost the replica of Tirta Empul. The entrance fee is 30000 IDR/person + 3000 IDR for parking. What we would recommend is visiting 'GUNUNGKAWI TEMPLE' (do not confuse it with the one mentioned above like we did) which is located just 1km away from Tirta empul. This place is much more picturesque and has more than just a temple to offer to its visitor. There is a stream and a waterfall that runs around the temple.
From 'GUNUNGKAWI SEBATU', we moved on to next destination that is the identity of Ubud- Its famed rice terraces. The most famous rice terraces in all of Ubud are the 'TEGALLALNG RICE TERRACES'. The route to the rice terrace is filled such scenic beauties. Lush paddy fields swaying with the wind, the harvest ready to crop and winnowed, it's just impossible to stop yourself from stopping and admiring the views.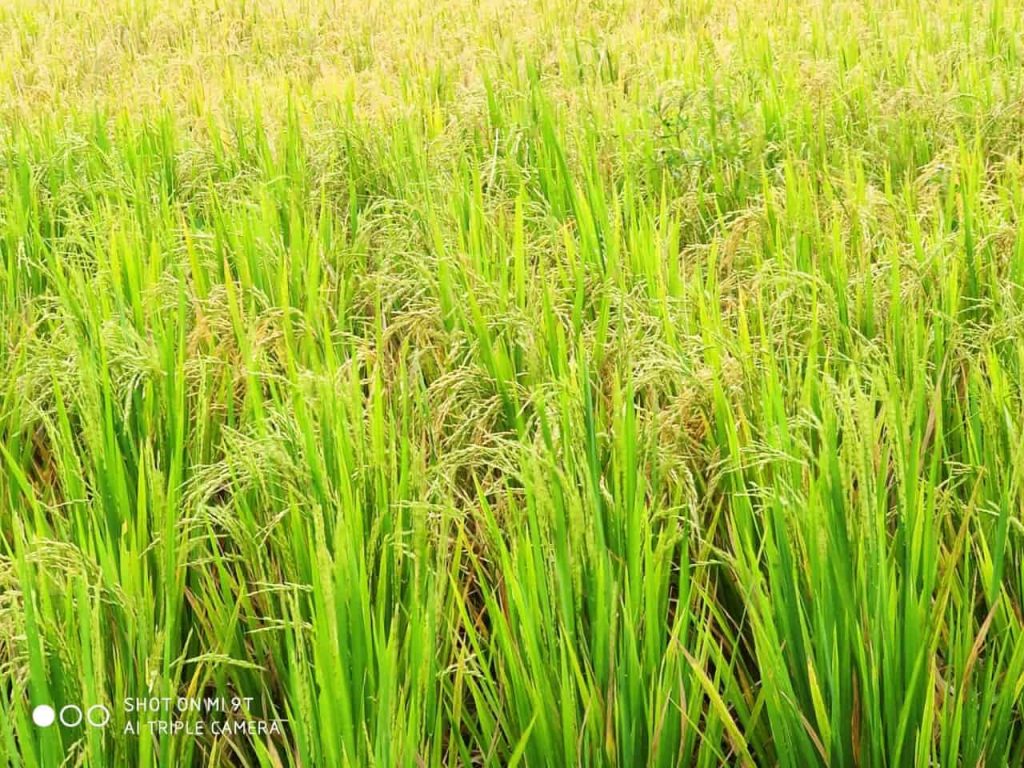 The area around the rice terraces have many café's that cater to your 'COFFEE WITH VIEW' dream. After enjoying trekking around the rice fields, head to experience the thrill of swinging amidst the back drop of paddy fields in BALI SWING. This is a must do if in Ubud. The Bali swings cost an average of 1lakh IDR/person to 2.5lakh IDR / person. It was an experience that I can never forget. The thrill of being pushed off a cliff and swinging amidst the nature is just out of the world.
The price also includes a tea/coffee tasting session that lets taste around 14 varieties of tea and coffee. Do try this amazing session and challenge your taste buds to some flavorful teas and coffee. My personal favorites were ginger tea, mangosteen tea and curcuma tea. We did not try the Luwak coffee- A type of coffee made from partially digested coffee beans defecated by the Asian Palm civets (Expensive shit literally) but if you are an ardent coffee lover, do give it a try.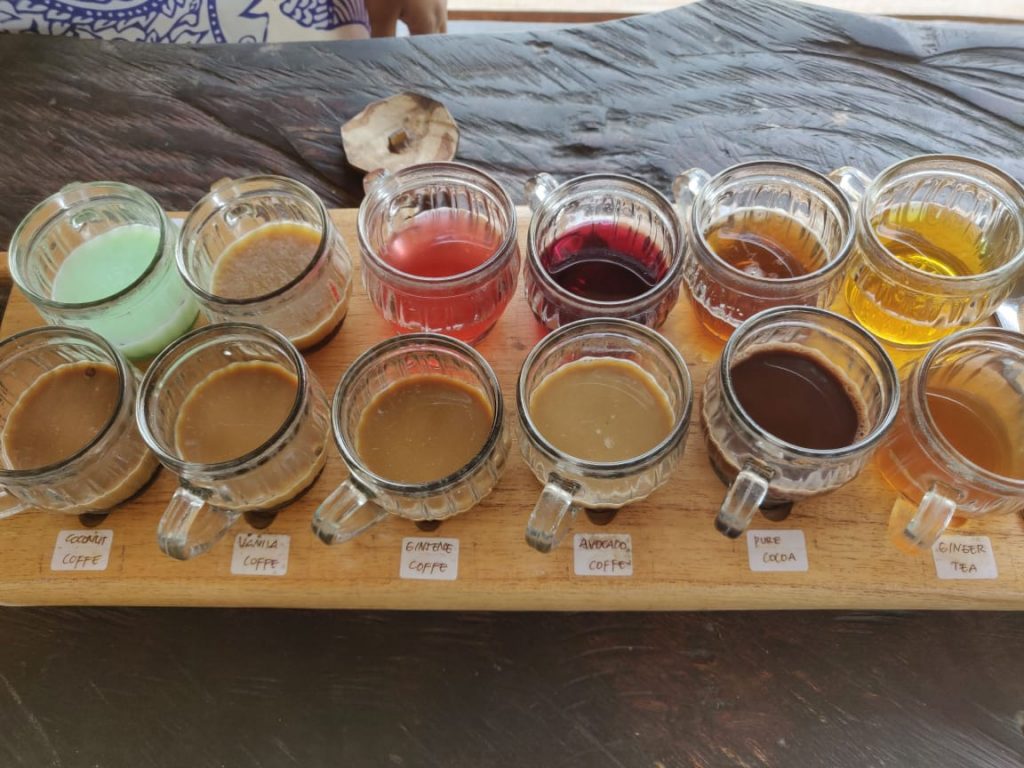 After lunch at 'SITAARA RESTAURANT', we headed back to our villa and enjoyed a quiet evening by the pool. As the night set in, we headed to explore the remainder of the ubud market. We had dinner at 'INDIAN DELITES' and one thing worth mentioning about this place is its chaat. I had one of the most creative papdi chaat here, so if you do visit this restaurant, do try the papdi chaat. Since the next day we had to travel to the most exotic temples of Bali located on almost on the opposite end to Ubud, we decided to call it a night a little early.
---
DAY 4
EAST BALI
After a light breakfast of pancakes and juice, we left our villa around 8.30am for the most iconic 'BESAKIH TEMPLE'– or to what is commonly called THE MOTHER TEMPLE by locals. This temple is located around 38km east of Ubud. This is a temple I would definitely recommend visiting not just because the temple is gorgeous, but because of the journey one makes to reach here. The trail is laden with so much scenic beauty that you feel yourself being transported to a paradise. The path takes you up and down innumerable mountains, through Balinese villages and hamlets, through fields of flowers.
Built in 8th century from volcanic rocks and sandstone Besakih temple is located on the slope of Mt.Agung (An active volcano; it last irrupted in 2017). The entrance fees to this temple is 60000 IDR/ person that includes a guide, a sarong and a one way trip uphill to the temple (Yes, it's an uphill drive as its located on a volcanic slope). Visitor vehicles are not permitted in the area surrounding the temple and hence needs to be parked before the ticket counter. Only the locals who are there for making an offering have permission to take their vehicles up there, that's why the one way ride up-to the temple.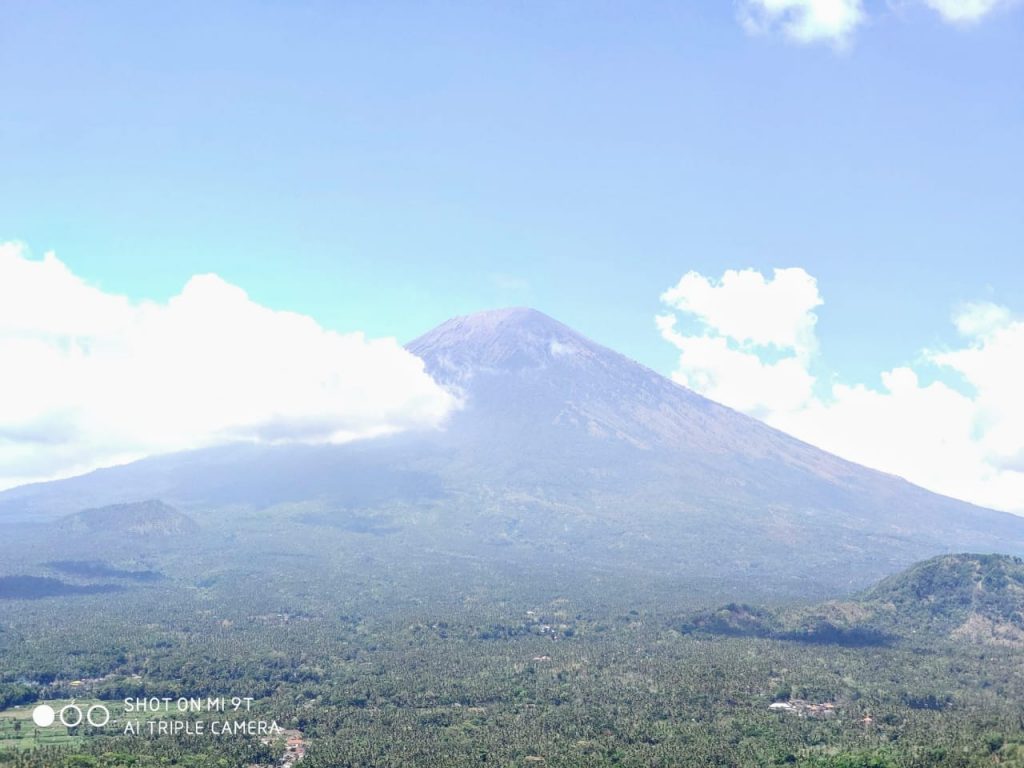 Since October to April is rainy season in Bali, the driveway to the temple was covered in mist and so was the temple. The chill sent shivers down our spine (yes yes, you read it right again).. The temple is dedicated to BRAHMA, VISHNU, SHIVA and goddess DURGA.
The Besakih temple houses various clan and family temples that can be worshiped only by the members of that clan and family. The view from the top of Besakih temple is out of the world. Vast expanse of land below stretching to as far as one can see fills one with sense of awe and wonder. On a clear day, Mt.Agung is clearly visible from this temple. After spending more 1.5hrs at Besakih temple, we headed out to the most sought after and instagrammable temple of Bali, The Lempuyang Temple.
LEMPUYANG TEMPLE is located 35km away from Besakih temple, on the other side of Mt.Agung. It is the home of the famous 'GATES OF HEAVEN'. The journey to reach here is nothing short of an adventure. Bali is the home to the narrowest lane one can find and thus increasing the journey time. It took us close to 1hr to cover the distance of less than 40km.
On our way to Lempuyang temple we feasted our eyes on the flowers and rice fields. The perfectly terraced rice fields, with cool wind greeting us and providing a relief from the heat and last but not the least, the majestic Mt.Agung itself. Once you encounter this volcanic mountain, it is very difficult to move your eyes away from its mightiness. On the way up to the hill housing the Lempuyang temple, there is a view point where you get to experience this mountain in its grandeur.
LEMPUYANG TEMPLE is built on the slope of Mount Lempuyang and hence the name. The temple is again dedicated to Brahma, Vishnu and Shiva. There is no entrance fee per se here but you have to pay 10000 IDR for the sarong and also make a donation of whatever amount you are comfortable with. To get a picture clicked in front of the Gates of Heaven, a token is issued. Depending on what time you arrive, you might have to wait at-least 2-3hrs to get that one perfect shot. To avoid the crowd or reduce the waiting time, come before 8am. There hardly will be any crowd and you can skip the queue and leave the place before the sun beams hit its pinnacle.
On a clear day, Mt.Agung can be seen sandwiched between the split gates of the temple, and hence the gates are known as 'Doorway to the Heaven'. Though you might have seen pictures where it looks like there is a perfectly reflective lake near the split gates, let me tell you a hard truth. There is no lake here. There is a paved pathway leading up-to the gates instead. The reflective lake is nothing but a glass reflector used by the photographer to add that WAAOOOWW factor to your photograph. One person on an average gets to do 3-4 poses and less than 30 seconds to change to the next pose as there are just too many people waiting to be clicked.
So after waiting for 3hrs to get that amazing shot, we left from Lempuyang temple to SIDEMEN RICE TERRACES. Sidemen is famous for its vast rice field valleys and flower fields. It falls on the route back to Ubud from Lempuyang so you don't have to travel all the way to Sidemen.
(The other route one can take to reach Ubud is Via CANDIDASA, a quiet and laid back beach town. You can stop here to enjoy the blue lagoons and crowd less beaches.)
After a journey of 2.5hrs back to Ubud, we satisfied our monstrous hunger at ROTI DAAL. After a hearty meal we retreated to our hotel to rest our tired bodies. We had dinner at 'QUEENS OF INDIA' restaurant. Since it was our last night in Ubud, we enjoyed a long walk around the 'SACRED MONKEY FOREST'.
Other things to do around Ubud
• Take a day trip to North Bali and enjoy the beautiful sunrise in Bali at ULAN DANU BRATAN TEMPLE.
• Head to WANAGIRI HIDDEN HILLS to enjoy some offbeat Bali swings.
• Explore TIBUMANA or TEGENUNGAN or KANTO LEMPU WATERFALLS.
• Visit the GOA GAJAH TEMPLE or ELEPHANT CAVES in Ubud.
• Take a sunrise trek to Mt. BATUR/KINTAMANI (Avoid taking this trek if you are visiting Bali between October to March as it is the wet season in Bali, hence the views might not be great).
• Combine the trek with a relaxing session at 'BATUR NATURAL HOT SPRING'.
• One can visit TAMAN TIRTA GANGGA – Royal water gardens located just 10km away from Lempuyang temple.
• Visit Batuan temple, located between central and south Bali.
---
DAY 5
ULUWATU
After a light breakfast, we headed back out to our last destination on our list, ULUWATU. We had booked our stay at PURI PANDAWA RESORT, located just 1km away from Pandawa beach. Since this was the last leg of our journey, we decided to treat ourselves to some spa and massage. We got some traditional Balinese massage in our resort itself. The 1hr of massage just took out all the stress from our body.
After lunch at the in house restaurant, we headed to next most visited temple in Uluwatu- ULUWATU CLIFF TEMPLE. The sunset from Uluwatu cliff temple is just beyond mesmerizing. After spending some time gazing at the setting sun, we headed to our next destination.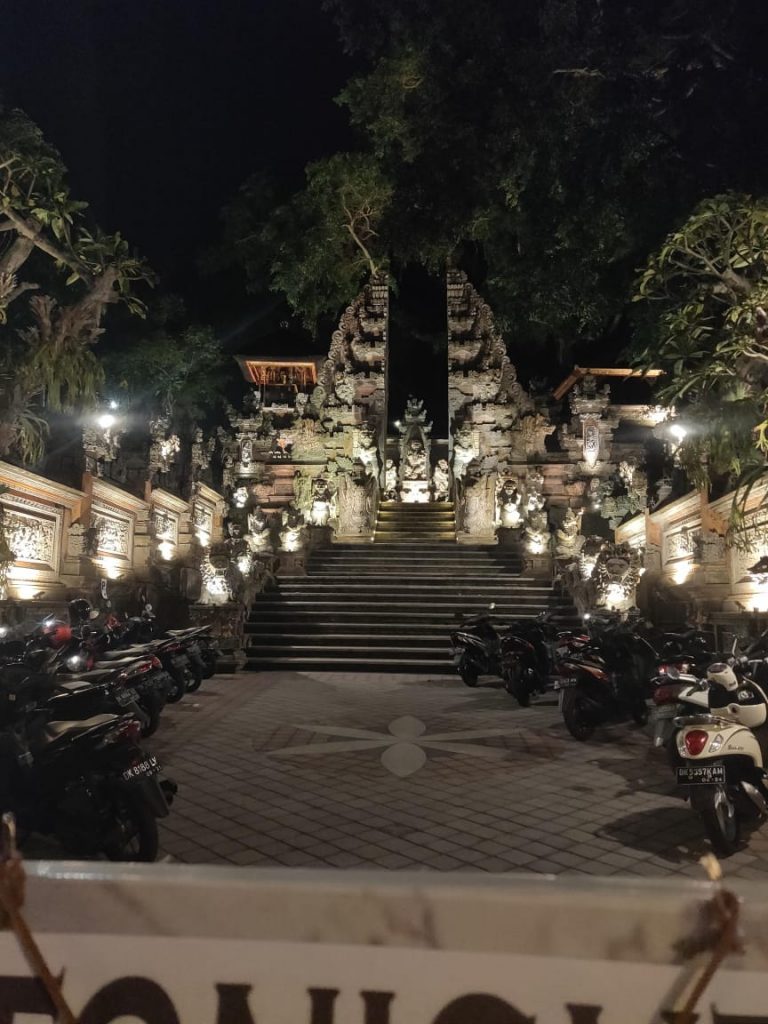 PANDAWA BEACH is dedicated to the pandawas from MAHABHARATA. Gigantic statues of the Pandawa brothers- Yuddhishtr, Bhim, Arjun, Nakul, Sahadeva and also of Kunti- the mother of Pandawas line the beach. You can also ascend the beach lighthouse. Pandawa beach closes after 7pm. One can enjoy the crashing sound of waves from the view points.
We walked back to our hotel and ordered dinner at our room only through GRAB from 'QUEEN'S OF INDIA' restaurant.
We spent our last night In Bali by gazing at the Balinese sky while having some deep conversations and also planning about a second trip to Bali, as one trip is not enough to get Bali out of you.
---
Other things to do in Uluwatu:
• Explore Dreamland, Padang Padang and Blue Point Beach.
Other places to visit in BALI:
• You can plan a day trip to NUSA PENIDA– Home to the famous T-rex beach.
• Explore the 3 Gilli islands.
Things to keep in mind when in Bali
• There is scarcity of fresh water in Bali, hence don't expect to get free water any where in Bali. And when I say anywhere, it means literally no where water is freely available in Bali. Your hotel will not provide you larger water bottles. No water refills will be given to you. So buy your own water. Look for Circle k or any super market to get water for cheap. Don't buy it from Mini marts, they are the most expensive place to buy water bottle. Be responsible and use the tap water wisely. Please do not splurge on it since it is available to you.
• While visiting any temple, please respect the local sentiments. Do adhere to the laws when entering the temple. Don't wear sleeveless dresses and knee length dresses. If you do, please cover the exposed area with a shawl and sarong while entering the temple.
• Balinese people are very strict about the way one behaves in temple. Please do not lean on the statues in the temples as each and every statue is worshiped in the temples.
• Hardly any temple is Bali has free entrance, hence I would recommend you short list the temples you want to visit and then accordingly make your itinerary. The temples mentioned in this article are the most famous ones.
• Most of the temple entrance fees include the fee for sarong as well. You can also buy sarongs for 70-100K IDR. You can put your bargaining skills to test in Bali. BARGAIN! BARGAIN! And BARGAIN!!!!!!
• If you do want to enter and see the Balinese prayer ceremony, please dress up according to the Balinese attire. You will be guided by the locals if you want to make any offerings.
• Don't be surprised if you find people leaving helmets on their 2 wheeler, as the crime rates in Bali very low. You can easily leave your helmets on your two wheeler and go about your business.
• October-April are wet season in Bali (off-season). That means you will get great hotels at a very cheap price. The month of July-August is not a good time if you want to witness the lushness of the paddy fields as these are months of crops harvest.
• It is impossible to finish exploring Bali in less than 15 days. So make sure you have at least two weeks in hand to explore Bali in leisure.
Well, That is all to this article folks.
This is Bedhya Surana, signing off until next time.
Selamat Tinngal!
---
Loved Bali? Read our Latest Posts
Top tourist places in Kannur to visit in 2020
Exotic Airbnb Experiences from Around the World
To The Land of High Passes – A Ladakh Trip from Mumbai
Palakkayam Thattu – A hidden gem in Kannur
To the Land of the Thunder Dragon – A Bhutan Travel Blog
---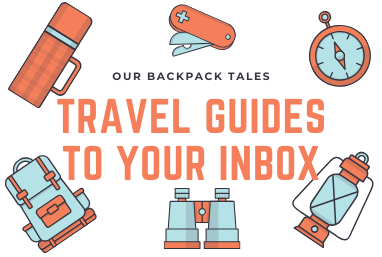 Join other 1000+ readers of OBT!
Author Details
Foodie at nature, Traveller by passion and a researcher at heart – I am Bedhya Surana.
Currently living in Kuala Lumpur, but forever a proud Bangalorean.