At some point in our lives, haven't we all thought about how it would feel to live like a royal in a fort or palace? Well I am sure we did. So when I heard about the Neemrana Fort Palace, which is one of the most popular heritage resorts near Delhi, I couldn't stop myself from imagining what it would feel like to stay here during their pinnacle of grandeur.
Like most of us, I didn't know that there existed a place called NEEMRANA, until I saw the cover song- Leja Re by Dhwani Bhanushali (released in 2018). After I watched the video, I just couldn't get the location out of my head. I was so entranced with it that I immediately googled its location and was surprised to know that it was so close to Delhi and Jaipur. It was then I decided that someday I will stay there and see this beauty in real, because this was the place that would fulfill my dream of staying in a heritage property with centuries of history.
What is Neemrana Fort Palace?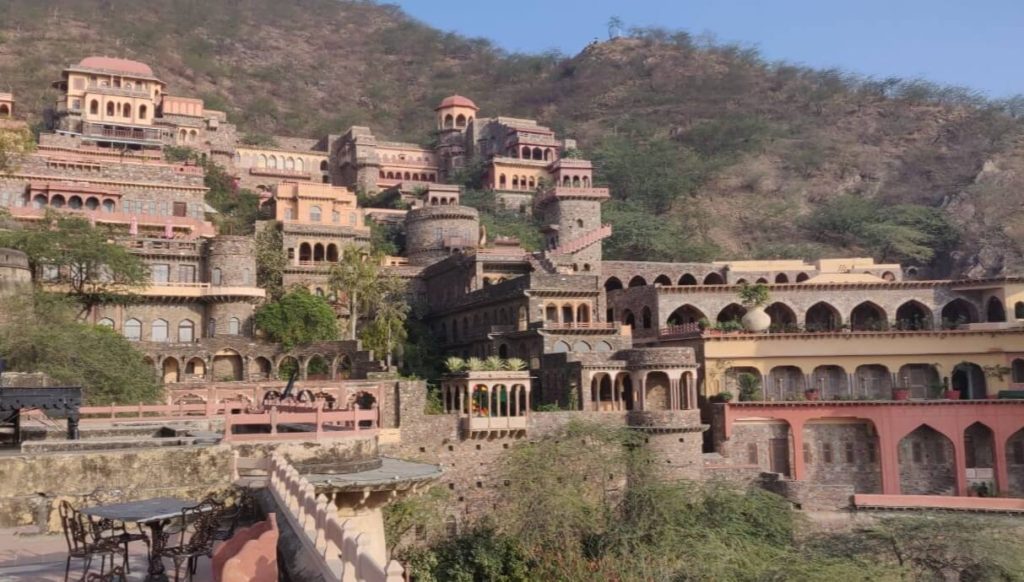 Perched on top of 200 million years old Aravalli hills, NEEMRANA FORT PALACE is a 14 tier architectural marvel. Located just 100 km from Delhi, on the NH48; Delhi-Jaipur highway in the Alwar district of Rajasthan you will come across this 15th century heritage site. It is one of the must visit heritage resorts near Delhi.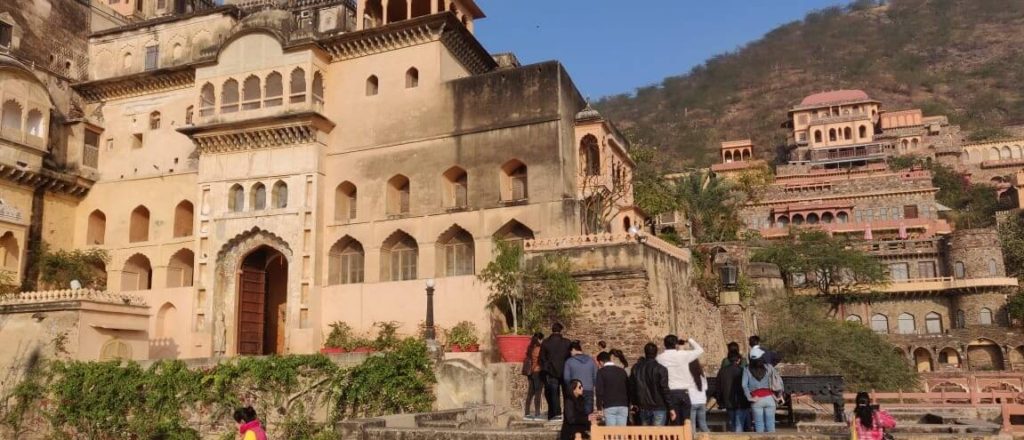 Built in 1465, Neemrana fort palace was in ruins until 1980's. When in 1991 Neemrana opened its door for the public after undergoing a drastic renovation from ruins to a luxury non-hotel hotel (a historical property of heritage value that is renovated and restored as part of premiere hotel), it became a living proof of what palatial grandeur looked like.
Spread across 25 hectares, the property boasts 76 rooms/suites divided into 9 wings that house gardens, amphitheatre, spas, outdoor and indoor heated swimming pools. Every room is different and designed to suit one's taste.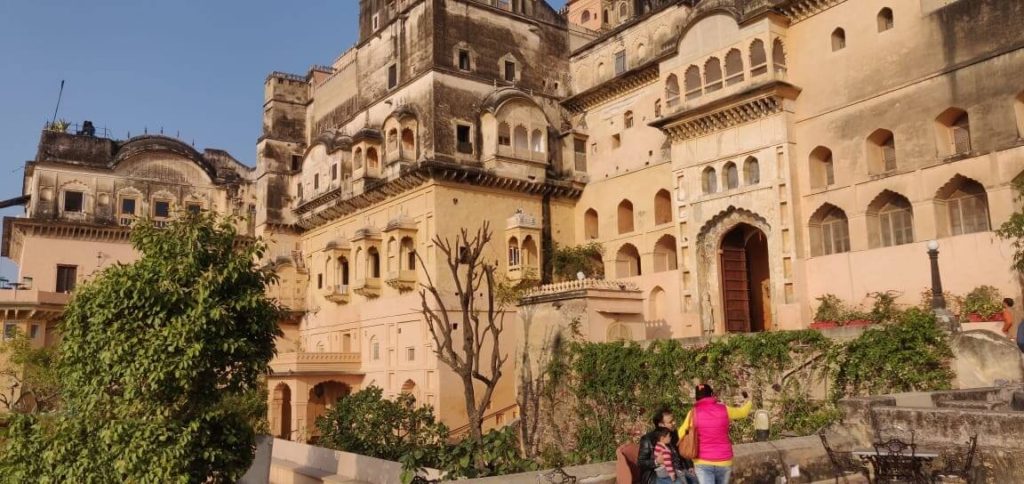 It is next to impossible to gauge the size of the fort palace from its exteriors. It is very deceptive. The fort is a medieval labyrinth of alleys, doorways, staircases, and rooftops. There are high chances that one will get lost (there too many alleys and stairs exiting and entering at different places). The fort palace also has lifts to takes its visitors to higher parts of fort. Pure luxury.
Neemrana Fort Booking
Neemrana attracts lot of tourists from Delhi and neighboring city of Jaipur. Hence it is advisable to pre-book your stay if you are planning to visit this place as bookings tend to be full towards the weekend.
If you do not wish to stay at Neemrana, you can visit this fort palace as a visitor / tourist – spend the day in the palace, exploring every nook and corner of it and end the day by taking part in the walking tour of the fort hosted by the management every day for their inmates and for the tourists.
Irrespective of whether you are here as inmate or tourist, one is left dumbstruck the moment you enter Neemrana through its gigantic wooden doors. Once you come face to face with the actual size of the property and its design, it is impossible not to let go off a sigh and admire its sheer magnificence and gorgeousness.
Overlooking the Neemrana village, the views from the fort makes it worthwhile the time and money one spends to reach here. The palace takes you back in time with the details invested in every place around the palace to make it feel like an actual palace and help you realize your dream of being part of a huge royal family if only for day or two.

How to Reach Neemrana?
AIRWAYS- The nearest Airport is Delhi's Indira Gandhi International Airport approximately 108 km away. Another closer airport is that of Jaipur's Sanganer International airport at around 150km away from Neemrana.
ROADWAYS- Neemrana is situated on Delhi-Jaipur Highway in NH48. Many private as well as Rajasthan State Transport Corporation buses connect Neemrana with other major and minor cities and towns of Rajasthan and also from its neighboring states. It takes approximately 2hrs from Delhi to reach Neemrana by bus /cab.
RAILWAYS- The nearest railway station of Ateli is around 55km away in the state of Haryana. The station is well connected with trains across the neighboring cities and states.
Nightmare Awaits
We reached Neemrana from Delhi around 10am by cab. I was left awestruck looking at the site of magnificent and giant entrance gates of Neemrana. Upon reaching the entrance, we were asked to show our booking details. But we had none!!!!
After repeatedly trying for past 2-3 days to book a room at Neemrana, we couldn't get past the interactive interface. That is when we decided to reach Neemrana and then book a room. But guess what? God had some other plans for us.
When the concierge asked to see our booking details, we told him that we couldn't book our room; can we rent a room now? What he said next floored us. The hotel was completely BOOKED!!
We couldn't believe our ears. He then showed us the reservation receipt- there was no room available for next 2 days, as Neemrana Fort was one of the most popular resorts near Delhi. I was so heartbroken.
We tried to reason with the concierge that there must be some room available. Can he please call at the reception and find out about it? We were ok with any room, as long as it was in Neemrana.
Our beautiful dream of staying at Neemrana turned into a scary nightmare. It felt like those giant gates through which we had entered were mocking at us and were closing behind us.
Disheartened, we had no option apart from either returning back to Delhi, or going to Jaipur and spend the night there. But I had not given up. We had not come all the way from Delhi only to return empty handed. I looked up the customer care number of the hotel from their website and spoke to its customer representative.
I explained the situation to him and told him if there was slightest or remotest possibility of procuring a room for even a single night we will take it immediately.
Finally Booking Completed!
While I was on the phone negotiating with the customer representative I didn't realize that we had almost left the threshold of Neemrana. I told our driver to stop the car and wait for sometime as executive had asked me to wait for a while.
After 10 minutes of wait, the executive of Neemrana Fort Palace called me up and said that all its room were booked for 2 nights, BUT, there was a room that was closed for renovation. If we want, we could take it. I didn't let him complete the sentence and immediately said YESSS!, we will take it.
With a Cheshire grin, I looked at my husband and said, let's go back to the Neemrana Fort – our room awaits us. My husband was as ecstatic as me. We just couldn't believe our good luck.
We encountered the concierge again and this time we told them that there was a room booked under our name. They called the reception area and confirmed it. We finally had entered the royal realm!
Inside Neemrana Fort – Room in the Roof
With our moods elated, we saw the Neemrana Fort in a different light now. It felt even more surreal than before. The room allocated to us was- Manak Mahal, which was a suite with two rooms, located in the oldest section of the palace from 15th century in Wing 4, Level 9.
Our room had a balcony overlooking the pool and the view of the city. We had a small portion of terrace to ourselves, where we did spend time in the evening, overlooking the city and enjoying a cup of hot chocolate to counter the chill in the air.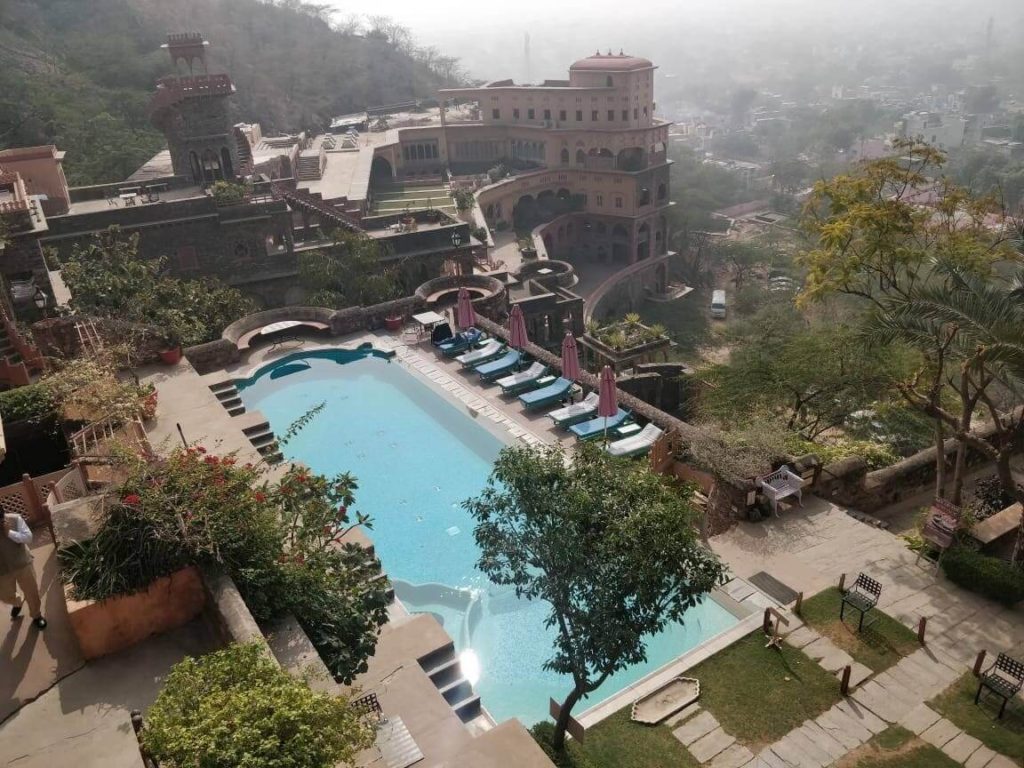 Manak is one of the 9 precious stone used to make ornaments. Manak means Ruby. Staying true its name, our room had hues of ruby in the curtain, drapes, chair and duvet. This wing houses other rooms under the names- Hira– diamond, Moti– Pearl, Panna– Emerald, Moonga– Coral, Pukhraj– Yellow Sapphire, Neelam– Blue sapphire, Gomedhak– Hessonite, Lehasuniya– Cat's eye.
As the names suggest, the rooms are have decorations adhering to the properties and color of the stone to add to its aesthetics and stay true to its name.
Luncheon Scenes At Neemrana Fort Palace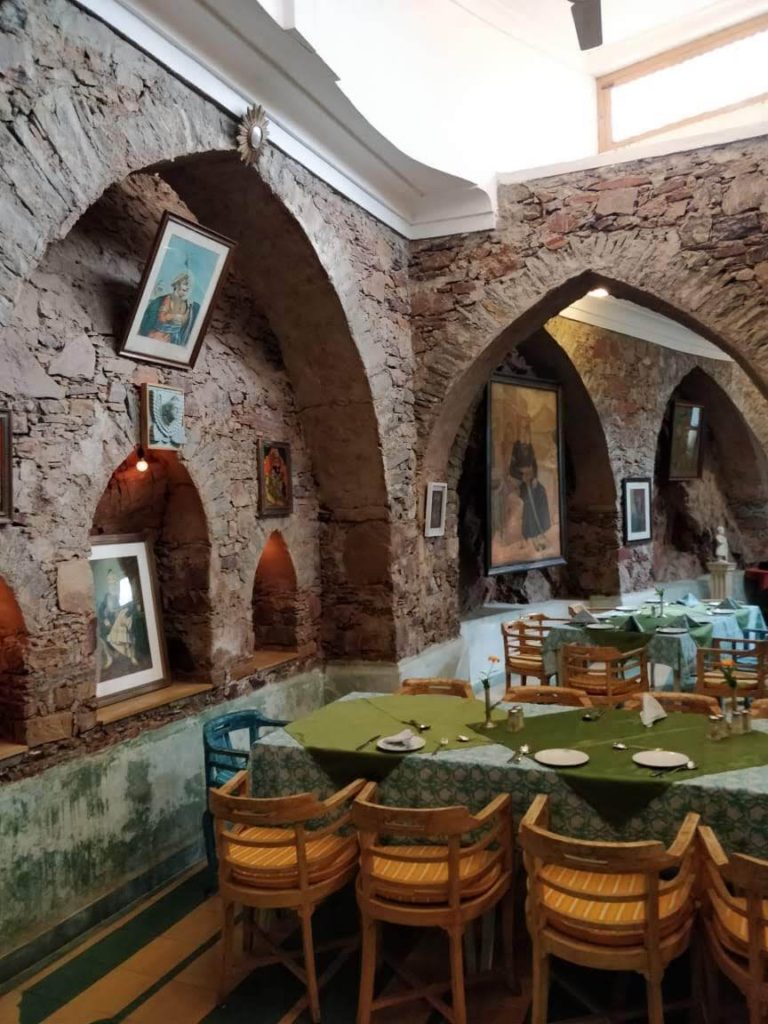 It was almost time for lunch by the time we had checked into our room. We headed to have some authentic Rajasthani meal at the in-house restaurant. You can either choose from the buffet that the restaurant offers or order a-la-carte, depending on your hunger.
We opted for buffet and it was the best decision ever. The food was so appetizing and I had best dal bati churma of my life here at the Neemrana Fort Palace. We just couldn't help ourselves, and had multiple servings of it.
Hunger satiated, we decided to explore the palace before the guided tour would commence. The view from the terrace just outside the restaurant is everything that Neemrana Fort stands for. After exploring the palace, its alleyways, arched roofs and amphitheatre, we headed towards the reception area, from where the guided tour was to begin.
We were greeted with a glass of rose sherbet to energize our self for the long walk ahead of us. The fort palace guarantees its inmates of pure Rajasthani experience in terms of architecture and food.
There is one section in the fort palace housing where various types of palanquins and swings facing the city for the inmates to enjoy SWING with a VIEW. We spent some time here swinging with breeze and ended the evening with a chai and pakora party. As the chai party ended, the sun had just started setting.
The whole sky was painted orange and it looked so beautiful. After admiring the sunset, we retired to our rooms to dress up for the gala night dinner.
Under The Illumination Of 1000 Lights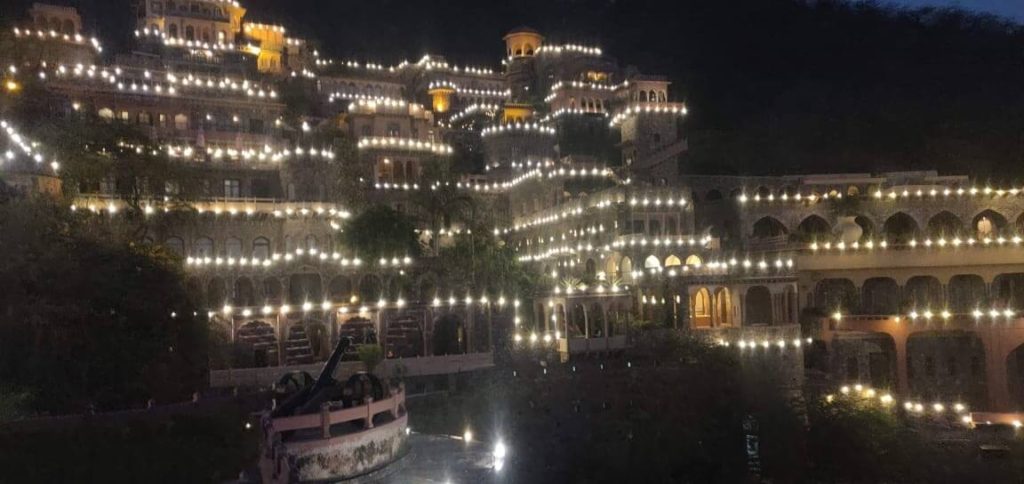 In the weekends, one of the major reasons Neemrana being over booked is its mandatory Gala Nights. This is charged 2k per person. Every weekend, Neemrana Fort hosts many renowned cultural artists across the arena to come and perform for the guests in the evenings.

As the evening sets in, the whole palace comes alive. When all the lights of the palace is turned on, it looked ethereal. The palace is decorated with 100's of lights. It was love at first sight.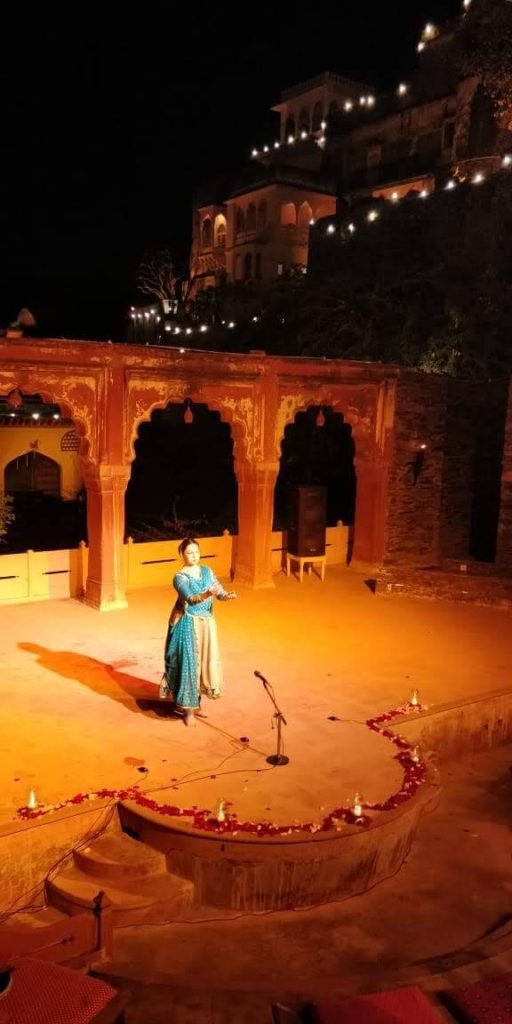 The first event of the evening was a Classical dance performance-KATHAK. This was arranged in the amphitheatre which had been laid and decorated for the guests. The performance was spellbinding.
Post the cultural performance, there was also accommodation of traditional folk dance and music. The guests took part in this beautiful event, making it even more colourful. We danced our heart out and then made our way towards the dining area in the infamous terrace.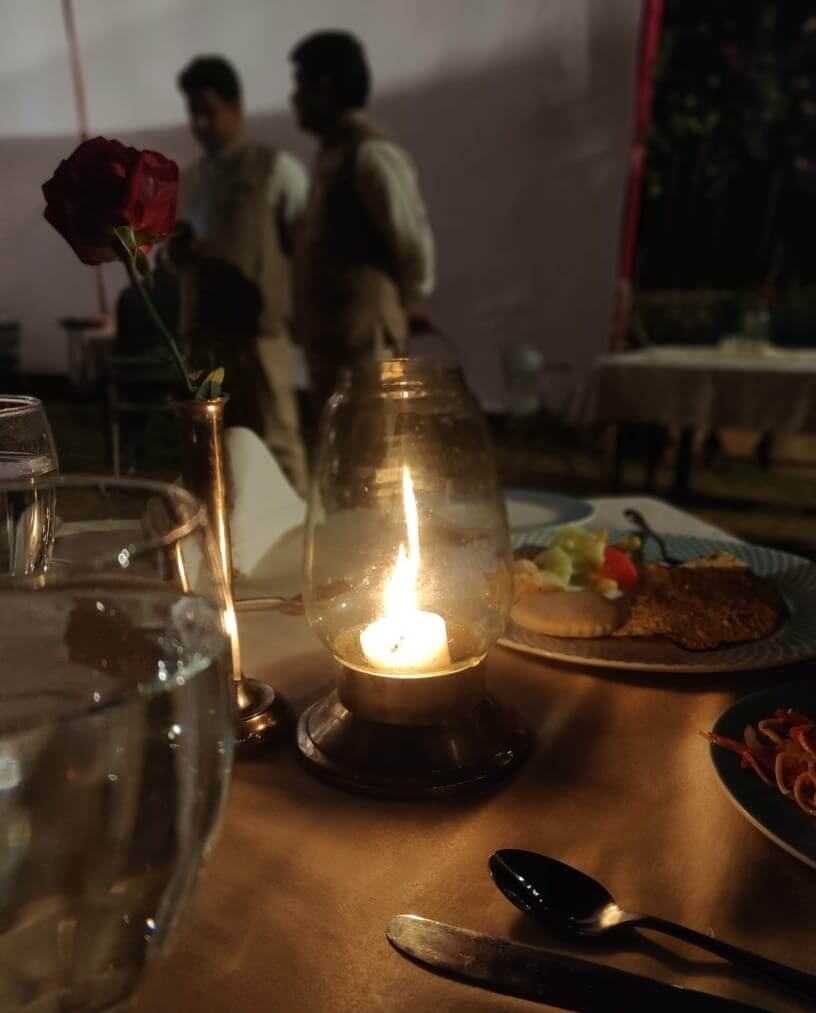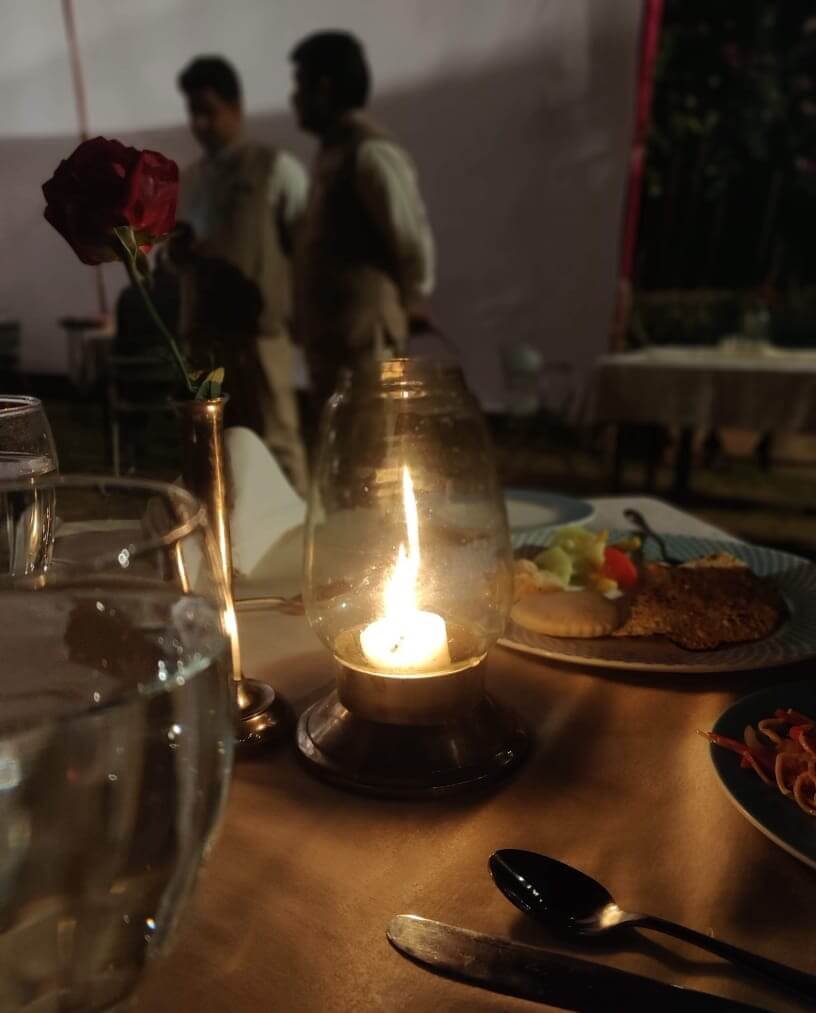 The chilly night combined with the heat from the bonfires, made the whole setting of the candle light dinner beyond mesmerizing. Both vegetarian and non-vegetarian food options were part of the buffet which had more than 50 dishes to taste from. After the dinner, we retired to our room and watched the sleeping city of Neemrana from our balcony.
Breakfast At Neemrana Fort
During the night, the temperature dropped to 4°C. If not for the room heater, tackling the Rajasthan chill would require thickest comforters made. The view that greeted us in the morning cannot be explained. It needs to be experienced. The whole city was enveloped in a thick jacket of fog. The air was so chilled that I thought of skipping the breakfast and just staying in the warmth of our room.
The best part about staying in luxury hotels is their elaborate breakfast options. The breakfast was very very scrumptious.
Since we had another day of stay at Neemrana Fort, we took a short detour from Neemrana to Jaipur. We returned back for another night of festivities at the fort palace.
---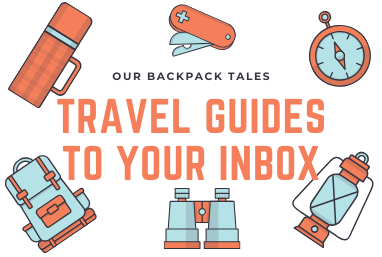 Join other 1000+ readers of OBT!
---
FAQs
Is there any entry fee for Neemrana Fort?
For weekday day trips to Neemrana fort resort, they charge Rs. 1700 per person. This includes a delicious lunch also. For weekends the Neemrana fort palace entry fee is Rs. 2000 per person, including the lunch.
How can I book a room in Neemrana Fort?
You can book rooms at Neemrana Fort Palace for best prices from hotel booking sites or their own website.
Best time to visit Neemrana Fort palace?
Best time to visit Neemrana fort is from July to February. Summers will be too hot, still can enjoy the clear skies.
Can we visit Neemrana Fort without staying?
Yes, you can take day trips to Neemrana fort without booking a room. The entry fees will be around Rs. 2000 according to the weekend or weekday. This is one of the best resorts near Delhi for a day trip.
How far is Neemrana from Gurgaon?
Neemrana is situated at a distance of 87kms from Gurgaon. To reach Neemrana from Gurgaon, take NH48 towards Jaipur.
---
Read more of Bedhya's Travel Stories
---
Author Details
Foodie at nature, Traveller by passion and a researcher at heart – I am Bedhya Surana.
Currently living in Kuala Lumpur, but forever a proud Bangalorean.