One of the lesser visited states of India, Odisha is known for its historic significance and natural beauty. This landlocked state is one of the biggest in India and is rich in culture and traditions that makes it one of the most vibrant places to visit in India. This is an Odisha travel story by Neelam Sarda.
"The clean and aqua coloured beaches, the road trip on very well-constructed roads, the wildlife, the dense jungles, the peaceful weather, the sunrises and the sunsets, the beautiful old temples and a lot more."
Though known as the state of temples and is the obvious place for religious pilgrimages, it has lot more to offer to the nature lovers.
Best time to visit Odisha
Odisha was always in my bucket list as I love to explore the less explored places. I got the chance to visit Odisha on December 2019 as it was my friend's wedding. Luckily, the best time to visit during the winter (October to March).
Why October to March? Because it's a season of festivals such as :
Mukteshwar Dance Festival (January 14-16)
Dhauli Kalinga Mahotsav (February 5-8)
Rajarani Music Festival (January 18-20)
National Toshali Kraft Mela (December 15-27)
And the list is not limited to above
I was traveling solo for a few days and let me tell you guys it's absolutely safe for female solo travelers too!! During my journey I stayed in Hotel Shankar International, Puri which I booked from Goibibo.com by availing discount offers after checking out a lot of options and reviews. To my surprise, the stay was so safe and secure that I extended a night's stay there.
Ms. Ritu, the hotel manager is such a sweet and kind lady that in spite of the reservations she managed to provide me the same sea-view for the extended stay. Moreover, the hotel being at the sea front, I could go, relax and enjoy solo.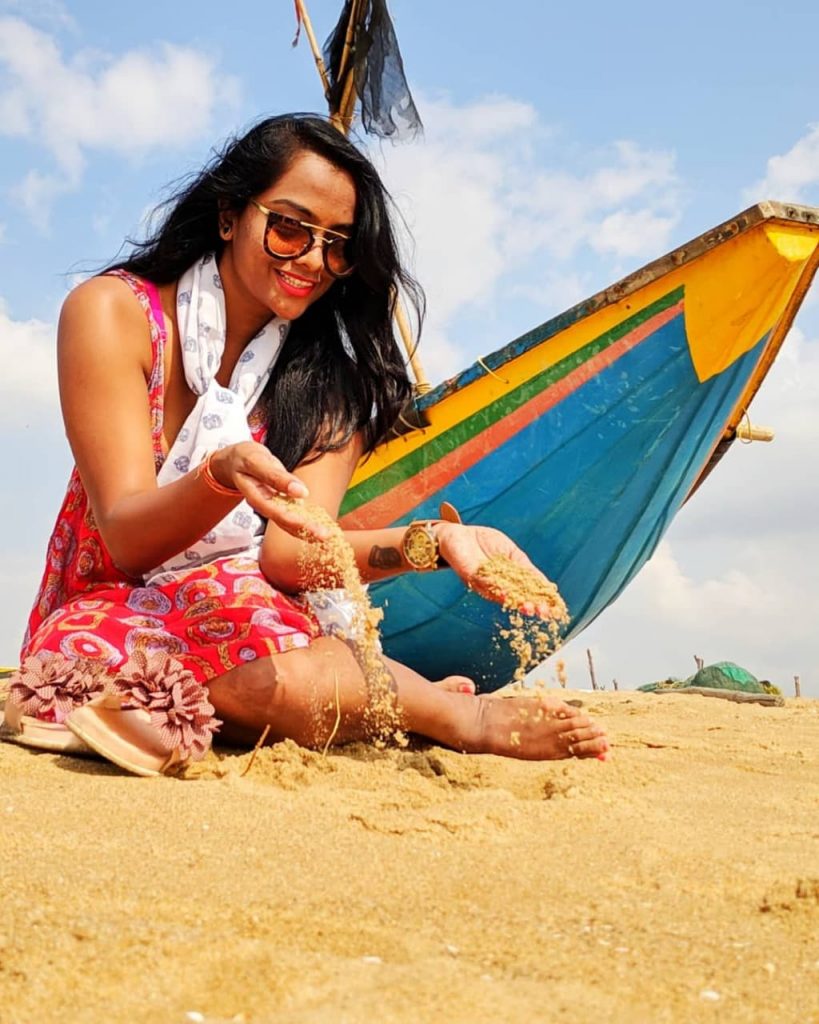 I woke up at 5 am and went to the beach to not only enjoy the sunrise but also clicked more than 300 pictures in just 3 hours, went live on Instagram and also did some Zumba workout. All thanks to my Tripod which lets me go crazy and click myself endlessly.
The roads of Odisha are so amazing, especially the marine drive road of Puri-Konark, it makes your heart skip a beat. Another friend of mine from Odisha along with a few other friends whom I met on my trip to Ladakh drove almost 500 kms in a night to meet me. They accompanied me on my Odisha travel. Must say, he literally drove more than 1000 kms just in 52 hours restlessly just to make sure that I have a memorable Odisha travel. How can I not be grateful to you, Dampy!
Places to explore
Bhubaneshwar:
The Capital of Odisha and the second planned city of India, Bhubaneshwar is beautifully structured and developed. I stayed here almost 3 days to attend my friend's wedding but a day or two are enough to explore Bhubaneshwar. My accommodation was arranged at the Swosti Premium Resort for the first two nights, a property by Swosti group, which was a luxurious stay. I also got a chance to enjoy the Bollywood night at the nightclub of the property.
Must visit places
Udaygiri and Khandagiri caves, the archaeological site
Jaydev Vatika, an artificial garden
Lingraj temple, one of the oldest Shiva temples built in 11th century
Anant Basudev Temple for the Prasad bhog
The light show in the evening at Dhauligiri Shanti Stupa, where the Kalinga war was fought and where King Ashoka converted from Chanda-Ashoka to Dharma-Ashoka!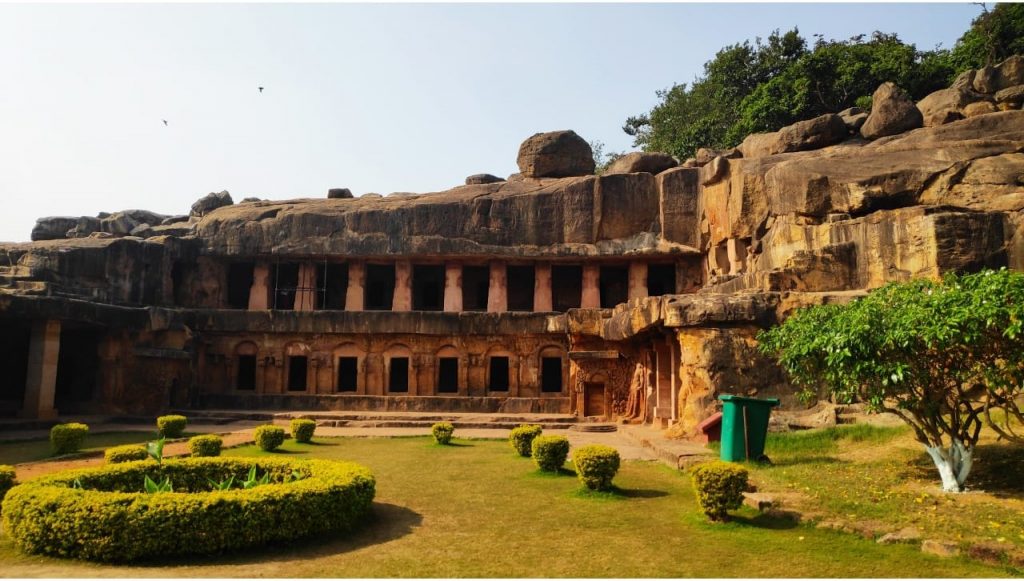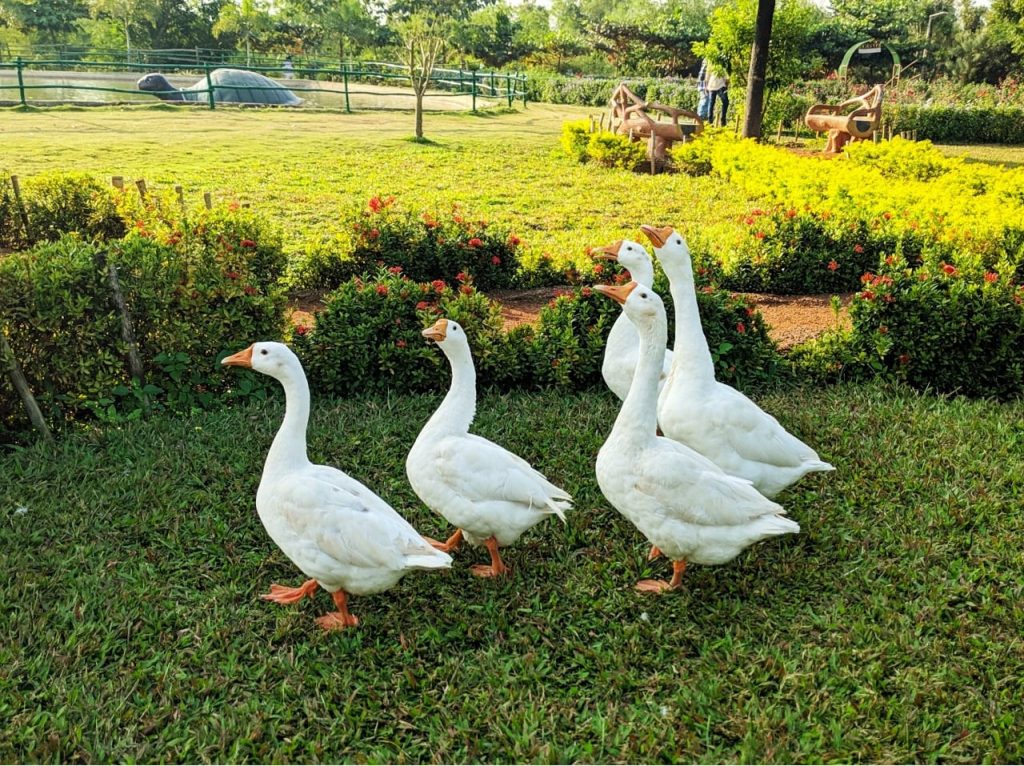 How to reach Bhubaneshwar?
The easiest way to reach Bhubaneshwar is to take a flight to Biju Patnaik International Airport, Bhubaneshwar. It is around 4 km south-west of the Bhubaneswar railway station and 6 km away from the city center.
As most of you know, being a budget backpacker, I opted for a train journey of almost 30 hours for my Odisha travel from Mumbai to Bhubaneshwar. I simply love train journeys as it is the best way to explore nature and again thanks to my friend who made sure I get good food at various stations!
Check best budget hotels in Bhubaneshwar – Book Now
Puri
Puri in Odisha is one of the four must-visit pilgrimage sites for Hindus because of the Jagannath Temple that forms the part of Char Dham in India (apart from its beautiful and clean beaches I was previously describing about). You can enjoy swimming and water sports available at the beach or simply relax at the paid shelter (Rs.25 per person per hour) and enjoy some coconut water.
The Rath Yatra is a Chariot festival happening every year around June or July where idols of Lord Jagannath are taken out in a procession and millions of Hindu pilgrims attend the festival.
Check best budget hotels in Puri – Book Now
Konark
The Konark Sun Temple
The Konark Sun Temple is a 13th-century temple loacted about 35 km northeast of Puri on the coastline of Odisha. Built by King Narasimhadeva I, it is one of the oldest world heritage sites. The best time to visit is just before the sunset to click amazing pictures there. You can book the tickets online for just Rs. 70 to avoid the queue as well as at the ticket counter. This is one of the main places to visit during your Odisha travel.
Post evening, you can enjoy the light and sound show (not on Mondays so plan your visit accordingly). There is also a museum where you can learn more about the history of Odisha, Sun temples, etc. A short movie about the history of the sun temple is also played in the auditorium in English and Hindi.
Chandrabagha Beach sunrise is really worth watching and the beach is absolutely clean. You can enjoy beach camping and party event at the newly evolved Beackwalks Resort campsite at Puri- Konark marine drive road. The Marine drive Eco Retreat Konark festival is an initiative by Odisha Govt. to organize events and enjoy luxurious camping at the Konark beach from Dec 15, 2019 – Jan 31, 2020.
Check best budget hotels in Konark – Book Now
Chillika Lake
Chilika Lake is the Asia's largest backwater and salt water lake located at the western coast of Odisha at a distance of 100 Km from Bhubaneswar. You can actually spot penguins and migrated birds if you go on a dolphin tour at Satpada or alternatively you can also enjoy the backwaters and water sports at Mangalajodi.
Gopalpur
We stayed at the Swosti Palm Resort, again a property by Swosti Group of Hotels. To add to the fun, we entered an old construction haunted site around 3 AM which is the time when ghosts roam around, apparently. What a thrilling experience it was!
Despite sleeping late, we woke up early in the morning. After having a delicious breakfast at the hotel, we went to the beach for some water sports. The Bumper ride that takes you inside the ocean and throws you in the middle of the ocean was so exciting that we couldn't resist on taking the ride twice.
Check best budget hotels in Gopalpur – Book Now
Satkosia
If you have already enjoyed water sports somewhere in Puri or other beaches then you can drop the stay at Gopalpur and go to Satkosia camp resort to enjoy camping and other activities amidst nature.
Daringbadi
You are in for a surprise if you thought that the state of Odisha is only famous for its beaches and temples. A hill station replete with pine trees, coffee gardens and splendid valleys lies peacefully at an elevation of 3000 feet waiting to be explored. This is one of the few exotic places to add to your Odisha travel pans.
Daringbadi often referred to as the "Kashmir of Odisha" is a perfect place to spend some time away from the hustle-bustle of the cosmopolitan world in quaint cottages amidst trees and valleys. The temperature which sometimes steeps down to the freezing point is perfect to beat the heat in summers and its also said that it snows here during winter!
The place does not only have verdant and thick forests, but is also bountiful in flora and fauna. And the best part about this hill station is that you can visit this place throughout the year. But there is no good food in this terrain. You have an option to stay at Daringbadi Nature Camp by OTDC.
Check best budget hotels in Daringbadi – Book Now
Sambalpur
Constructed across the Mahanadi River in Sambalpur, Odisha the Hirakud Dam is hailed as the longest human-made dams in India. Astonishingly, it is over 56 km long and is the top pick among the locals as well as tourists to enjoy a refreshing day out.
Check best budget hotels in Sambalpur – Book Now
Sundargarh
The motive to go Sundargarh was to visit my friend's hometown who helped me with my Odisha travel. I was amazed to find that the name justifies the place! To add it to the fun, the other friends from my Ladakh trip who were missing along the trip joined that night. The stay was at Hotel Ambience and they served us the yummy dinner though we reached late that night. In spite of driving for almost 450 km, we went to explore the riverside at midnight.
The moon was so beautiful that the river held up a mirror! We relaxed on the banks of the Ib river by dipping our feet into the still warm water. I was getting a little anxious as it was my last night in Odisha. The next morning I enjoyed a delicious breakfast at my friend's place. All thanks to Aunty and Bhabhi for so much love and care. After exploring nearby places in Sundargarh, we headed to Sarafgarh.
Check best budget hotels in Sundargarh – Book Now
Sarafgarh
Sarafgarh is a dam near the border of Odisha-Chhattisgarh. It is an ideal place for a short getaway with a clear and pristine lake surrounded by the forest. There are decent arrangements for stay in air conditioned tents over a small hilltop. It gives a panoramic view of the surrounding lake and forests. This is again an initiative by OTDC. One can stay in the tents for a night or simply opt to do boating in a paddle boat or a motorboat in the lake.
Kotebira in Chattisgarh
As we were close to the borders, we also explored Kotebira in Chattisgarh which has a beautiful Shiva Temple. The embankment of Kotebira Eb River is an ideal retreat for nature lovers and adventurers. Kotebira Eb River seems to be a place from another world. The haunting aspect of this place adds a certain charm to it. The river is serene and calm, and the rocky wall on the sides seems to be of prehistoric times and tell an ancient tale.
Like many other Rivers in Indian mythology, even this has a story to tell. God is said to have been so pleased with the River and its surroundings that he decided to build a dam here. However due to unforeseen reasons he couldn't complete his handiwork and left it unfinished.
This somehow reasons for the rocky dam like wall by the side of the river. This beautiful river is situated near Tapkara, 60 kilometers from Jashpur main. Take a leisurely walk by the river and let your camera do the talking. There is some magic in the air one cannot resist to fall in love!
Though there were many places, I was running short of time as I had to catch a train from Jharsuguda but my friend made the most of my Odisha travel and made it special till the last moment. Before my departure, he arranged for the permits to visit a Rajput palace where Raja SAMARENDRA SHEKHAR DEO, 23rd Raja Saheb Of Gangpur lives with his family. Luckily the royal family was out of town and I could get a chance to explore the historical place and enjoyed a bonfire around the palace area.
That's it? NO!! I have just mentioned about a few places of western and eastern Odisha. There are many places to explore other than this such as Chandipur, Bhitarkanika National Park, Tikarpada Wildlife Sanctuary, Simlipal National Park, Jeypore, Cuttack, etc.
So when are you planning to explore the untouched and unexplored beauty of Odisha?! It's just one life, make the most of it. Keep exploring.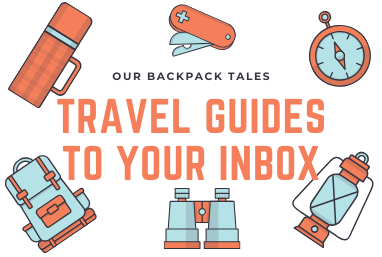 ---
Read more of Neelam's Travel Stories
Author Details
Neelam Sarda hails from Mumbai, India. She is a Company Secretary by profession but a freelance travel planner, dancer and a fashion and fitness blogger by passion.