Here's another attraction which has found a place in the destination catalogue of the modern wanderer. Palakkayam Thattu in Kannur is a verdurous hill station that fits the travel bucket list of every individual keen to explore the lush green and offbeat beauty of the Western Ghats. Touching the clouds at an altitude of 3500 feet, Palakkayam Thattu is one of the least explored locations in the northern Malabar district of Kannur in the state of Kerala. This is surely one of the top tourist places in kannur to visit.
How to reach Palakkayam Thattu?
We started at 6:45 am from Iritty, drove through one of the most beautiful sections of Malabar hill highway, arriving at the Palakkayam Thattu jeep stand parking close to 8 am.
Palakkayam Thattu Routemap
Located 39 km from Iritty (roughly 1 hour 10 min), one should take the following route:
Irrity >> Ullikkal >> Nuchiyad >> Payyavur >> Chemperi >> Mandalam >> Palakkayam Thattu jeep stand.
Travellers approaching Palakkayam Thattu on a private vehicle from Kannur Town side can take the following route:
Kannur >> Taliparamba >> Kanhirangad >> Oduvallithattu >> Naduvil >> Mandalam >> Palakkayam Thattu.
We suggest asking for directions in case Google Maps throws you off Highway while driving towards Palakkayam Thattu.
Palakkayam Thattu Jeep Safari
We parked our car at the Jeep Stand and hired a Mahindra Thar (can accommodate approx. 5-6 members) for the next 2 km up to Palakkayam Thattu entrance gate. One cannot take his/her private vehicle while approaching from Iritty side to the top (our driver mentioned another route for bikes but couldn't really understand; hence not posting it here).
The road condition for almost 1.5-2 Kms towards the entrance is pretty bad and requires not only a 4X4 wheel drive but a lot of terrain experience and skilled driving.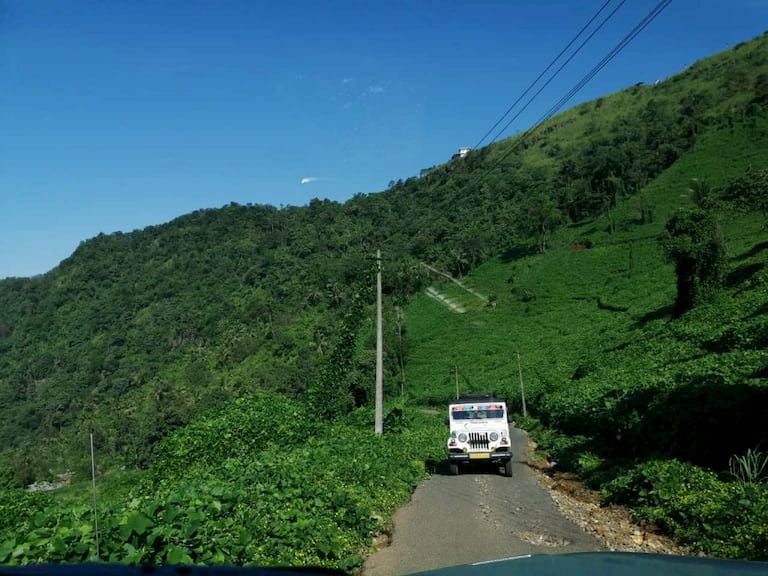 The Jeep safari fee is fixed at Rs.700 for a round trip. Sounds a little heavy on the pocket but worth it if you are a team of at least five people. The vehicle will wait for almost 1.5 hours at the top. There's another package worth Rs. 2000 (inclusive of the Jeep round trip) where you get to experience the waterfalls and caves surrounding Palakkayam Thattu.
We opted only for the round trip as we were on a schedule and decided to see the caves and waterfalls on a later visit. Mr Robert who owned the Thar we hired, drove us towards the entrance. The roads had been washed away during the Monsoon and were quite difficult for another vehicle to pass by. That was some solid off-roading experience this guy demonstrated.
Love off-road jeep safaris? Read Off-road jeep safari experience to Worlds highest Tea estate here
Trek to Palakkayam Thattu Hill
The entry fee is Rs. 35/adult once the vehicle drops you at the hilltop entrance. From here on, it's a steep trek towards the top of the peak. On a weekend, you'll find loads and loads of families and local travellers coming in during the early hours. Keeping in mind the rocky path, it's advisable to carry your trekking shoes and a cap (we didn't carry both though :P).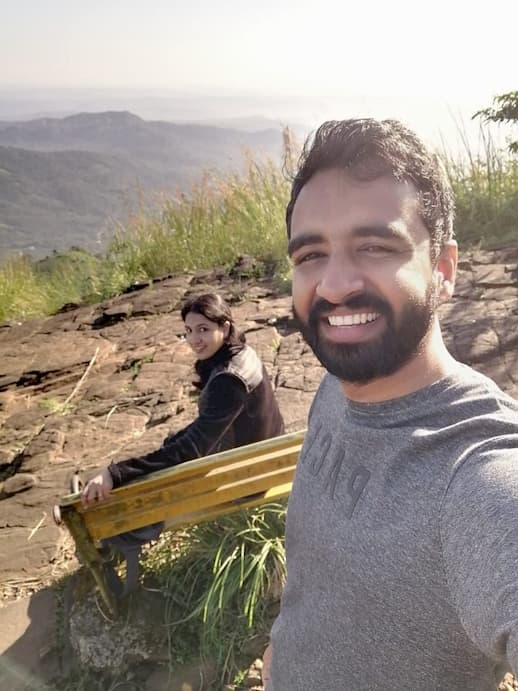 Once we started climbing, the misty cold breeze was all around neutralizing the hot Sun. We were blissed out by the amazing view at every single deck of the hill. Benches painted in yellow and placed at the right spots throughout the climb adds to the simple yet elegant grace of Palakkayam Thattu.
Palakkayam Thattu is surrounded by mountain ranges on all sides. Although we visited this place during the early morning hours, we were told that the crowd gets bigger post 5 PM. More and more visitors rush in during the evening hours to experience the sunset.
We could see Valapattanam River from the very top and its said that one can see the airport premises lit up post 6.30 PM on days when the sky is crystal clear.
Attractions in Palakkayam Thattu
The Kannur Eye
For any trip, it comes down to a collection of amazing photos which highlights your visit. One such photogenic spot at the Palakkayam Thattu is the Kannur Eye.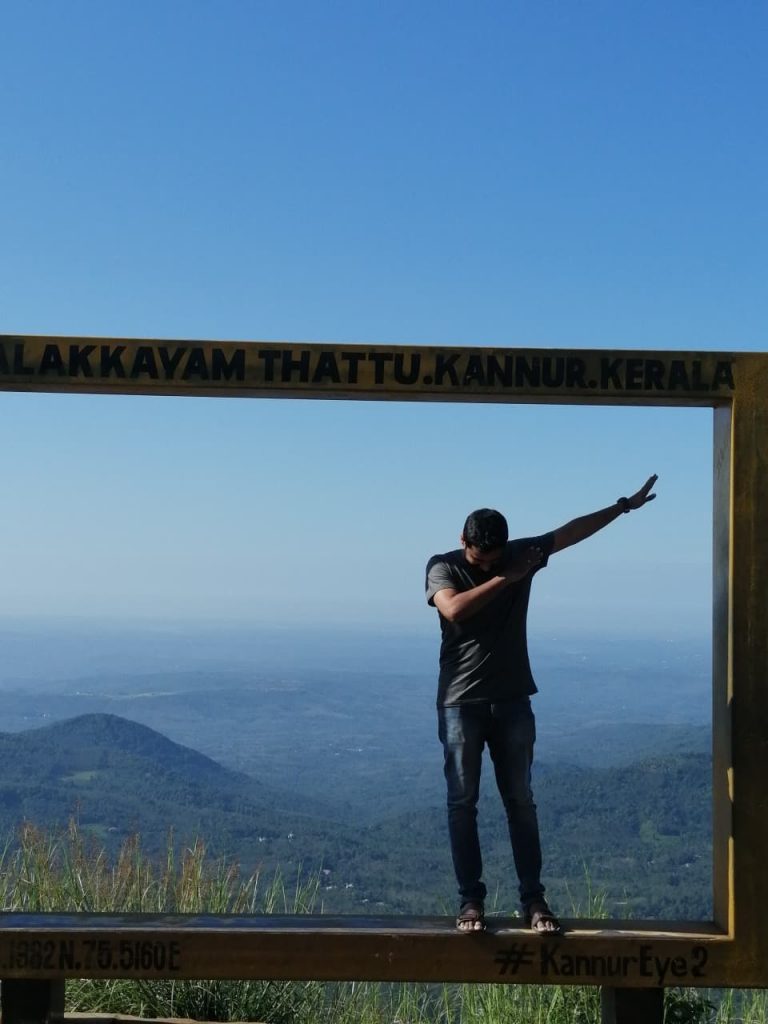 During peak hours, it's quite hard to get a chance to click a perfect picture. Although cumbersome and not perfect, we managed one 😛
Adventure Park & Camping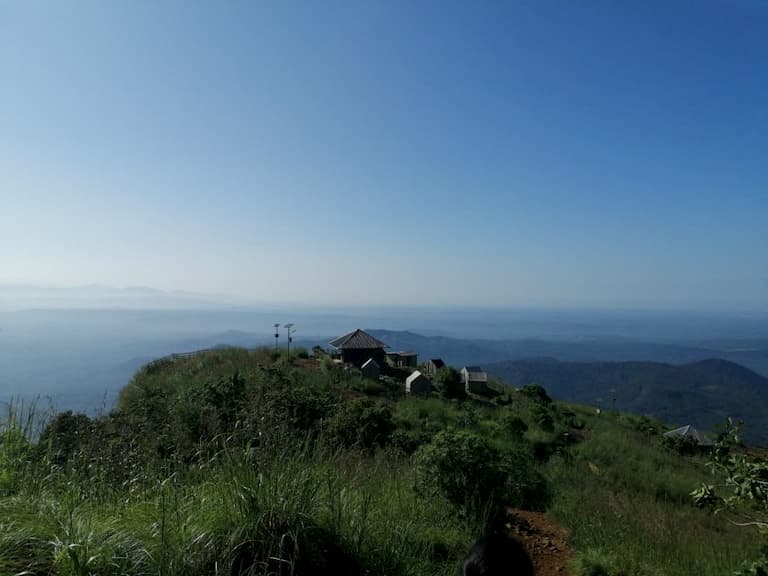 Ticket counters to Palakkayam Thattu Adventure Park open at around 9 AM. You can find several reasonably good activities arranged even at such a distant spot. Some of these include:
Zorbing ball
Zipline
Ropes course
Archery
Gun shooting
The entire adventure park is very well set up with all the necessary harnessing and equipment. It's worth an experience.
Hill Stay
Palakkayam Thattu hill stay is another attraction which brings in a lot of travellers. Gazing at the night sky while standing thousands of feet above is indeed a moment worth cherishing.

Tent Stays are available at Palakkayam Thattu. Payment can be done at the location as well. Price starts from ₹4,000/night onwards. This is inclusive of continental breakfast and dinner.
We sat at one of the Yellow benches on the very top, delving into the astounding view of the valley for a while. We began our descent once it started to get hot at the top and slowly reached the exit. A basic refreshment centre is set up at the entrance/exit. Had a couple of fruit juices and walked out of the Palakkayam Thattu compound. Our vehicle was waiting right outside.
Best time to visit
October to January is the most suitable and perfect time to be here. Trees kissing the sky and clouds floating below your eyes are moments worth capturing. This also is a time when the heavy Monsoon clears away and the path is less muddy.
Speaking to a few locals, we got to know that Palakkayam Thattu is at its peak beauty during the rainy season. However, due to extreme treefalls, the approach towards the top is very tedious.
Entry Timings
Palakkayam Thattu entry time starts at 5 AM and closes around 9 PM. An early morning visit within 6.30 AM & post 5.30 PM would leave you speechless. The visitor count gets higher during the evening, so we recommend early morning visits for those who prefer a lesser crowd.
Do's & Don'ts
Carry hiking shoes, caps, sunglasses and water bottles
Avoid Littering – The hilltop is clean and maintained very well. However, people have no regard for the beauty of a place sometimes. Be a responsible traveller
Keep moving after you've spent enough time at a particular spot. As more visitors start coming in, let's give everyone an equal opportunity to see things around
Avoid visits during hot sunny afternoons
Carry cash – no cards accepted
Nearby Attractions
Paithalmala, another major attraction in Kannur is hardly 11 kms away from Palakkayam Thattu. A portion of Paithalmala ranges are visible from Palakkayam Thattu hilltop
Janakipara Waterfalls – 2.6 Kms from Palakkayam Thattu
Kanjirakolli Hills – 31 Kms (1-hour drive)
Distance from major locations
Kannur Bus Stand/Railway Station: 1h 20 min (49.4 km) via NH 66 and Taliparamba Coorg Road/Taliparamba-Manakadavu-Coorg Road
Kannur International Airport: 1h 17 min (42.5 km) via Taliparamba-Iritty Road
Thalassery: 1h 51 min (61.1 km) via Thalassery-Irikkur Road
Virajpet: 1h 53 min (68.9 km) via Kannur-Mattannur-Coorg Road and Malabar Hill Highway
It was indeed a revitalizing day spent at Palakkayam Thattu. A must-visit for all folks out there.
---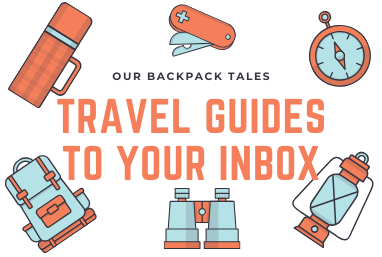 ---
Pin this to your Pinterest travel board
Author Details
Two souls from Upper Malabar.
Kannur > Bangalore.
Longing to see unseen destinations.