Why Coorg Coffee Estate Stay?
Gifting a person who loves to travel with a 'birthday trip' is the best thing ever! Especially when the ones who are presenting it love traveling too. That's exactly what we did for our bestie's birthday. The idea hit us pretty late, so we didn't have much time – two weeks to be exact – to plan this trip. Looking for the perfect destination is another task. Keeping in mind the limited time we had (just the weekend) to make this work, we chose Coorg as our destination. We booked our stay at Coffee Cadu Estate homestay, Madikeri. Unlike other expensive coorg resorts, Coffee Cadu estate offers an offbeat experience with rustic wooden cabins in the middle of a coffee estate.
Bangalore to Coorg
Coorg, known as Scotland of India, is 267 km from Bangalore. It's the perfect weekend getaway from the hectic life at Bangalore. Coorg is just the place for nature lovers with its misty landscapes and heartwarming greenery. What's great about Coorg weather is that it's always pleasant.
Directions for Bangalore to Coorg
We started our journey by 4 am on our Royal Enfield Classic 350 and a rented Honda Dio. We were skeptical about how this journey would be since we had picked our friend from the airport at 1 am and by the time we went to bed it was 2:30 am. But the excitement kept us going!
Our journey started from Mathikere, Bangalore and through NH48 which leads to Tumkur. We took a left from Neelamangala to NH75 which leads to Mangalore. After what felt like a really long time, we stopped for a tea break at a small tea shop by the roadside. Since we had already packed sandwiches for breakfast, there wasn't another stop for that. We had left all the high-rise buildings behind us and had entered the beautiful countryside.
Our next turn was at Channarayapattana to the state highway which led to Coorg.
We stopped more than a few times to enjoy the nature and took lots of pictures to save all the beautiful sights in our hearts. The true beauty of a road trip is not exactly the destination, but all the fun stuff that happens on the way.
This trip was during late April, so it was quite hot and sunny. We had fields on both sides of the road and quite a few tender coconut vendors. Be sure to try them if you happen to travel this way- they were the best tender coconut we've had in a long time!
We reached our destination – Coffee Cadu Estate Homestay, Madikeri at about 1 pm. We were entirely exhausted but the sight of our beautiful wooden cottage in the middle of the coffee estate changed that.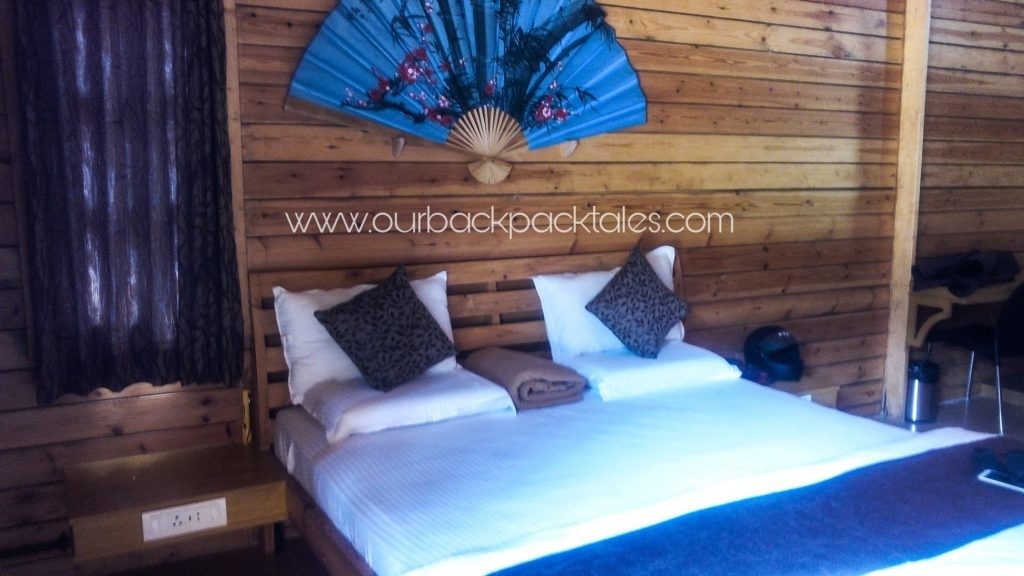 The evenings at Madikeri are amazing – it's cool and completely different from the hot mornings. We spent our evening sipping delicious cups of coffee at our tiny veranda. We made a little trip to Madikeri town after 7. The roads were dark and quiet except for an occasional car or truck. The constant sound of crickets pierced through the silence keeping us company as we drove to Madikeri which was 10 km from our homestay. We passed a lot of resorts and homestays on our way. There is one for every kind of budget out there!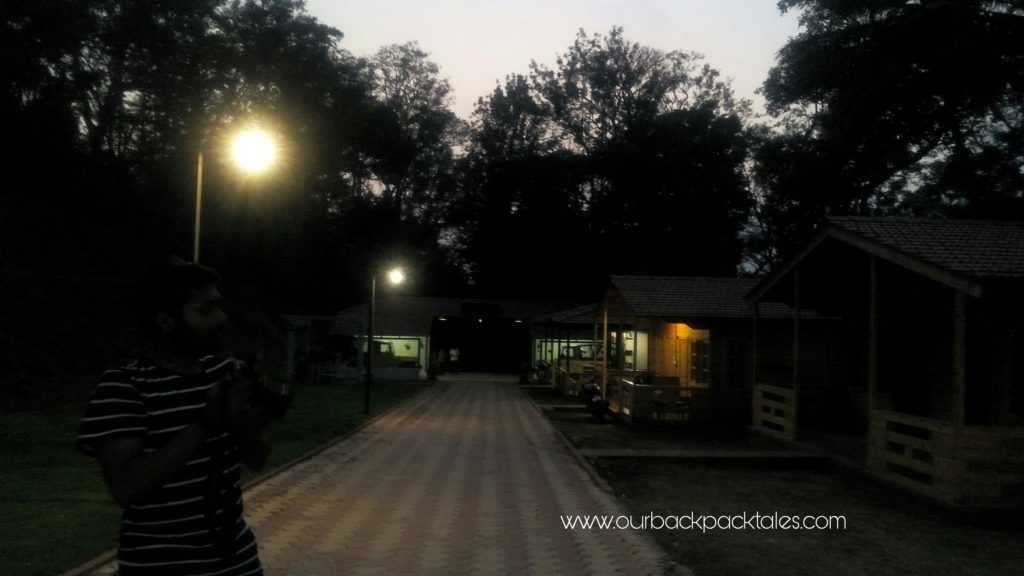 The city erupted in lights with small restaurant and more houses and people. We had a small dinner of masala dosa and tea from Hotel Greenland. We returned to the homestay shortly and spend our time talking well into the night.
Coffee Cadu Estate provides campfire and music options for those who prefer it. We didn't get a chance to book them since it was already taken.
The next morning we had a fun breakfast at the small restaurant attached to the homestay. You need to inform them in advance if you take breakfast, so we did the night before. Our breakfast consisted of idlis, masala dosa, vada, and tea. What's wonderful about this homestay is that you won't feel like going out to explore. It's just so comforting and fun here!
We checked out by 11 am and decided to explore Madikeri a bit before heading back to Bangalore from Coorg.
Abbey falls
The nearest attraction was Abbey Falls which was about 5 km from Madikeri town and about 15 km from our homestay. There wasn't any entry fee but you do have to pay parking fees if you bring your own vehicle.
Abbey falls
The falls are said to originate from river Kaveri and set amidst coffee and spice plantations. Even during summer, it was beautiful.
We began our journey back home by 1 pm and after a beautiful journey we were back at Bangalore by 10 pm. This was our first journey together and definitely a memorable one.
Tips for Coorg Trip
This road trip on April-May will be hectic due to scorching heat, you can plan it in other months for a pleasant road journey.
Long drives are difficult for pillion riders, so take regular breaks.
Since it was a quick trip we were not able to explore more, so plan your trip for 3-5 days to visit more attractions.
Our Backpack Tales has partnered with Booking.com to bring the best hotels in Coorg. You can book the best estate stays like this for cheap using our affiliate link: Click here
---
Read about our trip to Athirapilly waterfall : Here