Yercaud – an underrated, and less visited hill station near Bangalore is perfect for a weekend getaway. The small sleepy town called 'Yercaud' sounded good to escape from our hectic schedules and the hustle and bustle of the city. So that's where we set off to.
Yercaud hotels can be booked from various online booking platforms. You can get various options for Homestays in Yercaud which need to be booked early. We booked our hotel with a great deal from this site. We began our journey from Bangalore to Yercaud at 5:00 am on a Saturday morning with our friends in a Mahindra TUV rented from Drivezy which is a car rental platform. It was one pleasure drive, all quiet and peaceful since the city was still asleep.
We stopped for breakfast at a vegetarian restaurant just out of Bangalore, and shared more travel plans over yummy masala dosas and coffee.
The scenery on the way was breathtaking with beautiful rice fields on either sides of the road. And as we got closer we got a view of the hills.
Yercaud is 250 km from Bangalore and just about 30 km from Salem. It stands at an elevation of 4970 feet above sea level on the Shevaroy hills in Tamil Nadu. It takes 20 hairpin bends to reach Yercaud.
Tall trees and monkeys are all you could see on the way up. As you get closer to Yercaud, be sure to roll down your windows so that you don't miss the delicious scent of the coffee, fruits and spices, Yercaud is famous for. This is truly a refreshing change from the dusty airs of Bangalore.
We reached our hotel 'Bluebell Holiday Inn', which was around 650 m from the Yercaud Lake. What excited us most about our stay were the hills just behind the hotel. What a beautiful sight it would be to wake up to magical misty hills in the morning?!
A quick fresh up, and we set out for a quick lunch at the Annalakshmi Restaurant. The Yercaud lake was in view, and there were a line of small shops and restaurants, with a few tourists exploring the town. The Yercaud weather was so good, with just the right amount of cold, it felt wonderful.
We decided to make the Yercaud Lake Boathouse our first spot. We bought tickets to enter the boathouse, and rented 3 pedel boats, to explore the glossy lake. Just as we set off, it began to drizzle, which was another fun experience. After some excited peddling, we headed off to the Yercaud Deer Park.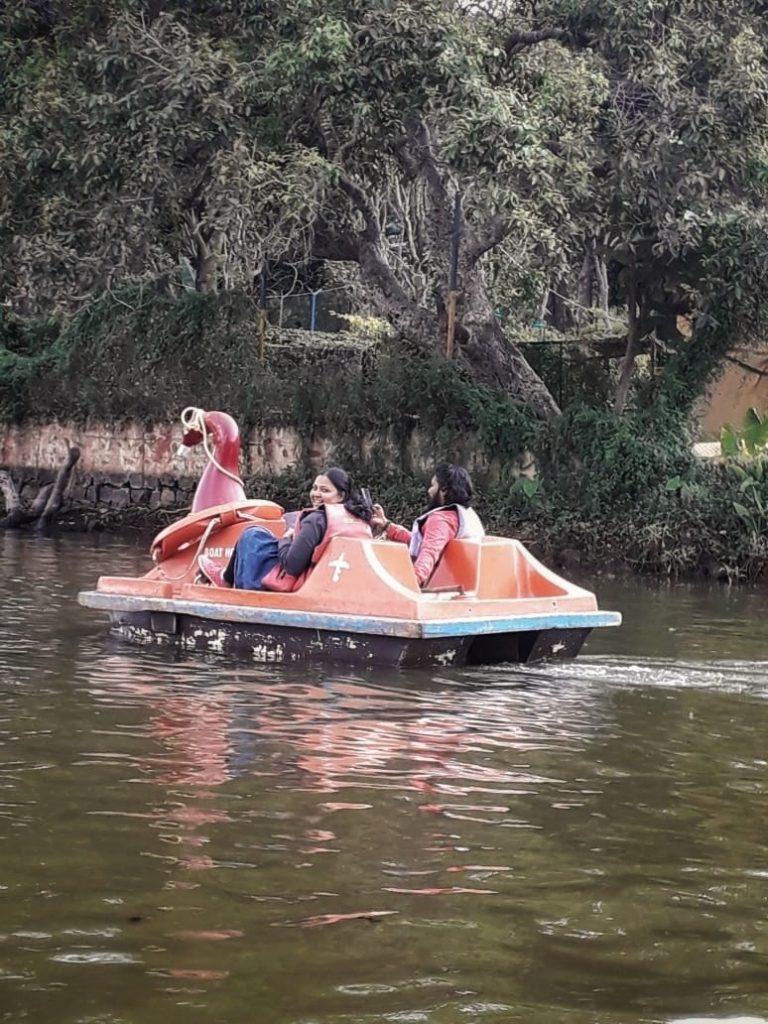 It was around 3:00 pm by then, and the weather was beginning to get chilly. The winds were cool and the skies were grey. The Deer Park had not only deers, but also peacocks, rabbits and hamsters too. It was calming to walk around the lush green garden. The park also had a play area for children, and we did race to claim the swings!
Before heading towards the hotel, we took a quick look at the aquarium opposite to the Deer Park.
The cold set in as we went out for dinner. The chilly Yercaud weather had us craving for a nice cup of tea, but since it was already late, none of the shops nearby had any. We drove around Yercaud desperately in search of that perfect cup of tea and found it at the Iyengar Bakery opposite to the Yercaud Bus station.
Exploring a new place is clearly one of the most fun things ever. Doing that early in the morning was more fun. We were up by 6:00 am and we drove towards the Pagoda Point. Visiting during the day time should give you a beautiful view of the Salem City. But visiting in the early hours gives you a foggy paradise. There was fog everywhere and it was just the most amazing thing.
We visited the Kiliyur Falls next. Kiliyur Falls is 3.9 km away from Pagoda point. A short walk down a slanting path will lead to some steep stairs leading towards the waterfall. The long descent of more than 200 steps takes us to the point, but there wasn't a single drop of water to be seen. It will be useful to note that to see the waterfalls in full glory means to visit during the monsoon season. Our trip was on February which mean it was was still cold, but the waterfalls was just not there. But yet, the trek down and then back up was absolutely fun! And a special mention to some really friendly Azawakh dogs owned by a nearby estate.
A lady and her children had set up a small tea shop near the parking lot as we came back up, so we had some nice tea, and also fed the sweet dogs some biscuits.
We headed back to the hotel to freshen up and check out. Once we had all our things safely packed in the car, we went for breakfast first. We still had a couple of places left in our list, and the Lady's seat came first.
The Lady's seat vantage point has a watchtower and a telescope that offers a wonderful view of the ghat roads and the valley. This place too is loaded with monkeys so be careful with your belongings!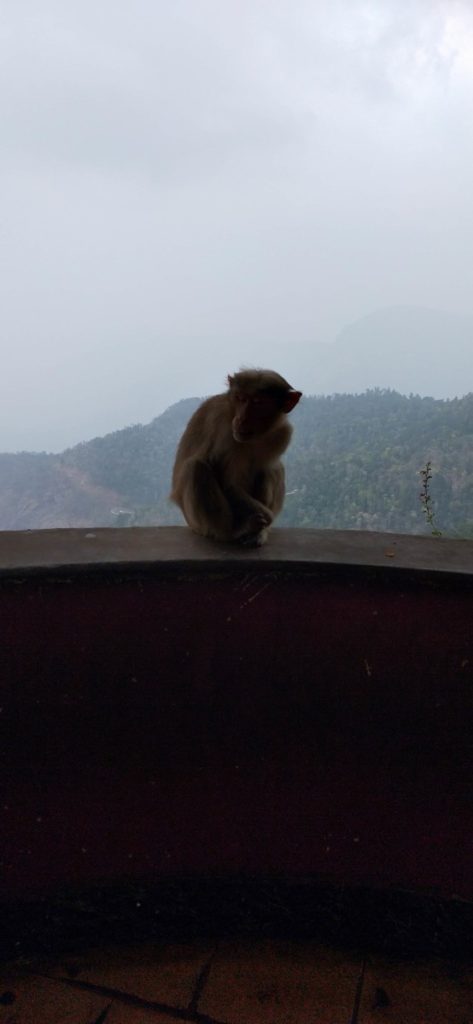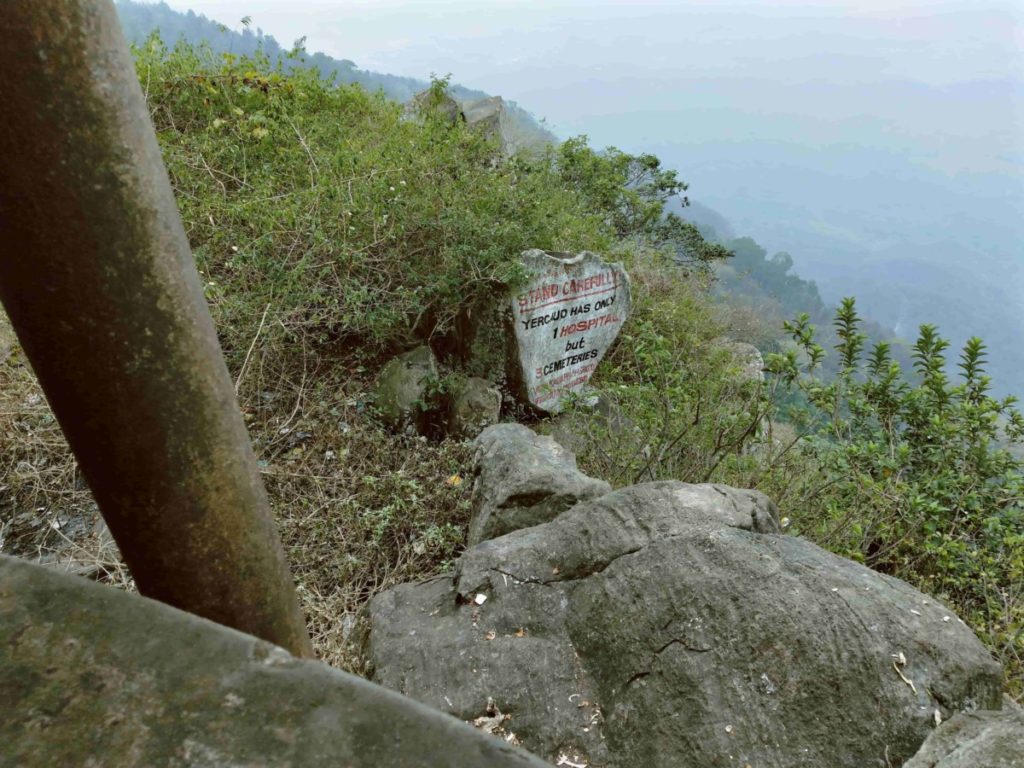 The Yercaud Rose Garden is just 400 m from Lady's seat, and was the last spot in our itenary. This beautiful garden was green and scenic, with many exotic flowers, a treat to the eyes.
It is always so hard to leave a place that gives you so many good memories, and it was exactly our case. The little town Yercaud had embedded itself into our hearts and it was truly one of the best weekends ever.
The trip back to Bangalore was full of remembering the good memories, happy smiles and the little disappointment of having to return to our schedules on Monday.
Thank you Yercaud for giving us such a wonderful time. You were one of our best trips yet.
How to reach Yercaud
Nearest Railway station – Salem (30kms)
Nearest Airport – Salem (46 kms)
Frequent public buses are running from Salem Busstation by Tamil Nadu State Road Transport.
Things to Remember
Yercaud is not a popular tourist hub, so when you are visiting do remember to have an early dinner as the restaurants don't stay open late.
Visit Yercaud during monsoon season or early winters.
Do purchase tickets for entry into the boat house & separate tickets to rent the boats.
Visit Pagoda Point during early hours for less crowd and beautiful fog and after sunrise for further view.
Use our Affiliate link with Booking.com for best hotel prices in Yercaud.
Read about our trip to Hampi – A journey to the lost kingdom : Here