---
Hiking Trails in North America is a part of a big series called "Best Hiking Trails in the World" suggested by Travel Bloggers around the world.
---
Read the best hiking trails from other continents below.
Best Hiking Trails in North America (You are Here)
---
Here is the list of Top hiking trails in North America from top travel bloggers around the world.
List of Best Hiking Trails in North America
1. St Marks Summit in Vancouver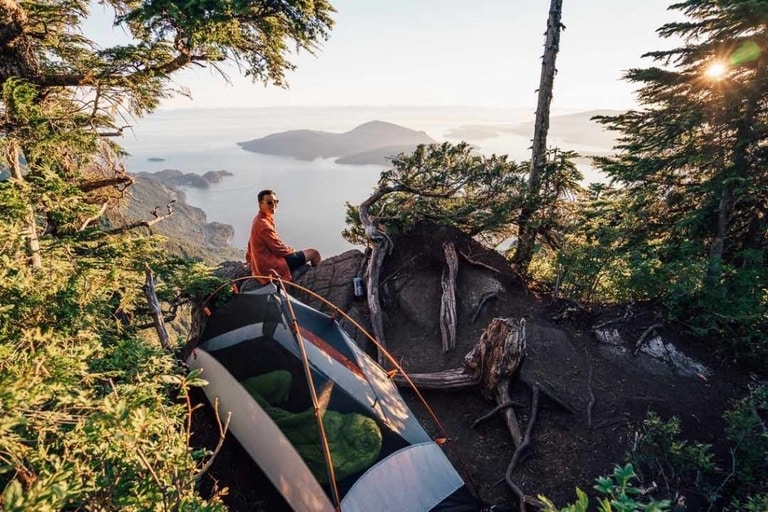 Suggested by Luke from Wild About BC
Vancouver, on the West Coast of Canada, home to some amazing scenery. The city itself is surrounded on 3 sides by water and has epic mountain peaks towering above it. One of the best hikes in the area is St Marks Summit, which is in Cypress Provincial Park, just a 40-minute drive from downtown Vancouver.
This is a 12 kilometre, moderately difficult trail, with 500 metres of elevation gain, that should take around 4 hours. Most of the hike is spent in amongst the forest which is pretty, yet unspectacular. The reward for your efforts is only truly realised once you reach the viewpoint at St Marks Summit.
Once you reach the viewpoint, you'll be absolutely blown away by how spectacular the view is. You get incredible 180 degree views out over the waterways of Howe Sound, Bowen Island and all the way over to the Sunshine Coast. There are several viewpoints you can explore up here and if you are willing to hike down in the dark, or camp along the trail, we highly recommend staying for sunset.
One of the other really cool things about this hike is that Cypress Provincial Park is home to a few black bears. They are quite uncommon to see along the trail but once you are back in the car park you have quite a good chance of seeing them wandering across the open areas of the park that make up the ski runs in winter. They are active at sunrise and sunset so this is when you are most likely to come across them.
It's incredible to have such a good hike that is so accessible from the city center and St Marks Summit offers one of the best views anywhere on the West Coast of Canada.
---
2. Mt. Slesse in Vancouver
Suggested by Debbie Fettback from World Adventurists
The Slesse Memorial Trail is nestled in the Cascade Mountains, a couple of hours outside of Vancouver, in Chilliwack, British Columbia. Aside from the spectacular views along the trail and once you reach the top, it is a special place to hike. It is the crash site of one of Canada's worst aviation disasters that happened on December 9, 1956. The trail passes a memorial plaque and continues up the mountain to the 'propeller cairn', where you'll find one of the propellers from the plane surrounded by other artifacts. The trail is gorgeous, with a picturesque river crossing, and several impressive forest and mountain views. You will be in awe of your surroundings during the entire hike.
The trail is 15.3km with an elevation gain of 1,021m, and takes around 6 hours, roundtrip. Ensure you are bear aware and prepared. Good hiking shoes and hiking poles are recommended.
You'll be in a remote wilderness area, and will have no cell phone signal. The trail is well marked. The best time to do this hike is June – September.
To make it all the way to the trailhead, you will need a 4×4 or high clearance vehicle. Otherwise, you'll only make it a quarter up the service road before you have to leave your car on the side of the road to walk to the trailhead.
How to get there: From Vancouver, follow Highway #1 (Trans-Canada Highway) towards Hope. Once you reach Chilliwack, take exit #119 South. Follow Vedder Road until a round-about just before a bridge crossing the Vedder River. Go left at this roundabout, and follow Chilliwack Lake Road. After around 30km, turn right onto Nesakwatch Creek Forest Service Road. 400 meters after turning onto the service road, turn right at the T-junction. Follow this road for 5km to the trailhead.
---
3. Navajo Trail loop in Utah, USA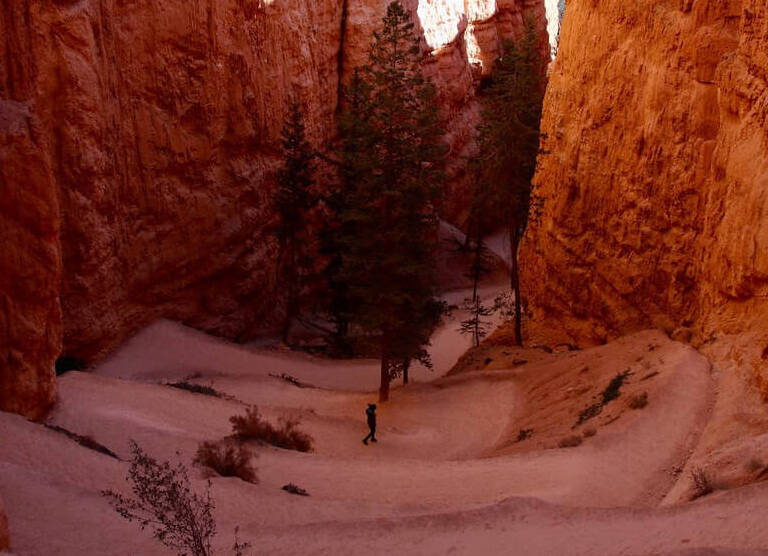 Suggested by Chris Christensen from Amateur Traveler
One of my favorite national parks in the United States is Bryce Canyon National Park in Utah. Oddly enough, Bryce is not a canyon but a mesa where the side of the mesa is a forest of rock spires or hoodoos. You can certainly enjoy this national park from your car and from overlooks, but the best way to experience it is to hike down into these hoodoos. I recommend the Navajo Trail loop as one of the best day hikes in the U.S.
Hiking the Navajo Trail was a highlight for me of my national park road trip in the American Southwest. Bryce is at high altitude so this is a hike to take your time. One disadvantage of hiking at Bryce is that you start at the top, hike down, and then have to do the hardest part of your hike on the way back up. You start at 8000 feet (2438 m) in elevation and the trail depends 550 feet (167 m) before looping back up again.
When you hike the Navajo Trail you hike in a loop. The most memorable part of the loop is called Wallstreet. You take a series of switchbacks in a space between the hoodoos as the small canyon you are in gets narrower and narrower and the rocks above you get taller and taller. Eventually, the space between the towering hoodoos is something like ten feet wide and the path is now a slot canyon. Hiking among these amazing rock formations is not something you will soon forget.
---
4. Enchantments in Washington State, USA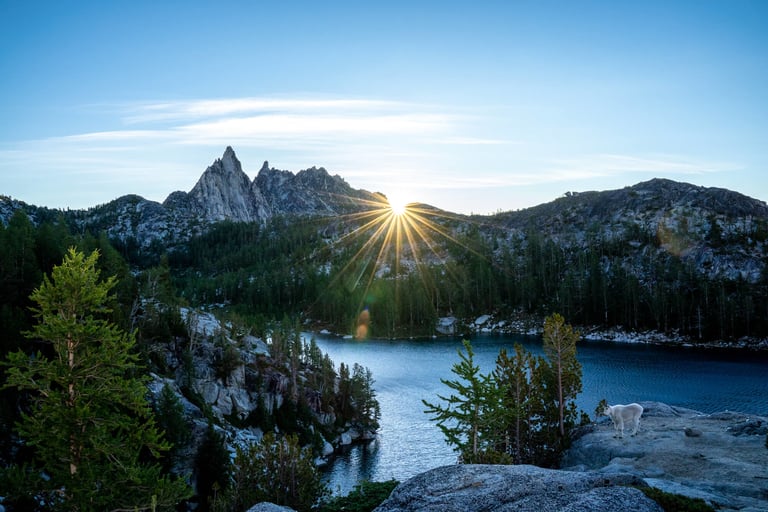 Suggested by Matt from West Coast Wayfarers
The Enchantments in Washington State are a hiker's dream. Cutting through the Alpine Lakes Wilderness, this popular hiking trail is chock full of gorgeous alpine lakes, jagged rocky peaks, and cascading waterfalls that even the most experienced hikers are sure to marvel at. It's one of the best hikes in Washington State, and should be on every hiker's bucket list.
The hike is an epic 19 mile point-to-point journey that gains over 5,000 feet of elevation. There are two ways to do it: as a one day through hike in the summer where you start before the sun rises and finish after sunset, or as an overnight trip where you sleep under the stars (and next to the mountain goats, usually), which requires a hard-to-get overnight permit.
To get an overnight permit, you'll need to either enter a lottery or get one of the few first-come-first-served permits offered on the day of. Both are notoriously competitive, particularly over the past few years, with thousands and thousands of people applying for a very limited number of permits.
The hike itself starts near Leavenworth at the Colchuck/Stuart Lake trailhead and finishes at the Snow Lakes trailhead. Because it's a point-to-point hike, you'll need two cars to do it – one parked at each trailhead. There is a seasonal hikers shuttle that runs between the two trailheads that you can book in advance if you only have a single car.
From the trailhead, you'll climb first to Colchuck Lake, which is a great hike in its own right, before ascending towering Aasgard Pass where you'll climb roughly 2,000 feet in about a mile. By this point, you've gained all the elevation there is to gain, and it's a downhill hike from here to the Snow Lakes Trailhead.
Not up for a 19 mile day hike? The 8-mile hike to Colchuck Lake, a gorgeous crystal clear blue-green alpine lake, gives you a slice of the Enchantments in a much more achievable package.
---
5. Smutwood Peak in Alberta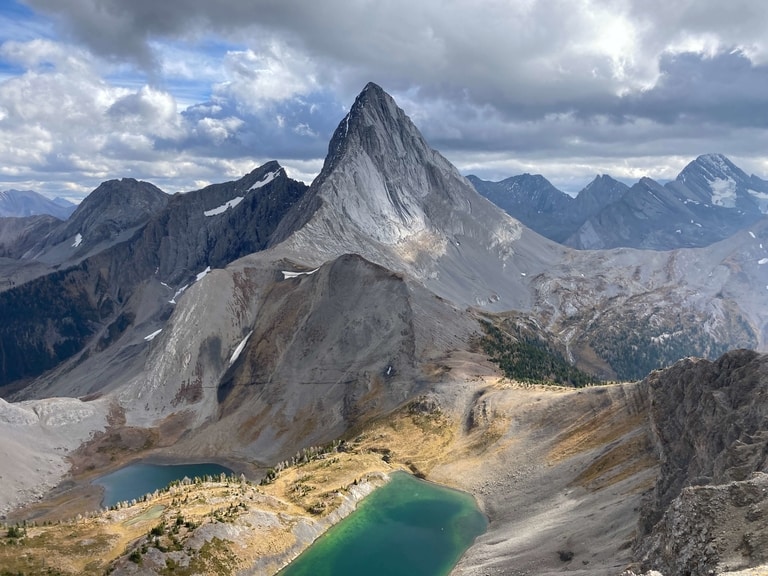 Suggested by Dean and Laynni at Routinely Nomadic
Located in the foothills of the Canadian Rockies, Canmore, Alberta is an absolute hiking mecca, with dozens of amazing trails within easy driving distance. Even among this impressive list, however, the epic Smutwood Peak day hike stands out as one of the very best hikes in the Rockies. It is long, it is difficult and it certainly isn't ideal for those with a fear of heights, especially on a windy day, but, wow, is the scenery worth it.
Even though the trailhead is just 40 kilometres south of Canmore in the heart of Kananaskis Country, it will probably take around an hour to drive there on the rough, winding Smith Dorrien Trail. The hike to the peak is roughly 20 km return with 950 metres of elevation gain (to a maximum elevation of 2,650 metres).
The first 6 kilometres are relatively flat, through the picturesque forest and along Commonwealth Creek valley but the rest of the way is very steep and fairly exposed. Expect it to take at least 7-8 hours with breaks. Even if you aren't quite up for the full challenge or would prefer to avoid the narrow, exposed ridge at the very end, you could stop a couple of kilometres (and a couple of hundred metres of elevation gain) short of the summit and still enjoy some truly incredible viewpoints of the Birdwood lakes, two valleys and at least 6 different peaks.
Just make sure you keep a close eye on the weather forecast since Mount Smutwood is not a place you want to be in a storm. But if it looks like the sun is going to shine and you only have the time (or motivation) for one big hike in the Canmore area, Smutwood Peak should be the choice.
---
6. Lake Mary, Martha and Catherine in Utah
Suggested by Deb from The Visa Project
If you live in Salt Lake City, you probably already know a lot about the hiking scene there. I moved there after getting an H1B transfer, and I went on hikes almost every weekend, but this particular hike in Big Cottonwood Canyon remains my favorite.
This hike takes you on a 3.5-mile hike in the Uinta-Wasatch-Cache National Forest to 3 different lakes. And it's gorgeous any time of the year.
To get there, when coming from Salt Lake City, you can take the Big Cottonwood Canyon Road to Brighton. The trailhead begins at the Brighton ski resort parking lot. There are trail markers everywhere so you won't get lost. It's a local favorite but there is tons of parking and the trail is pretty wide. You gain an elevation of 259 meters.
At 1 mile from the parking lot, Your first stop will be Lake Mary which is actually a reservoir. It is the largest of the three lakes and has beautiful granite rock formations around it. You can just lie down, relax and listen to the birds chirping or have a picnic. The view is absolutely gorgeous from the top.
Lake Martha comes shortly after Lake Mary.
Then you can continue until you reach Lake Catherine, surrounded by peaks. You can get some great pics here any time of the year.
The best time to do this hike is from March to October, although you might come across some traces of snow on the trails until late June. In summer, the trail will be overflowing with beautiful wildflowers. And moose-sighting is pretty common. I saw one or two every time I went there.
Note that since this trail lies within a protected watershed, swimming is not permitted in the area.
---
7. Devil's Garden Loop in Moab, USA
Suggested by Meg Atteberry from Fox in the Forest
The Devil's Garden Loop in Arches National Park is one of the most mind-blowing hikes in Moab and the world. With 1,069 feet of elevation gain, the hike isn't exactly easy, but it makes its way through so many exciting spires piercing the sky, beautiful arches (including Landscape Arch, which is the longest arch in the United States!), and desert landscapes that you'll find yourself making several stops to take in the beauty of the scenery as you go.
Along the way of this 7.5-mile-long trail, you'll be using your hands a lot as you scramble through insane-looking rock formations. Hiking in the desert comes with unique challenges, so make sure you're well-prepared (bring more water than you think you'll need and don't forget your sunscreen!)
The hike takes anywhere from 4 to 6 hours, but if you're up for making a backpacking adventure out of it, there's a campground where you can spend the night if you reserve your spot in advance. Arches National Park is acclaimed worldwide for its fantastic stargazing, so you're definitely in for a camping experience of a lifetime!
How To Get There: Devils Garden is located 18 miles north of Arches Visitor Center. It takes approximately 45 minutes to drive from the visitor center to the trailhead.
---
8. Volcan Pacaya in Guatemala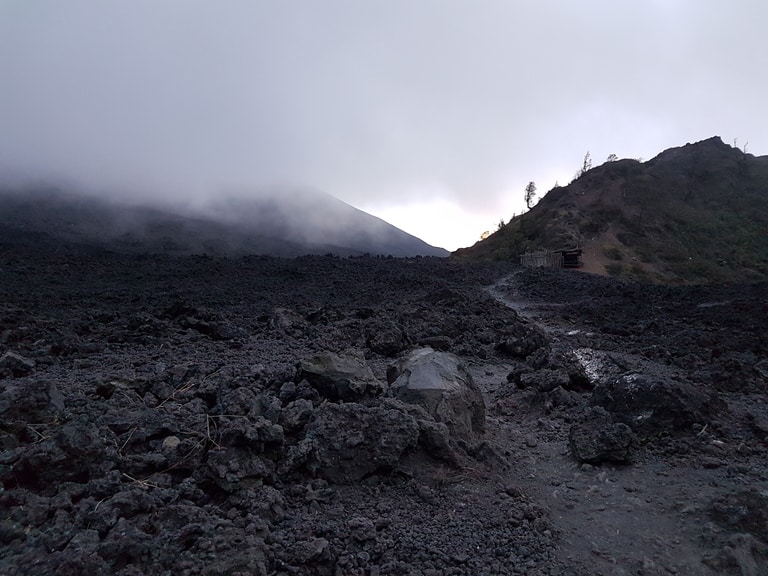 Suggested by Holly from Globeblogging
Guatemala is a country populated by volcanoes, home to at least 37. The city of Antigua nestles in the shadows of several. Between Antigua and Guatemala City lies Volcan Pacaya, one of the countries most popular tourist attractions. It is approximately a 90 minute trip from either city, and tours are easily arranged.
Most of the area was declared National Park by the Guatemalan government in 1963, and while the trails are safe visitors are not allowed to hike them without a guide. Entry to the park will cost around 50 Quetzals, less than $US10, and the fees go towards maintenance of the park facilities.
Volcan Pacaya stands at 2,552 metres, or 8,373 feet. The walk is 3.5 kilometres each way and ascends 300 metres from the starting point. While this might not seem like much, bear in mind that the starting point is already 2,300 metres above sea level and this makes hiking Volcan Pacaya far more physically challenging than it might seem. Guides are ready with horses for hire for those needing a little help.
The spectacular views of the countryside and Volcan Agua in the distance alone make the hike worth it, the climb to the summit brings you to an uneven, black landscape of solidified lava. Pacaya is an active volcano, and while they don't take you too close anymore if you are fortunate you may still see glowing lava. You might also see the strange landscape covered in mist. Guides have a ready bag of marshmallows for warming in the fissures at the top.
If you do the sunset hike it's a good idea to have a torch handy in your bag as the hike down can be partially in the dark, a careful experience given the loose and rocky terrain.
---
9. Old Rag Trail in Virginia
Suggested by Erin Gifford from Go Hike Virginia
The strenuous 9.8-mile Old Rag hike at Shenandoah National Park makes many lists, even counted among the best hikes in the world. Old Rag also regularly secures top honors as the most scenic hike in Virginia. The accolades for Old Rag go on and on.
This hike is not for everyone, however. For one, the elevation gain is 2,608 feet, a challenge for many hikers. Know your limits and make good decisions. Wear proper footwear (i.e., no flip-flops). Carry a flashlight, a first-aid kit and plenty of water.
A solid mile of this hike is a fairly intense rock scramble. You've got to navigate tight spaces, slide down granite surfaces, strategize rocky passages and use every ounce of strength to hoist yourself up onto rocks and boulders. You will, thankfully, be rewarded with stunning 360-degree panoramas when you reach the top of Old Rag.
There's a lot of space to sit, snack and savor the far-reaching views of surrounding mountains. From here, the trail descends to reach Byrd's Nest Shelter, a day-use shelter with a picnic table. In a few more steps, you'll reach Old Rag Shelter, another day-use shelter with a picnic table. Near the end of the hike, stroll along cascading Brokenback Run. It's a delightfully refreshing way to end your day at Old Rag.
While the majority of hiking trails at Shenandoah National Park are accessed from Skyline Drive, the 105-mile scenic byway that runs the length of the park, Old Rag is not one of them. Instead, this hike begins at a parking area on the outskirts of Sperryville, guiding hikers into the park from the eastern boundary.
---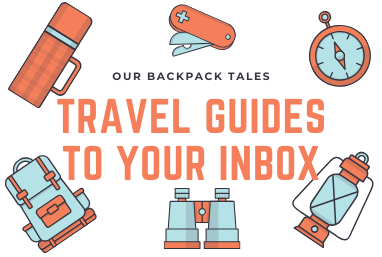 ---
10. Acatenango volcano, in Guatemala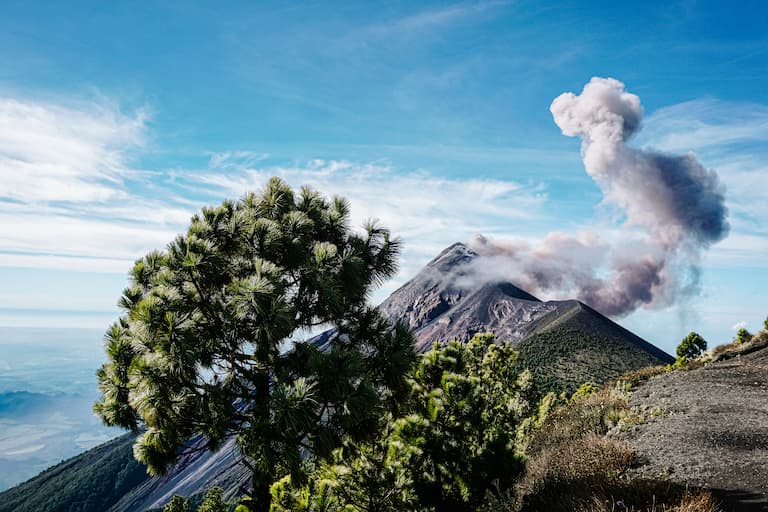 Suggested by Deborah Durrfeld from Passport The World
One of the best things to do in Guatemala is a two-day hike to the Acatenango volcano. This volcano (13,044ft / 3,976m) is joined with the Fuego (12,342ft / 3,763m), an active volcano erupting every 20 minutes! The hike will not only give you the opportunity to hike through 4 different microclimates in one day, but also make you watch an erupting volcano just in front of you and experience incredible views over the entire Guatemala!
On your first day, you will leave the city of Antigua early morning to a small village, located on the slopes of the volcano. This is the starting point of your hike, where you'll walk through fields with corn and beans, a lush tropical cloud forest, a coniferous forest until you find yourself above the clouds, overlooking the tops of the surrounding Pacaya, Agua and Fuego volcano.
It will take you more or less 6 hours to reach the 3500 meters high base camp of the Acatenango volcano. Here you spend the night in a tent, only a few kilometers away from the erupting Fuego.
As soon as it gets dark you'll be able to see the red lava spouting while sitting in front of your tent. An indescribable feeling! Because of the overwhelming sounds of the rumbling volcano and lack of oxygen due to the altitude, you'll have a short night. Also, it can be pretty cold up there so you have to be prepared.
The next morning you'll leave around 4 AM to the top of the volcano, walking up a sand dune for an hour and a half, maybe the hardest part of the tour. But at the top, you'll be rewarded with a breathtaking 360degree view of Guatemala.
This hike is not for everyone and it can be hard at times. Especially the second day, when you are tired and have to go to the top of the volcano, all the way in the dark. It is the altitude that makes this tour even more challenging. But with the right mindset and a normal physical condition, it is doable and so rewarding. Because where in the world you will be able to see an active volcano smoking and spouting lava from that close!
---
11. Skyline Trail in Washington
Suggested by Val from Val of Voyages
Skyline Trail is without a doubt one of the best trails in Mount Rainier National Park and possibly all of Washington. It is a stunning trail where you can take in Mount Rainier and the Cascades in any direction. Along the trail you will see wildflowers, meadows, streams, and if you are lucky some of the local wildlife.
Skyline trail is located in the Paradise section of Mount Rainier National Park, a 37-minute drive from the West Entrance to the park. On the drive up there are several pull-offs that are worth a stop to take in Mount Rainier and the surrounding mountains.
Skyline Trail is a moderate 6-mile hike with 1,794 feet of elevation gain. It is beneficial to be in shape for this hike but the beginning of the trail is much easier and paved, so if you cannot make the whole hike it is still worth walking part of it for some great views.
This trail is a loop and can be hiked in either direction. Clockwise is the more popular way and has amazing vistas at the one and a half mile mark and two-mile mark named Glacier Vista and Panorama Point respectively. If you don't plan on hiking the whole trail these can make good turnaround points for a shorter hike.
---
12. Diamond Head in Hawaii
Suggested by Holly from Globeblogging
No visit to Hawaii's island paradise of Oahu is complete without hiking Diamond Head crater. Receiving more than one million visitors every year, it is one of the most popular tourist attractions in Oahu and is visible from pretty much anywhere in Waikiki. Formed by an eruption about 300,000 years ago it was declared a National Natural Landmark in 1968.
While it is on the shorter side in length at less than three kilometres, and not a difficult walk, the climb up the 760 foot peak will certainly get the heart rate up. The climb offers spectacular views across the island and out to the ocean on the way but the real appeal of this hike is the panoramic views at the summit, from where you can look out over Waikiki below.
The other appeal of this hike is the history. Given its height and location, Diamond Head was ideal for a military installation. It was in active use in both World Wars and was critical to the coastal defense of Oahu. On the way to the summit hikers will pass through parts of the Fire Control Station and see observation posts looking out to sea.
For those keen to add to their walk, it will take approximately forty minutes to walk from Waikiki or the public bus #23 drops you off outside the crater to start your walk up. The Waikiki Trolley will also visit or parking is available for $US5 per vehicle.
---
13. Havasu Falls in Arizona, USA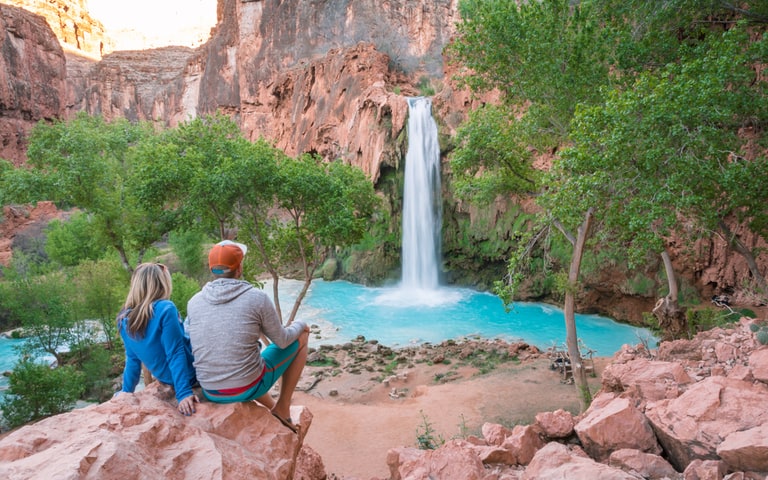 Suggested by Nick and Val from Wandering Wheatleys
Havasu Falls is a waterfall that is located deep in a desert canyon in Northern Arizona. This spectacular turquoise waterfall cascades 80-feet over a red cliff and has the most picturesque swimming hole at the bottom. If that sounds like your idea of paradise, you're not alone. It's one of the most popular destinations in the US.
But getting to this beautiful oasis is no easy feat. It's located on the Havasupai Indian Reservation, 10 miles from the closest road. You'll need to trek through a hot, dusty canyon with everything you'll need to survive 4 days and 3 nights in the desert. Due to its popularity, the Havasupai Tribe gives out a limited number of camping permits, and all are for 4 days/3 nights. And no, you can't hike out to Havasu just for the day.
The Havasupai parking area is about 67.5 miles Northeast of Peach Springs, AZ – located here. From the parking lot, it's a 1.5-mile descent to the bottom of the canyon via a switchback trail. The remainder of the hike is fairly flat but there are loose rocks and gravel to watch out for. Most people start their hike in the wee hours of the morning or later in the evening to avoid walking in the blazing sun in the heat of the day. It's 8 miles to the Havasupai Village and another 2 to the falls.
Once you reach Havasu Falls, you'll know that all of the work to get there was worth it. It's absolutely breathtaking. And it's not the only beautiful waterfall that this region has to offer! Mooney Falls and Beaver Falls are further downstream and every bit as stunning (and far less crowded).
If Havasu Falls is on your USA bucket list, you'll have to start planning well in advance. Camping reservations for the entire season (February 1 – November 30) become available on February 1st of every year at 8:00am Arizona time and generally sell out within the first 2 weeks.
---
14. Plain of Six Glaciers hike in Banff National Park, Canada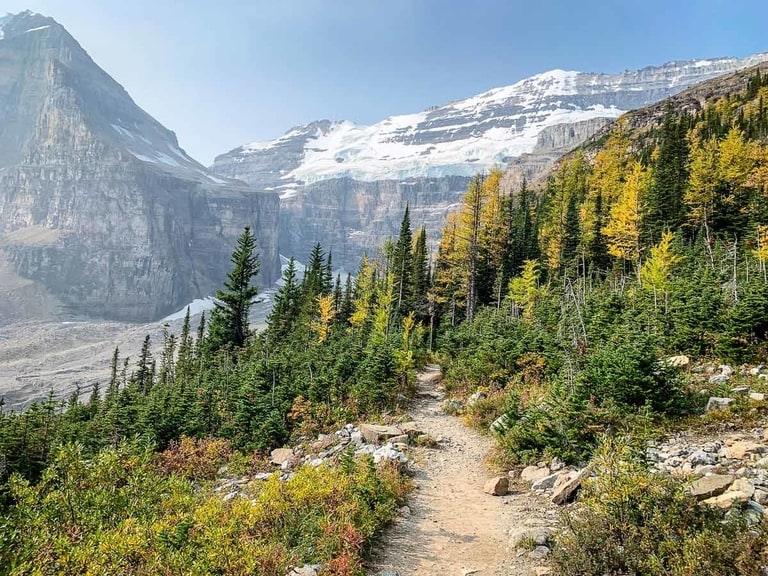 Suggested by Celine from Travel Banff Canada
The Plain of Six Glaciers hike in Banff National Park is one for the bucket list. Not only do you get mountain views all along this hike, but it starts right at the iconic Lake Louise. With waters so blue and surrounded by mountains, enjoy the first part of the trail as it meanders along the shores of Lake Louise.
As you begin the ascent into the Plains of the Six Glaciers, you hear the water from the glaciers rushing to your left. The glaciers you get a glimpse of up ahead on Mount Victoria are nothing short of spectacular.
As the hike continues, it gets steeper and you'll climb a series of switchbacks. The incredible scenery all around will be enough to distract you. Upon reaching the historic Plain of Six Glaciers Tea House, you know you are almost there. This is the perfect spot to stop for lunch or a snack.
The final leg to the end of the Six Glaciers trail takes you through a small Larch tree forest followed by a large rock field left over from a landslide. Finally, you enter a natural amphitheater with the glaciers high above resting on the slopes of the mountains. The last stretch becomes quite steep, but like the entire trail, the views are worth it and will help propel you forward.
The Plain of Six Glaciers hike returns back the way you came for a total distance of 9 miles and a total elevation gain of 1930 feet. The trail is easy to follow as you start along the Lake Louise Lakefront trail to the right of the lake, then it is well marked.
---
15. Peekaboo and Spooky canyon in Utah, USA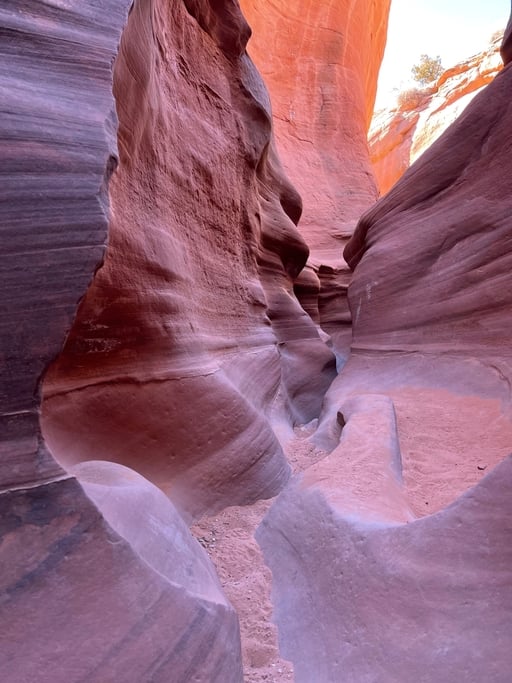 Suggested by Jyoti from Story at Every Corner
Peekaboo and Spooky slot canyon hikes are one of a kind, and one of the most unique experiences in the world. These are short hikes through very narrow canyons in the most rugged and remote parts of Utah. But, these hikes can be quite dangerous. Many people get injured or even killed every year. So preparation is the key to an enjoyable experience.
To get there setup Escalante as home base to explore Grand Staircase-Escalante National Monument. From Escalante it's a short drive to the hole-in-the-rock trail. The trail is essentially a dirt road for 27miles to one of the trailheads. There are two trailheads each will a well marked parking lot and restrooms.
From the trailhead, walk along the plateau for a about a mile and then descend into the lower level for another mile or so to reach the slot canyons. The hikes in the canyons require some scrambling up and down the rocks as well as squeezing through narrow sections. So, it's very important to wear excellent hiking shoes and travel light.
Check beforehand if your body and bag size can fit through the slot canyon. Also be sure that there is no precipitation in and around the area because the flash floods fill the canyons almost immediately. With some preparation, this would be a hike of a lifetime. Enjoy every moment of it!
---
16. Pitons in Saint Lucia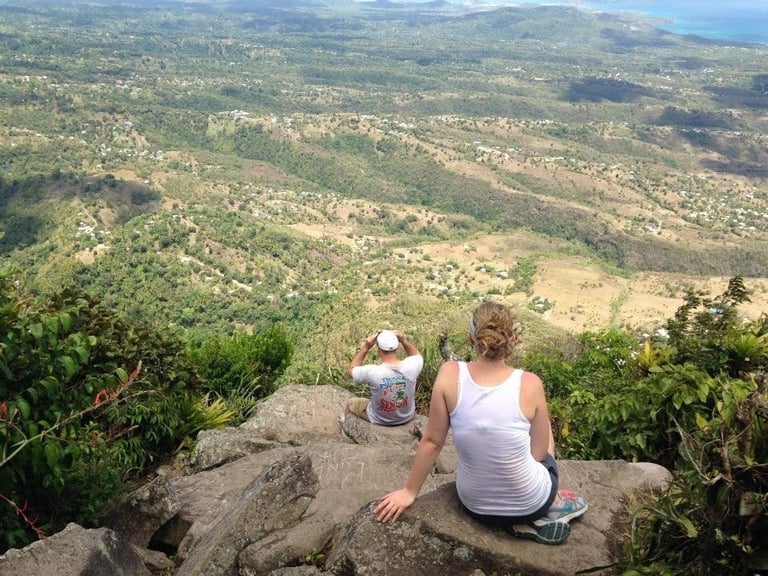 Suggested by Victoria from Tori Leigh
Hiking the Pitons in Saint Lucia will certainly make any hiker's bucket list. One of the best hiking trails in the world, the trail leading up to the summit of Gros Piton is surprisingly only moderate in difficulty yet comes with some of the most spectacular Caribbean views.
To begin, when discussing hiking "the Pitons," hikers are referring to Gros Piton, as climbing Petite Piton is not actually sanctioned by the Saint Lucian government. To climb Gros Piton, a permit is required, as is a hiking guide. Both are easily obtained at the base of the mountain at the Visitor Center in Fonde Gens Libre and will cost about $50 per person. Though advanced reservations are not typically necessary, those hiking without a tour group should arrive early to avoid cruise ship and resort crowds.
Relatively short in distance, the trail leading up and back Gros Piton is only about 3.2 miles round trip. With an elevation gain of just under 2,000 feet, though, climbers will end up 2,619 feet above sea level. At around 2,000 feet above sea level, the mountain will yield lush rainforest, before opening up and presenting some of the best views in the Caribbean. While the Pitons themselves are the most photographed spot in the Caribbean, nothing beats the views of the sea from the summit.
The hike up Gros Piton is perfect for anyone looking for a moderate, but not incredibly time consuming hike, or those who enjoy diverse landscapes and terrain. The trail would also be appropriate for adventurous, but older, children.
---
17. Highline Trail Glacier National Park in USA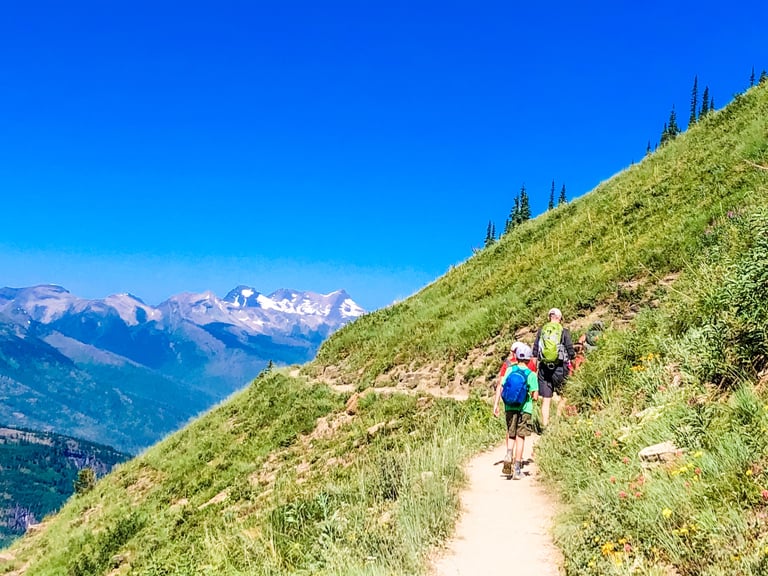 Suggested by By Keri of Bon Voyage With Kids
One of the best and most beautiful hiking trails in the world is inside the glorious Glacier National Park in Montana, USA. The Highline Trail to Haystack Pass is a nearly eight-mile round trip route of spectacular views, and one you will undoubtedly remember for life. You will want to bring a camera for this hike, ideally one with a wide-angle lens, as on a clear day, the scenery is breathtaking the entire length of the trip.
It is doable for families if the kids are able to walk the duration of the trip. I would not recommend it for young kids or anyone with mobility concerns.
Though it is a narrow trail, where you walk single file through many parts of it, it is wide enough to pass. The most precarious part is the at the beginning, where hikers hold on to a rope fastened to the mountainside (though it is not as scary as it sounds.) This hike is glorious but it is also busy. On our hiking day, we found stretches without people, but at other times, we were behind or passing others.
During the duration of the hike, you will see panoramic views of Glacier's spectacular peaks and skyline, as well as beautiful plants and landscapes. And, along the way meet unique animal friends including wild mountain goats, hoary marmots, horned sheep, and more. Bear spray is highly recommended as well as plenty of water, a water filter, and lunch. We also brought a first aid kit and other hiking essentials, as it took us between five to six hours round trip.
Upon arriving to Haystack Pass, there are plenty of flat rocks to enjoy lunch while taking in the view. Our kids appreciated the break and chance to rest their legs. Dressing in layers was also key, as it was chili in the morning, but by the time we reached Haystack Pass, it was quite warm.
The Highline Trailhead begins from Logan's Pass, which you get to from the Going To The Sun Road. Parking, restrooms, water filling stations, and a café are available at Logan's Pass. Glacier's Highline Trail to Haystack Pass is definitely one of the best hiking trails in the world!
---
19. Subway at Zion National Park in USA
Suggested by Andrea Cannon from BeaUTAHfulWorld
Although less popular than the more infamous Zion Narrows or Angel's Landing, hiking the Subway at Zion National Park is not to be missed if you are visiting Utah. This hike is located in Zion National Park, but not area of the park where many other trails are located. Instead, the trail begins off of Kolob Terrace Road, west of Springdale in Virgin, UT. This is particularly important for planning purposes as it would be difficult to do this hike in combination with any of the other popular Zion National Park hikes on the same day.
There are two ways to hike to the Subway. The first option is to do a route that is referred to as "top-down" (think of this as a thru-hike) and the second option is referred to as "bottom-up" (think of this as out and back). Regardless of your direction you will need a permit. However, if you want to do the top-down route, you will also need canyoneering and repelling skills as there are some sections where this is necessary.
The actual hike itself is rated as difficult, which is fitting as there is some scrambling required. It is 9.1 miles and 1305 ft of elevation gain. The finale is very rewarding, with a beautiful subway-like formation in the canyon walls of North Creek.
---
20. Viñales National Park in Cuba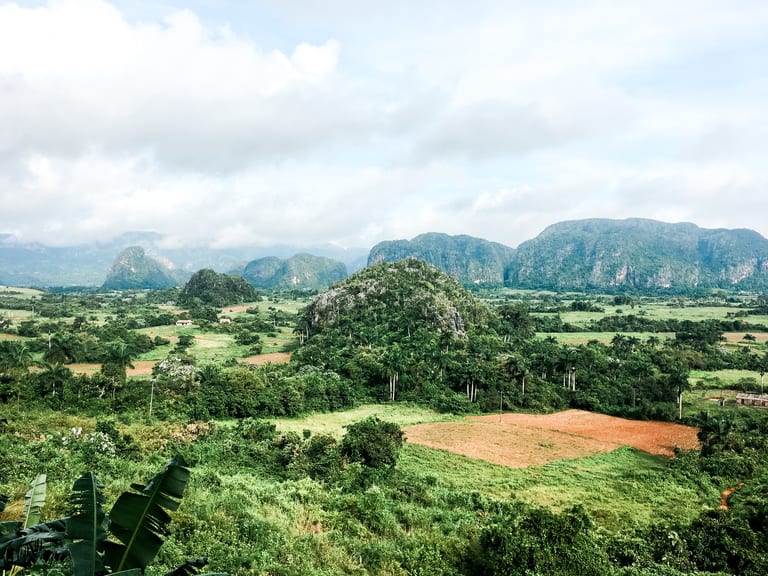 Suggested by Carley from Home to Havana
The valley of Viñales may be best known for being home to some of Cuba's finest tobacco farm and most stunning landscape, but it's incredible hiking trails are reason enough to draw visitors here. Hiking among the valley's soaring limestone karsts and incredible landscapes, Viñales is easily one of the most popular destinations for hiking in Cuba.
Instead of being known for specific trails, the Valle de Viñales National Park has several in and around the limestone karsts, many that end in cave systems around the base of the karsts. A favorite trail takes hikers, the Coco Solo and Palmerito Mogotes trail runs through the Valle de Silencio, which is home to the most beautiful landscapes in the national park. Visitors have the freedom to follow trails like these and the many others, making it the perfect place for hikers of all levels and lengths of itinerary. Download maps.me before your trip to make sure you can find your way through the park as your chart your route.
The valley is most flat making for easy walking and hiking trails, though spurs that head toward caves and karsts can require some maneuvering up and down. Make sure to bring shoes and clothes that are dark colors, and that you don't mind getting dirty – the earth here is bright red, and any trace of mud will leave a permanent stain.
---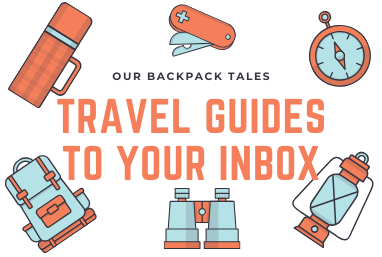 ---
Have Pinterest? Pin this Article!
---
---