Bangalore was part of several South Indian kingdoms starting from the fourth century CE. Hence it is not surprising that Bangalore has numerous forts in its vicinity. One such fort is the Gudibande Fort, situated in the Chikkaballapura district.
Gudibande Fort is around 100 kilometers from Bangalore. How long will you keep driving to the airport in the guise of a long drive just for a cup of coffee? Gudibande Fort is around 70 kilometers further from the airport and makes for a good One Day Trip from Bangalore and a trekking experience for enthusiasts.
---
Suggested Read – Top places to visit from Bangalore
---
How to reach Gudibande Fort?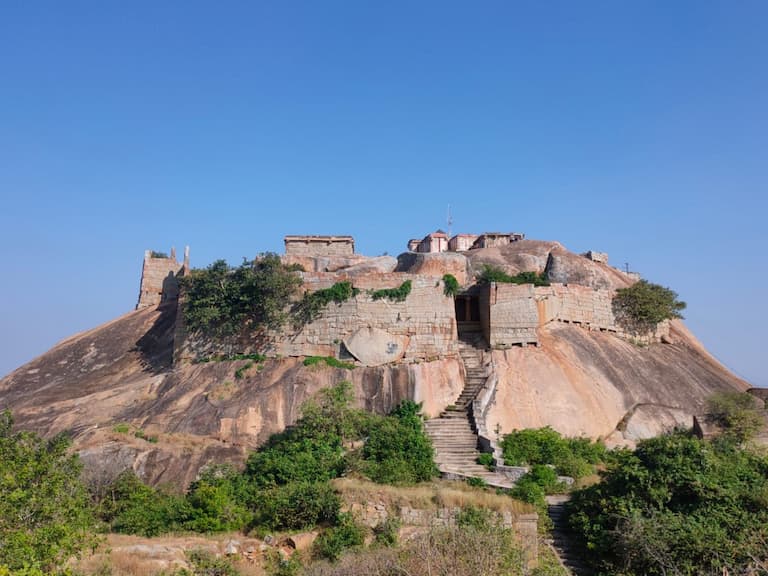 The journey to Gudibande fort from Hebbala in Bangalore is one straight drive on a beautiful road. Ensure your Fastag is sufficiently loaded since you will encounter 4 tolls to and fro in your journey.
Additionally, make sure you maintain speed below 80kph at least until you cross Devanahalli since a 1000 rupee fine will be waiting behind the transponders for the offenders. When you are about 25 km to Bagepalli, keep left until you encounter the signboard leading you to the Gudibande Fort at Peresandra Town. Take a left and drive for around 16km to reach the fort. On the way, you can stop at Bhairasagara Lake. As of December 2021, the road overlooking the lake was flooded. Travelers must exercise sufficient caution.
Once you pass the Gudibande panchayat office on Ramapatna Road, You should keep a lookout for a right turn into a small lane that leads to the foot of the hill on which the fort is located. A four-wheeler can easily navigate that road, and You can find parking at the base of the hill itself.
---
Suggested Read – Bangalore to Pondicherry Travel Guide
---
Gudibande Fort History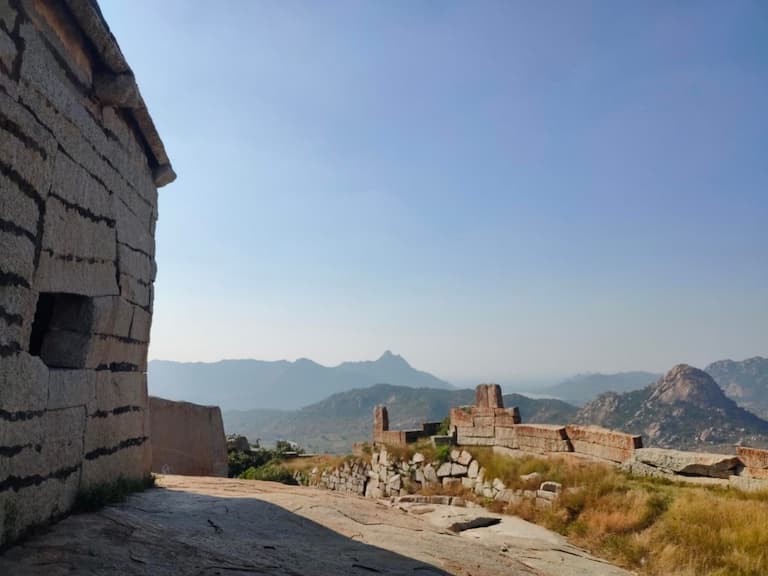 Gudibande Fort was built by a local chieftain in the 17th century. It boasts of a rainwater harvesting technology that was way ahead of its time. It is said to have consisted of 19 interlinked water reservoirs and intricate escape routes during a siege. You can see one or two remnants of those reservoirs even now. The chieftain Byre Gowda is supposed to have built this fort after taking the Madhugiri Fort as an inspiration. It is said that the fort is punctuated with seven gateways, of which you will encounter around three on your way up.
This place attains special significance Mythologically as well. Atop the hill, there is a Shiva temple that is dedicated to a shrine of Lord Shiva that is believed to have been installed there by Lord Rama himself as part of the 108 Jyotirlingas that he established all over India.
---
Suggested Read – Complete Hampi itinerary from Bangalore
---
The Climb Itself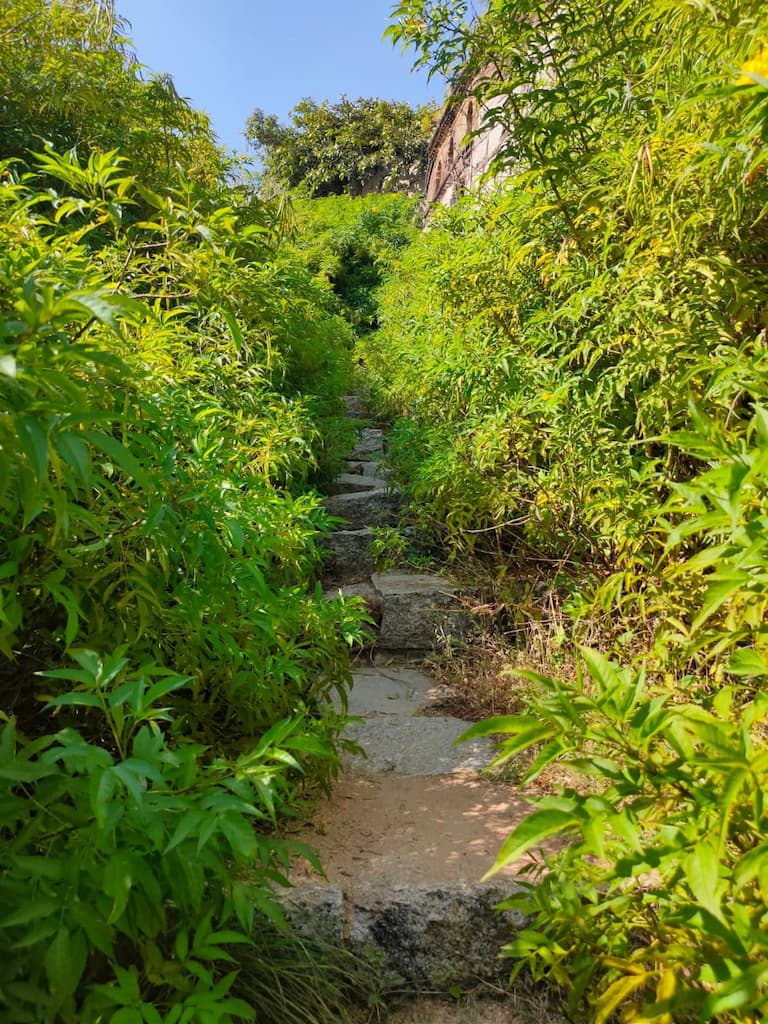 Gudibande Fort is an easily scalable hillock with steps steps carved on the surface of the stones and concrete steps.
However, It's better to have a week or two of warm-up before climbing Gudibande Fort. Don't spend every waking hour of your days sitting on the computer, and then get up one morning and do this climb. It will feel enormously taxing.
The climb has a different aura that I haven't seen in other climbs. Sometimes one encounters doorways that make them feel they are entering a Narnia-like place (although that feeling disappears just near the doorway), tiny paths bordered by thick greenery like a movie set, and other surreal feelings.
A section of the climb is cemented with concrete that is some evidence of government intervention, but any thoughts about restoring this fort to its formal beauty must have ephemeral to the authorities concerned. The rest of the climb has steps etched into the rocks themselves that probably date back to the chieftain himself.
It is a reasonably safe place to spend half a day in Bangalore. We came across families with kids and aged members having good fun during the climb and atop the hill.
We recommend you hydrate yourself by having tender coconuts available at the foot of the climb. Please don't make the same mistake we did of thinking that we can have one after we descend. Do not forget to carry a water bottle for the climb.
Furthermore, instead of having a heavy breakfast, it is beneficial to have some light food so that the climb doesn't make you nauseous. It will take an average person around 45 minutes to reach the peak, including rests.
---
Suggested Read – Trip to Bhutan from Bangalore
---
Gudibande Fort Peak
The Gudibande fort peak has a temple dedicated to Lord Shiva. The view from the peak is extremely rewarding. The peak first opens up to a couple of battlements and then a vast meadow-like nature punctuated by beautiful hills. You can view the Bhirasagara and a couple of other lakes from the peak. The rocks offer cool shades and rock you to a peaceful sleep. After spending a heart-filling amount of time and shrugging all your daily responsibilities, you can begin to make a descent. The descent from the Gudibande Fort peak will not take more than 15 minutes.
You can bring a picnic basket along with you and sprawl about the serene shade offered by the stony house and the temple. It would be a dreamy experience to have a tiny nap and re-energize your body and soul.
On the way back from Gudibande Fort, you will find quite a few good hotels catering for both your vegetarian and nonvegetarian palate that line up on the highway. You can stop at hotels like "Swagath Multicuisine Delicacy Restaurant," Cube Stop, etc., to refuel yourself.
---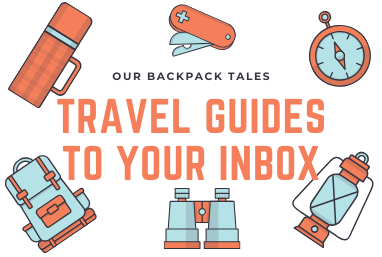 ---
Tips
Start early in the morning to beat the sun and heat reflected off by the rocks.
Wear comfortable but sturdy clothing.
Keep a lookout for snakes
There is no entry fee or parking fee for this place.
You can club other places like Devanahalli Fort, Akkayamma Betta, Tippu Fort, Dandiganahalli Dam as these places do not demand a lot of physical effort.
---
Things to pack
---
How to reach
It is easily accessible by car or bike from the city's center. You can also catch the bus running from Bangalore to Chikkaballapur and hire a cab or auto to reach this place.
---
Places to visit near Gudibande Fort
1. Skandagiri Hills
Skandagiri hills is famous for its Night trek. You can book a night trek from the government website, and plan for a beautiful sunrise. You can read complete Skandagiri Night Trek guide here.
2. Nandi Hills
Nandi hills is the most famous one day trip place from Bangalore. You need to reach there early morning to catch the sunrise. Best time to visit Nandi Hills is from October to February. You can read complete travel guide to visit Nandi hills from Bangalore here.
3. Lepakshi Temple
Lepakshi is a beautiful temple located in Andhra Pradesh. This temple have various myths around it and have so many wonderful architectures to explore. Read the Bangalore to Lepakshi travel guide here.
---
Latest Posts
---
Author Details
A Kannadiga with Wheels for Feet.