Pondicherry, now known as Puducherry, is a dream destination for many. The pristine beaches and the French colonial era charms are the first things to pop into your mind when you hear 'Pondicherry'. The Bangalore to Pondicherry distance is 358 km. This makes it is one of the most popular places to visit from Bangalore.
How to reach Pondicherry from Bangalore?
One can easily drive to Pondicherry from Bangalore by car or make it a bike ride as we did.
The easiest Bangalore to Pondicherry route is Bangalore → Hosur → Krishnagiri → Chengam → Tiruvannamalai → Tindivanam → Pondicherry.
We made an early start at around 4 am. Hence, the roads are clear without traffic.
Regular buses run from Bangalore to Pondicherry, and they are cheap enough to make it a budget-friendly trip. The nearest bus station is the Pondicherry Transport Bus Main Station. It is located at a distance of 2 km from the city at Maraimalai Adigal Salai. Pondicherry Transport has service to major cities from this main station.
Also, you can rely on the Indian Railway to make this an easy trip. The nearest railway station is the Puducherry railway station at around 3.7 km from the main city. The Puducherry Express and the Yesvantpur-Puducherry Garib Rath Express are the popular options you can try.
The nearest airport is the Puducherry Airport, at a distance of around 3.2 km from the main city. Most popular flights provide services to Pondicherry with cheap rates. However, this is applicable only if you book well in advance!
Best time to visit?
Pondicherry experiences extreme summers. Therefore, it is scorching hot to venture outdoors. In contrast, the best time to visit is from October to February when the climate is relatively pleasant.
What to pack?
Pondicherry is one of the most popular tourist destinations in South India. For this reason, it attracts tourists from all over the world. There are no strict dress codes here. However, it is always good to pack a decent, modest wardrobe for your trip. Thin cotton dresses and shirts, and anything to beat the heat is the priority when packing for a Pondicherry trip. Besides, sunscreen lotions and beach-wear are also crucial since this beautiful city has many beautiful beaches to spend your day at.
Do pack first aid kits, prescription medicines, and important documents in addition to other toiletries included in your routine travel packing lists.
Places to visit in Pondicherry
Pondicherry offers a spiritual and relaxing experience for some and a typical summer beach vacation for others. Simultaneously, with cheaper petrol and alcohol prices, beautiful heritage, and diverse cultural attributes, Pondicherry is a destination worth visiting. Below are some of the popular places to visit in Pondicherry.
White Town
Stepping into White Town feels like entering a whole new world. Or maybe a whole 'old' world. With the brightly colored walls and gates spilling will creepers and Bougainvillea, the White Town gives you the feels of walking through the colonial era. Many French families still live in Pondicherry. Consequently, many old houses are now either restaurants or heritage hotels. The streets are lined with pretty little cafes, art galleries, and souvenir shops. White Town is one of the best places to try some delicious French cuisine with a nice French touch, of course.
Rock Beach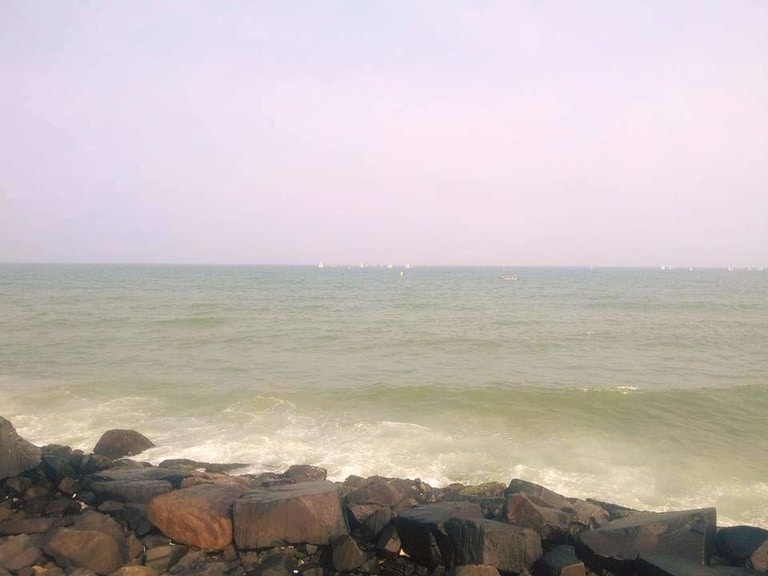 Also known as Promenade Beach, Rock beach is one of the most famous spots in Pondicherry. This beach strictly does not allow getting into the water. However, it is a popular place to take a long walk and watch the sunrise and sunset. The French War Memorial dedicated to the soldiers who lost their lives in the First World War is a popular attraction here. The Mahatma Gandhi statue surrounded by monolithic granite pillars is brought from Gingee Fort which is famous among tourists also. Specifically, the Gingee fort is an important monument protected by the Government of India and is a must-visit spot on your way to Pondicherry from Bangalore.
Auroville
Auroville is an International township located 15 km away from Pondicherry. It is home to all the people globally irrespective of religion, politics, and nationalities. It was established in 1968 by Mirra Alfassa, a follower of Aurobindo. The Matrimandir located in the center of Auroville is the main attraction here. Shaped like a dome, the Matrimandir is covered with golden disks that give it a golden glow in the sunlight. Visitors can practice meditation in the inner chamber of the Matrimandir after pre-booking their slots. Auroville hosts many yoga sessions, which are loved by most visitors. In fact, it is one of the most unique experiences not to miss here.
The Quiet Healing Centre and the Arka wellness center are the best places to chill here. In addition, Auroville Bakery and Boulangerie and Marc's Cafe are other popular spots to explore.
Paradise Beach
Located in Chunnambar, Paradise Beach is one of the most popular beaches in Pondicherry. One must take a 30 minutes ferry ride from Chunnambar to get to Paradise beach. The perfect blue waters and the soft golden sands are a dream come true for all beach lovers. The beach has good hygienic changing rooms, showers, and toilets and shacks to chill under. The beach is particularly crowded on weekends. So plan your trip accordingly. Small shops selling coconut water and snacks are the only refreshments you can find here. For this reason, it is better to carry your lunch if you plan to spend the day at Paradise Beach.
Serenity Beach
The Serenity Beach Located in Kottakuppam, in the outskirts of Pondicherry (7 km from the city). It offers a different experience from that of Paradise Beach. Lined with fishing boats and studded with beautiful beach-side resorts, Serenity Beach is famous among tourists and honeymooners. In addition, the place offers surfing lessons as well.
Basilica of the Sacred Heart of Jesus
The Basilica of the Sacred Heart is located 2.5 km away from the Pondicherry Bus Station. It was built in 1908 by the French missionaries in the Gothic style of architecture. The beautiful stained glass panels showing the life of Christ are some of the most beautiful parts of the church. It is an important pilgrimage site in Pondicherry. In addition, festivals like Christmas Eve and Easter Day are celebrated here with much grandeur. This church is a must-visit spot during your weekend trip to Pondicherry from Bangalore.
Pondicherry Botanical Garden
Built in 1826 by C.S. Perrotet, Pondicherry Botanical Garden houses various exotic flora and includes an Aquarium. The garden shows off its nostalgic ornate French style. Walking around the beautifully laid out trail along the garden is a treat. Visitors can take the toy train around the garden that sprawls over an area of 22 acres. The garden has a separate play area for children. It is open on all days from 10:00 am to 5:00 pm. The entry fee is Rs 20 for adults and free for children.
Pondicherry Museum
The Pondicherry Museum is located on Saint Louis Street, Pondicherry. The museum houses many artifacts from Arikamedu including rare sculptures of bronze and stone from the Pallava and Chola dynasties. In addition, it exhibits artifacts from the Frech colonial era as well. It is a great place to learn about the history of Pondicherry through the different eras. The museum is open from 10:00 am to 5:00 pm on all days except Mondays and national holidays. They charge an entry fee of Rs. 10 for adults, Rs.5 for children, and Rs.50 for foreign nationals.
Arikamedu
Arikamedu is located 7.6 km south of Pondicherry on the banks of the Ariyankuppam River. It is an ancient Indo-Roman trade port. Now under the Archaeological Survey of India, Arikamedu houses archeological evidence of the Roman trade activities that constitute the main historical background of the place. It dates back from the 1st century BCE to the 8th century CE. There are local buses running from the Pondicherry Bus Station to Arikamedu regularly. The timings are from 8:30 am to 5:00 pm on all days. The museum is open from 9:00 am to 5:00 pm on Sundays. This is one of the main sites to visit while travelling to Pondicherry from Bangalore.
Jawahar Toy Museum
Jawahar toy museum is located on Goubert Avenue near the Old lighthouse. The toy museum timings are from 10 AM to 5 PM. The museum has a collection of rare toys from all the states of India. The toys are dressed traditionally to illustrate the cultural diversity of India. The toy Museum in Pondicherry is one of the best places to visit for kids.
---
Where to stay in Pondicherry?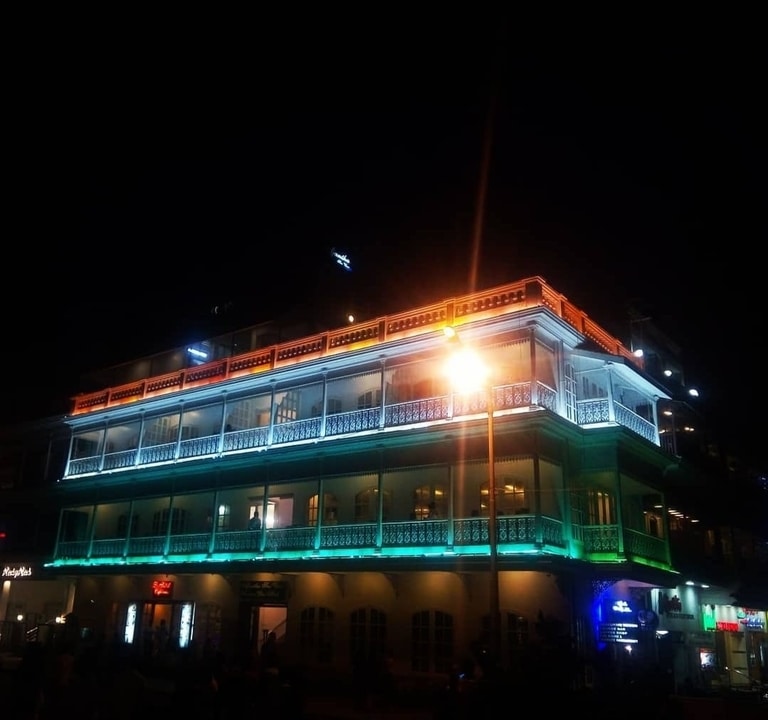 From pocket-friendly hotels to luxury resorts and homestays, there is a lot to choose from at Pondicherry. Here is a curated list of famous stays in Pondicherry you must try while visiting.
Homestays in Pondicherry
1. DJ Villa Pondicherry
DJ villa is located near Promenade beach. The villa stay is close to Sri Aurbindo Ashram and Manakula Vinayagar Temple. DJ Villa provides free WIFI and free parking along with bike and car rentals also.
Check Room Price in DJ Villa
2. French Villa Pondicherry
The French villa is located in White town and is near Sri Aurobindo Ashram, Bharathi Park, and Pondicherry Museum. The villa offers a great stay with private balconies.
Check Room Price in French Villa
3. The Dune Pondicherry
The Dune is situated in the center of Pondicherry. This hotel provides a more luxurious stay for your Pondicherry Trip.
Check Room Price in The Dun
4. Waves Beach House Pondicherry
This hotel is situated close to Paradise Beach. An outdoor swimming pool, playground are some of the amenities.
Check Room Price in Waves Beach House
---
Pondicherry Resorts
Pondicherry is famous for its beach front resorts. Below are some of the most popular Pondicherry resorts suggestions.
1. Le Pondy
This is one of the popular private beachfront resorts in Pondicherry. It offers varieties of breakfast, lunch, and dinner facilities. In addition, it offers playground, and free Wifi for visitors.
2. Lamel Cove Beach Resort
Lamel Cove resort offers beachfront views. In addition, this resort offers free wifi to all guests and provides buffet breakfast every day. All main attractions are at a distance of 6kms from the resort.
Check price for Lamel Cover Resort
3. Club Mahindra Resort
Club Mahindra is another popular luxury beachfront resorts in Pondicherry. The resort offers a variety of amenities for its guests such as an infinity pool and poolside bar. Moreover, it provides a private beach as well. It is situated in a lush green of 24 acres which will help you to have a nice vacation.
Check price for Club Mahindra Resort
---
Budget Hotels in Pondicherry
Check more room prices around Pondicherry
---
Places near Pondicherry to visit
Gingee Fort – Gingee fort is also known as Sinje fort and it is one of the famous places to visit near Pondicherry. This fort is situated in Villupuram district and is on the way to Bangalore from Pondicherry. This is situated 70km away from Pondicherry.
Tiruvannamalai Temple – This is one of the largest temples in India, which spans 10 hectares. This ancient temple was built in the 9th century by Chola Kings. It is situated in the Pondicherry from Bangalore route.
Yercaud – Yercaud is a famous hill station situated in the Salem district. This hill station is calm and quiet for the visitors to spend their weekends.
---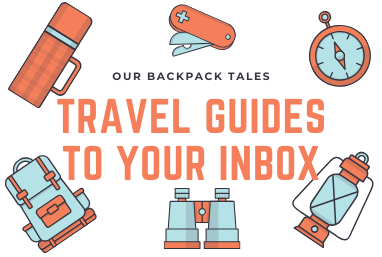 Join other 1000+ readers of OBT!
---
How to reach Pondicherry from other destinations?
Chennai to Pondicherry
Distance – 165kms
Route Map – Chennai – Sri Perumbudur – Tindivanam – Pondicherry
Time – 3hrs
Hyderabad to Pondicherry
Distance – 786kms
Route Map – Hyderabad – Ongole – Nellore – Chennai – Tinidivanam – Pondicherry
Time – 14hrs
Coimbatore to pondicherry
Distance – 378kms
Route Map – Coimbatore – Erode – Salem – Kallakuruchi – Pondicherry
Time – 7hrs
---
Frequently Asked Questions
How can I go to Pondicherry from Bangalore?
You can either take a Bangalore to Pondicherry Bus from Majestic which will take overnight to reach Pondicherry. There are several Trains running between Bangalore and Pondicherry which will take 8-9 hours to reach Pondicherry. You can drive a car or bike to Pondicherry which will take 6-7 hours to reach the destination.
How is the road from Bangalore to Pondicherry?
The best road to take from Bangalore to Pondicherry is Bangalore – Hosur – Krishnagiri – Chengam – Tiruvinamalai – Tindivanam – Pondicherry. This route is considered to have good roads.
Is there a direct train from Bangalore to Pondicherry?
Puducherry Express and Puducherry Garibrath Express are the direct train from Bangalore to Pondicherry.
What is the best time to visit Pondicherry?
Best time to visit pondicherry is from October to February. Pondicherry temperature is extreme during Summer season.
How expensive is Pondicherry?
Pondicherry as a union territory of India it is not expensive at all. The Petrol and alcohol are cheap in Pondicherry. There are budget hotels and homestays available in Pondicherry.
Is Pondicherry better than Goa?
Pondicherry and Goa are two different places and two different cultures. If you want to see beautiful sunrises go to Pondicherry, If you love to see beautiful sunsets go to Goa. Goa have more pubs and landmarks compared to Pondicherry.
---
Latest Posts